The Sims 4: Best Designer Clothes & Décor CC (Male + Female)
This post may contain affiliate links. If you buy something we may get a small commission at no extra cost to you. (Learn more).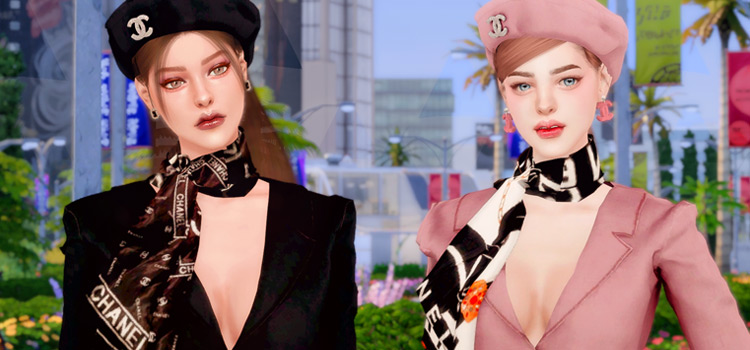 From H&M to Moschino, The Sims franchise is known for partnering with designer brands to bring luxury threads to players and Sims alike.
And whether it's fashion photographers, models, or just high-end clothing connoisseurs, some Sims are in desperately in need of high-end fashion that's missing in-game.
Thankfully, even before the release of the Moschino Stuff Pack, talented CC'ers have been saving us with their collection of designer clothes and accessories.
Outfits, accessories, even some buy mode items – you'll find a bit of everything on this list, so long as it falls under the designer label.
15.

Gucci Collabo Set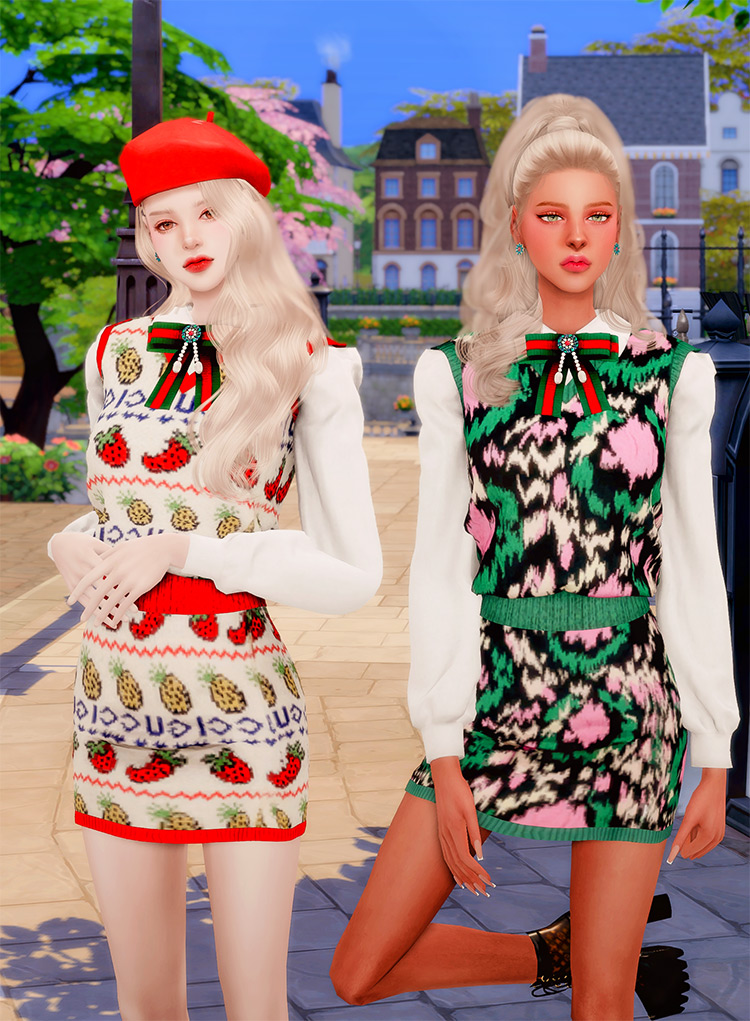 Creator Rimings is known for their high-fashion CC.
And this Gucci Collabo Set is an excellent example as to why.
This high end collection includes a colorfully patterned knit vest, solid knit mid-length skirt, and an adorable brooch necklace.
Between its high quality mesh and 20+ swatches for all three items, this is one set that will go a long way to expand your designer clothing collection.
14.

Gucci Jackets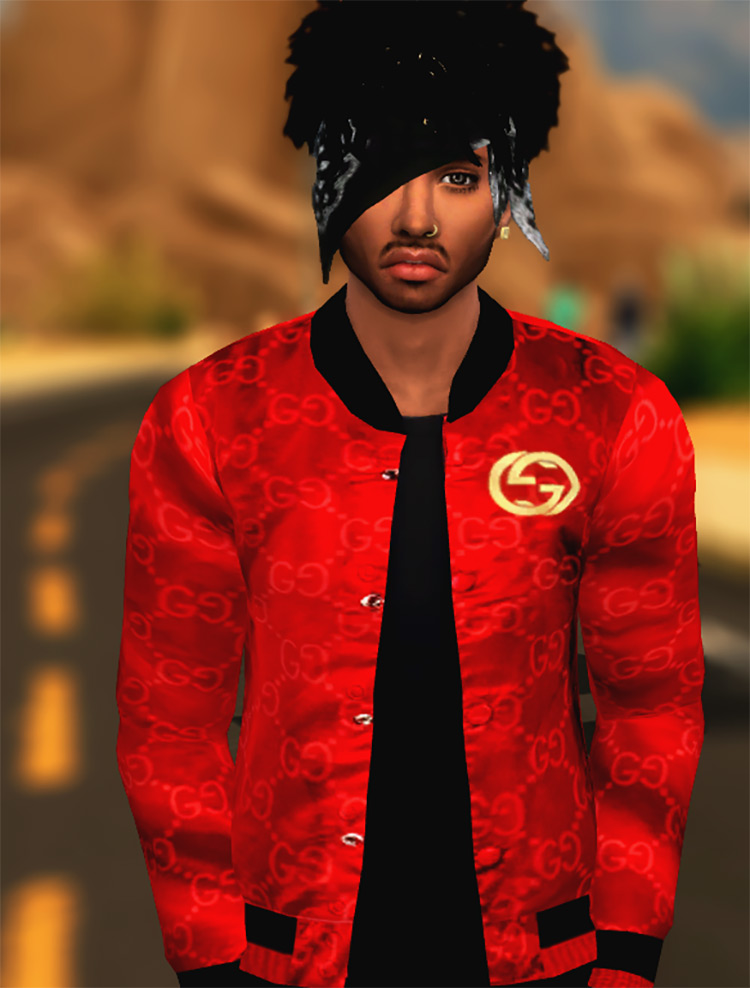 We couldn't leave the guys out of the Gucci party.
So here's a little something for them, too.
XxBlacksims made these custom Gucci Jackets that are a great on-the-go choice for your male Sims who love designer brands.
Choose between six swatches with varying colors and designs, though all feature the Gucci label prominently.
Designer CC for men comes few and far between, so don't hesitate to download this one!
And if you're looking for even more Gucci-styled CC then check out our list here.
13.

Fendi Mini Collection
San Myshuno Fashion Week is the event for your sims to wear these bold ensembles!
With this Fendi Mini Collection by Kikovanitysimmer, your Sim is sure to stand out.
The set features four outfits that are just so amazing:
A one-shouldered split dress
A patterned tank top and pants (also comes with a purse!)
A mid-sleeve crop-top and mini-skirt
And my favorite – the puffy-sleeved, red, white, and blue body suit
Plus there's two to six swatches per item, just to give you some choices.
12.

Hollister Branded Boxers (Male)
Tired of the in-game options for boxers, but want your designer CC to be Maxis-Match friendly?
Then you need to grab these for your game.
These Hollister boxers for men come to us by way of CC maker Littledica.
And they bring us the best of many worlds: new underwear choices (because we can never have enough), a recognizable designer label, and a mesh that won't conflict with the other-in game choices.
Not only are there 14 different swatches here, but these boxers also give the fellas a little… definition, if you catch my drift.
11.

Chanel Scarf Suit, Jacket & Suit Pants and Beret
Rimings is back again, this time with a breathtaking Chanel collection that will make your Sim look like Parisian royalty.
This Chanel Scarf Suit is a wide-shouldered, V-neck pantsuit (downloadable separately) with a fashionable scarf around the neck.
Complete the look with a gorgeous beret and you have one luxe ensemble (with 20 color swatches to boot).
10.

Timberland Men's 6-Inch Waterproof Boots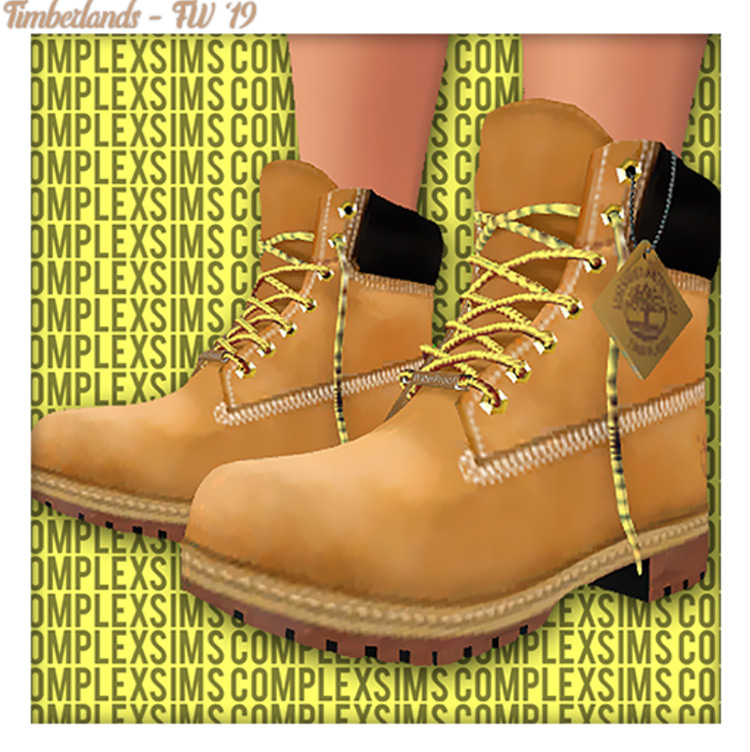 Speaking of boots, who doesn't love a good old-fashioned pair of Timberlands?
These custom Timberland boots by ComplexSims look so good on their own, that it's all your male Sims need to look stylish.
Somehow managing to be high quality yet Maxis-Match friendly, the boots are available in the classic light tan we'd all recognize.
And they feature the quintessential tree logo Timberland is most known for.
Sims ages Teen to Elder can wear them, so grab a pair for the whole family.
9.

Gucci Shorts
What's the only thing better than blue jean shorts?
Gucci blue jean shorts.
If you're skeptical, just check out Bluerose-sims's custom Gucci shorts CC.
Like the Timberland boots earlier, these shorts feature a great quality build, without going full Alpha.
And the gold Gucci belt is a nice touch without being too gaudy.
20 swatches and base game compatibility? I'm sold.
8.

Louis Vuitton Shoes (Male and Female)
Here's XxBlacksims' second entry on our list, and just as fabulous as the first:
A unisex pair of Louis Vuitton Shoes (sneakers, to be specific).
It's available in classic white, black, and red, with each color having its own distinct style and pattern.
Personally, I love CC items that can work for any Sim. So that alone is a huge reason to check these out.
7.

Fenty Versace Dress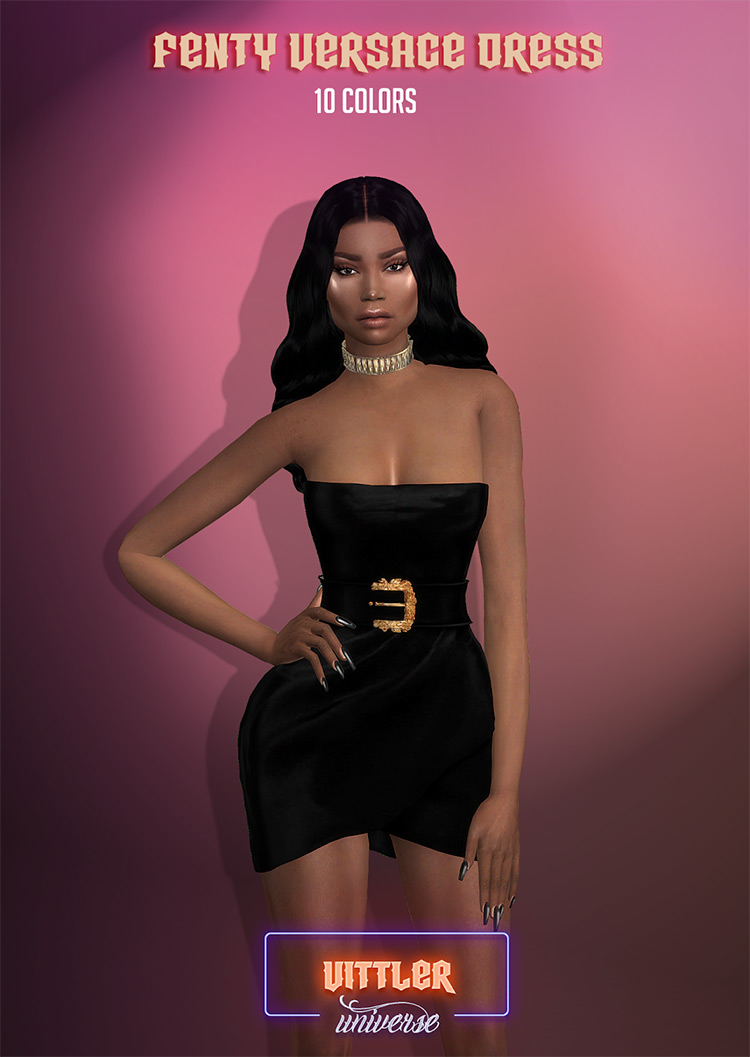 Inspired by fashion icon and Fenty owner Rhianna, this Fenty Versace Dress was created using a real-life dress worn by the singer in mind.
So Vittleruniverse's creation is about as gorgeous as you'd expect:
A tight hourglass-silhouette dress with a giant golden buckle around the waist.
There are five swatches in total, but the original black dress is fire.
6.

Balenciagas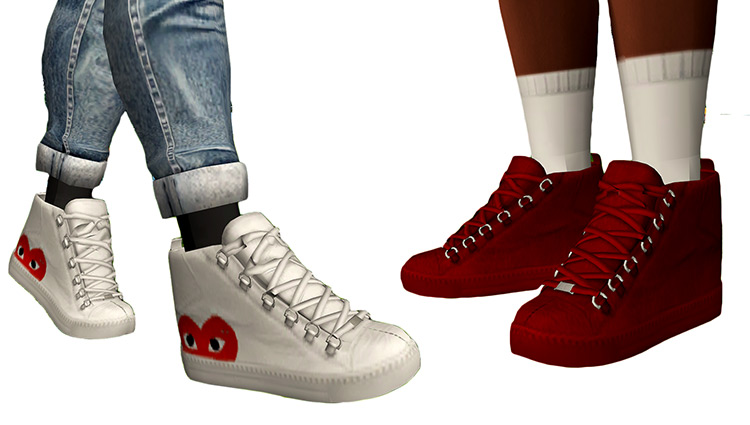 This is a shoe that literally any Sim can wear.
The Balenciagas by Ebonix are high-end sneakers that can be worn by male and female Sims, ages Toddler through Elder.
They're Maxis-Match friendly, and have four swatches (including solid red and white) with a cartoon heart at the heel.
A great option for those who like designer shoes, but don't need (or want) a visible logo.
5.

Dior Women's Multi Top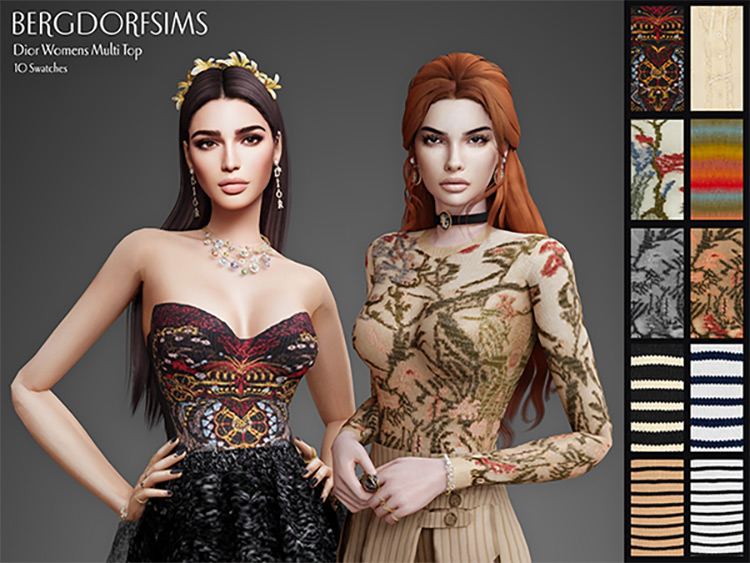 Here's something your female Sims will really appreciate:
A custom Dior Multi Top Collection by Bergdorfsims, made for the truly fashion obsessed Sim in your life.
From long sleeved shirts to sleeveless tops, the sheer variety of cuts, patterns, and colors in this set will breathe new life into any Sim's wardrobe.
There are ten swatches here, and every single one is unique in its own way. So give these a try if you are a big Dior fan!
4.

Gucci Men's Set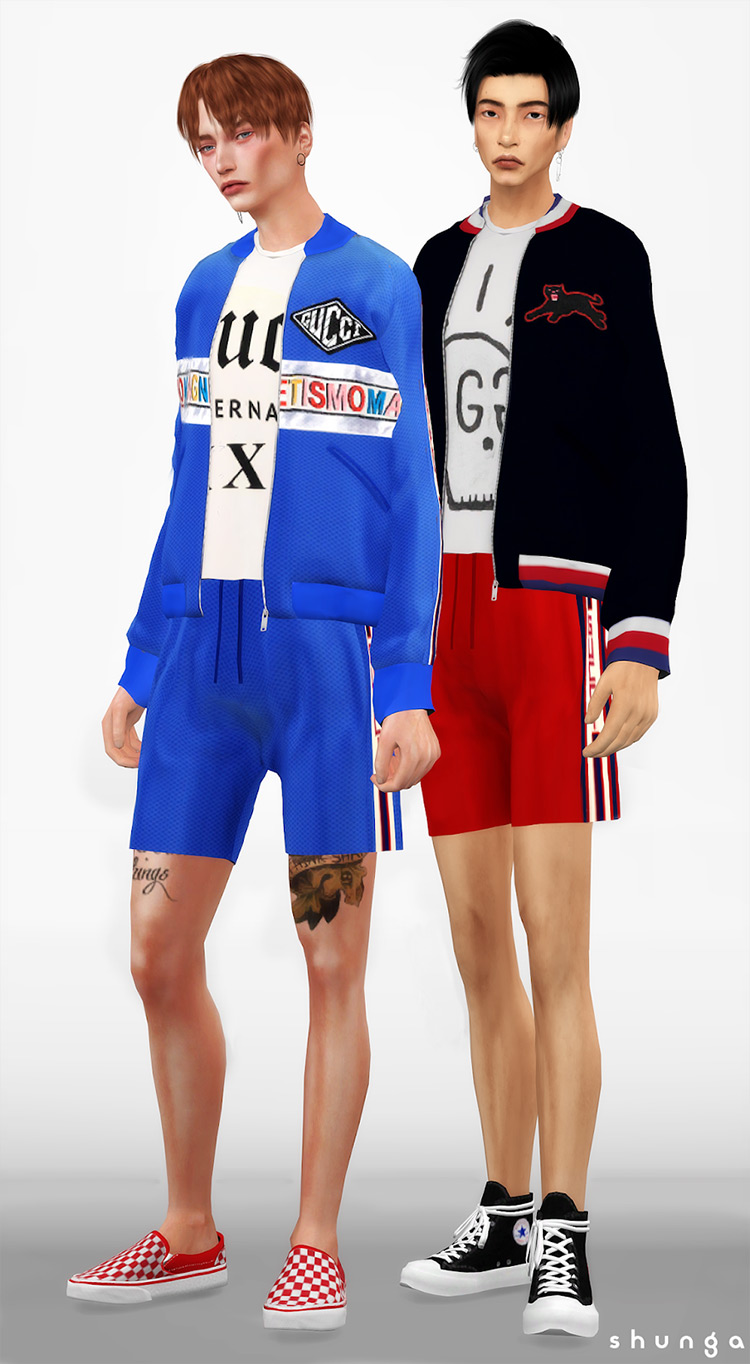 We haven't forgotten about the guys, and here's proof.
Shunga's Gucci CC Set set adds four designer items to the game, all for your male Sims:
A bomber jacket, jogging pants, shorts, and a polo top.
High quality, base-game compatibility, and 12-20 swatches per item gives you all the variety necessary to mix and match the exact outfit you're looking for.
3.

Versace Frames and Pillows Set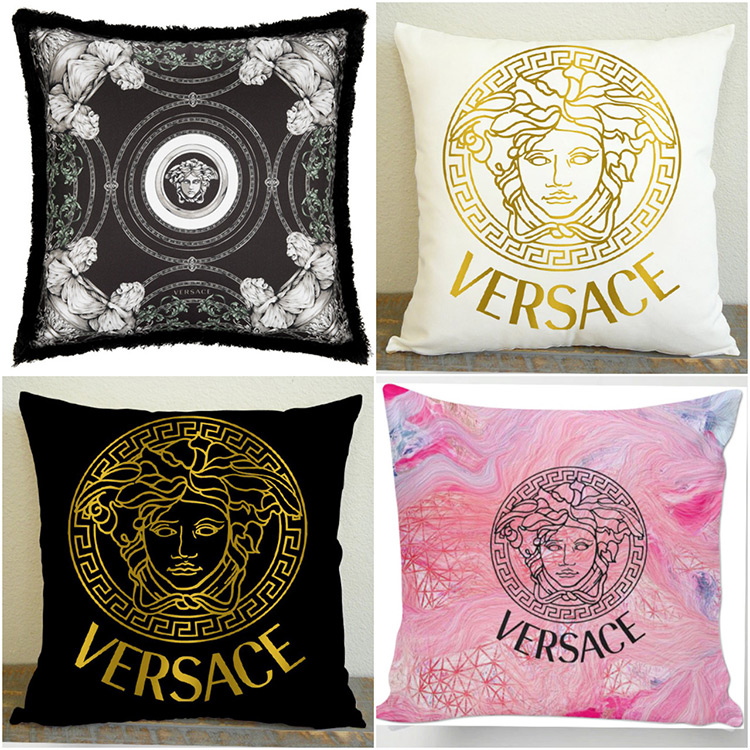 Clothes and shoes are great.
But buy mode could use some designer love too.
This Versace Frames and Pillows set by HBCUBlackGirl does just that, by adding base-game compatible frames and pillows with 8 to 16 Versace-themed swatches per item!
If all-designer-everything is your taste, then this one needs to be in your downloads right now.
2.

Chanel Rugs Set #1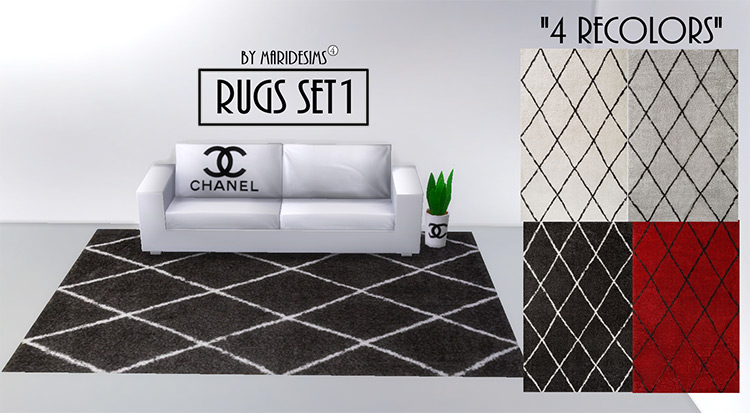 High-end rugs?
Yes, please.
MarideSim created this incredible Chanel rug set that offers us the opulence that's been missing in your Sim's living space.
This 4×6 rug comes in four colors, and just note that you'll need to own the Get Famous stuff pack to use it.
A small price to pay for designer CC, if you ask me.
1.

Ivy Park x Adidas x Rycreezy Fan Stuff Pack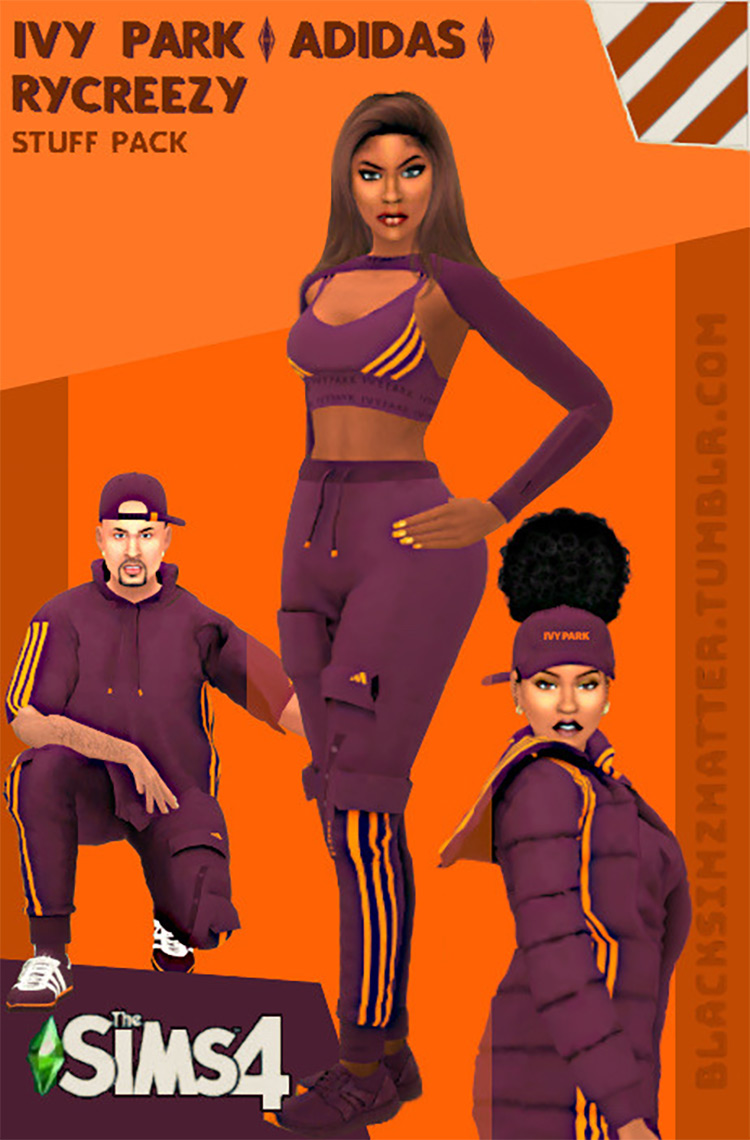 I'm always floored by the talent necessary to make fan Stuff Packs.
And this one's no exception.
The Ivy Park x Adidas x Rycreezy Fan Stuff Pack has over 30 items, from hats and beanies, to male and female jogger suits.
And the list goes on.
Creator Blacksimzmatter made the pack after having trouble buying the Beyonce-created clothing line in real life.
And while we hope they've been able to purchase Ivy Park since then, we're grateful that its unavailability led to this amazing CC collection.
Just grab four necessary meshes and you'll be good to go!
Browse:
Lists
The Sims 4
Video Games