Best Custom Deco Sims CC for The Sims 4 (All Free)
This post may contain affiliate links. If you buy something we may get a small commission at no extra cost to you. (Learn more).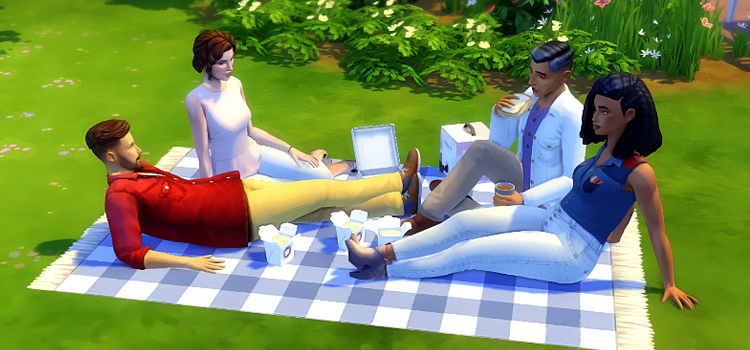 For Simmers who enjoy setting up scenes and taking screenshots to narrate a story, deco Sims are a godsend. They're basically non-interactive in-game statues designed to look like random Sims.
You can place them down like you would regular décor to fill up (or "clutter" up) your photo.
Need to fill a gym? A movie theater? A park?
Deco Sims are like NPCs that you can place and position however you need.
And they won't move at all, which gives you all the time you need to setup your shot!
1.

Fitness First – Deco Sim Set by StarrySimsie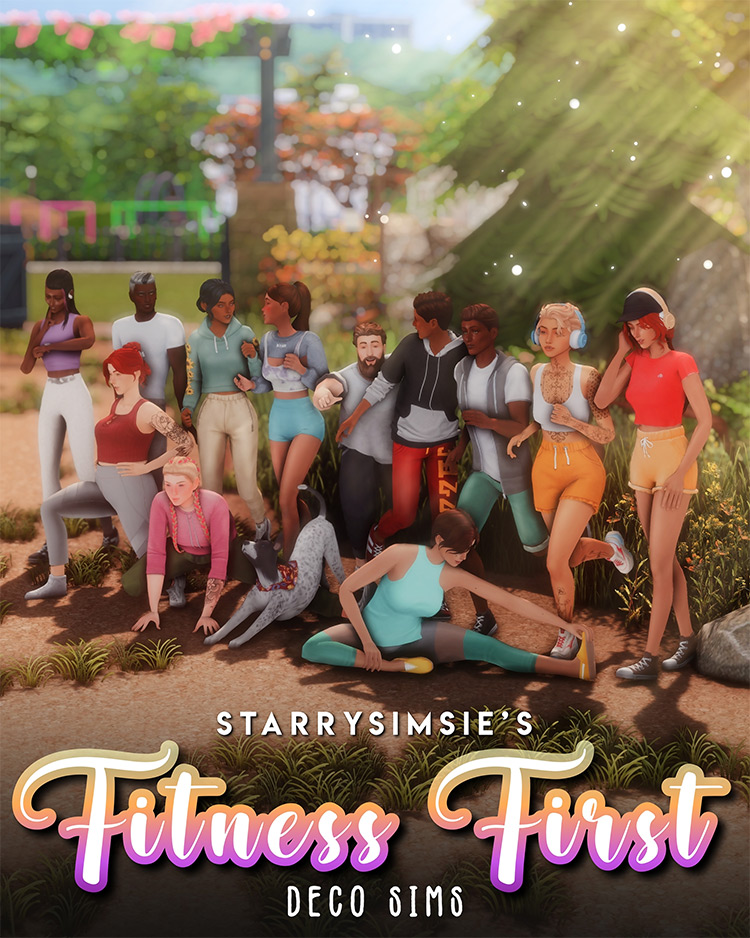 Running, stretching, lunging, pulse-taking… if you ever need to populate a gym or fitness field with athletes and dedicate gym-junkies, this is the pack to do it!
There are a total of thirteen different fitness poses, and each posed Sim has four different designs. Gotta give credit to the creator; the deco Sim designs are fairly diverse!
2.

It's Just Business Baby! by Inner City Simmer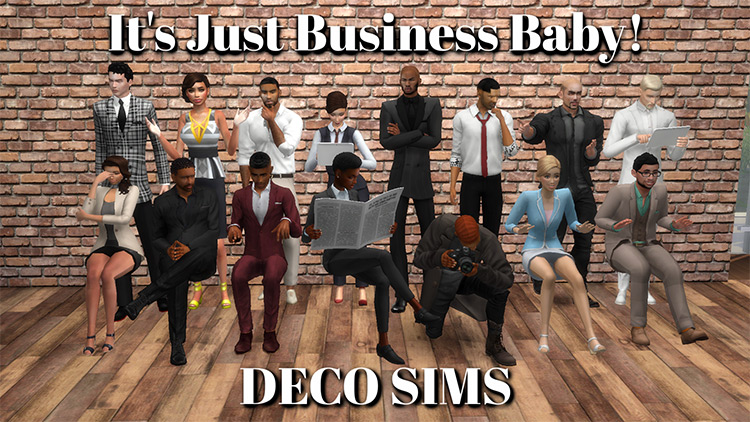 Filling a bustling, mid-rise office building in San Myshuno with randomly generated townies can be difficult — especially if you need them to sit still long to snap a photo.
Thankfully, Inner City Simmer's It's Just Business, Baby! pose pack exists.
Fifteen decorative Sims; all of whom are dressed in snappy business attire. Some of them even look like they're taking their job seriously!
3.

Winter Folks Part 2 – Deco Sims by StarrySimsie
'tis the season to walk around bundled up in thick beanies, pea coats, and woolly scarves.
Fill up your wonderfully wintery cityscape (or countryscape) with all variety of Sims!
From a stylishly-dressed mother and her equally-as-snappy-looking son to a casual man color-coordinating with his dog, this pack contains a whole cast of interesting characters that are sure to spice up any photo background.
4.

Gala Deco Sims by lazysimmies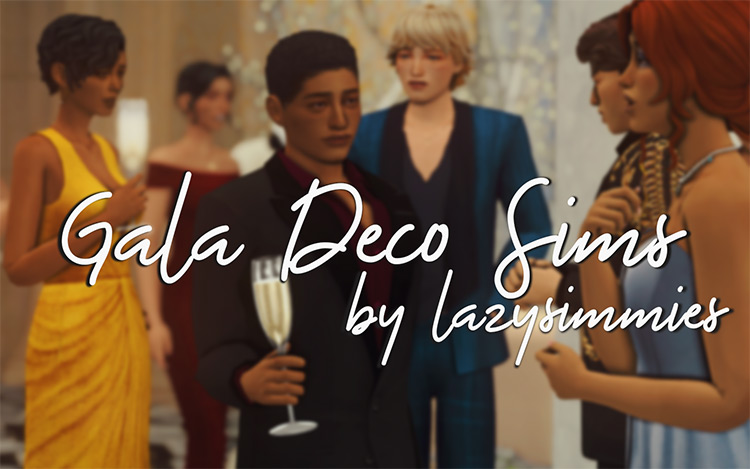 Even the most exclusive of black-tie events have upwards of twenty Sims on the guest list.
It would be pretty embarrassing if picture of a glitzy, upscale gala had only one or two figures milling around in the background.
Fill up your Sims' social bash – and save it from being total flop – with lazysimmies' pack of fancy, well-dressed, high-society deco Sims!
5.

Deco Sims Pack by lazysimmies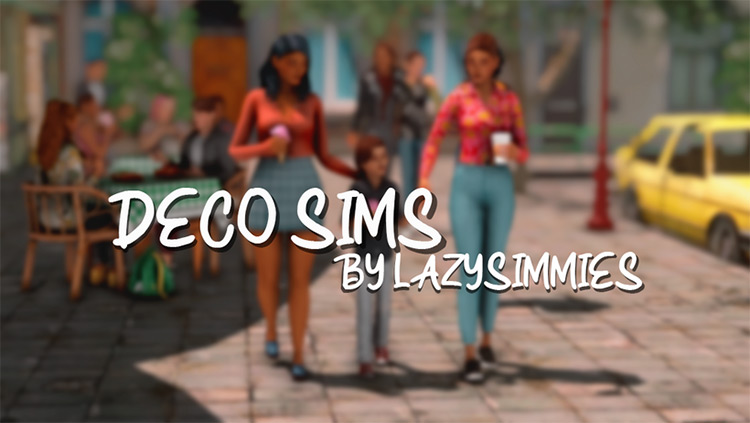 For Sims out and about, add some local color to their surroundings with lazysimmies variety pack!
It contains 17 regular deco Sims in different stages of strolling, socializing, and/or urban hiking.
Each one comes in four swatches, making it absolutely ideal for story shots involving a dense, diverse populace.
6.

At the Movies Deco Sims Pt. 1 by @devynsimchronicles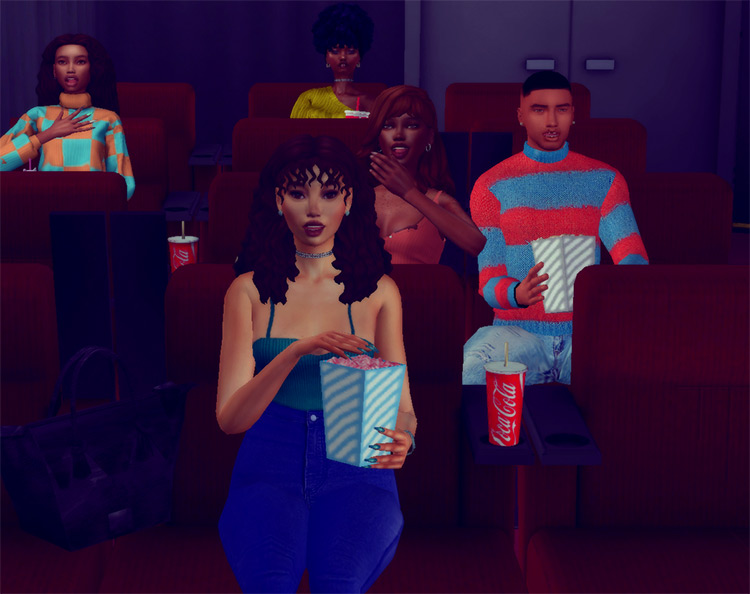 Whether you need a crowded movie theater for opening night or a fairly empty cinema for some B film's last full show, these popcorn-toting deco Sims are good to have on-hand.
They all sport varying degrees of emotions, from mildly intrigued to fully astonished.
There are five of them in total, and they can definitely spice up your movie date narratives!
7.

Deco Protestors by Reigningsims
If there's ever an event that needs dozens of nameless randoms, it's a protest.
This deco Sims pack by Reigningsims contains eight Sims who are passionate enough to make sure their voices are heard! Don't worry about the cause-specific signs (aka the ones with the crossed-out crowns and Down with the Avatar! statements). There are deco Sims with megaphones and Simlish banners for more generic protests.
8.

City Slickers Deco Sims by StarrySimsie
To give the illusion of a bustling metropolis, you'll need a whole lotta city slickers.
Thankfully, StarrySimsie's here to deliver.
These 9 decorative Sims are available in four different ethnicities. Some with grocery bags, some hailing taxis, and some canoodling with their significant other.
They're bright, they're colorful, and make for a satisfying, noisily visual background.
9.

Library Deco People by StarrySimsie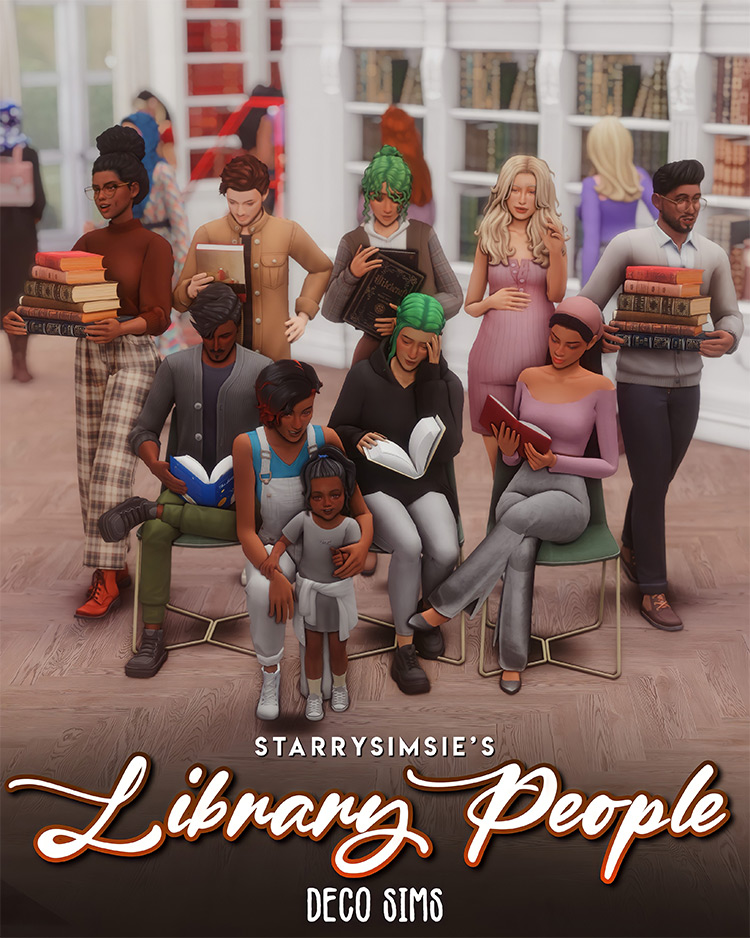 Contrary to popular belief, a library can be packed with people.
Have you ever seen a university's library during finals week?
Exactly.
If your narrative calls for a library, sprinkle some studious Sims in the background to breathe more life (and believability) in the setting! There are 10 of them in this pack.
And best of all, you won't need to furbish them with extra book accessories or decorations; most of them come with their own.
10.

Arcade Games Deco Sims by lazysimmies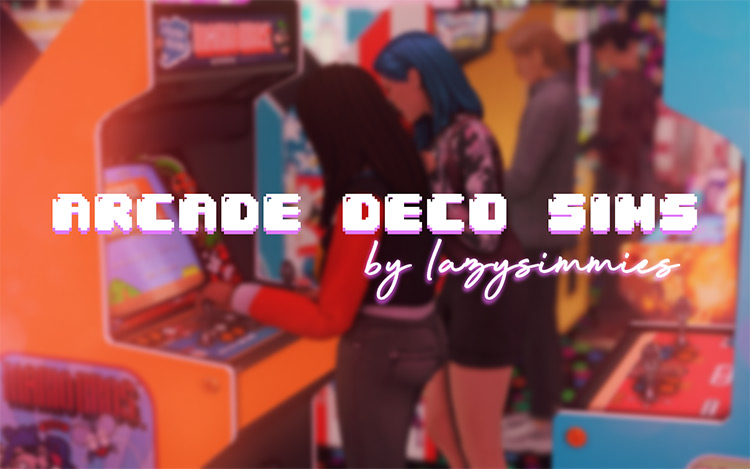 Many would consider a local arcade to a prime hangout spot for a diverse, colorful crowd.
Recurring characters include excitable school kids with extra pocket money and rebellious teens skipping afternoon classes. Heck; the rare twenty-something may even show up from time to time — bored, indifferent, and needing to blow off some steam.
If you need to shoot a scene at the arcade, decorate the background with lazysimmies' deco Sims pack to create a louder, livelier setting.
They even linked the decorative arcade game cabinets in their notes!
11.

Deco Sims: Hanging Out in the Park by someone-elsa
On beautiful days when the sky is clear and the temperature's perfect, treat your Sims to a little sunshine and fresh air.
A stroll 'round the local park should do them a world of good.
And if the game fails to populate the community lot, pop a couple deco Sims in the background to prettify your "casual day out" shots!
12.

We're Flying Economy! by xldkx-cc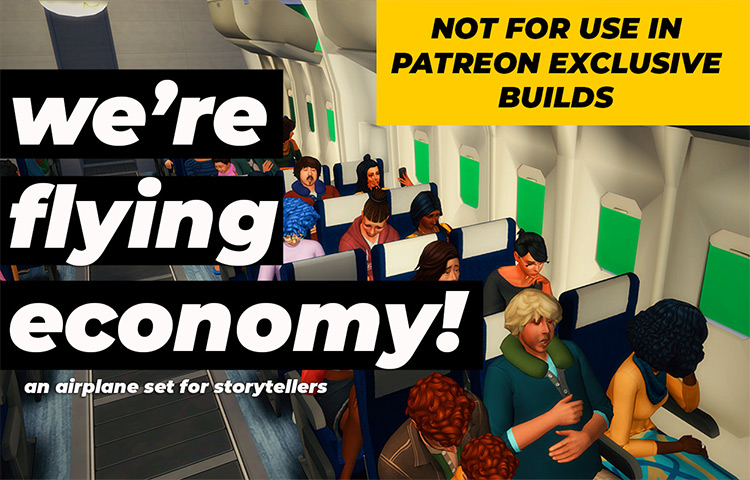 Why pay extra for business or first class when there are perfectly acceptable seats in coach?
Plus, look at all the interesting characters your Sim could interact with!
Real talk; xldkx's We're Flying Economy! pack is a fun one.
All 26 Sims look like they're just trying to make it through the next hour or so of being stuck in a flying metal tube with complete strangers.
And honestly? Some of their expressions are golden. If you need to fill up an airplane, this pack is my top suggestion.
13.

Airport Deco Sims by lazysimmies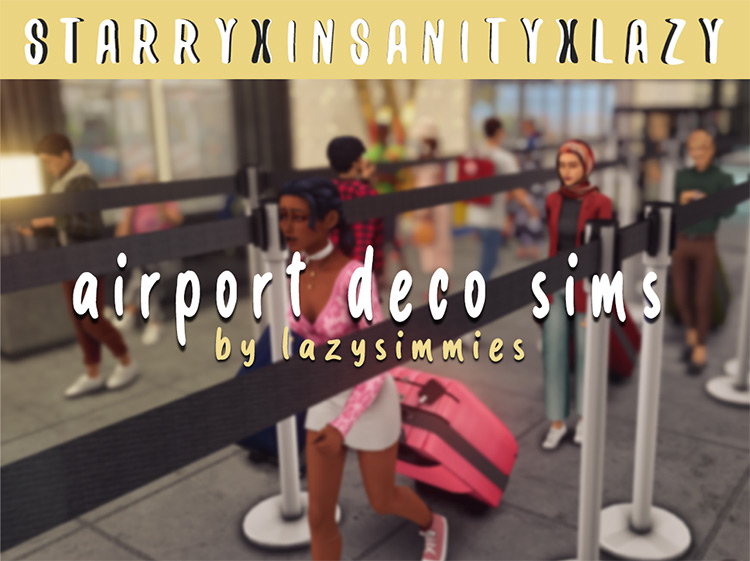 And here's the deco Sims pack for after you put xldkx's set to good use. Or before.
It's an airport; departures and arrivals of all kinds are welcome.
You've got decorative Sims pulling huge luggage bags, decorative Sims who know how to travel light, and decorative Sims killing time on their phones. They're perfect for adding background color if you ever need to shoot emotional airport scenes.
14.

Dance Dance Revolution Deco Set by xldkx-cc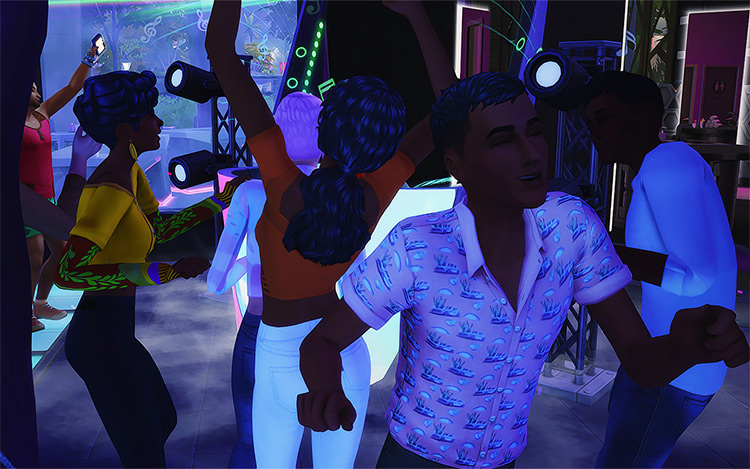 Weekend bar-hopping?
Celebratory post-finals, alcohol-induced bash?
Local rager?
You never know when you'll need a couple dozen party animals who like to shake it 'til they make it.
Luckily, xldkx's got a variety pack of six decorative Sims who are always ready to party. They'll be background proof that whatever social event's happening isn't a complete flop.
15.

Shopping Deco Sims by lazysimmies
Any idea how many random people you encounter when you go grocery shopping?
I don't know the actual statistics, but I'd bet my bottom dollar it's a lot more than we can track on one hand.
Lazysimmies' Shopping Deco Sims set contains a modest twelve Sims (four swatches each) designed to look like their milling about a grocery store.
Their corresponding props – to really set the scene – include shopping carts, paper bags filled with fruit and veg, shopping lists, and various decision-making expressions.
Browse:
Lists
The Sims 4
Video Games