The Best Sims 4 Versace CC (All Free)
This post may contain affiliate links. If you buy something we may get a small commission at no extra cost to you. (Learn more).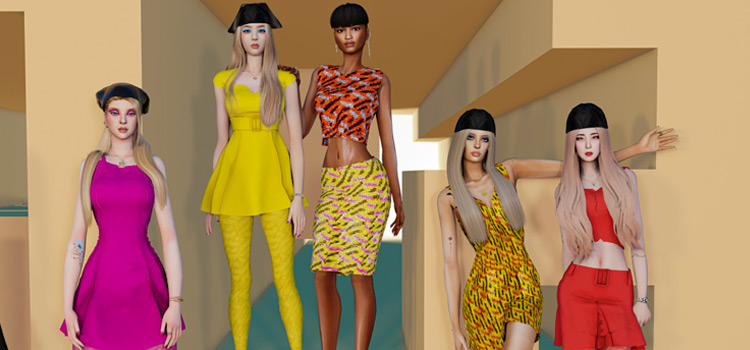 If you ask anyone to name a luxury fashion company, chances are nearly everyone will say Versace.
The legacy of Gianni Versace began in 1978, when his unique creations took the world by storm. They were original, daring, and all these years later, all of this is still true.
And The Sims 4 has a closer link to the fashion world than many may realize.
Tons of players follow trends and what's hot among celebs closely, and that often includes designer clothes.
Nearly every brand is now represented in some capacity through CC – and there just so happens to be an abundance of Versace stuff out there.
Almost everything is an exact replica of real clothes, too, so your Sims can really look the part when you want them living the luxurious simulated life.
1.

Versace Collection
When you're searching for a specific brand or type of CC, finding a collection is always like finding a goldmine.
Multiple items with the same theme and style, all in one place? Yes, please!
Each part of this set brings that classy Versace vibe with fantastic detail.
The sleeveless turtleneck has a beautiful, luxurious plus texture that's definitely fitting for a designer company.
The mini skirt is sleek and chic in equal measure, with its glossy black appearance.
And it would be a crime to leave out what's sure to become your Sim's signature little black dress, perfect for all occasions.
It has a modest cut and length, and is pretty simple except for the gold accents along the torso.
But as beautiful as those three are, they don't really scream "Versace" like the tube top and matching skirt, which literally have the name covering them in massive letters.
The turtleneck is available in four vibrant swatches, while the other creations stick to either white or black options.
2.

Versace Palazzo Medusa Slingback Pumps
Like most big names in the fashion, Versace offers a wide range of products so you can be dressed your best from head to toe.
That's never an easy feat for Sims.
Sure, there are lots of awesome things already available in CAS. But putting together entire outfits just isn't easy for a lot of players.
If you're as wardrobe impaired as I am, then you may find yourself sticking to the same few things over and over again.
Those are like the staples of your Sims' closets, whatever you use the most.
And these pumps are bound to be the newest addition.
Not only are they simply incredible as far as quality goes, but you'll be able to use them for so many outfits. It feels like this is the shoe that has been missing from CAS, something with a high-end look that doesn't go too crazy.
For the most part, these are straightforward heels despite their long and snazzy name.
They have a slender heel and strap with nice color options.
It's the medusa head plaque that really sets them apart from the rest. That shiny, detailed part of the toe serves as a definitive reminder that these aren't any old heels.
They're beautiful, they're bold, and they're Versace.
3.

Versace Swimwear Sleepwear
Versace in the streets, Versace in the sheets.
You might not think this was possible – or more likely, you've never thought much about fancy pajamas at all…
But yes, designer sleepwear is a thing.
And now your Sims can ditch the sweatpants and tees for something a little classier.
This bathing suit-like one piece is pretty saucy.
It's a little closer to lingerie than typical pajamas, and that's what will make your Sims more beautiful after dark than ever.
4.

Versace Sandals
Sandals mean different things to different people.
For one person, that word may conjure images of flip-flops, while someone else may think of summery wedges.
Well, there's no wrong answer.
The only defining factor of a sandal seems to be that they're open-toed.
With parameters as broad as that, it's no wonder fashion powerhouses have run with the idea.
This is just the type of thing you've probably seen on runways or in modeling magazines. They're quite refined, with a unique square sole shape and the Versace name along both straps in gold.
5.

Versace Medusa Mules
Here are some more fabulous heels from the same Simmer who brought us the Versace pumps CC.
I don't claim to know why there are so many names for heels.
There are stilettos, wedges, platforms, peep toes, and a heck of a whole lot more.
All I know is they require some level of composure and skill to wear them, lest you wind up looking like a baby giraffe taking its first steps.
They have a bit of a reputation nowadays, too.
Many people advocate against heels because they cause foot pain, or are inconvenient in some parts of everyday life.
Well I'd be fine cracking an ankle to own a pair of these.
They're genuinely stunning and the creator did a fantastic job.
The white and gold color combo is also marvelous – really capturing the sophistication of Versace.
6.

Versace-Inspired Dress
Many Versace items have simple solid colors – but they really kill it with their prints, too.
You probably know them when you see them, even if you can't necessarily put a name to it. They're just unforgettable due to the color schemes and designs.
That intricate golden design is definitely familiar, and it carries an air of elegance that just can't be beat.
It perfectly emphasizes each part of the low cut, spaghetti strap dress that this Simmer recolored.
The other dress is a bit shorter with a thick belt around the middle, but it's really cool. And the black and white Greek key pattern definitely suits it.
Afrosimstricsimmer used her talents to flawlessly bring some Versace flavors to other creator's dresses, so you'll need to grab their meshes for everything to look just right.
7.

Versace Multicolor Bathrobe
Bathrobes are generally underappreciated.
The good ones are soft and warm, like wearing a wonderful blanket.
We won't talk about the bad ones.
Sims have a couple bathrobe options in the game already but I have really never used them. The opportunity just hasn't presented itself.
No one wears a robe to bed except for people on TV and Sims instantly change into their regular clothes as soon as they're out of the shower anyway.
Well, this CC changes it all.
PlasticSimz's Versace Bathrobe is loaded with color and personality.
Nothing about this is plain or boring in any sense.
The Versace name is printed across every inch. Your Sim's figure will be accentuated nicely by the signature Versace belt.
And best of all, the colors are brilliant: shades of pink, green, yellow, and blue all make this creation amazing.
8.

Versace Choker
Designer jewelry is like a whole other world.
There's generally a lot less space to experiment than with clothes, but that doesn't mean big things can't come in small packages.
Versace in particular tends to focus on gold, thick chains, the classic Medusa head, and diamonds.
All of that is a recipe for striking pieces like this choker CC from Daniel-Sims.
It has everything I mentioned, and even more beauty than I could describe.
This will be a very unique necklace for your Sims, since there aren't many chokers anyway (even with CC) and especially not ones as deluxe as this.
And it's not just any choker –the Medusa head dangles stylishly from that part.
With the way Medusa keeps rearing her serpent-filled head throughout this CC, I figured out there must be a deeper connection to Versace than just looking cool.
Turns out, Gianna Versace wanted his products to have the same irresistible influence on people.
I think it's safe to say that has worked out well!
9.

Versace Jacket
You Sim will look like she just stepped straight out of a classic Hollywood movie.
If you want something super feminine with a retro flair, this jacket will become your new favorite thing.
It can honestly double as a dress since the length is mid-thigh.
The design is a little reminiscent of a peacoat, with the buttoned and overlapping front.
Like many other creations on this list, there's a stylishly thick belt. And of course good old Medusa is right there in the middle!
The whole thing is brought together by the trim, which will match the belt on either swatch, and runs along the edges of the jacket.
10.

Vintage Gianni Versace Sunglasses
Sunglasses are another one of those things that seem borderline impractical to give Sims most of the time.
They barely leave the house. And when they do, there's no simple way to remove their outdoor accessories.
But sometimes, there's stuff that looks so cool, you can throw pedantic problems like that out the window and just embrace it.
Your Sim can rock these day and night.
They're Versace. One look at that logo and no one will even question why your Sim is wearing sunglasses in the dark.
This vintage look is also great to use for swimwear outfits, as well as everyday outfits, cold weather, hot weather, athletic… pretty much everything, honestly.
You might even be able to swing using them with formal wear, depending on the occasion.
If celebs can show up to red carpet events with sunglasses, Sims should be able to wear them to dinner parties.
Browse:
Lists
The Sims 4
Video Games