Best Sims 4 Chokers: Free CC & Mods To Download
This post may contain affiliate links. If you buy something we may get a small commission at no extra cost to you. (Learn more).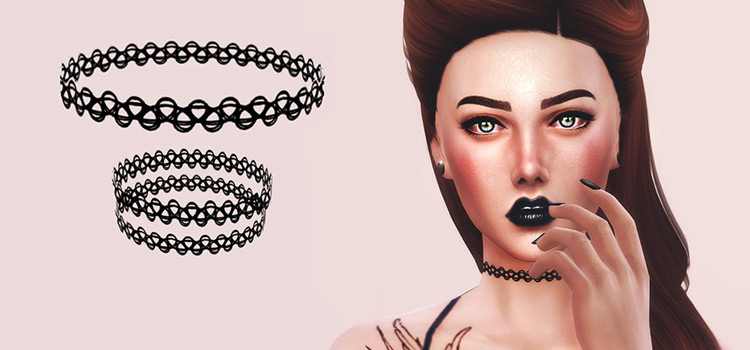 After spending hours crafting the perfect character down to the freckles on their nose, the next thing you want is to give them an outfit that suits them to a tee.
And what better way to give your adorable sim a unique look than by accessorizing.
The accessory choices is TS4 may seem a bit limited in the base game. And even with some expansion packs, you might get a bit sick of giving all your sims the same pendant necklace or hoop earrings.
Well ta-da: that's where CC comes in!
Chokers are the perfect accessory for any girl, and even some guys!
And with the variety of custom content out there, you should be able to find one to complement any outfit. From gothic to grandiose, cool to classy, we've got you covered.
15.

Viirinx Choker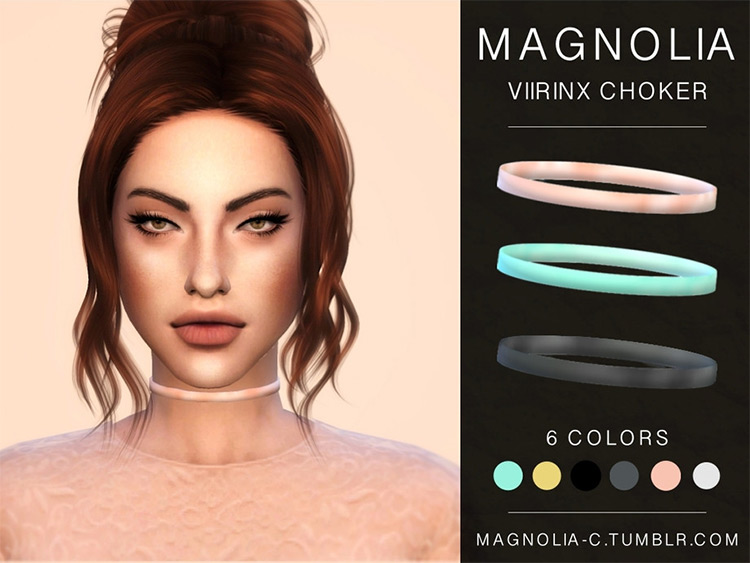 Starting off simple we've got the Viirinx choker by Magnolia-c.
With six different colors available, this basic choker necklace is perfect for any style. And I mean really, anyone could pull this off.
This is the type of necklace you can pair with anything and it will always add that extra pizzazz.
Whether you're going out to dance, heading out with your hot new townie date, or heading off for your first day Britechester University, this little necklace adds a nice finishing touch to any look.
14.

Laurel Leaf Choker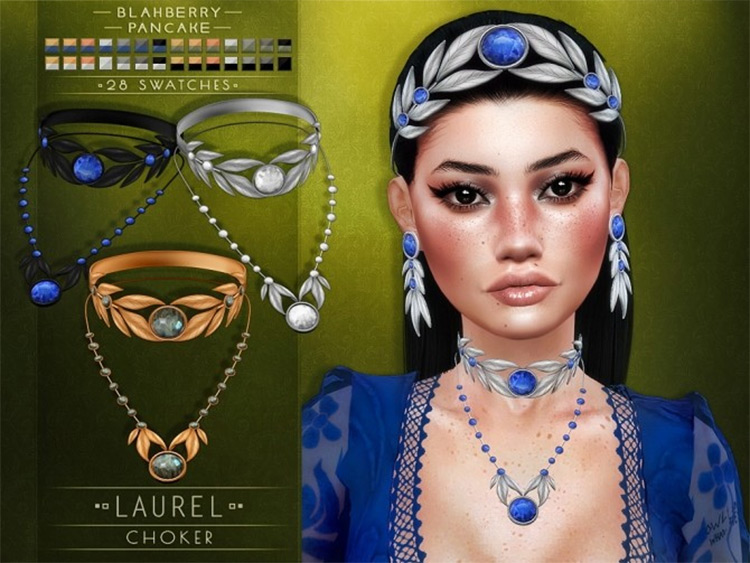 Fancy giving your sim that gorgeous Grecian style?
Then the Laurel set and choker by Blahberry Pancake is the one for you. It's a little odd, tough to match, but with the right outfit it'll grab attention for sure.
With a laurel leaf style reminiscent of Athena, Aphrodite, and Hera you can make your sims look classy, cultured, and powerful.
13.

Stellar Star Necklace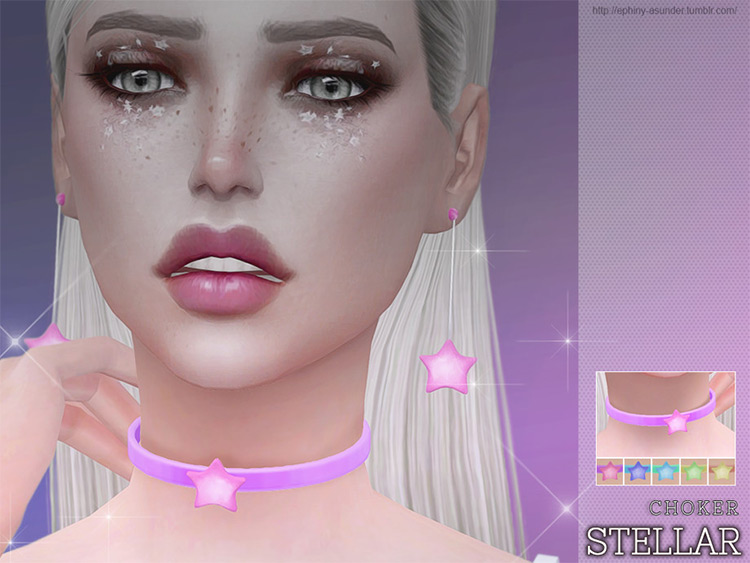 This adorable stellar necklace by creator Screaming Mustard is pastel, spacey, and totally kawaii.
While chokers may typically be considered a more gothic or edgy accessory, this variation on the style makes chokers a versatile necklace for any cute gal.
Pair this with some matching earrings for a super cute look.
12.

Harley Quinn Style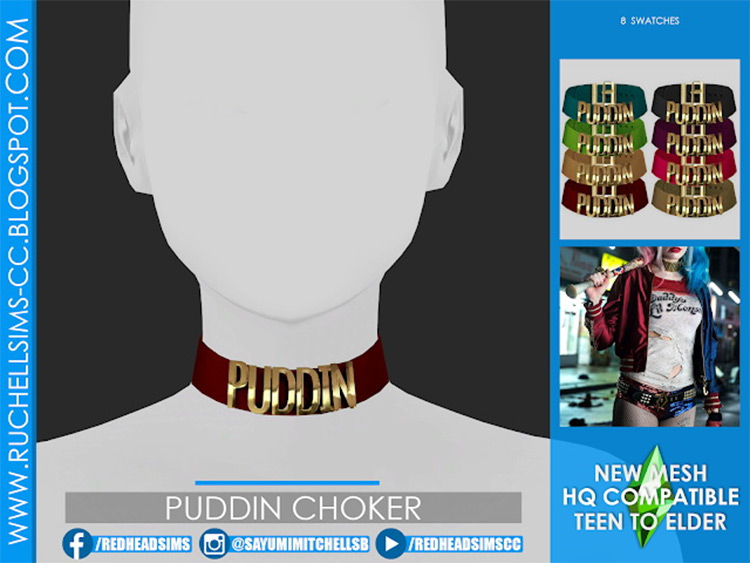 For all the Suicide Squad and Harley Quinn fans out there, we've got you covered!
CC creator Ruchell Sims made the Puddin' choker necklace in 6 swatches.
Have you been wanting to re-create your fav crazy killer? Now's your chance!
11.

Wavy Choker
Now this wavy choker by Guilietta is something I absolutely love.
And I'd probably wear this in real life if I could pull it off.
It's artsy, modern, and fairly simple with four basic colors, but adds a nice touch to any outfit.
10.

Kira Choker
Next up we have the Kira choker by pralinesims.
And this one's pretty crazy, so def not for everyone!
This spiked choker is available for both male and female sims in 10 radical colors. I love this look so much, it's perfect for that teenage goth/rebel sim we all know and love to play with (it's not just a phase, mom!)
This choker goes well with a leather jacket, ripped jeans, and a hardcore personality.
9.

Retro Tattoo Choker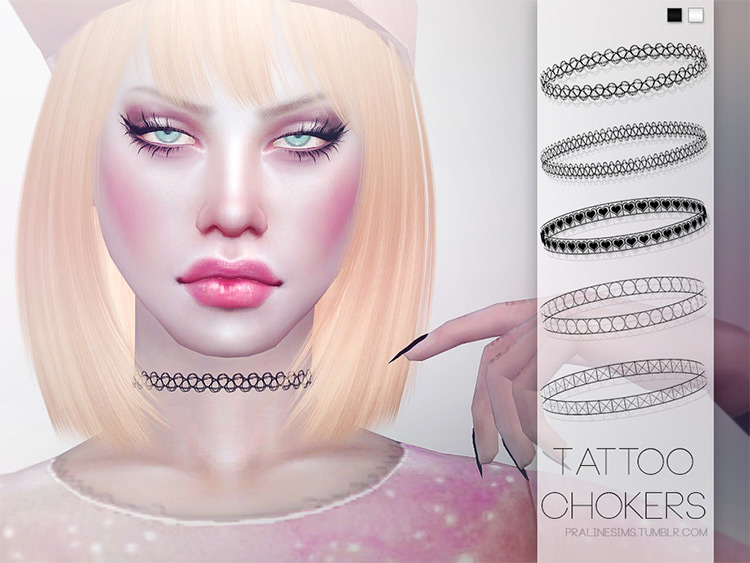 A throwback to what we all wore in 2015 (or if you're an OG then you remember these from the 1990s).
Either way this is a classic to have in your wardrobe. This CC pack comes with 5 tattoo chokers, also by pralinesims, with 2 color styles.
A little simple, but we all know and love this classic look.
Complete your E-girl fantasy with this little piece of CC.
8.

Crescent Moon Diamond Choker
I love this crescent moon diamond choker by NataliS.
An understated accessory, this choker necklace has witchy spacey vibes written all over it. Which leaves me with a few questions…
Is your sim a budding astrologer?
Or maybe she's a spellcaster living in a carefully curated cottage? Or even a vampire from the depths of forgotton hollow?
Well whatever play style you have, this choker is a great accessory for any sim who loves that occult edge.
7.

Heart Broken Choker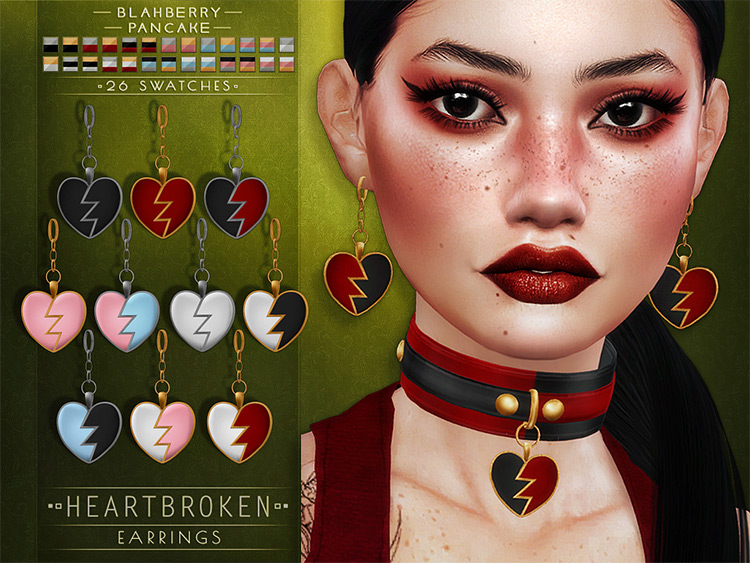 This is incredible, flashy, and totally unique.
The heartbroken choker (with matching earrings) by Blahberry pancake are some of the craziest CC in this list.
With a mind-blowing 50 color swatches to choose from, this CC set has a little something for any trend.
And the choker has a Melanie Martinez-esque vibe written all over it with the huge range of color. You could look gothic or babydoll to suit whatever you need. Amazing!
6.

Metal & Suede Choker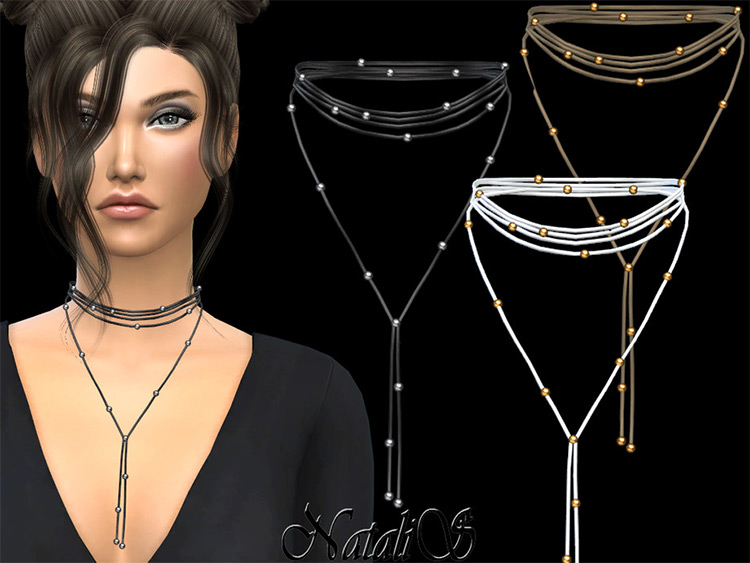 Another piece by NataliS is this gorgeous metal and suede choker.
This is certainly simpler with only four colors available, and is super classy and chic. I love the layered effect too.
For a choker design with such an elegant & timeless style, this CC could suit sims of any age.
5.

Sky Moon Choker
The sky moon choker by DarkNighTt adds a modern twist to the classic choker style.
With an open front and a drop pendant crescent moon, this stunning CC necklace has 4 different color swatches and a lot to love.
This really has that "nighttime party-time" vibe to it.
Another sophisticated look, and absolutely exquisite for accessorizing.
4.

Blood Drip Choker
With a new angle on the typical choker we have this oddly tantalizing blood drip-styled necklaceby DarkNighTt.
Edgy, dark, occult, you can wear this look in red or black.
And it's such a unique concept, I'm totally in love with it. Seems perfect for Halloween too.
Give this to your vampire sims to emphasize their blood lust, or give it to their victims after they've taken a bite… just to add a touch of realism!
3.

Cosette Choker
Here we've got a cute cosette choker, again by pralinesims(one of the best modders out there).
This choker has an immense 60 different colors, all in the same style, so you have no excuses for not matching to your look.
Taking after the punk and collar-like fashion of German subculture, this feminine take on the look doesn't go overboard. But it still packs a punch.
2.

Moon & Sun Set
ErSch sims gave us this moon&sun CC set, and all I can say is WOW!
This choker is intricate and detailed without being overwhelming or flashy.
With a matching tiara, headband, and earrings made by the same creator, this stunning look is regal and ethereal.
Yet it's approachable so that any gorgeous lady could pull this off.
1.

Neck Scarf Choker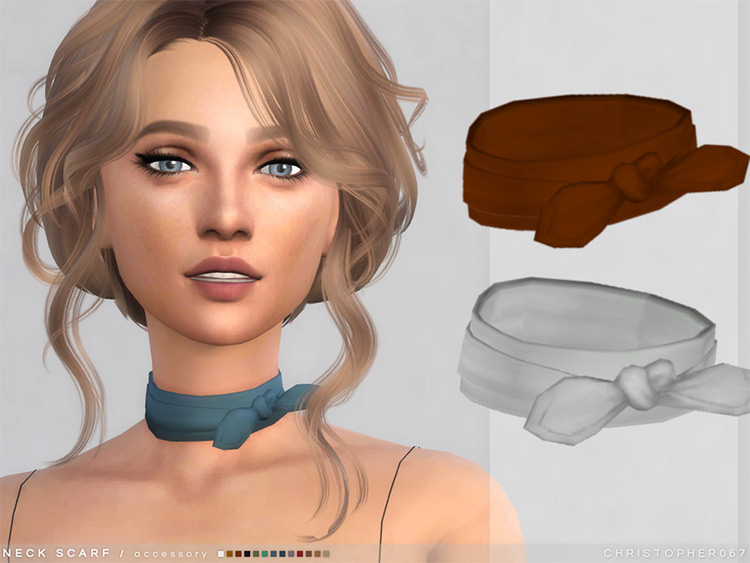 Coming in here at the top of my ranking, I chose this gorgeous tied neck-scarf choker by custom content maker Christopher067.
This style is something I could see myself wearing with an everyday fall look. And it's both classy and casual.
Wear it to the office, out for drinks, or just out & about shopping for new shoes.
With 13 different colors, this neck scarf CC gives a versatile accessory that can go with almost anything.
And even better, because this can be found under the bracelet category in create-a-sim, you can wear it with your favorite necklace underneath!
This look is à la mode and very chic – pairs well with Mom jeans, a simple wide neck jumper, and sneakers for an effortlessly stylish everyday look. Mwah!
Browse:
Lists
The Sims 4
Video Games