The Sims 4: Best Wine Cellar & Wine Rack CC
This post may contain affiliate links. If you buy something we may get a small commission at no extra cost to you. (Learn more).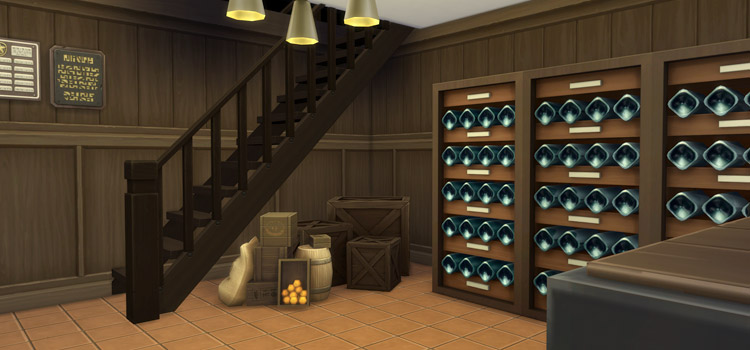 For the wealthy Sim who has everything, there's only one question left:
What else can I get to show how incredibly rich I am?
Why, a wine cellar, of course!
It's the perfect way to fill up that gigantic mansion basement. And it'll leave your visitors both impressed and envious.
But tell your ordinary Sims not to panic – because the CC on this list can be used to make a public winery for themselves, so they can enjoy the finer things in life too… if only for a little while.
On Cloud Wine Bottle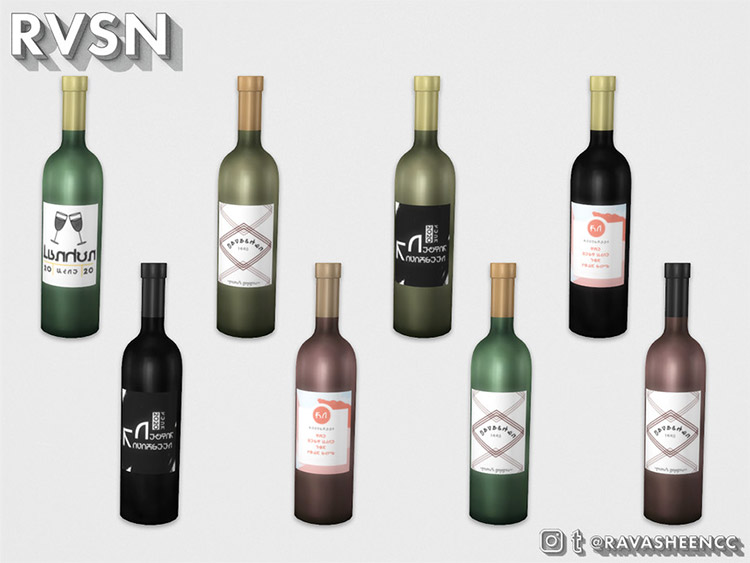 Cheeky name aside, this "On Cloud" Wine Bottle set by Ravasheen is perfect boozy decor for your kitchen.
This eight-bottle CC set is Maxis-Match friendly, with all label text written in Simlish for lore continuity.
Talk about immersion.
And really, the wine looks so good, we almost wish they were functional!
Plus here's even more good news: you'll only need the base game to add these to your CC.
Riekus Wine
More wine décor, but with a lot more options and a HQ mesh.
LeoSims' Riekus Wine is a two-item set with wine and champagne, and a combined 20 swatches.
Originally converted from creator Riekus's mesh, the bottle labels are inspired by real-life brands, and would fit best in an Alpha Simmer's world.
Barefoot Variety Deco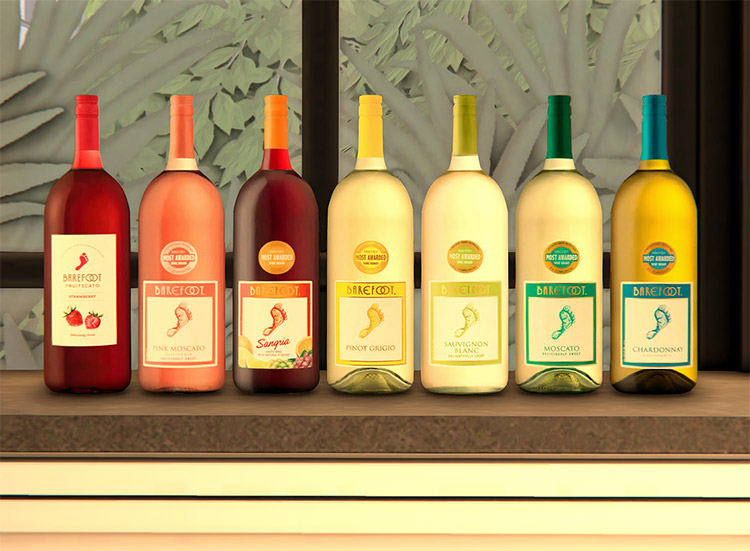 Seriously, what would wine drinkers do without the Barefoot brand?
It's one of few brands that provide quality wine without breaking the bank – and now your Sims can, too.
This Barefoot Variety Deco CC set by AfrosimtricSimmer has seven real-life flavors from the beloved wine brand, including Moscato and Pinot Grigio.
These are high poly too, so they're really nice to look at in game.
You'll find them in the plants/miscellaneous clutter category in Buy Mode.
Wine O'Clock Dining Set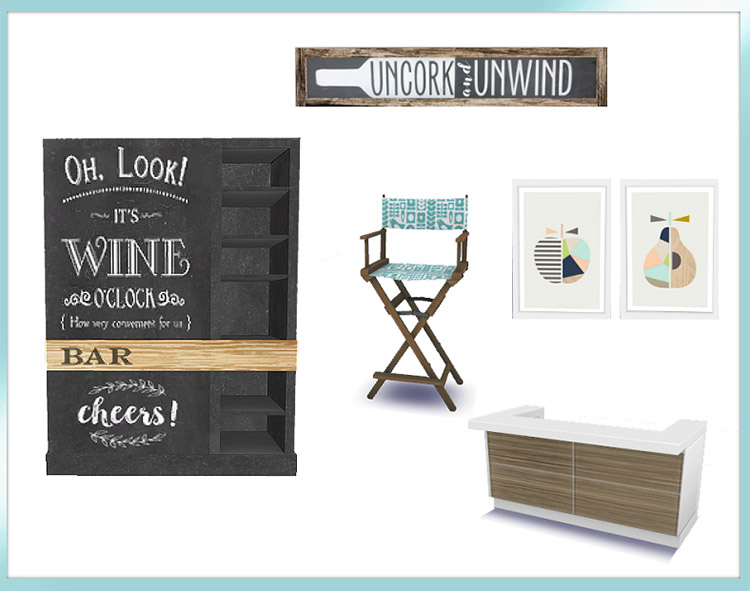 Want a dedicated area for wine, but don't have the simoleons for a whole cellar?
Not to worry. Because CC maker Chicklet45368 created this custom dining set that has you covered.
With six total items including a wooden cabinet to hold wine, a decorative sign, and director's chair bar stools, it's got everything a Sim needs for their own private wine getaway.
All items included are compatible with the base game too.
The Wine Cellar Build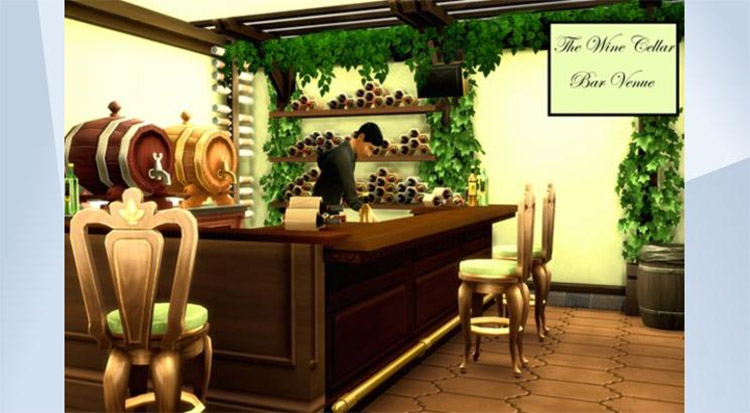 An underground wine cellar-themed bar!
Now we're talking.
Creator MissNightHawk_YT was talented enough to build and furnish this one-of-a-kind lot, and kind enough to share it with all of us.
The 20×15 lot is unassuming on the outside:
Just a small staircase leading down to a wooden door.
But it's the inside that blows us away.
The décor feels European and Mediterranean inspired, and the bar has a sitting area with a fireplace, tables, and a friendly bartender available for all your drinking needs.
Arden Champagne Decor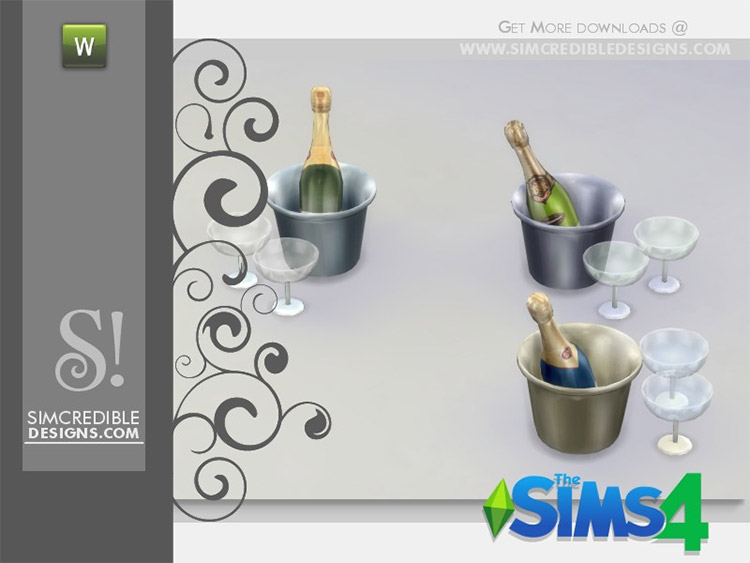 Whether it's for a special occasion, or just because, there's never a bad time for champagne.
And this custom champagne décor by Simcredible adds a luxe champagne bucket (stocked, of course) plus two glasses.
When it comes to The Sims 4, atmosphere is everything.
And these add so much class to a Sim's dinner party, date night, or New Year's Eve celebration.
It's also part of a full dining room collection by Simcredible, which you can check out here.
Wine Rack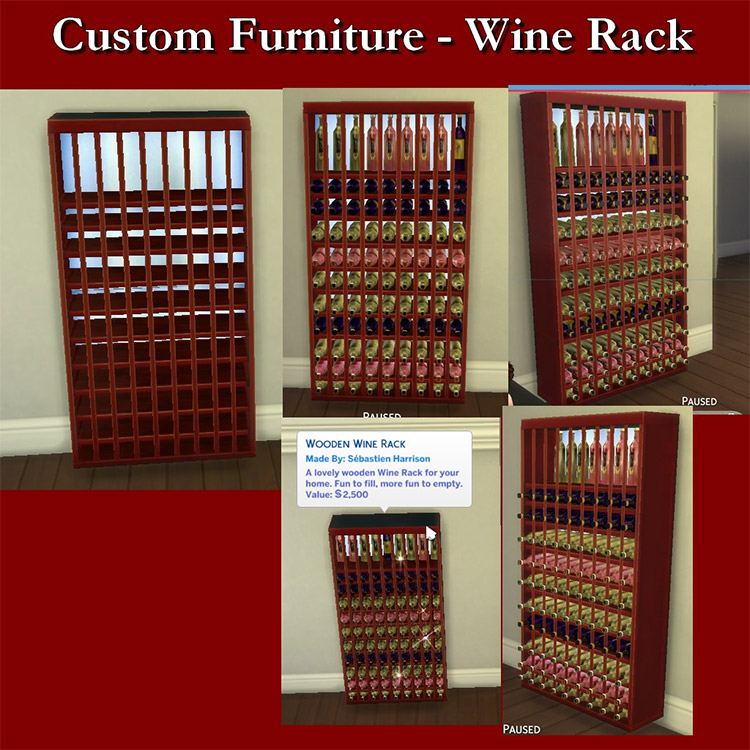 Wine racks are just as important as the drinks they hold.
And CC maker Leniad's Wine Rack comes with a massive amount of storage: 99 slots.
You can use it to store any small objects, so it should hold any CC wine you've downloaded (yay!).
And what makes this rack super-cool is that it's custom craftable furniture, which means you'll need a crafty Sim to make one from scratch!
Since it's not available in buy mode, it'll make having such a unique wine rack that much more special.
Hallway Table Console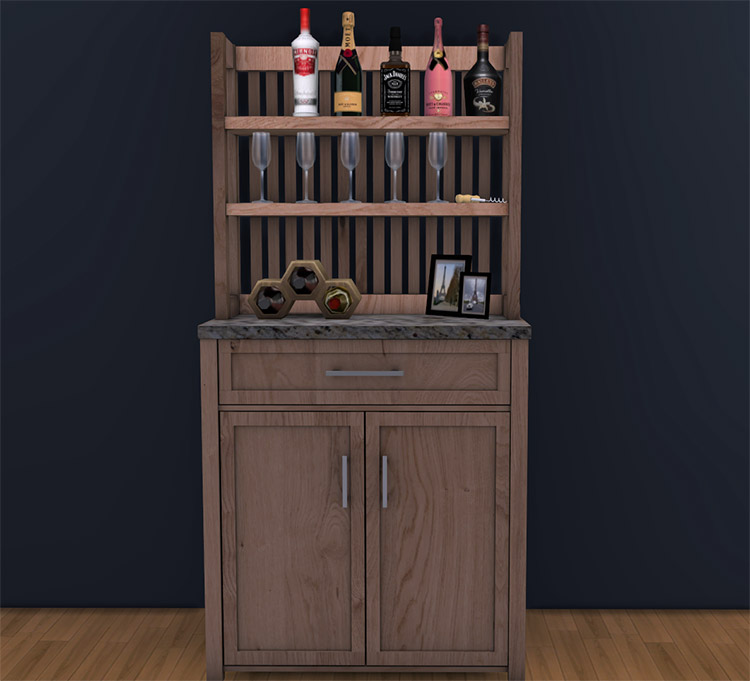 Apartment or tiny home-dwelling Sims just don't have the space for a wine cellar.
But they can enjoy a nice drink with this custom hallway table by SunKissedLilacs.
This wood-grain console has a granite countertop and two storage shelves to hold a few glasses, a handful of bottles, and small knick-knacks.
Most importantly, it's much narrower than the average wine rack. Which means it also saves valuable space in an already cozy living area.
The Wine Cellar Sims 4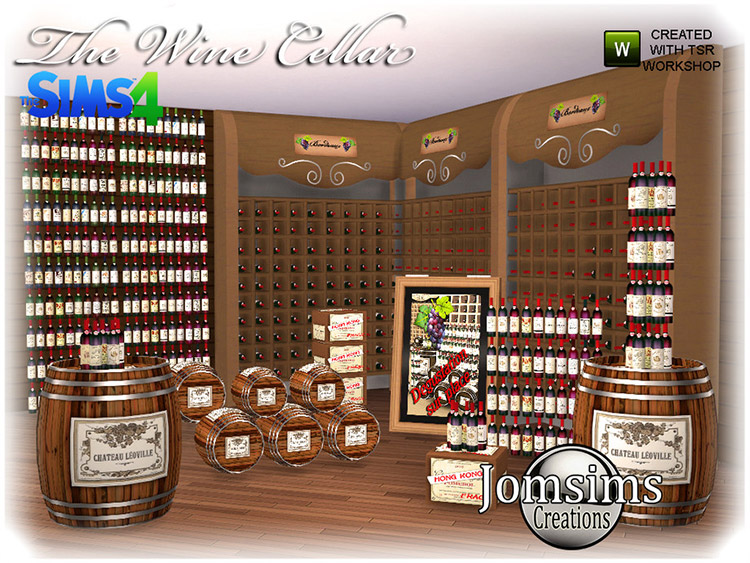 This is the ultimate custom-made wine cellar CC for The Sims 4.
Creator JonSims spared no expense to detail when it came to creating this set:
You get labeled barrels and wine bottles, storage that can hold over 100 bottles of wine, decorative signs, wine crates, and a lot more.
These are very high quality, but we'd recommend this set to every, just because of how involved and detailed the items are.
And no packs needed to use it, either!
Wine Fridge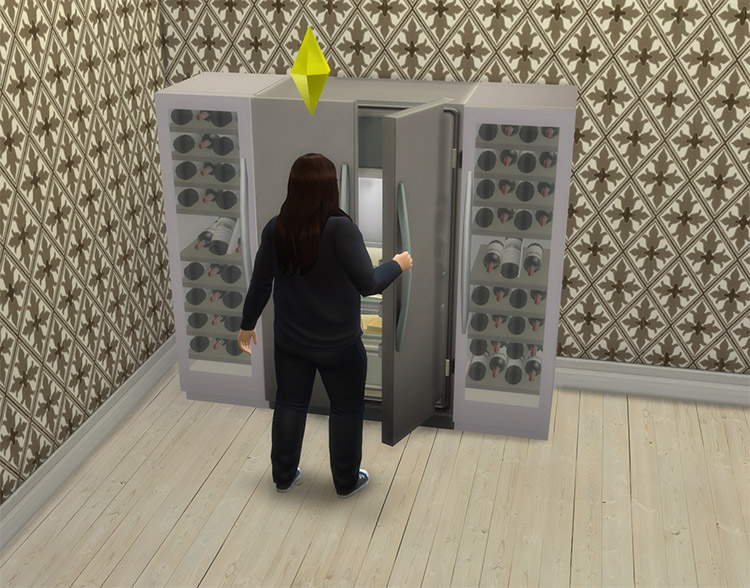 For wine connoisseurs, temperature plays an important role when it comes to wine.
For the rest of us, wine fridges just look cool.
That's why BillL's custom wine fridge CC is a must-have for wine-loving Sims.
The fridge combines an EA mesh with the creator's unique CC, which results in a much wider fridge centered between two wine fridges.
There's nothing subtle about these fridges – and we love that!
It's huge, it takes up massive space, and feels incredibly expensive.
Exactly what your rich Sims have been looking for.
Browse:
Lists
The Sims 4
Video Games