Sims 4 New Year's Eve Party CC, Mods & Poses (All Free)
This post may contain affiliate links. If you buy something we may get a small commission at no extra cost to you. (Learn more).
Unlike sweet sixteens and frat parties, there's a lot more pressure in throwing a New Year's Eve party.
NYE celebrations are expected to be legendary and unforgettable, serving as a big, confetti-filled FU to the departing year.
If you have any plans in hosting a party this epic in scale, then you better prepare more than a set of sparkling juices and sparklers.
Be the coolest Sim in the neighborhood before the clock strikes midnight with these must-have CC sets for your TS4 New Year's Eve parties!
10.

New Year's Eve Dress Collection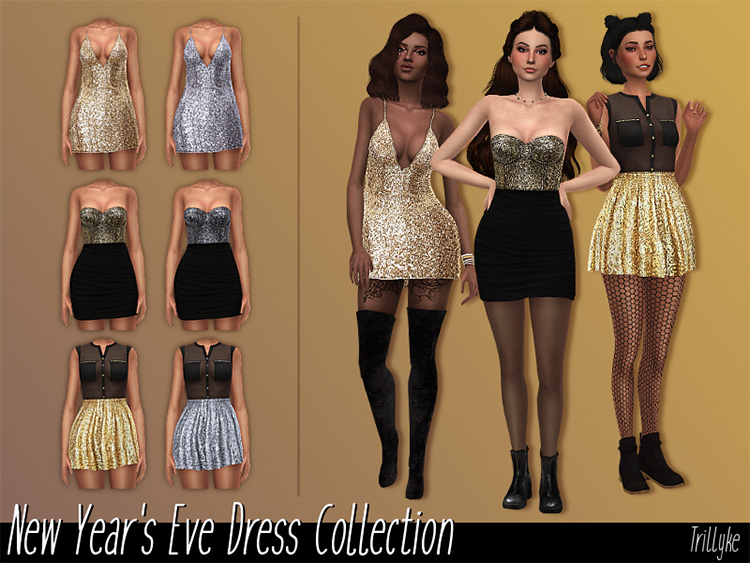 Some people greet the new year in silk pajamas and worn-out sweatshirts, while others dress like a walking disco ball.
It's common practice for NYE partygoers to find an outfit that would outshine the harshest camera flashes.
The logic? Well, who doesn't want to look blindingly gorgeous in a sparkly ensemble?
It's the only way to start the year right!
Sprinkle your Sim's wardrobe with Trillyke's New Year's Eve Dress Collection, which contains 3 glittery dresses that could light up the whole night.
9.

Disco Mirrorball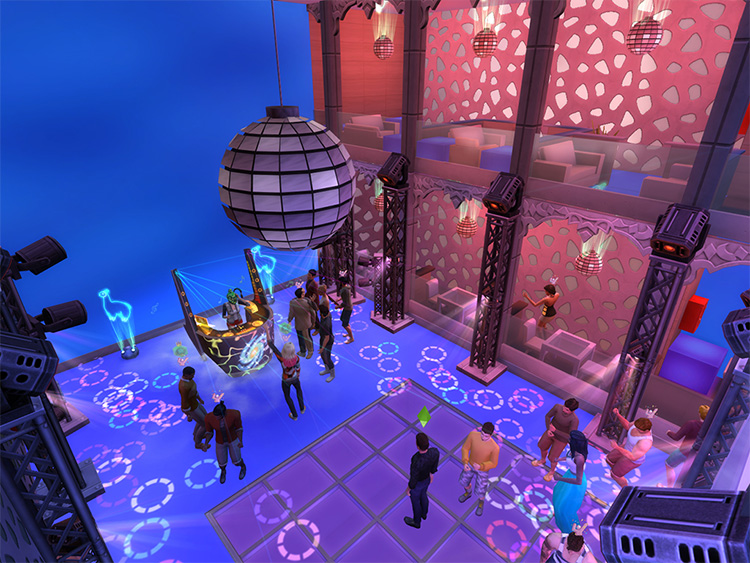 Millennials and Gen Z'ers have been twerking and TikTok-ing for a while now. But there's always a time and place to boogie.
Fire up the dance floor with the classic disco vibe of the '70s by installing this animated Discotheque Mirrorball.
Let your Sims release their inhibitions under a hypnotizing light show and ring in the New Year with a (much-needed) disco revival.
8.

Balloon Lights
Nothing attracts party guests more than Instagram-worthy decor.
Fill your Sim's party venue with eye-catching balloons tied with string lights, and have influencers and vloggers flocking to your place in no time.
While you're at it, having a photo wall made from these balloons would also serve as a great lure for the photo-obsessed.
7.

String of Inspiration
Fireworks have always been the star of any NYE party.
But there are other ways to make celebrations more illuminating all night long.
Try hanging beautiful sets of string lights in varying colors to create a magical atmosphere before and after midnight.
Because as much as it's fun to dance in the dark with glowsticks, most people would still want to see whose toes they're stepping on beyond their two left feet.
6.

Tic-Tac Fire Pit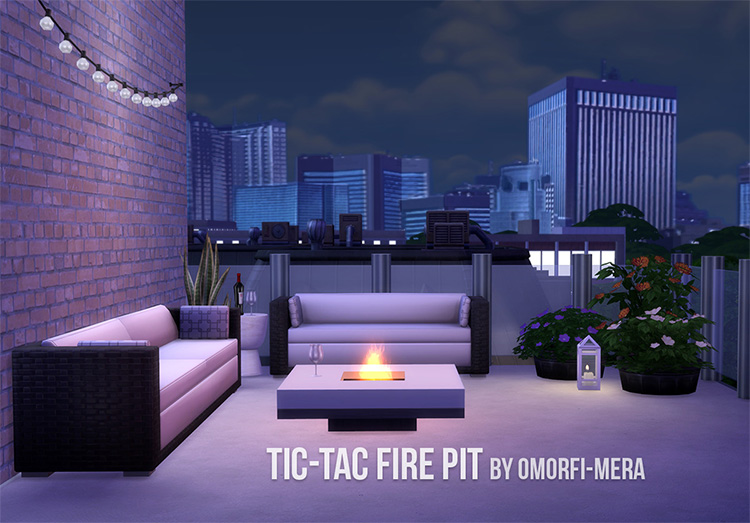 Contrary to popular trends, you don't need to go to a bar or club to kick off the New Year.
Give your Sim some space to accommodate a more intimate gathering under the stars, courtesy of this Tic-Tac Fire Pit!
Get your friends, family, and past enemies huddled around a warm fire as they recap the past year and declare New Year's resolutions that will probably never be realized.
With this CC, you can make outdoor partying possible (and survivable) during the winter – as long as you don't insist on Sims staying past midnight.
5.

Alcohol & Syrup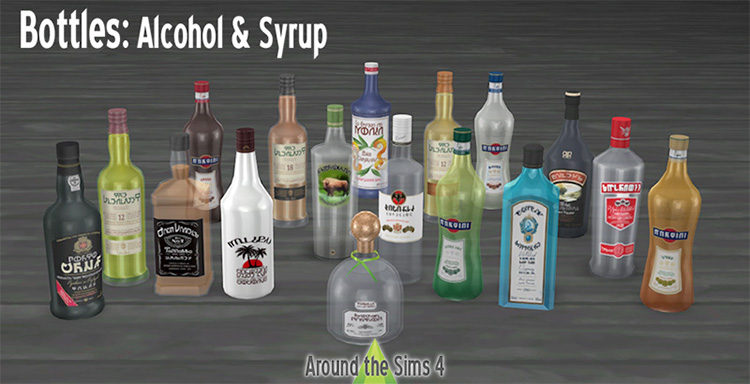 What's a New Year's Eve party without free-flowing drinks and a bar stocked with the strongest booze?
Keep the party going in high spirits by supplying your Sim's guests with enough alcohol to knock them out into the coming year.
Afterwards, well, you can expect that no one's going to be awake to witness the first morning of the new year.
4.

Decor Moets
You can always chug a beer on a normal day. But poppin' champagne bottles call for a more special occasion.
Let your Sims indulge in luxurious Moët & Chandon champagne and expect rowdy revelers to become classy celebrators.
Even though this CC is for display only, you can trust that it's enough to fit with that once-a-year extravagance.
3.

Happy New Year! Poses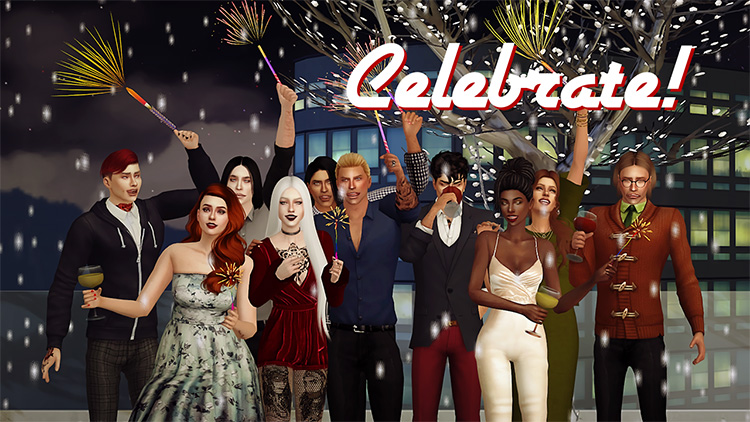 Whatever the event, partygoers can never resist the call for a group photo.
It may be a logistical nightmare to organize over a hundred guests to pose for a photo. But the result will have you smiling for years to come.
So get everyone together in a fun display of New Year enthusiasm with this pose pack by eslanes!
Have your Sims raise their champagne glasses and make a mess out of confetti as they celebrate another year of manipulation by us.
2.

Longer Parties & More Guests
When you're having the time of your life, the last thing you'd want to see is a bouncer's face as they kick you out for overstaying your welcome.
Parties usually have a long lifespan, but they don't last forever.
But what if they did?
Upgrade your year-ender event with this mod from weerbesu, where the party never stops for 24 hours straight, and up to 200 Sims are stuck in an endless loop of non-stop celebration.
1.

New Year Goodies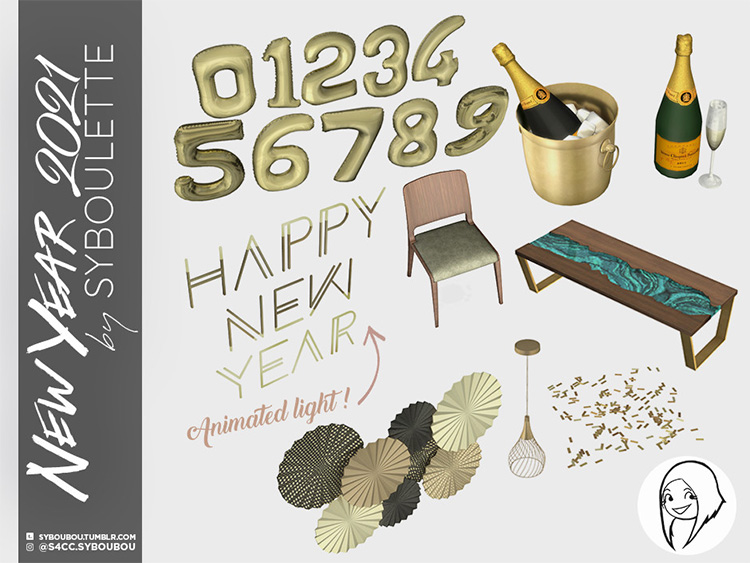 At the end of the day, nothing can go wrong with this classic CC set by Syboulette to greet the new year.
Unpack this set to enjoy an animated "Happy New Year" sign, numbered balloons, confetti, champagne, and plenty more!
Prep a golden celebration with these essential decors and drinks, and say "Cheers!" for another year saved by Sims 4 CCs.
Browse:
Lists
The Sims 4
Video Games