Sims 4 CC: Best Stuffed Animals & Plushies For Your Sims
This post may contain affiliate links. If you buy something we may get a small commission at no extra cost to you. (Learn more).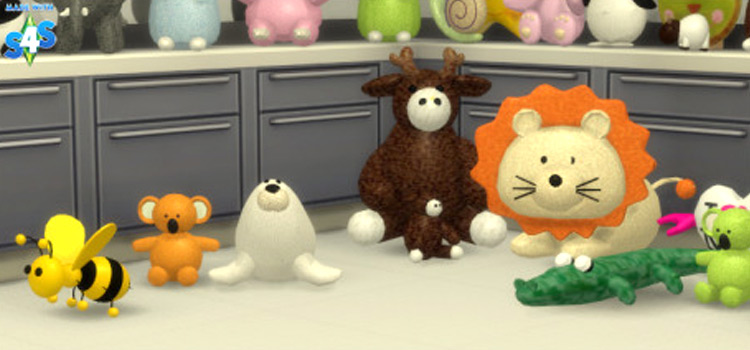 In the big people's world, we tend to hide the fact that we still have plushies. But this blog is a safe space, so I'll go first.
I still sleep with Brownie the Horse from when I was five, and I love my mama for giving it to me back then.
Parents get it; stuffed animals help with fear of the dark, scare away the monsters under the bed, or serve as the best companion when there's no one else to listen.
So why not indulge your fictional children too? Everyone needs some plushies to love!
Whether you want your Sim children to keep a stuffed bear, elephant, unicorn, or any other animal is up to you. Because our dear CC makers have made a wide array of them!
If you want the best custom content plushies, we've got you covered.
Now let's get on Simming!
10.

Teddy Bear For Toddlers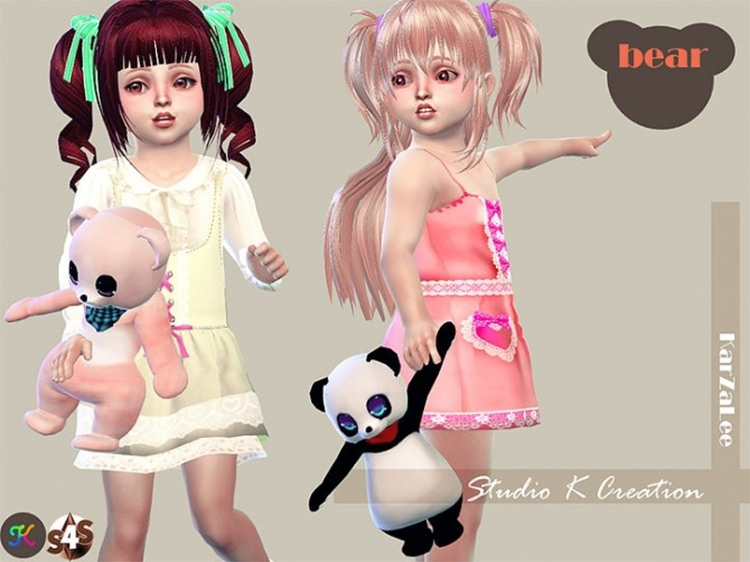 If you want the Build-A-Bear workshop experience for your kid, and don't mind them all being bears, this is your best shot.
This totally playable, totally easy-to-match teddy bear CC will give your digital child the company they need.
All while your adult Sim cooks, relaxes, or does anything besides watching children 24/7.
The CC is available in two styles: one that gives your baby the innocent "I drag my stuffed animal around" look, and another one that gives off Ed, Edd n Eddy vibes, featuring Jonny and Plank.
9.

Sheep
Sheeps are cute. They're cuddly, soft, and innocent (except Bellwether from Zootopia, but that's another topic).
You count them to go to sleep and kids get comfy under their wool.
And what's to say your fictional kid can't have that comfort too?
This cute stuffed sheep by Nooboominicule is all your child needs for a stuffed animal.
Available in four different colors, this matches best in a room that's decorated with a soft and welcoming atmosphere.
Maybe even some cute floor mouldings of farm animals!
8.

Panda
FMA fans, where you at?
We all wished we could have a fierce Xiao-Mei by our side.
Fun point: one possible spelling is 小美,which means little beauty in Mandarin Chinese!
Or maybe we wish we could go back in time and play pretend with Po and his friends.
Well, your fictional Sims-born child can have everything you wanted for your younger self!
This stuffed panda by NynaeveDesign is realistic looking as you'd expect.
And and thanks to being black and white, it'll fit pretty much in any room, boy or girl!
7.

Giraffe
Some kids just like to move it, move it, just like Melman did.
In a safari, with friends.
And what better stuffed animal companion than a giraffe?
This giraffe plushie CC by NynaeveDesign looks plump and cuddly, perfect for snuggling and lots of playtime.
While not as massive as the real thing, this giraffe stuffed animal is sure to give your child some real fun times!
6.

Turtle
Ah, Tickles the Sea Turtle. Brought to us by CC creator NyaeveDesign.
This little add-on is cute and shiny, worthy of long hours of playtime or long nights sleeping close together.
And who said you couldn't have Squirt from Nemo in your kid's room?
Available in two different colors, the smile on this stuffed animal is going to brighten every child's day.
Maybe you can even find a trait to help your child really love the sea, become a marine biologist and grow up to create a cartoon with a talking sea sponge… I think we mixed up some fandoms here.
5.

Unicorn
Now what about a unicorn for the princess of the house?
If your child is going to play pretend or pick up a newfound friendship with Rarity or Lila from the Barbie universe, they need an unicorn.
This cute unicorn plushie CC by BuffSumm is available in five different finishes, all pastels. Perfect for any princess.
Pink, sparkly, and oh so adorable. These pretty much describe the little bundle of joy!
Hint: if they're really going for a princess vibe maybe play dressup and throw a tiara into the mix.
4.

Patchwork Teddy Bear
As kids, sometimes we had to give our Teddy Bears some love after many years of… children harshly playing with them.
And sometimes our most treasured teddy bear heirlooms are a mix & match of different patches that make them unique, and even more lovable.
For the artsy kid in the house, this Patchwork Teddy Bear CC by BuffSumm is sure to give them an inspiring view!
Available in three different finishes, this CC is a perfect fit for any age, any gender, and any aspiration to boot.
3.

Cassandra's Toys Collection
As always, some of us are indecisive. We want more than one stuffed animal.
Enter Cassandra's Toys Collection, a massive CC of toys & stuffed animals for kids!
With an array of 19 total animals, there's plenty here to keep the kids busy.
Under the sea with octopuses? You've got it.
Tigers and safari? Snails? Koalas in many colors? Crocodiles? Bees? Penguins?
A mixture of Zootopia, Madagascar, and Sing, you'll love decorating your kid's room with these plushies.
And to thank we have 2 CC creators, Cassandra and Anidup on Tumblr for converting this CC for The Sims 4!
2.

Monster Guard Collection
We've talked about unicorns, but what about the dragons that guard your pretend castle?
This Monster Guard Collection by K9D8 has got you covered.
Openly interactive, your kids can literally tell these stuffed animals to bed so they can watch guard all night.
What's funnier, or cuter, than kids talking about their guardians?
Nothing. Nothing beats little stuffed dragons.
If fantasy-driven animals are not your theme, there's also Ducky and Hippo Defenders all here in one big CC set.
1.

The Pokémon Collection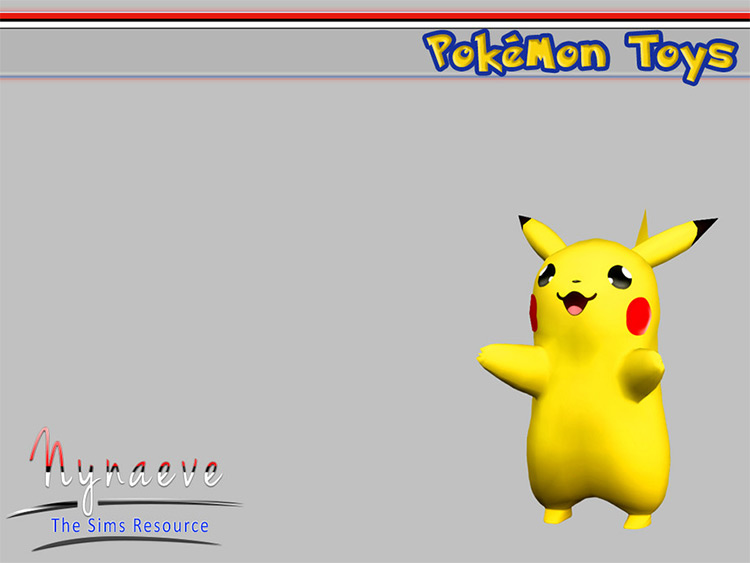 Gotta catch them all, right?
Don't pretend you haven't played being Ash and throwing Poke balls around. I've done it, and every kid born after 1988 probably did it too.
With so many options, I cannot think of a better way to introduce your digital Sim-baby children to the world of Pokémon.
NynaeveDesign gives us this amazing CC with some serious attention to detail to all things Pokémon.
In fact, you can even download many of these individually! A few of my favorites:
And of course this list isn't complete without Pikachu.
With so many Pokémon as plushies that you can collect, it might be easier to throw 'em all into the room and let your child decide!
And if you add these plushies into your grown-up adult bedroom, well we can just keep that our little secret.
Browse:
Lists
The Sims 4
Video Games