The Sims 4: Fun Wizard & Sorcerer-Themed CC (All Free)
This post may contain affiliate links. If you buy something we may get a small commission at no extra cost to you. (Learn more).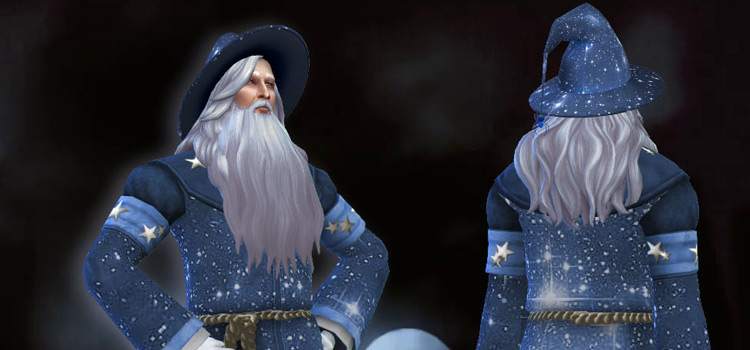 Simmers love magic.
And EA knows it.
Which is why they included a poster of child wizard Henry Puffer in the base game, and later, the awesome Realm of Magic pack that finally gave our Sims magic powers of their own.
The only problem?
There's no such thing as too many magical items. So the EA-made items can only go so far.
Thankfully our conjuring skills are decent enough that we found a bunch of cool wizard-y CC for The Sims 4, all worth checking out.
Wizard Hat & Glasses
PhiloSimy's CC offers a custom hat & glasses that can be used for any mature Wizard Sim.
But this was inspired by none other than Dumbledore himself.
Both items resemble the accessories worn by the much beloved Harry Potter character, leaving the choice for Simmers to directly recreate him, or just have a very similar looking Sim as a not-so-subtle nod.
Or maybe even mix this in with some other Harry Potter CC.
There are four color choices for the glasses and 16 for the hat, both of which are base-game compatible.
Sabrina Decor
Fans of The Chilling Adventures of Sabrina will love the Sabrina Decor set from Soloriya.
This 13-item witchy collection includes a cauldron, a magic crystal ball, a magic wand on a pillow, and more.
No extra packs needed for this one, and you can find all clutter under the decorative – clutter category in buy mode.
Or if you'd rather download items from this set individually, you can do so here.
Witchy Books Set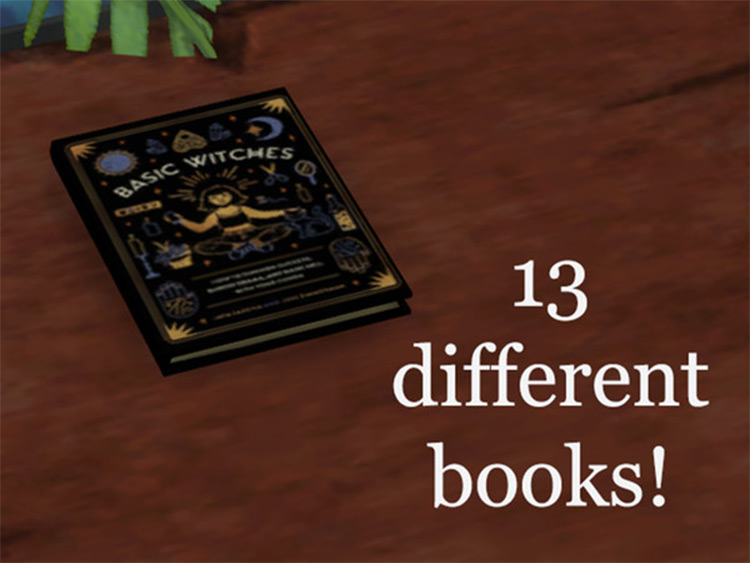 Magical Sims are always learning.
Which is why they need SimderTalia's Witchy Books Set for The Sims 4.
Each of the 13 books featured in this collection are magical-themed, including some pretty cute ones like "Wicca and Witchcraft for Dummies" and "Basic Witches".
The covers are super high-quality, and you'll need to enable the bb.showhiddenobjects to use them, as they're recolors of debug items.
You'll also need Spa Day for this CC set, so be sure you own it before downloading!
Magic Powders
You can never have enough powders to experiment with.
So this custom magical powder CC set from Simmetje feels very much needed.
There are actually three sets in this entry: a small, medium, and large set of purple, yellow, and orange powders in engraved silver bowls.
The creator mentions how these are Maxis-Match. And they most definitely are.
At least, this certainly looks like something EA could have included in Realm of Magic.
But you don't need to own that game pack to download this CC, so hooray for base-game compatibility.
Witch's Mark Tattoo Set
A world with magical Sims is also a world with occult Sims.
At least, we think it should be.
MarySims' Witch's Mark Tattoo Set has a variety of magical tattoos that would look good on any Sim, but especially those with non-human skin tones.
There are three tattoos for the forehead, body, and neck, and all come in black, white, and gold.
They're wearable for both male and female Sims too, and are HQ compatible.
Wiccan Clutter
When it comes to any kind of themed clutter, few do it better than AroundTheSims.
And this Wiccan Clutter set is absolutely no exception, as the 10-item set comes with Maxis-Match magical items that any spellcaster would love.
This includes a Ouija board, tarot cards, a triangular shelf to hold items, and quite a bit more.
If storytelling and immersion are essential to your gameplay, don't hesitate to add this to your game.
Arcana Tarot Deck and Spreads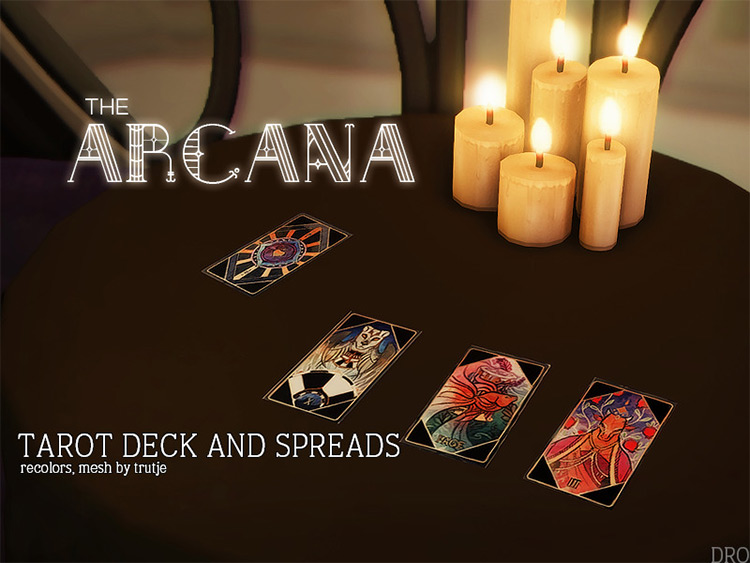 If you love magical games and you haven't played The Arcana, you're really missing out.
But if you have played it and also play The Sims, then you'll absolutely love this crossover.
This Arcana Tarot Deck CC from DroSims is a recolor of Trutjesims' tarot deck, featuring the cards held and used by the MC in The Arcana.
These are decor only, but they look so nice that lack of functionality isn't much to be upset about.
Just remember to download the mesh first before the recolors.
Hedge Witch Hill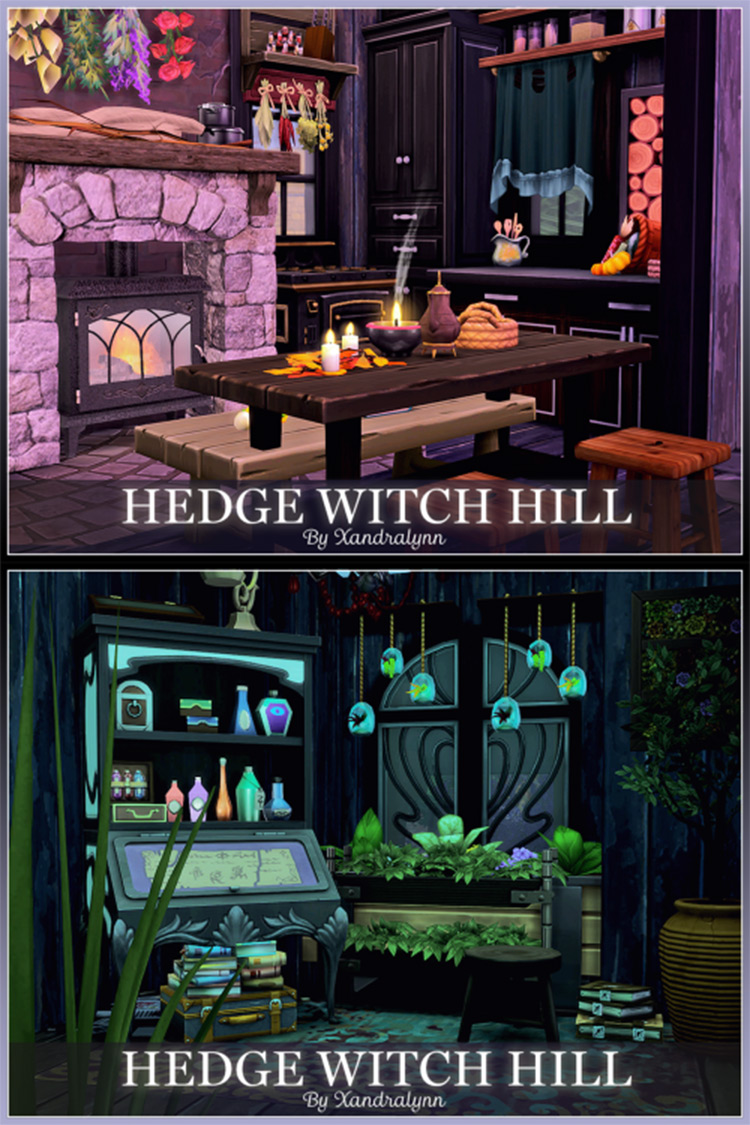 The ultimate witchy home for your magical Sims is here, courtesy of XandraLynn.
Hedge Witch Hill sits on a 30×20 residential lot, and is as ominous as it is beautiful.
It's honestly a cute little witch cottage with a kitchen, apothecary/spell room, greenhouse, and bedroom that will set you back 77,134 simoleons.
Be sure to double check the creator downloads for all packs used to make sure you own them first, as well as any CC used in the build.
This lot for wizards might even work nicely with some other witch-themed CC too.
Pufferhead Fan Made Stuff Pack
Hardcore fans of both The Sims and Harry Potter likely already know about this stuff pack.
But it's worth sharing here again for newcomers, or for those who might have overlooked it.
The Pufferhead Stuff Pack was spearheaded by creator Mlysmakescc, and it includes a variety of amazing Harry–er, Henry Puffer merchandise – he's the main character of a world-famous franchise about a boy wizard.
The set features an incredible 64 items that span so many categories, including CAS, decorative, furniture, activities and wallpaper.
If you're doing anything with sorcery, this is a must-have set.
We could go through everything here. But truthfully, this is one pack (base-game friendly, btw) that you need to see to believe.
Browse:
Lists
The Sims 4
Video Games