Top 10 Dark Souls & Soulsborne YouTubers & Streamers
This post may contain affiliate links. If you buy something we may get a small commission at no extra cost to you. (Learn more).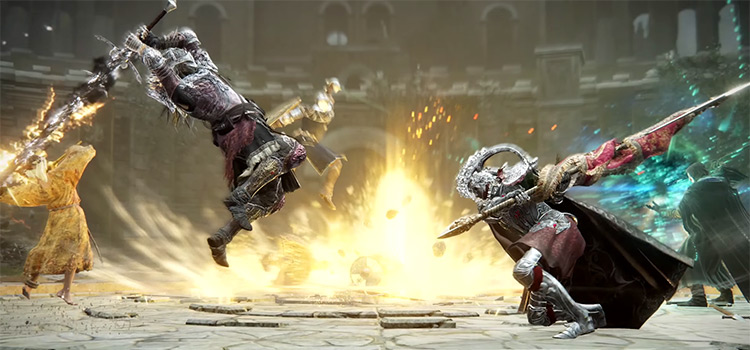 FromSoftware titles like Dark Souls, Bloodborne, and Elden Ring are truly multimedia experiences.
The gaming loop isn't complete until you put down the controller and jump onto the internet to discuss the lore, come up with the best builds, and laugh with other fans.
YouTube creators and Twitch streamers are pillars of the community who share their experience playing these games with millions of people every day.
If you're looking for the best Soulsborne content creators to help you navigate this enormous franchise, you've come to the right place.
10.

FightinCowboy
Links: YouTube
When I first started playing Dark Souls 2, everything felt incredibly challenging and hard to figure out.
It wasn't only the combat, either. Some of the puzzles and finding the way forward in the mysterious lands of Drangleic can be hellish for a newbie.
FightinCowboy was a beacon of light thanks to his Dark Souls 2 walkthrough, which stands somewhere between a guide and a Let's Play.
This video format earned FightinCowboy the love of hundreds of thousands of gamers who came for the gameplay and stayed for the personality.
Right now, you'll catch him playing Grounded and A Plague Tale: Requiem. If you want the good Soulsborne stuff, check out this collection of playlists.
9.

ChaseTheBro
Links: YouTube
Chase is the guy to watch to learn the ins and outs of PvP.
Right now, he's working hard on Elden Ring Weapon Showcases, Elden Ring PvP content, and even an Elden Ring Walkthrough.
Some of his channel's most interesting non-PvP content shows him playing modded Dark Souls 3. My favorite series are the DS3: Cinders and DS3: Champion's Ashes playthroughs.
He has a fun personality and a pleasant voice that help him entertain and inspire at the same time. Check him out if you want to climb the ranks of PvP with creative builds.
8.

Baron's Castle
Links: YouTube
One of the main reasons why the Souls franchise has grown so much over the years is the game's inherent replay value.
There are so many weapons, armor, accessories, and skills to choose from… You can play the game ten times in a row and have a completely different experience in each campaign.
Baron's Castle specializes in content that pushes the limits of how these games can be enjoyed.
Most of the time that means using insane – and often hilarious – builds. Some of my favorites are the Vegetarian Craftsman and Sonic the Hedgehog in Elden Ring.
Extremely restrictive challenge runs are also a staple of the channel. Make sure to check out how to clear ER by shouting, DS3 with only weapon arts, and DS2 with only poison damage.
7.

Prod
Prod brings together an unpretentious personality and incredible creativity for humor.
This creates a nice contrast against the dark and bleak nature of Soulsborne games, and makes his content irresistible.
The DS3: Blades of Ashina and Sekiro: Long May the Shadows Reflect modded playthroughs are some of my favorite recent content on his YouTube channel.
For something more "normal," check out his Elden Ring and Dark Souls 3 PvP vids.
6.

Zullie the Witch
Links: YouTube
Soulsborne wouldn't be the same without the lore.
While there's a lot to discover in the areas you explore during normal gameplay, some knowledge is hidden deep within the game files.
Zullie the Witch is a sort of Soulsborne archaeologist who publishes her findings in short, entertaining videos. Some excellent examples are exploring the contents of Rennala's egg or answering why the Albinaurics can't walk.
If so much focus on Elden Ring makes you feel burnt out, you can always go back and watch her older Sekiro or Demon's Souls videos.
5.

The DeModcracy
Links: YouTube
As someone who writes top 10s and rankings daily, I feel a spiritual connection with The DeModcracy.
This content creator focuses on reviews, rankings, and other easily-digestible gaming content to watch for fun when you don't want to overwork your brain with stats or lore.
One of the best parts about The DeModcracy is how vital the community is to the channel. Many ranking videos are based on voting and discussion done by TDM's subs, and the host/creator of the channel makes sure you feel included when watching their videos.
You can dive right into the Soulsborne Top 10s and Rankings playlist, or get to know the host by watching the Dark Souls Remastered stream (my personal recommendation).
4.

Matthew Shezmen
Links: YouTube
Matthew Shezmen is another unique creator to watch when you're tired of builds and lore analyses.
Over the last 10 years, this Italian animator has slowly grown in popularity thanks to his comical video game parody cartoons.
You might remember him from MGSV: The Fulton Pain and Fellout 4.
The Souls franchise has played a significant role in Matt's rise to fame. His Dork Souls series has to be some of the most hilarious DS content on YT.
Right now, he's working on ELDERING – an Elden Ring parody – and the trailer has me hyped.
3.

YMFAH
Links: YouTube
Come closer; I'm going to tell you a secret.
I love musicals.
That's right, I said it, and I'm not taking it back. Musicals are the single most enjoyable type of media, and you can't convince me otherwise.
That may be the reason why I love YMFAH so much.
In his own words, YMFAH "makes music-driven guides on FromSoftware games."
These guides look like musical montages of YMFAH doing silly stuff in-game, but if you pay attention, there's some good information in there.
Some of his best and most surreal content describes how to make a bow-only build in Elden Ring, how to break Elden Ring at level 1, and how to beat DS3 without walking.
2.

ThePruld
Links: YouTube
What I love most about the Soulsborne franchise and the community around it is that, despite being an incredibly dark series of games, they always get the best memes.
If you want to pop a lung laughing about the most ridiculous parts of Dark Souls, Bloodborne, and Elden Ring, you have to check out The Pruld.
You might know him as the author of memetastic hits with millions of views like When you go dark souls with your best mates and Praise till you're hollow.
The rest of the channel is full of similarly surreal content.
1.

VaatiVidya
Do I even need to introduce VaatiVidya?
This guy is the beating heart of the Soulsborne content creator community – at least on the side of theories and lore.
His Prepare to Cry videos shone a new light on many of Dark Souls' most undecipherable storylines, and they sparked a revolution in Soulsborne YouTube.
Vaati's content has only gotten better since then. The production value is through the roof, and he works with other talented creators to make the best possible videos.
Check out his recent videos on The Lord of Frenzied Flame and The Lore of Elden Ring's Eternal Cities to get started.
Browse:
Dark Souls
Lists
Video Games