Top 10 Best Stardew Valley YouTubers & Streamers
This post may contain affiliate links. If you buy something we may get a small commission at no extra cost to you. (Learn more).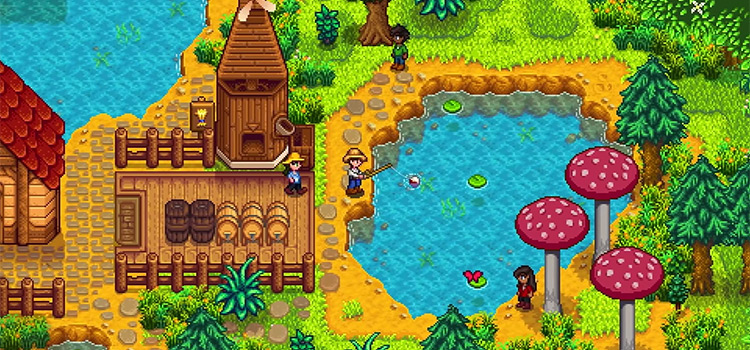 Stardew Valley is a lot like Silent Hill. Once you wander in, there's no easy way out.
You'll want to have Stardew Valley in your life 24/7, even at work or jogging.
You might even be out in your real-life garden and think, "damn, I need some sprinklers so I can go back to play Stardew Valley."
You're officially dependent on the cozy vibes of ConcernedApe's wonderful farm sim – and Stardew Valley content creators are there to feed your addiction.
Let's look at some content creators who are just as addicted to Stardew Valley!
10.

Stumpt
There's much fun to discover behind Stardew Valley's Multiplayer function.
If you don't have a group of friends to play with, I'd recommend giving Stumpt a watch.
Ash, Rik, Price, Jas, and Aenne sound like friends you'd like to have for ridiculously long gameplay sessions on the weekends.
Their channel is focused on 4+ player co-op games, and their Stardew Valley stuff is some of the best.
Once you're done with that, you can move on to the Stardew Valley Expanded modded playlist or check out other hit multiplayer games like Grounded or Overcooked 2.
It might take a while to get to know the cast and understand all of the references and inside jokes. But once you're in the loop, it's 100% worth it.
9.

SharkyGames
Links: YouTube
Hailing from the UK and bringing their unmistakably British accent with them comes SharkyGames, the streamer previously known as GameShark.
Sharky's content focuses on fun gameplay to watch for entertainment, but you'll find some tips and tricks thrown in as well.
If you're looking for regular gameplay with commentary, I'd recommend his Rags to Riches series. For something more experimental, check out the Stardew Valley Expanded playlist.
Once you get deeper into Stardew Valley YT and recognize other creators, check out Sharky's SDV Path of Lies series.
So far, the Wickedy and Therm collab episodes were my faves.
8.

EZLILY
Another creator with a pleasant accent is Ezlily, a South African computer scientist with a talent for chill and relaxing gaming content.
What I love the most about Ezlily's content is that it's presented in bite-sized videos.
Sometimes it's a YouTube Short about animation canceling; others, it's just an eight-minute video about giving Pam excessive booze despite knowing she's an alcoholic.
Her content ranges from recommending SDV mods to revealing the latest secrets and exploits. Whatever you choose to watch, it'll be worth your time.
7.

BlaDe
There are infinite perspectives to approach an open-ended game with as much content as Stardew Valley.
One of them is trying to understand how everything works under the hood so you can exploit it in incredible and often hilarious ways.
BlaDe is an expert at manipulating SDV's mechanics to his advantage. Examples include scamming Pierre with the Artisan profession and marrying Emily in just 17 days.
It's not all "useless" stuff, either. There's a lot to learn from BlaDe! Check out his video on the inner workings of the Skull Cavern if you want to know what I mean.
At just over 15,000 subs at the time of writing, BlaDe has one of the smaller channels on the list – but he deserves ten times as many. Let's get him there!
6.

LissTheLass
Nowadays, all my friends are busy with their jobs and girlfriends (and sometimes even their kids).
There's barely any time for some good couch multiplayer – or at least to sit together in a room playing different things in each other's company.
I fill that friend-shaped hole in my heart by watching LissTheLass videos in the background while playing Stardew Valley or Animal Crossing.
Her valley girl accent makes everything she says sound funnier than it should, and she's just a lot of fun to have around. Plus, she's adorable.
You can catch her streaming her vegan Stardew Valley farm on Twitch or check her edited SDV videos for more structured content.
She also plays other cozy games like Animal Crossing and Ooblets.
5.

Waligug
Links: YouTube
Sometimes, you want to have a good laugh – and Waligug is the funniest in town.
This Canadian creator is famous for Stardew Valley challenges, awesome mods, and how he always manages to mess with the people of Pelican Town in hilarious ways.
That said, you can find almost any kind of content on his channel.
Of his most recent videos, I'd recommend starting with Every SDV Crop From Best to Worst and Reacting to Cursed SDV Tiktoks. He even has a playlist designed for binge-watching!
I promise you'll have a good laugh, and maybe learn something.
4.

Wickedy
Links: YouTube
Among my favorite parts of following creators on YouTube is watching them transform their content as the market changes and they enter new stages in their life.
Wickedy's channel started with Fallout 76 videos teaching people how and where to farm specific items and weapons.
Then Stardew Valley happened.
One day, she had a Fallout 76 vid with 22,000 views. The next, her Fish Pond Guide got almost 400,000. It's easy to see why she chose to focus on SDV.
Wickedy's whimsical, goofy personality is definitely better suited for SDV content.
Make sure to check out her 100 Days in Stardew Valley challenge and Ultra-modded SDV Expanded videos to get started – then maybe go back and check out her original SDV playthrough.
3.

Matthew McCleskey
Links: YouTube
Instead of adding funny commentary over SDV gameplay, Matthew McCleskey writes and records SDV-themed sketches and then uses a technique called "rotoscoping" to create unique animations.
The result feels like watching The Office, except it takes place in Pelican Town.
The use of live footage in creating these animated sketches focuses on the contrast between what we expect of regular human interactions and what happens in video games.
Wouldn't it be weird if the town's newcomer managed to guess everyone's favorite gifts?
And what will they even do with so many gifts?
Find out the answer to those questions and more in Matt's Stardew Valley sketch playlist.
2.

GabsSmolders
GabsSmolders has been on the YouTube game for almost nine years now.
In that time, she's tried everything. Horror games like Clock Tower and Outlast, From Software titles, and a metric ton of point-and-click hidden object games are only a few examples.
So much time spent streaming and recording has made her an entertaining genius. There's never a dull moment when Gabs is playing!
Even after you've watched all 46 episodes of her Stardew Valley Let's Play, there's still Animal Crossing: New Horizons and even Ooblets to check out.
If you're looking for a streamer with an outstanding personality, you can't go wrong with Gabs.
1.

CharlieBarley
Links: YouTube
GabsSmolders might be an incredible content creator, but scratching the 1M subs mark, she doesn't need any more publicity.
That's why I'm giving the top spot to CharlieBarley, the most adorable and upbeat SDV creator – and she still only has around 126,000 subs!
She only got started in 2021, but in the short time since, she's done it all. She has 100 Days series, SDV Expanded content, and even tried to run an anticapitalist SDV farm.
What I love most about CharlieBarley – besides the precious username – is how she looks at Stardew Valley from unique perspectives. She gets 10/10 points for creativity!
Browse:
Lists
Stardew Valley
Video Games