The Best Stardew Valley Legend of Zelda Mods (All Free)
This post may contain affiliate links. If you buy something we may get a small commission at no extra cost to you. (Learn more).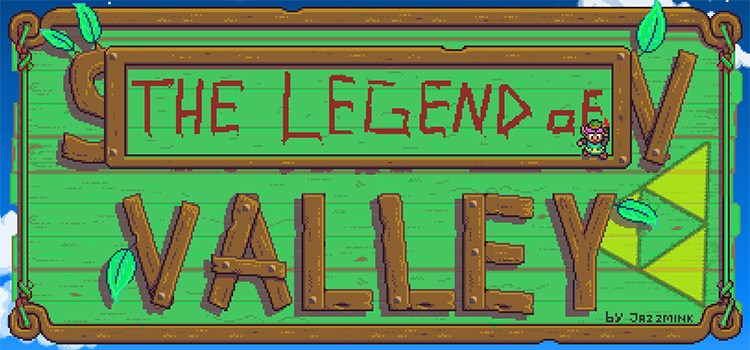 I spend most of my time enjoying comfy, slow-paced games like Stardew Valley – but Zelda was all I could think about back in the day.
I started my gaming journey with Ocarina of Time on the N64, and Zelda has remained one of my favorite series ever since.
No series does action-adventure like Zelda!
Connecting my current passion for Stardew Valley with my all-time love for Zelda sounds like coming full circle. Thanks to the SV modding community, I can.
Grab your heroes' garb and get Epona all saddled up: it's time for an epic quest searching for some fun Zelda mods for Stardew Valley.
5.

Ocarina of Time Music & Sound Effects
Have you ever played a game on mute and noticed how everything feels… wrong?
Sound design is crucial for a game's atmosphere. It elicits different feelings in the player in a visceral way that visuals just can't compete with.
The Ocarina of Time Music & Sound Effects mod replaces almost all background music and over 200 sound effects with songs and sound bites from the N64 classic.
You can expect a much more dynamic and heroic-feeling game that'll tug at your heartstrings at every turn.
4.

Zelda Hat Replacement
Your character in Stardew Valley left their cushy corporate job to come live a more connected life in a rural community.
Tired of conforming to society's expectations, you seek more freedom of expression, including changing the way you dress.
Hats are a great way to set yourself apart in Pelican Town. The awesome Zelda merch introduced by this mod is the perfect way to tell everybody how much of a fan you are.
This mod includes six new hat and mask designs inspired by the Zelda series, including Link's all-time classic green hat and Majora's ominous mask.
3.

Zelda Item Pack
To bring even more items and artifacts from Hyrule to Pelican Town, check out the Zelda Item Pack.
This collection includes four iconic items featured in Link's adventures. These are the classic green hat and three powerful weapons from Link's historic arsenal.
The Kokiri Sword, Master Sword, and Biggoron's Sword can be bought in the Adventurer's Guild, while the Kokiri Cap is sold by the mouse at the Abandoned House like most other hats.
Each has unique stats that'll come in handy in different situations, and their sprites look superb.
2.

Shadow Link Replaces Korbus
Link is one of gaming's most beloved characters.
Despite having to deal with people calling him "Zelda" or misgendering him for rocking a green miniskirt, Link has garnered a dedicated following worldwide.
This mod lets you bring Link – or, rather, Shadow Link – into Stardew Valley, taking over Krobus' Shop in The Sewers.
The portrait design for this Hylian store clerk gives him a similar vibe to Krobus, so he blends right in.
1.

A Link to the Past Overhaul
I distinctly remember playing through TLOZ: A Link to the Past on the GBA and thinking: "I wish I could lay down my sword and just live in this world as a farmer."
Hyrule is a beautiful kingdom with vibrant landscapes worth exploring without the threat of monsters at every turn.
With the ALTTP Overhaul, you can.
This mod replaces many visual assets in Stardew Valley with sprites and backgrounds inspired by A Link to the Past. The trees, the buildings, the enemies… almost nothing is left untouched!
It's a great way to make Stardew Valley feel fresh after playing it for a long time, and Zelda fans should appreciate being linked to the past by this beautiful mod.
Browse:
Legend of Zelda
Lists
Stardew Valley
Video Games