25+ Free Legend of Zelda DIYs, Project Ideas & Handmade Crafts
This post may contain affiliate links. If you buy something we may get a small commission at no extra cost to you. (Learn more).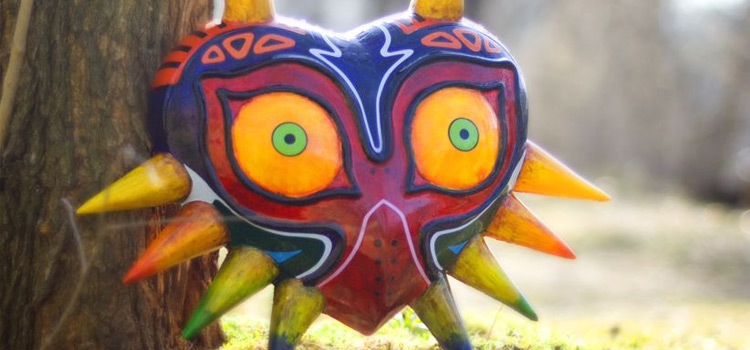 One of Nintendo's biggest game franchises, The Legend of Zelda always finds a way to keep the good vs. evil dynamic interesting with its imaginative fantasy setting.
Every game seems to have tons of creative creatures, outfits, and items to play with. The world of Hyrule is populated with so many things that lend themselves perfectly to the world of DIY crafts too. So let's explore that world and see what you could add to your home that's got a touch of handmade love.
1.

Zelda Deku Ornaments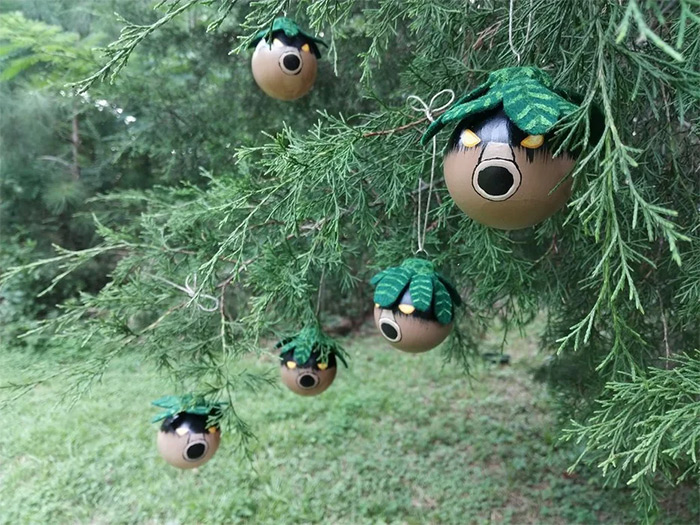 First up we have a craft based upon the curious looking plant-like creatures known as the Deku.
With their distinct look, these Deku ornaments would look great on any Christmas tree of a true LoZ fan.
Featuring the characteristically dark and broody faces of the Deku, these ornaments are made simply using glass ornaments, acryllic paint, and some craft essentials and are great to work on for Christmas time gifts.
2.

Woodworking Treasure Chest
A staple of most decent RPG adventures games, treasure chests are that fun element of randomness and excitement that we often need to spur us onto the next quest.
To remind you of the countless moments you discovered a treasure chest in Zelda and your glee at discovering what was inside, you should try making this Zelda inspired DIY chest.
With the trademark features of a chest from anywhere in Hyrule, fill this one with whatever you'd want to find inside. Or give it as a gift to your friend with some other goodies.
3.

Rupee Pillow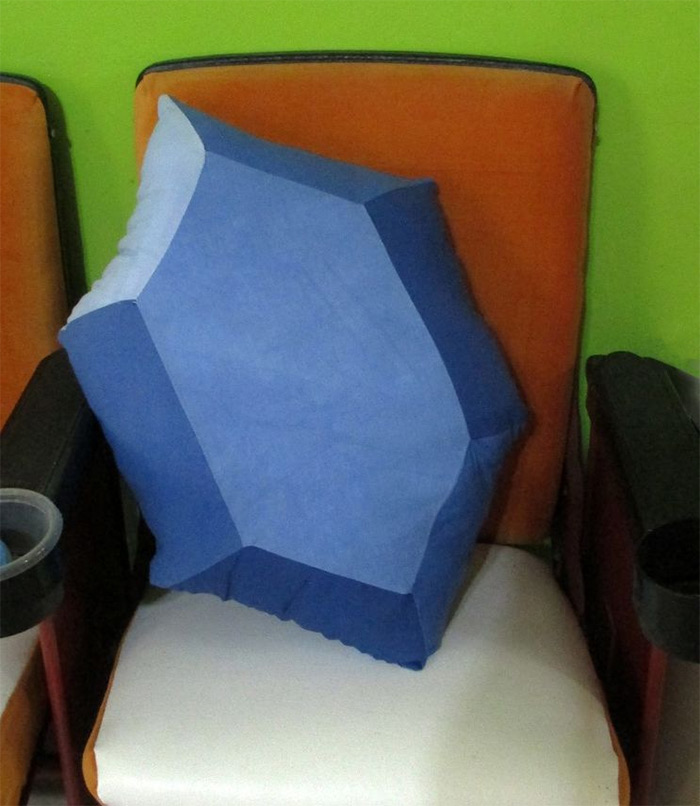 The currency of the Hyrule kingdom, the rupee is a staple of the game and essential to buy pretty much anything.
Pay tribute to this unique gem-based currency by making this rupee pillow craft. I mean even if you're not a huge fan of Zelda in general, this would still look great on your sofa if you're a gaming fanatic.
4.

LoZ Bomb Candles
An explosive item which always comes in handy during Link's adventures through Hyrule, the ever-reliable bomb is the basis of this candle craft.
Ever wanted to light the fuse for a bomb without the risk of it exploding in your face?
Then your dreams are about to come true as this craft is very accessible and will illuminate any room at night in the most exciting way imaginable.
5.

Breath of the Wild Nightlight
Another fantastic way to light up any room at night, this Breath of the Wild nightlight cube is the coolest nightlight you can make yourself.
From the game of the same name, this Breath of the Wild nightlight will guide your way around in the dark just like it does for Link.
The only difference is while Link is using is to navigate dangerous caves, you'll be using it to go to the bathroom at 2AM.
Still, you can still feel like a boss with this handmade craft and it makes for an extremely good looking nightlight to have around the house.
6.

Link's Master Sword
What could be cooler than owning a replica of Link's mighty master sword from Hyrule warriors?
This purple and green decorated sword is one item from the game that's relatively easy to recreate and is a great talking point for if you have guests over that love the game.
It might even be fun to have to explain this DIY to guests who have no clue what it is either… and maybe introduce them to the wonderful LoZ series.
7.

Majora's Mask Replica
A fatally destructive weapon that's also the most powerful mask in the game, Majora's Mask is an in-game rarity that can bring Skull Kid out of the game and into reality with this colorful craft.
A fantastic way to show off your DIY abilities, the striking heart-shaped mask with spikes protruding from every angle is instantly recognizable to all who lay eyes upon it.
8.

Deku Shield
Back to the Deku species with this next craft: a Deku shield straight from Ocarina of Time.
Adopting the unassuming appearance of a tree trunk with a classically recognized red symbol, the Deku shield is more resistant than it seems.
A good one to put your woodworking skills to the test. The Deku shield is both challenging but rewarding to make, and it will look great next to your new master sword(see number 6 on the list).
9.

Zelda Luminária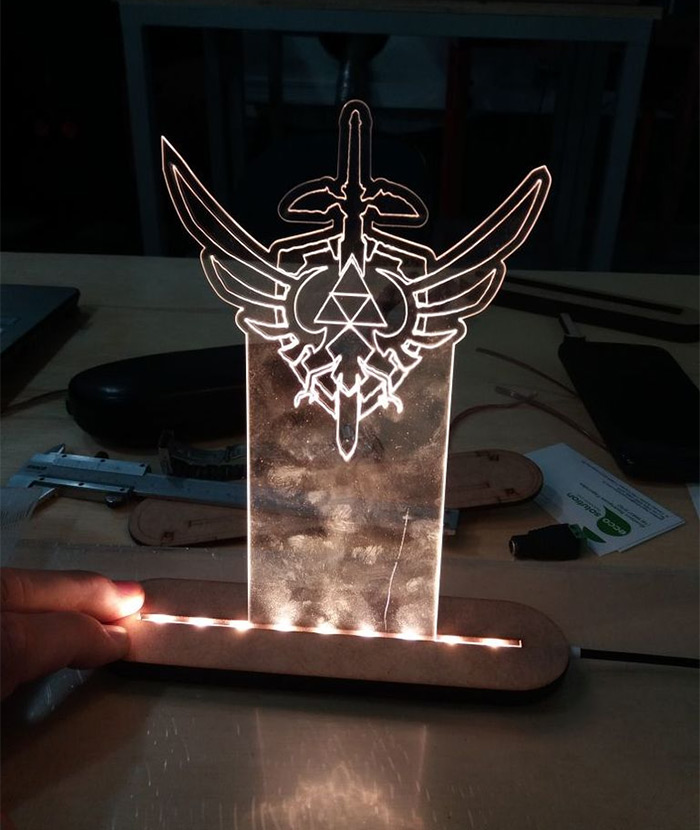 The instantly recognizable sigil from the game can make its way into your home with this DIY project.
This Zelda glow-in-the dark ornament will keep your bedroom illuminated while you're off searching for the bathroom with your Breath of the Wild nightlight (number 5 on the list).
An incredibly iconic and majestic looking sigil, this craft is sure to impress everyone who is familiar with the Kingdom of Hyrule and its lore, and maybe even those unfortunate people who aren't.
10.

DIY LoZ Holster Bag
Show off your love for Zelda when you're out and about with your very own Zelda-inspired holster bag.
This thing is plenty big enough to carry your Nintendo console over to your friends' house for the next gaming session. Or to carry pretty much anything else too.
Holster bags are typically quite subtle and don't convey much about your personality. So change that and make a statement with your new Zelda holster bag that'll surely draw some envious looks.
11.

Zelda Pixel Art Coffee Table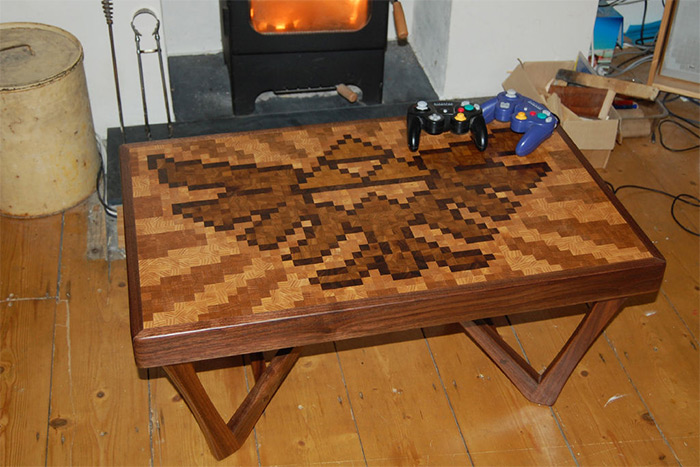 A true woodworking masterpiece, this Zelda pixel art coffee table should be the only table you need to take your living room to the next level.
A gorgeous pixel design of the game's infamous image, this coffee table is made from over 1500 cubes of walnut, which sounds like a guaranteed recipe for success for any woodworking project.
Drink your coffee in peace as you reminisce about Zelda and the good old days over summer vacation. Maybe even boot up your old N64 just for good measure.
12.

Custom Triforce Platform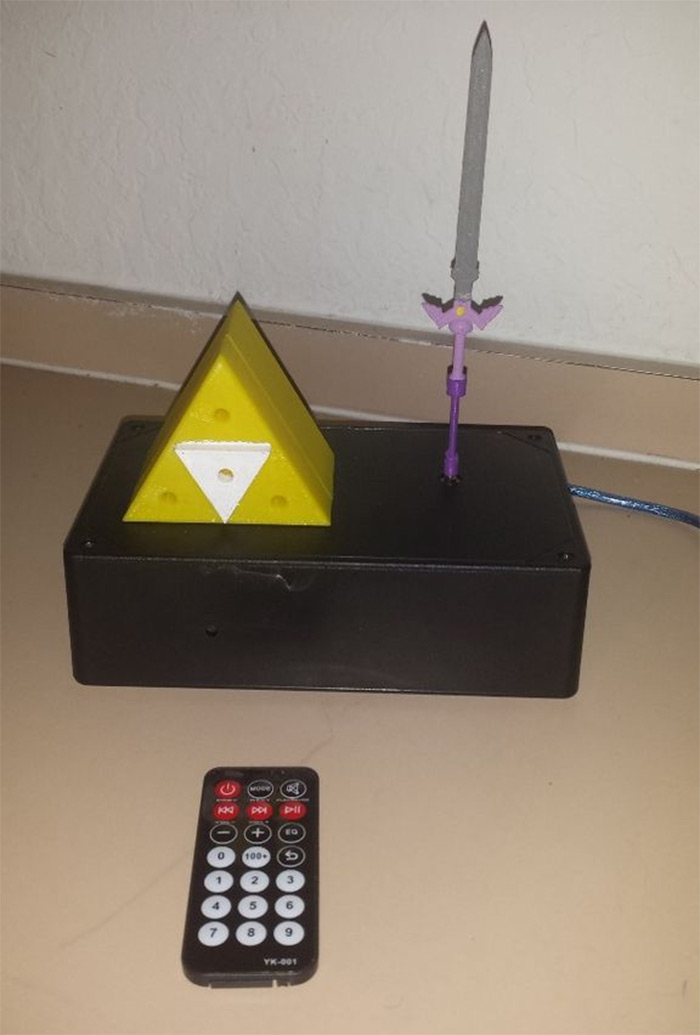 This creative custom Triforce platform will sit nicely next to your entertainment setup and remind you of your favorite game – perhaps luring you back to another session.
The Triforce lights up making this craft that much more interesting and practical.
Not to mention this makes it easier to convince others in the that this craft deserves a spot in the living room.
13.

DIY Zelda Cross Stitch Clock Pattern
An exciting cross stitch project which will have you working hard for a fantastic end product, this Zelda cross stitch clock should be the only clock you use to tell the time.
Featuring some of the more iconic characters and items from the game, this custom cross stitch is one of the more functional crafts on the list which also looks the part.
Even if you've never done this before you can find tons of guides on YouTube and the materials are relatively cheap too.
14.

Navi Fairy in a Jar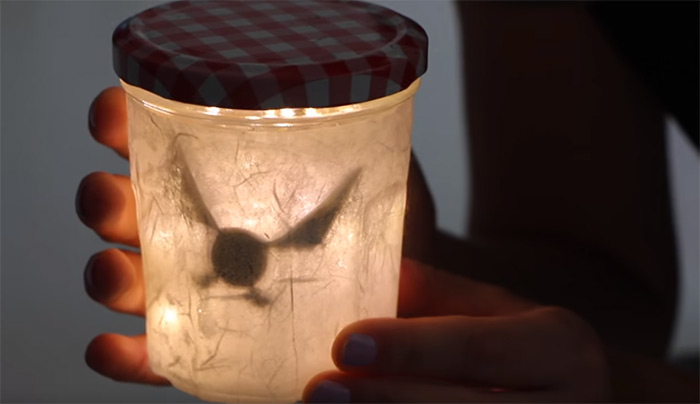 This list is full of solid lighting options and this craft is another one of them.
Based on the Navi fairies from the game, this Navi fairy in a jar craft is simple to pull off and will make it look like you went out and caught a real fairy somewhere in Hyrule.
Add some fun fantasy to your abode and impress your guests, this fairy in a jar craft is sure to do the trick.
15.

Navi String Lights
Taking the Navi fairy theme and putting a different twist on it, we get this Navi string light craft.
Producing the effect of having dozens of glowing fairies in your house at night, this one is a fun way to light up a gaming themed party or simply show off your craft skills and enjoy the visual spectacle of flashing lights.
16.

Legend of Zelda Wood Binder
Don't know what to do with all those old documents you have?
Tired of them appearing in different drawers and not knowing where to find them?
Well lucky for you this Legend of Zelda wood binder not only looks stunning, it will also very neatly hold together all of your important documents (or Zelda drawings) and make people think you're trying to hide top secret knowledge about the game.
17.

The Gale Boomerang
From the Twilight Princess game, the Gale Boomerang is as special an item as you could hope to come across.
Creating tornado-like winds, the boomerang is highly versatile and can be used in the game for multiple purposes.
Unfortunately in real life the boomerang isn't quite as multi-purpose. But it will certainly give your friends something to admire and this could even be a group project.
This boomerang is one of the most ornate designs with a true-to-life style, basically to the level of a cosplay prop.
18.

Cucco Plush DIY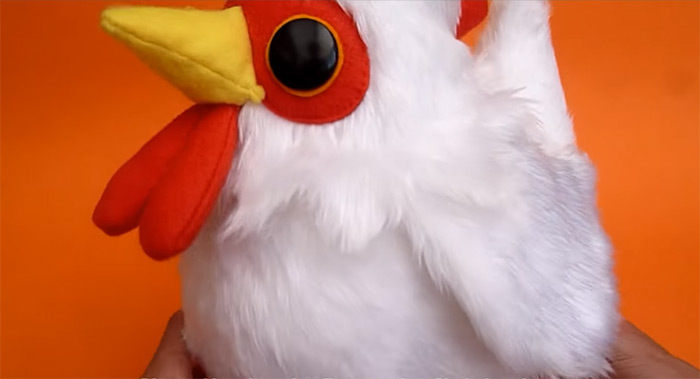 Cucco are a species of animal in the kingdom of Hyrule that have an uncanny resemblance to chickens (they're chickens).
These little things are simply adorable and with this DIY project you can bring one into your home! Have a go at this not-a-chicken project and be amazed when none of your friends recognize it for what it truly is!
A great way to filter out your non-Zelda playing friends, this cucco craft is a fun one to make.
19.

Legend of Zelda Bartop Arcade Cabinet
Now if you really want to push the envelope and become a true DIY master(the Link of the DIY world if you will) then try your hand at this Legend of Zelda bar top arcade cabinet.
A full on arcade cabinet design that actually works, this project is for those who are looking to inject a serious dose of Zelda into their lives and who want to undergo a pretty lengthy project.
This likely won't be completed in a day or even a week. So take this with a grain of salt and see how far you can push it.
20.

Sheikah Slate DIY
Featured in Breath of the Wild, the Sheikah Slate is like the neatly packaged compass/GPS/binocular combination that every video game needs.
A beautiful device to look at, the Sheikah Slate has an all-seeing eye and a very intricate design that can be replicated quite easily with this creative craft.
If you love this newer installment in the LoZ series then definitely get to work on this DIY project. It's absolutely perfect for cosplay attire too.
21.

Zelda Heart Container Cupcakes
We could all do with an extra life every now and again.
A pick me up, a boost, or whatever else you want to call it.
These Zelda heart container cupcakes provide just that.
Just imagine you are taking on an extra life as you gain vital energy from these delicious sweet treats in real-life and in your imagination.
22.

DIY Geek Pillow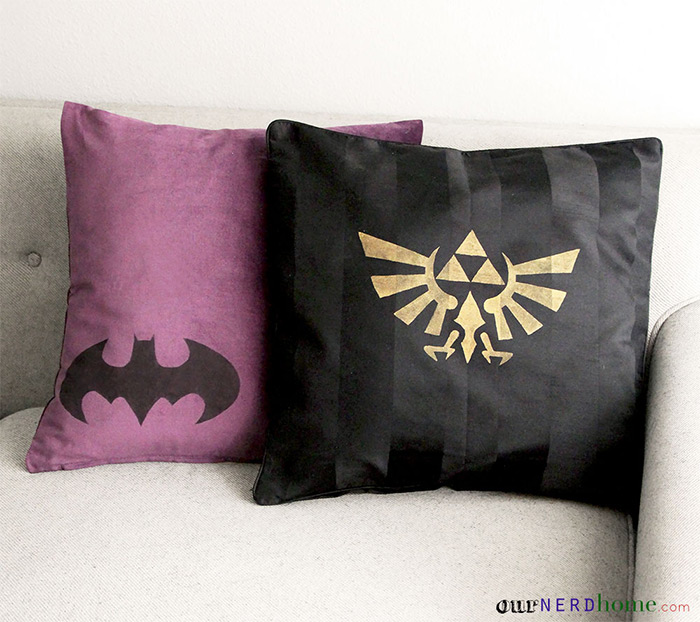 You can't go wrong with pillow crafts: cool, cozy, and comfortable.
These DIY Zelda inspired pillows will be great for those evening gaming sessions in Hyrule when you need a bit of support on the sofa.
Line your living room seating options with these Zelda themed pillows and your living room will be fit for the best of gaming parties with friends.
23.

Zelda-Themed Wood Wall Art
Made from a simple wood pallet, this Zelda-themed wood wall art is a great woodworking project that you will get to proudly display in the house for all to see.
Paintings can be overrated sometimes and it's fair after looking at all the cheap art you find in local big box stores.
So why not deviate from the norm and have a go at this wood art, LoZ style? It'll make any room look a lot more rustic and real fun to play in.
24.

Metal Triforce Lamp
The last awesome light-based craft on this list is the metal Triforce lamp.
This one will sit on your bedside table and help you drift off with its cool but unobtrusive light.
What's more, you'll almost definitely have some lucid dreams about Zelda when you go to sleep with the Triforce at your side. Just be sure to keep those dreams rated PG please.
25.

Link's Hat + Pattern
Here's a simple craft that'll allow you to go to any party as the protagonist of the Zelda franchise.
This iconic green hat will get you all the right kind of attention.
Harness the persona of the true hero of Hyrule by wearing his hat that you made yourself. This is bound to imbue you with all kinds of mystical powers, or at least make you feel like you've got them.
26.

Legend of Zelda Wall Key Holder
Adding some humor to an everyday household item, the Legend of Zelda wall key holder will ensure you never lose your keys again.
Conjuring images of keys required to enter special areas in Hyrule, this wall holder is a great way to bring the Zelda universe to life in your home.
It's also subtle enough that it could blend with an eclectic decorating style and wouldn't stand out too much depending where you hang it.
27.

Majora's Mask Plush Cushion Tutorial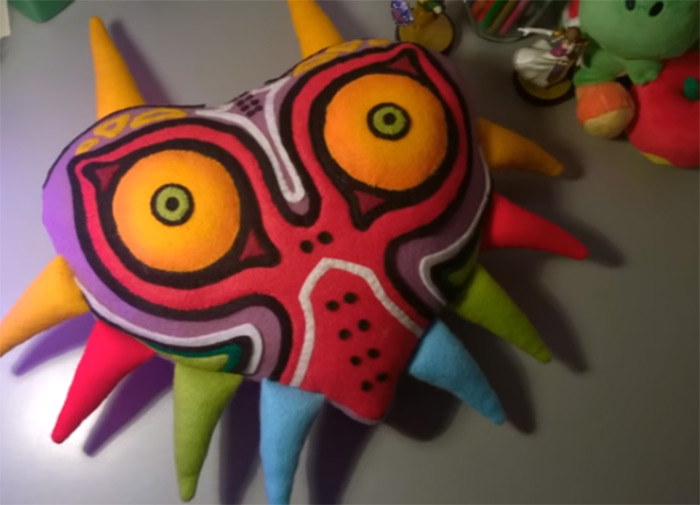 Now since this mask is such a beautiful item, I'm going to return to another Majora's Mask craft.
This time though it's something you can actually use as it's a DIY plush cushion for your sofa or bedroom.
Add this to your DIY geek pillow project from number 22 on the list and you're all set for real at-home Zelda style decorating.
Browse:
DIY
Legend of Zelda
Lists
Video Games