15 Game Room & Casino Ideas For Animal Crossing: New Horizons
This post may contain affiliate links. If you buy something we may get a small commission at no extra cost to you. (Learn more).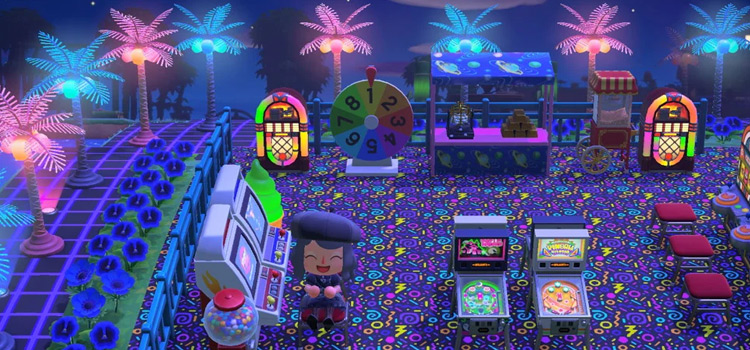 There comes a point in ACNH when you've made so much money that it becomes totally meaningless.
You've joined the ranks of the bourgeoisie, Tom Nook no longer owns your soul and bank account, and there just isn't much of anything worth buying left.
Enter gambling!
Gambling in real life is risky and expensive, but in a game? Who cares!
Get ready to sink some bells into slot machines, play your villagers in blackjack for everything they own, and finally get some money back from Tom Nook with these fun & exciting casino/game room builds!
15.

Oasis Casino and Resort
Ping! Ping! Ping!
That's the sound those slot machines are going to make when you win the Big Bells.
Velvet stools add some class to this cute casino, and the bell bag rug is a clever add.
The palm tree, slots, wheel of fortune, and eerily familiar flooring make this look just like a real casino! That lad with his fedora sure knows what he's doing.
Make sure you set a gambling limit, or you might get swept up in the excitement!
14.

Underground Casino
If a wheel spinning game isn't your speed, try your hand at some card games.
Slots are still available too in this underground casino idea. Just make sure you're not cheating and hiding cards up your sleeve – that camera will catch you!
Use of clothing on mannequins is an adorable way of making it look like staff are manning the card tables and check-in counter. Definitely give this a try in your own build.
Plus the antique phone and velour wallpaper help to make this underground space look well-appointed, and a bit old fashioned.
13.

Outdoor Casino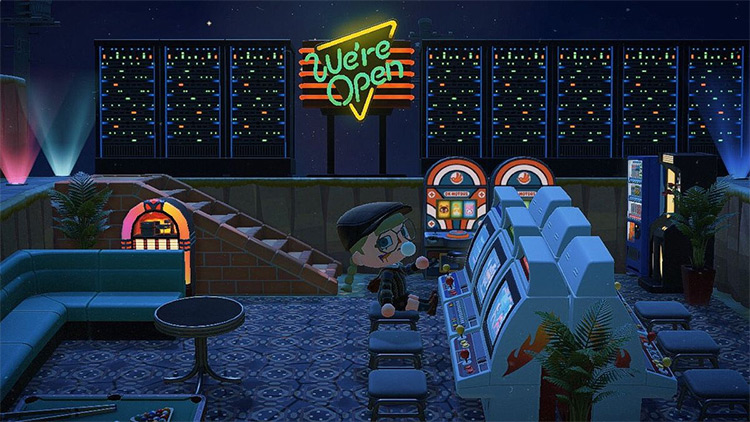 Light up the night with this bright casino build.
Mind you, don't put it anywhere near your residential space or the lights, buzzers, and general noise levels might wake up any early sleepers!
A perpetual 'We're Open' sign keeps the bells flowing 24/7 with these slots. And a swanky jukebox will keep the tunes bopping.
If you get thirsty, there's some handy vending machines ready to suck up any spare quarters you don't put through the slots too!
And don't worry about getting cold. Even if the casino is outside, the adrenaline rush of winning (or losing!) will keep you plenty warm.
12.

Stellar Arcade
Shoot for the stars with this colorful galactic arcade design. Enjoy the classics like ACNH-brand Street Fighter or Space Blaster, or give your thumbs some heavy exercise with several pinball machines to choose from.
Space suits line the walls, in case getting in costume while you play games is your speed.
I, for one, exclusively play Animal Crossing while wearing a K.K. Slider mask. But maybe that's just me.
Snacks and drinks are also available, because video games and snackies go together as well as… well, video games and snackies!
11.

Pink Palms Casino
A pair of sphinx watch the entrance to this hotspot for partygoers, the Pink Palms Casino.
It's named pretty aptly, given the… well, pink palm trees.
Brick stairs and terraforming make this outdoor build a clearly distinct area of the island.
With the shell arch, flashy lights, and bright colors, this game area gives off major Vegas vibes. Which is great – Vegas is the casino capital!
Two wheels of fortune and some slot machines make up the entertainment in this casino. So whether you prefer manually turning the wheel yourself or just hitting a button, best get to spinning.
10.

Classic Arcade
This classic arcade build is filled with lots of game machines, such as a Street Fighter-esque one, and a darts game.
Custom designed wall art have logos for Nintendo, Capcom, Neo Geo, and Namco, which is a cute nod to the creators of many real-world arcade games.
Though Nintendo in Nintendo's Animal Crossing is pretty darn meta.
The custom flooring is also really cool, and has some strong retro vibes. Go ahead and take my bells.
9.

Home Arcade
This awesome arcade has just about everything!
Loads of arcade cabinets have every game imaginable, and if that isn't enough, try your hand at some ping pong or billiards.
Are you hungry? No problem!
You can get your snack fix with freshly popped popcorn from a cart. Or if you just need something to chew, sink a quarter into the machine for a sugary gumball. Chewing gum apparently helps with focus, which will help you log a new high score on your favorite game.
8.

Neon Arcade
Get ready to get groovy with this bright neon arcade design idea.
A starry wallpaper and flooring are just subdued enough to let the bright pink palm tree, clocks, and swanky lava lamps stand out in this gaming haven.
Your villagers will love competing with each other on those pinball machines. And there's a comfy looking couch to sit and take a break if they need it!
7.

Prize-Filled Arcade
What's better than playing games for hours?
Cashing in your hard-won tickets for fun prizes, of course!
This adorable arcade has all the machines we've seen on this list, but it also has a prize pit to claim your spoils.
T Shirts, gumballs, posters of your favorite villagers, you name it!
This pit even has cute plushies to bring home as a souvenir of your fun afternoon or evening. Dibs on the pink stuffy!
6.

Basement Arcade
Remember how lots of hotels used to have arcades inside?
This basement arcade gives off the same exact vibe, especially with the squiggly line flooring and the graffiti wallpaper.
A foosball table is all ready for you to beat Rodney (or your preferred awful villager) so hard that he leaves and opens up a spot for a dreamlist villager.
We love the neon ice cream cone too. Which, along with the palm tree, give off some really fun vibes.
5.

Red and Black Casino
This smaller casino is no less valid, and still every bit as fun!
Swanky lights make this red and black casino a hotspot for nightlife on your island. A wheel of fortune, some friends, and a Nintendo Online pass make it a great spot to host a real game for bells, Nook Miles Tickets, or anything else!
The flooring can be achieved with custom designed paths and a bit of TLC.
The candles on the tables look super nice as well, and give a soft glow independent from the spotlights.
Peep the piano in the corner, too. Live music is just plain classy!
4.

Bar and Casino
Drinking and gambling go hand in hand. So a bar and casino duo just facilitate the process.
This outdoor venue has billiards and dart games, and a swanky bar to hang out with. Happy Hour is between 4 and 7, and looks like a great place to hang out.
Your villagers will never leave this awesome spot!
3.

Functional Luck Game
Here's another totally real game for you to play with your ACNH friends.
Two wheels determine where on the grid you can dig up buried treasure – bells, rare furniture, it's your call.
This is a game of chance. And all you need is a shovel, two wheels, some prizes, and some creativity.
Oh, and a Nintendo Online pass.
Unfortunately, your villagers can't play this with you.
But for friends, you could even charge an entry fee and make a profit, if you're the enterprising sort.
2.

Homey Game Room
Not everyone wants a flashy neon game room in their home, and that's totally okay.
So this fun game room keeps things a little more low-key color wise, with some brick and stone instead of stars and bright lights.
There's game machines, but also a big screen TV connected to an Animal Crossing edition Nintendo Switch. Very meta!
A foosball table and billiards table make this space a great spot to hang out and relax with friends.
1.

Ultimate Home Arcade
The thing with design games, whether it's Animal Crossing, The Sims, Stardew Valley, or any other, is that it can be really tough to make a room look full.
Items don't always occupy the spaces we want them to. And empty-ish rooms look so amateur.
That's not the case with this awesome home arcade.
It's full and busy, without being overcrowded.
Loads of game machines and decorations come together perfectly to form the ultimate home arcade. Central to all the machines is a TV – perfect for hosting game night with your friends.
So get out there, new ideas in hand, and get gaming!
Browse:
Animal Crossing
Lists
Video Games