25 Living Room Ideas For Animal Crossing: New Horizons
This post may contain affiliate links. If you buy something we may get a small commission at no extra cost to you. (Learn more).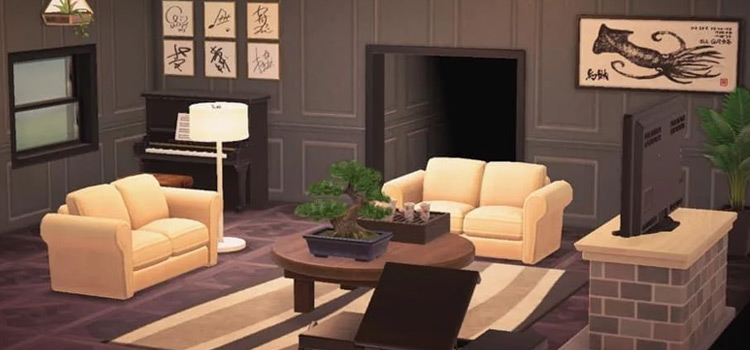 In most cases, when you visit someone's home out here in the real world, the living room is the first place you see.
It gives off that initial first impression that either makes you feel welcome, or makes you question whether you should have even visited.
If you want your living room in Animal Crossing to feel inviting, well there are lots of ways to do that. And we've got plenty right here.
Here's a handful of great living room designs that can help you to spruce up your abode in New Horizons!
25.

Magical Mermaid Palace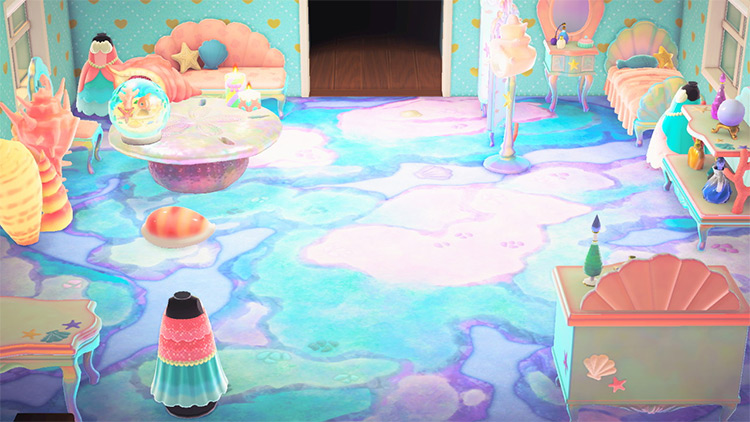 Simply using all items of a particular furniture series may not be the most original idea, but it sure does make for a stunning room!
Just about every recipe needed to make this seascape requires tons of shells.
You'll also need to talk to Pascal after finding scallops to get the mermaid DIY recipes, as well as the necessary pearls to craft said recipes.
Pieces of interest here include the mermaid sofa and shell table, which create a comfortable sitting area.
Mermaid flooring is also important for the undersea look. This person has a blue heart-pattern wallpaper to accompany the flooring, though you may try out other options, such as the underwater wall.
Life sure is better under the sea!
24.

White Christmas Room
Here's a lovely design for the holidays, or if you're just one of those weird people who likes to leave up their Christmas decorations all year long!
What stands out about this living room compared to other holiday designs is the white color scheme.
The sofa, table, and chairs come from the log furniture set, which requires hardwood to craft and customization for the white wood.
During the Christmas season, be sure to shake ornaments off cedar trees to craft the festive trees.
Once you buy a fireplace, you can settle in for some hot cocoa in your festive new room.
23.

Dog Lover's Dream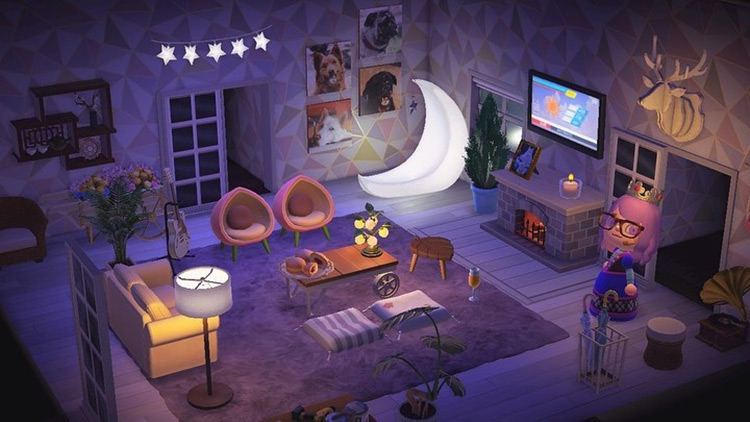 Two things stand out to me about this design:
The first is the dog pictures on the wall. You'll need to make your own custom designs to proudly display your own canine friends.
The other thing is the cozy, nighttime vibes in here. Just makes me imagine staying up late reading a book on the sofa while petting my dog.
The sofa and fireplace are standard items that you can buy in ACNH.
But you'll obviously need peaches to craft the peach chairs.
Also, you'll need star fragments to craft the crescent moon chair and starry garland to give your room that warm, midnight feel!
22.

Goth-Themed Living Room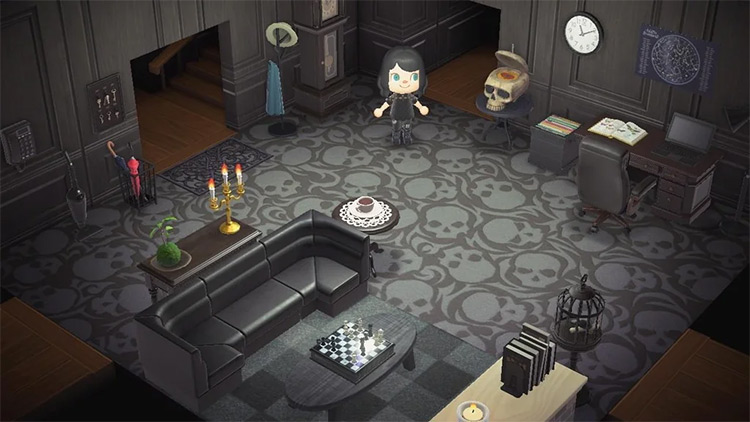 In case you couldn't tell, the main point of this goth-style living room is that everything is black.
You'll need a box sofa in black, and you'll want to craft a wooden low table in black, and even an antique clock. Yes, in black.
The skull print flooring is a must for anyone wishing to embrace their dark side.
And if you really want to be over-the-top goth, use a skull wall for even more deathly goodness. However, the black hallway wall works just fine.
Other small furniture pieces you'll want to purchase are the throwback skull radio, chessboard, and birdcage to bring your gothic dungeon together.
21.

Modern Monochrome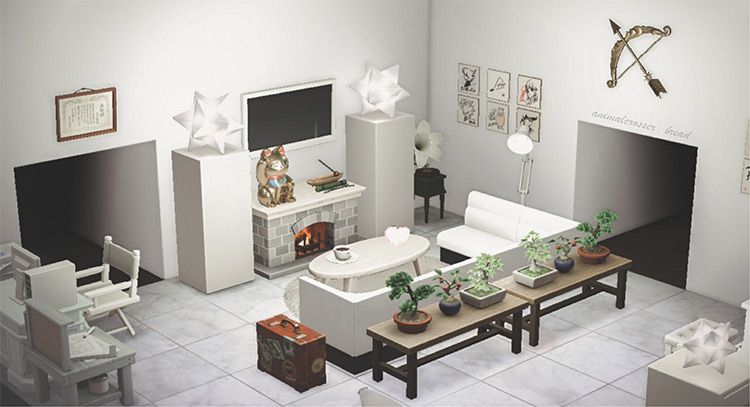 I've noticed that a lot of modern homes really like white.
It's simple. It goes with anything. It can help to brighten up the room.
For this design, you'd add some standard furniture pieces in white, such as the box corner sofas, fireplace, and wooden low table.
You'd also need to collect star fragments to craft the two giant nova lights that really brighten up the room even more.
Some decorations, such as the lucky cat and pine bonsai trees, help to give the room a bit of color. So shake down trees for some pine cones to craft them.
Finish it off by mounting 50 inch TV above your fireplace, and you're one step closer to modern chic!
20.

Fairy Woods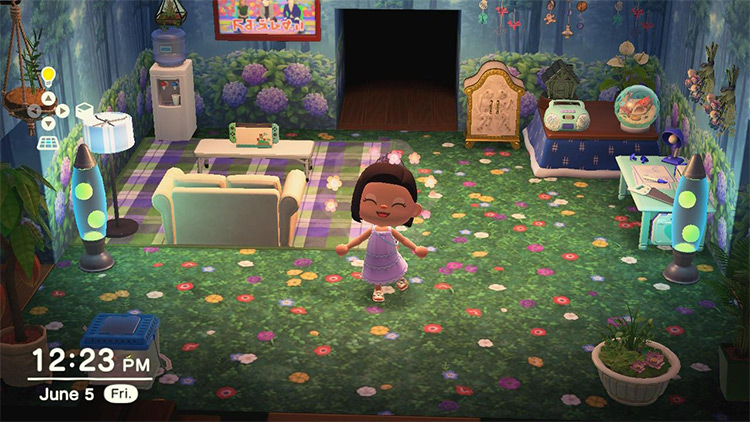 With this design, you can embrace the magic within by creating your own enchanted fairycore-style room in your home!
What really brings this design to life is all the plant life in its many forms.
The wildflower meadow flooring and misty garden wall both create a magical atmosphere, and can be bought from Saharah while she visits.
Various plants, such a floating biotope and cacao tree, make for great decorations as well.
The two rocket lamps on the sides also help emphasize this room's mystical vibe. So be sure to stop by Nook's Cranny to pick some up.
And the green checked rug ties the room together as a natural home!
19.

Cozy Mountain Cabin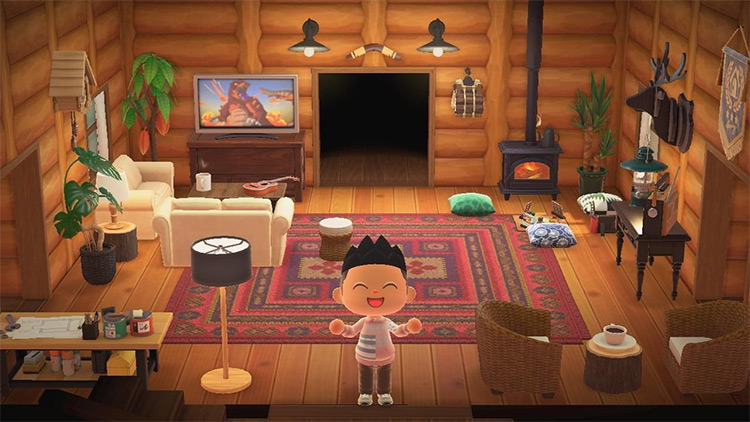 Ever gone skiing and stayed in a cozy cabin?
Well, I haven't. But I still can appreciate the atmosphere in a nice wooden abode.
The cabin wall and wooden knot flooring are must-haves to set up this interior.
You'll once again need a few plants, such as the cacao tree and monster.
The two white sofas and red kilim-style carpet complement each other well, and give the cabin a more homey look.
It's also the small details, like the boomerang hung above the doorway, or the cushions on the floor around the board game, that really make this cabin an extraordinary living space.
18.

Traditional Japanese Home
Designing this traditional Japanese home will take a lot of work, but it's time well spent.
It's tough because of all the simple panels and wallpaper you'll need to customize in order to display the various Japanese characters you see throughout the room.
Rush tatami flooring is also required to match the wallpaper nicely.
For the room's center-piece, floor seats and a kotatsu are needed.
While you surely have the freedom to utilize whatever table decorations you want, a simple tea kettle and teacup do work nicely with the Japanese home idea.
Once you decorate the space with plants like bonsai trees and monsteras, you can relax in this newfound place of Zen.
17.

Hobbit Hole Living Room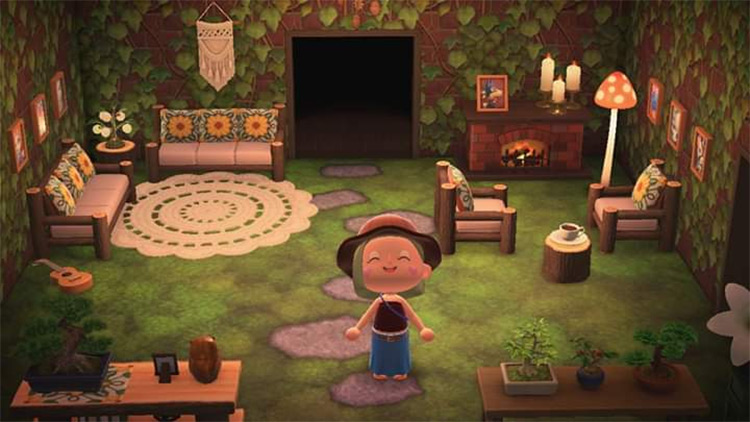 This idea is inspired by the Shire from the Lord of the Rings series (which if you haven't seen the movies, you're doing yourself a disservice).
Nevertheless, you'll want to obtain some mossy garden flooring, ivy wall, and the lacy rug from Saharah to start.
The log couches and chairs require hardwood to craft, and can be customized to have either the picture flowery design, or your own creation.
If you save some mushrooms from November, you can also craft a mushroom light or two to add to the décor, and have your own beautiful hobbit hole.
16.

Cherry Blossom Forest Room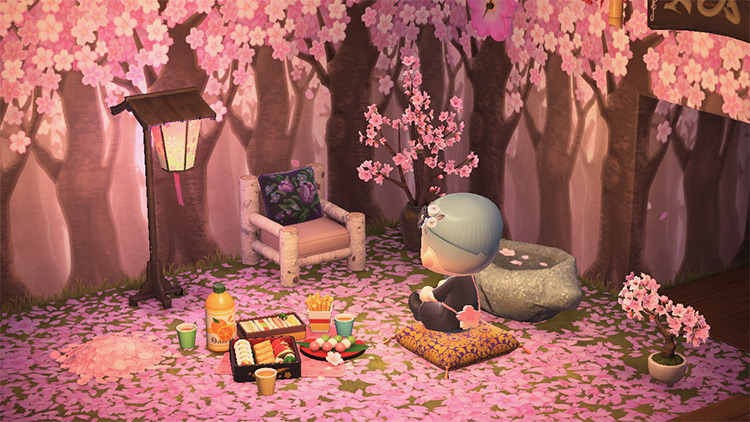 Honestly, there's just something so stunning about an Animal Crossing house that looks just like the outdoors.
This cherry blossom inspired idea is no exception.
You'll need to catch plenty of cherry blossom petals while they're in season, because just about every item you'll need requires them for crafting.
The cherry blossom wall and cherry blossom flooring are essential to provide the illusion of being engulfed in a gorgeous cherry blossom forest.
Other items, like the cherry blossom pond stone, cherry blossom bonsai, cherry blossom branches, and blossom viewing lantern, also require these petals to craft.
While you do have the freedom to craft more of each item if you wish, sometimes less is indeed more.
15.

Hotel Lobby Living Room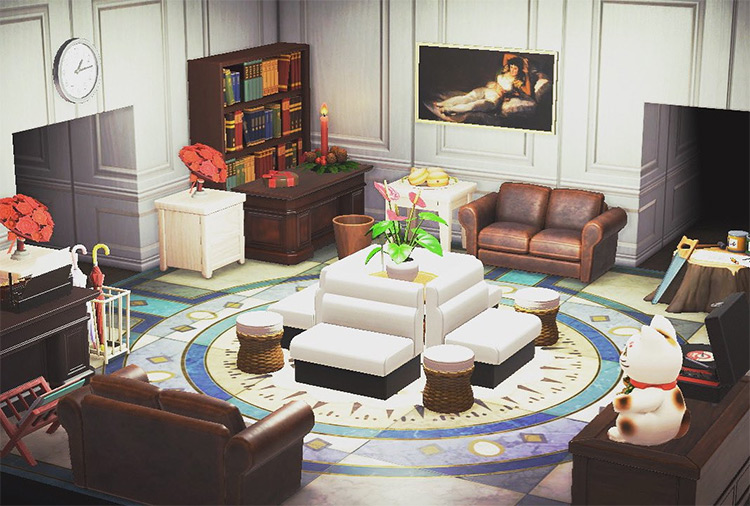 Does anyone else think the furniture of a hotel lobby is a heck of a lot more comfortable than the furniture in your actual room?
Well now you can work with different crafting recipes and items for sale to create your very own hotel lobby!
While typically placed in a corner facing each other, I really like the box sofas in the center facing outward. Just a brilliant new way to place the item.
To re-create this look you'll also need a white hallway wall and palace tile flooring from Saharah as well.
Another key point is crafting a bookshelf, which you need books to do (obviously).
And no hotel lobby would be complete without a front desk complete with den desk and typewriter!
14.

Chinese Restaurant Theme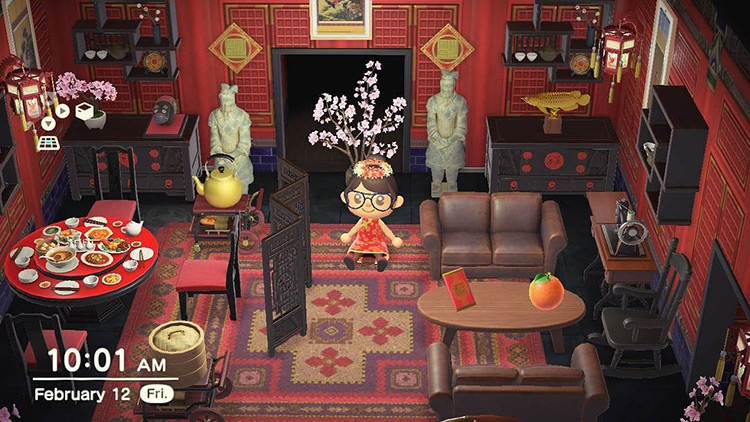 What's not to love about a living room that comes complete with a Chinese restaurant inside?
Some essentials you'll need here include basic living room furniture. such as a wooden low table, rocking chair, and a double sofa.
What makes this room stand out is the vast amount of decorations, primarily from the imperial series.
That's right – you'll need an imperial dining table, imperial chairs, imperial chests, and imperial partitions to create the dining area.
Lastly, you'll need a red kilim style rug, and then it's time to dig in and enjoy your new digs!
13.

70's Living Room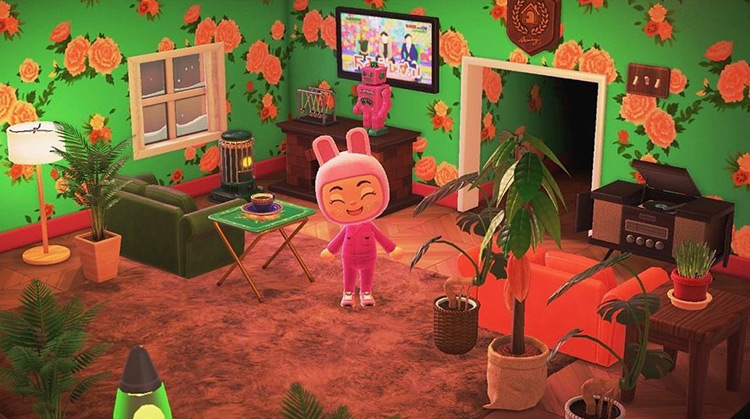 This is one groovy design, huh?
Maybe it's the retro flower print wall or the orange and green double sofas, but this colorful design is totally eye-popping.
To create it yourself you'll need a light herringbone flooring and a brown shaggy rug to further funkify your place.
Then deck out the place in the raddest plants imaginable like cacao trees, cat grass, and fan palms. Far out!
12.

Deep Sea Cavern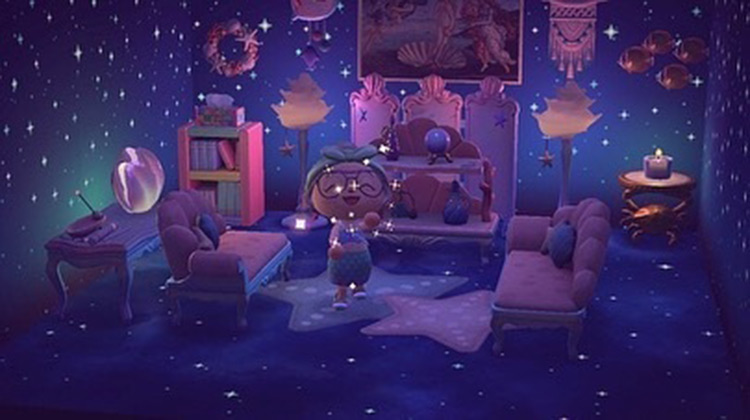 ACNH have this ability to mix furniture sets and create something wonderful. It's truly remarkable.
For this idea you'll need starry skies flooring and wallpaper, but for the furniture, you'll need the mermaid series.
Mermaid sofas, rugs, tables, shelves, and lamps, all require shells and some pearls. So get diving for some scallops to trade Pascal for recipes!
This design even mixes in a wooden block bookshelf, which requires softwood, and an Astrological Cancer crab table, which requires star fragments.
The final touch for this undersea paradise is the moving painting, more commonly known as the Birth of Venus, to amplify this space to a whole new level.
11.

Anime Playroom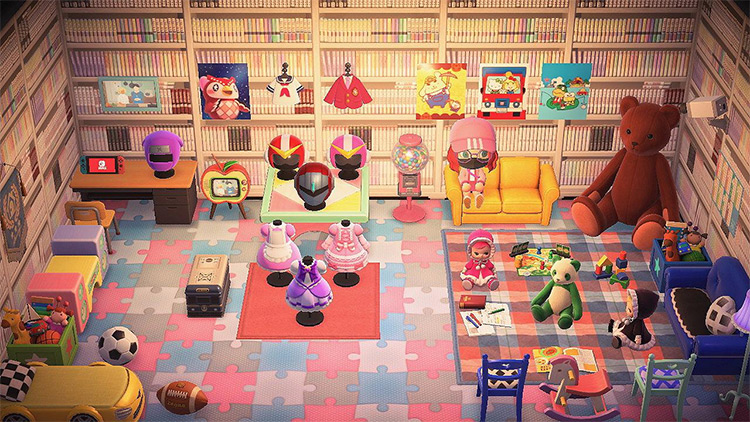 Who else here loves anime?
Judging by the fandom, I'm sure a good portion of you reading this have dabbled in some anime.
Well there's nothing overly complicated about this design, but it's more like the culmination of all these items together make one genius idea.
For this you'll need tons of magazines to craft the manga library wall (which I think is a totally weird and awesome wallpaper design).
Then cover the room with tons of toys like the papa bear, baby panda, board game, dolly, rocking horse, and toy box.
You'll also need costumes like ninja hoods, power helmets, and zap helmets, so that you too can become part of your favorite anime.
10.

Rattan Home Garden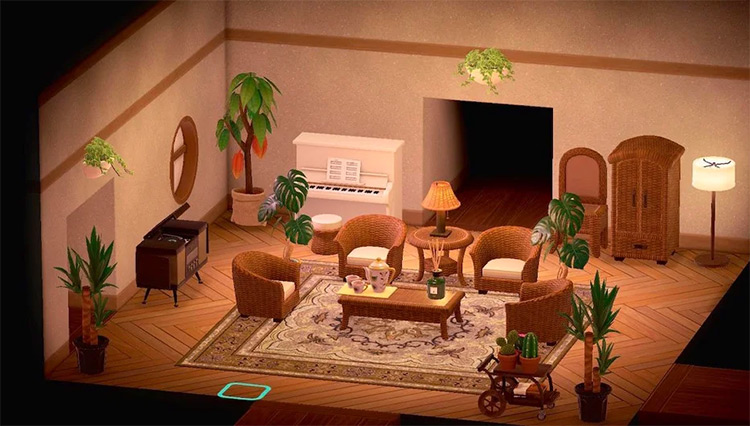 This idea is pretty basic, but the execution is on point… dare I say flawless.
All the furniture comes from the rattan series in a basic brown color.
There's rattan chairs, rattan tables, rattan wardrobes, rattan mini tables, rattan vanities, all of which can be bought via Nook Shopping.
The white upright piano is a nice touch as well, to give the room more personality.
Having all the furniture centered around the yellow Persian rug helps make this living room feel like a welcoming place for visitors!
9.

Basement Library Living Space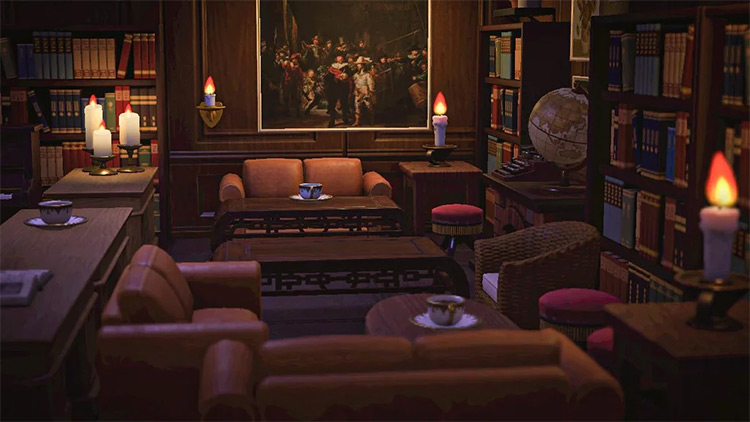 While this area looks less like a living room, and more like a serial killer's study, it's still very stunning to look at.
Probably one of the more unique indoor library ideas.
The couches are all double sofas accompanied by imperial low tables.
For this idea, you'll need to buy plenty of books via Nook Shopping to craft all the bookshelves. Otherwise, what's really the point of a library?
Small details like the candles and the sepia globe also help make the space more inviting.
The last thing you'll want to obtain is an amazing painting to hang on the wall, though any large sized painting will do. How studious!
8.

Starry Night Living Room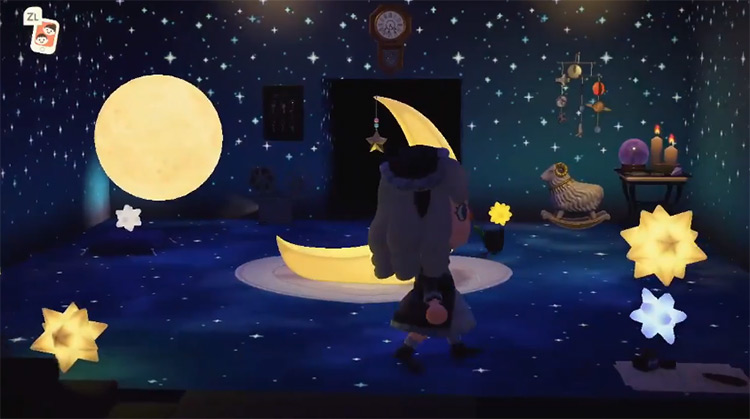 Sweet dreams and goodnight! Well, not really.
But this nighttime sky is sure to put you in a sleepy mood.
You'll need starry skies flooring and wallpaper to set up this living room idea.
You'll also need to craft a moon and crescent moon chair from star fragments, so spend a bit of time outside and wish on some shooting stars!
This idea also has some nova lights, the recipes for which can be obtained from Celeste on starry nights.
Lastly, scatter some star fragments on the floor, anywhere you like. This adds a more cosmic effect!
7.

Hogwarts Common Room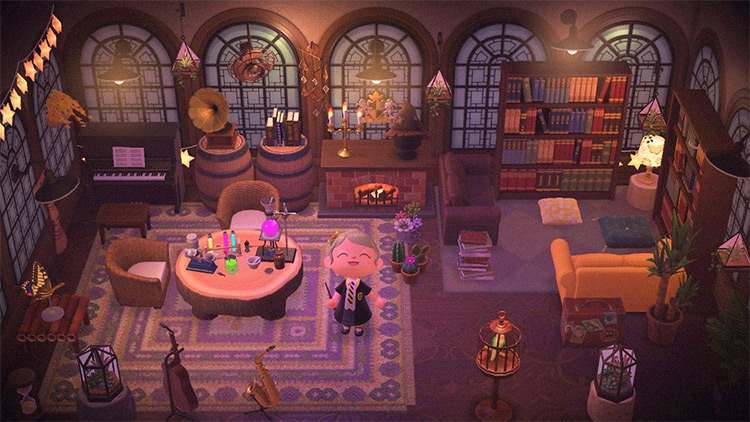 If you're a big Harry Potter fan like me, then you'll surely want to give this common room a try!
This idea utilizes some typical furniture items that can be purchased in ACNH, like a fireplace, rattan chairs, and double sofas.
But you'll also need to craft some items, such as barrels, which require wood and iron. And the bookshelves too, which need wood and books.
The cherry on top in this space is the lab experiments set on the table, ready for your potions homework.
If you know your favorite Hogwarts house, then you can also customize items to match your house colors.
This player is Hufflepuff who went with yellows, while I'm personally a Slytherin, and would make everything green and silver. It's really up to you!
6.

Conversation Pit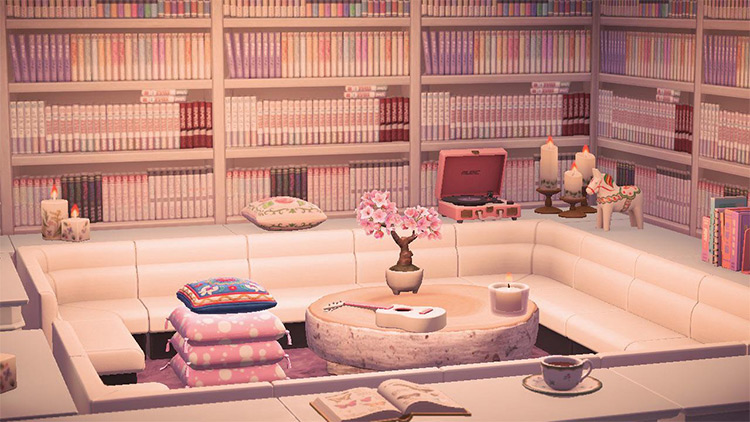 While not the most visually marvelous idea, this is not your average living room.
This seems like a really cool idea to have in real life, and it's quite easy to make in Animal Crossing.
First, line the walls with a bunch of white den desks that you can buy.
Next, create the circle with a bunch of box sofas and corners.
You'll need some hardwood to craft the log table, and many books to craft the bookshelf wallpaper.
Lastly, decorate the tables and desks with plenty of bookstands, candles, cushions, and plants, all to liven up the conversations you'll have here with your ACNH friends.
5.

Club Lounge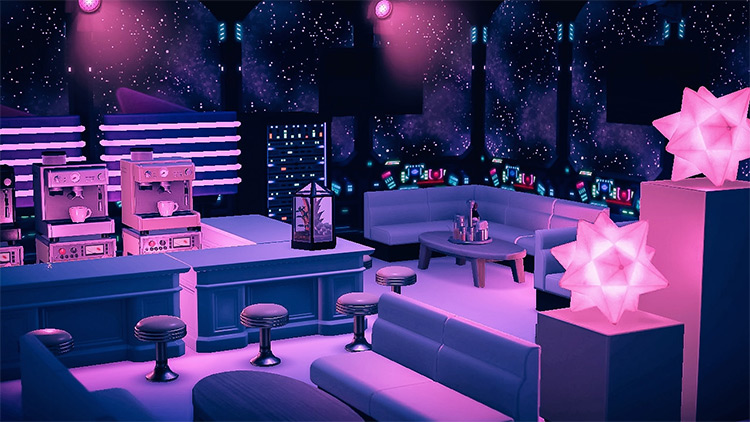 If the living room is supposed to be the height of entertainment in the home, then this space lounge is sure to hit the mark!
For this you'll need to craft the sci-fi wall and nova lights from star fragments, and a wooden low table from some wood.
The rest of the furniture and decorations can simply be bought from Nook shopping as you need them.
Box sofas and den desks are preferable in white, to reflect the rest of the lights well.
Also, you'll want some espresso makers and bar stools, for a nice place to serve drinks. In a living room?
Heck yes.
The last bit is unique, in that the diner neon signs are turned facing the wall, so that you get all of the light and none of the obnoxious "We're Open" in your face. Very cool.
4.

Butterfly Garden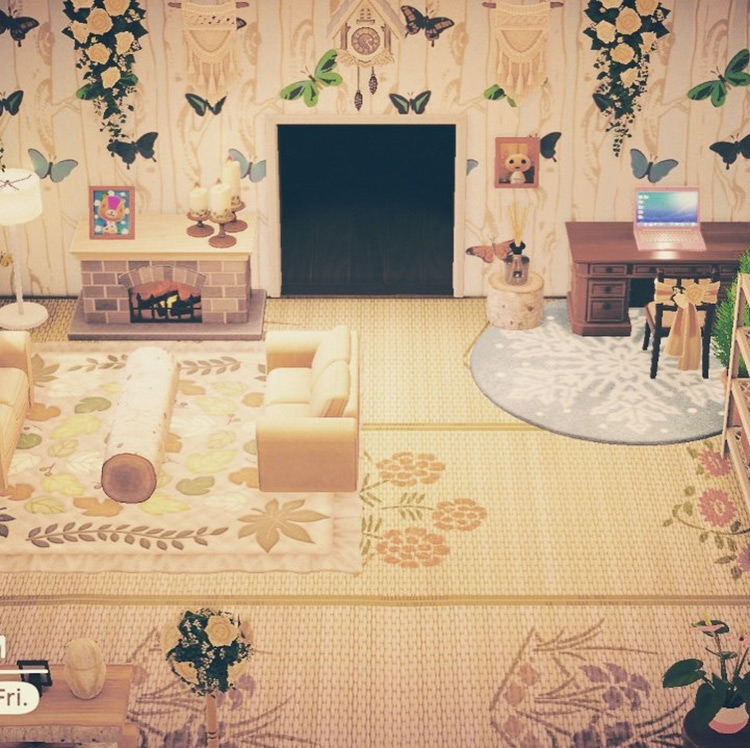 Butterflies: one of the most common bugs you'll see around your island..
So why not model a living room idea after them?
You'll obviously want the butterflies wallpaper, as well as typical living room furniture like double sofas and a fireplace.
I never would have thought of using a log wild bench as a table, but it totally works with this aesthetic!
Lastly, you'll need floral rush mat flooring to bring your butterfly paradise to life!
3.

Ice Wizard's Palace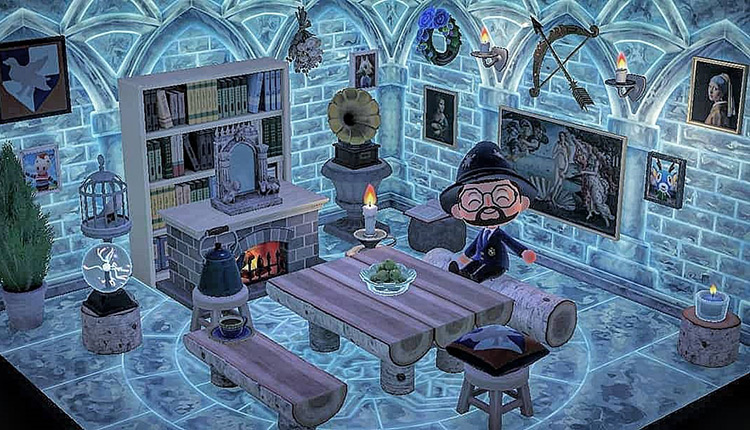 If you were able to obtain some large snowflakes during the winter, then you're in luck.
The ice wizard palace is only a few steps away!
For this idea you'll need the snowflakes to craft the ice block flooring and wallpaper.
This player utilized both a log bench and a log wild bench to accompany their log dining table, but you can mix and match them at your leisure.
However, you do want to customize them to white wood to aid in the ice aesthetic.
What truly makes this room an ice wizard's palace is everything you'd add in… basically, the decorations.
A throwback gothic mirror, Sagittarius arrow, plasma ball, and wall mounted candles are some of my personal favorite items that make this place feel magical… literally!
2.

Overgrown Greenhouse Living Room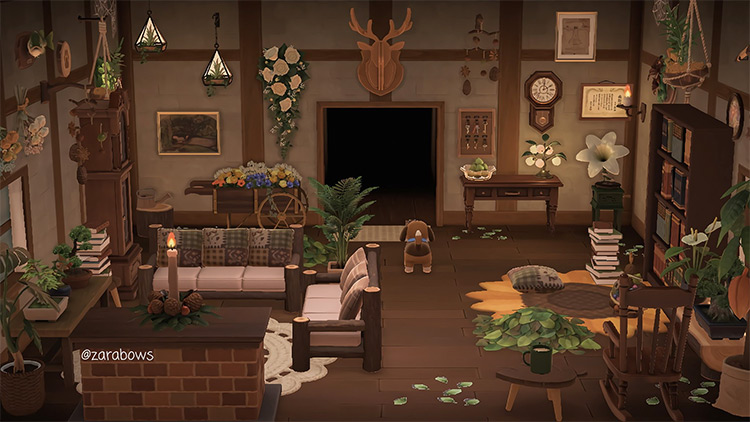 I've shown off some designs that make good use of indoor plants, but this design takes that to the next level!
There's so much awesome stuff in this room, that I don't even know where to start.
I guess I'll point out the custom leaf designs first, which this player put onto common flooring.
You also have furniture items where you'll need various types of wood to craft, like bookshelves, rocking chairs, log chairs, and log benches.
As for the plants, leaf piles, and garden benches, you'll need to craft with various flowers and weeds.
Cacao trees, monsteras, and fan palms can all be bought on Nook Shopping. So get those bells and gets busy decorating!
And if you want some more ideas to build into this greenery living room, take a peek at our list of greenhouse design ideas too. Lots of crossover there.
1.

Fruity Funhouse Living Room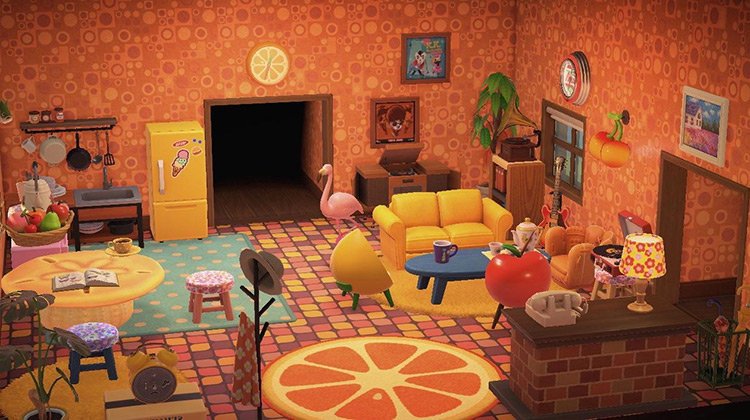 I'm not gonna lie: for this article I intentionally sought out a living room full of fruit themed furniture.
I was not disappointed. And if you build something like this, I don't think you'll be disappointed be either.
Here's a few pieces that highlight the room:
The peach chair, juicy apple TV, orange rug, and the orange wall-mounted clock. These all make for a fun and fruity living space!
Other items that you'll want include a yellow double sofa and refrigerator, throwback mitt chair, and a shell table, which you'll need to craft.
Displaying some of your favorite records on the wall can help make this a fruity-funky hangout that truly feels like a unique living room.
Browse:
Animal Crossing
Lists
Video Games