33 DIY Frozen Craft Ideas With Elsa, Olaf, Anna & More
This post may contain affiliate links. If you buy something we may get a small commission at no extra cost to you. (Learn more).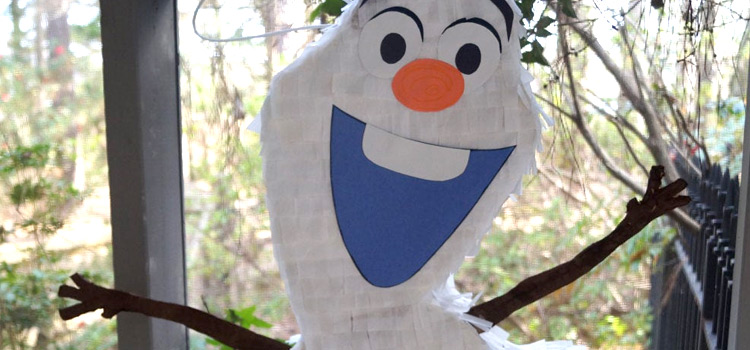 The icy fantasy adventure movie Frozen from Disney that has sparked the imagination of both kids and adults.
There's no denying that Frozen is a pop culture phenomenon right, and so it makes the perfect inspiration for DIY crafts and some fun handmade at-home projects.
From the engaging characters and enchanting songs, and freakin' Olaf, Frozen invites you to just let it go and be immersed in a compelling winter wonderland with boundless potential. And in that potential I hope you'll find some nifty handmade crafts or home decoration ideas.
1.

DIY Elsa Wand
A wonderful way to start this list and decorate your home(or your cosplay outfit) is with this DIY Elsa wand. It would look great on any surface and add a touch of Disney magic to your fully-featured Elsa attire at Halloween or otherwise.
Taking on the form of snowflakes, these epic Frozen wands are the ideal DIY for any Disney themed party or just a great way to add realism to your kid's outfits for trick or treating.
While the craft may not be as easy as just a waving a wand, they're not far off in terms of simplicity.
2.

Olaf Frozen Pom Pom
It's hard not to love Olaf, the oafish snowman from Frozen. He's just the right amount of cheerful to make the perfect Christmas ornament.
Being a snowman, Olaf lends himself brilliantly to this super festive DIY that will turn your home or Christmas tree into a true Winter Wonderland.
Made to look like real snowballs, these Olaf Frozen pompom decorations will hang from your tree and bring Arendelle right to your living room.
3.

Olaf in a Storm Bottle
Olaf is often prone to falling apart and needing impromptu reconstruction surgery.
This humorous trait provides us with the perfect material for this next craft: the 'Olaf in a storm' bottle.
Simply shake up this bottle and watch as Olaf flies around in the snow storm.
Highly entertaining for kids, this is the perfect Disney themed Christmas decoration too and real fun to make as a family.
4.

Tissue Box Cover
The next time you blow your nose, be blown away by this awesome Frozen-inspired tissue box cover.
A fun twist on an everyday item, this tissue box cover will help you get through the winter in good spirits. It's an easy DIY on your own or you can pick it up as a handmade item straight from Etsy if you want to save time.
This can work for your own house or as a thoughtful gift for those who always get sick in the winter. But really this is highly recommended for Frozen fans.
5.

Princess Elsa Shoes & Crown
A craft that will help turn you into a Frozen Disney princess, these shoes and crown are based on the star of Frozen: Elsa's wardrobe.
You'll never have to leave the house again without feeling like a winter princess with these enchanting garments.
Some felt, foam, lace and gems combined with crafting essentials are all you will need to transform — in a Cinderella-esque way — into your new favorite Disney star.
6.

Frozen Inspired Drink Coasters
You'll probably be thirsty after running around pretending you're a Disney princess and singing 'Let It Go' for the hundredth time.
And that's where this next craft comes in handy.
Make sure the party doesn't stop with these Frozen inspired drink coasters to rest your drinks on during a Disney movie binge fest.
Incredibly minimalist and pleasing to the eye, these sleek stone snowflake coasters are all you need to give your room a splash of Frozen fun.
7.

Olaf Build-a-Snowman Plush
As previously mentioned, Olaf the snowman has a tendency to fall apart and quite often needs help to be re-assembled.
Well with this build-a-snowman plush you can do just that ad nauseam.
Your kids can have a blast taking apart this goofy snowman and putting him back together as much as they desire. And by "kids" I mean basically anyone of any age. This thing is a hoot.
8.

Olaf Piñata
Disney provides us with some fantastic piñata inspiration from many of their characters.
Seeing our favorite Disney characters, knowing they're full of delicious candy. It's hard to resist making for any kid's birthday parties.
So why not dive into the latest hit in the Disney universe and put together this playful Ola piñata? Easy to assemble and just as easy to break apart.
9.

Frozen Olaf Costume
Taking on Olaf's imagined summer look, you know in the scene when he sings about his dream summer life… well this snowman costume will be perfect for a winter or summer themed party.
Combining the seasons, this clever craft is ideal for those Frozen fans looking for a cool new Disney costume based on the same snow-filled atmosphere.
10.

Birthday Party Hats
Arguably one of the easiest ways to create a theme for your birthday party, party hats can still be a lot of fun to make and wear.
This project is fairly easy to make with the family if you have the right supplies. But if you just need a quick pick-up for an upcoming party you can snag these right from Etsy too, all handmade to order so they're totally DIY'd!
Definitely a fantastic family craft for any occasion. See how many of these Frozen birthday party hats you can pump out in one afternoon!
11.

Melting Olaf Bottle Charm
Another take on Olaf's melting act, this melting Olaf bottle charm could just be the fun dose of Disney you need for the home.
Full of charm and character, this bottle craft looks best on display during the cold winter months and especially around Christmas time.
12.

Let It Go Toilet Decal
Sometimes you just need some friendly advice from your favorite Disney character to make those mundane moments feel a little more special.
A great example of how you can make this happen for yourself is having a go at this 'let it go' quote toilet decal. Pick up the handmade decal from Etsy and follow the instructions to DIY your own Frozen toilet bowl(probably in the kid's bathroom).
Not only will you get many a laugh from it, your guests will undoubtedly find it funny too.
13.

DIY Elsa Tiara
Another project that can help you realize your dream of becoming a Disney princess, this Elsa inspired tiara will have you or your kids dancing around the living room belting out songs from the movie.
Mainly made with wax paper, blue beads, floral wire and a plastic hair piece comb, this craft is simple to pull off but striking when worn.
14.

Olaf Pencil Topper
One of the best ways to jazz up school stationary to ensure your kids go to school with some Disney magic in their bag. These Olaf-inspired pencil toppers will make your kids want to melt with joy.
Using several colors of felt, our favorite googly eyes, and some twine, you can give any pencil a Frozen touch.
15.

DIY Elsa's Ice Castle
One of Disney's more unique enchanted castles, Elsa's ice castle is the basis for this creative craft that can help transform your home into an ice palace.
And this is a craft that will not only look amazing on the shelf, but really anywhere. This one will also light up at night and keep you feeling cozy on those harsh winter evenings.
16.

Frozen Silly Putty
Since slime is one of the biggest trends nowadays, don't miss out on the opportunity to join in on the fun with this Frozen silly putty craft.
Looking like magic snow, this Frozen inspired silly putty is the gift that keeps on giving.
Whether you're looking for something to soothe your stress or something to keep the kids entertained for hours, this Frozen styled putty has you covered.
17.

Miniature Frozen Bottle Charm
Here we have another awesome bottle charm craft(like number 11) and this one features the ice princess herself Elsa instead of Olaf the snowman.
Great to have on display in the bathroom, this deep blue ice potion will melt away your problems and bring you positive energy as you go through your day.
Stick this in the bathroom with your new humorous toilet decal craft(number 12) and it will become one of the most magical rooms of the house.
I bet you've never been able to say that about your bathroom before!
18.

DIY Disney Elsa Costume
If you've been struggling to find your winter style then maybe you could take a page out of Elsa's book with this awesome Disney costume.
A great one for kids, this Elsa outfit will surely make them feel like the best-dressed Disney character at any party. Or maybe just for a fun Sunday afternoon session of dress-up.
Make sure to take some shredded white paper confetti with you when trying on this costume since you'll definitely want to let it snow.
19.

Elsa's Ice Palace
If you thought Elsa's wonderful ice palace couldn't get any sweeter then you obviously haven't tried this sugar cube version of the Disney structure.
The perfect substitute for ice blocks, store-bought sugar cubes make the foundations of this awesome ice palace and can be outside in the sun without melting. But maybe don't leave it out there too long… you know, ants and stuff.
A fun edible craft to get the kids involved with, this is definitely worth considering for a lazy weekend afternoon.
20.

Frozen Wooden Wall Clock
Ten times better than your ordinary wall clock, this Frozen inspired wooden clock is a visual masterpiece and a fantastic way to teach kids how to tell time.
This is a bit tougher to make on your own unless you have some woodworking skills. But if you pick up a copy from Etsy you get a fully handmade item, crafted to perfection with love in every curve.
And this clock is so detailed it would not look out of place in an art gallery. I think it's a worthy woodworking project that is sure to get your kids interested in telling time.
21.

Olaf Crochet Pattern
Sing along to all of your favorite Frozen songs with this cute Olaf crochet soft toy.
With his typically chirpy face, Olaf the Snowman makes the perfect companion for any Disney loving kid.
Bring the memorable movie character to life and watch as your kid spends hours playing with their new friend.
22.

Slime on Light Table
It's time to step your slime game up to the next level and take on this complex craft with plenty of functionality.
Unlike the last slime craft(number 16), this one imitates the cool sensation of touching snow, it smells like peppermint, and is full of glitter.
A full sensory experience to say the least.
This slime will make for the perfect game at any party (you know, the one where you have to put your hand in a box and guess what the heck you're touching).
23.

Build The Castle of Arendelle
Maybe a sugar cube fortress isn't realistic enough for you.
Well if that's the case then you should definitely try out this castle of Arendelle made exclusively out of snow and ice.
Literally all you'll need is ice cubes, a bin and some powdered snow(or your approximation of it) and you can create a lifelike version of the Frozen fortress.
24.

Gift Soaps
When it comes to bathroom related Frozen crafts you didn't think I'd stop at the toilet decal, did you?
If you truly want to transform your bathroom and make guests think they've stumbled onto the movie set of Frozen, then you're going to want to have a go at these Frozen soaps.
You can make them by hand with some soap making skills or grab these DIY'd versions from Thelavishsudsco.
25.

Elsa Ornament
Create a model of your favorite new Disney princess with this excellent Elsa inspired craft.
If your kids want to watch Frozen with Elsa herself then you might consider making this easy craft and sticking it in the living room.
Like having a cardboard cutout, this Elsa ornament will instantly provide plenty of photo opportunities and bring some of the Disney Universe into your home.
26.

Olaf Outlet Cover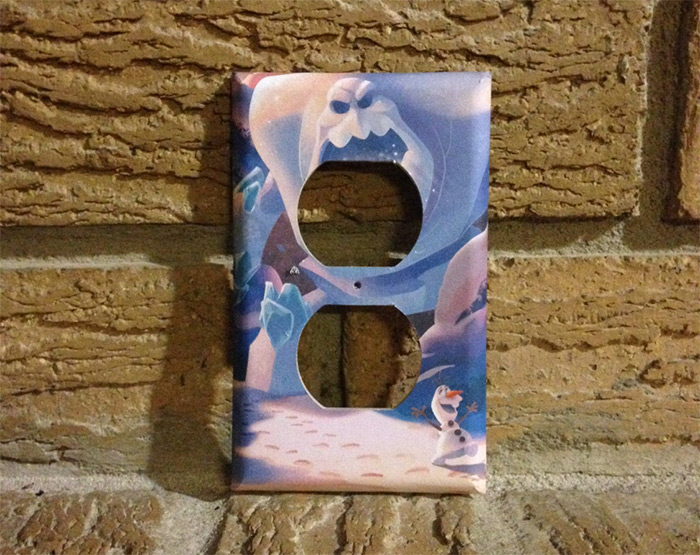 One of the best parts about DIY crafts is that you can turn everyday uninspired items into aesthetically pleasing ones.
Take this Olaf outlet cover for example, which can transform any outlet into something to be admired as you pass by. Again a handmade item designed and prepped for Etsy, but also something you could make yourself with the right decals and a really basic outlet cover as a base.
This is very subtle and works nicely to inject some Disney magic into any room.
27.

Frozen Erupting Snow
Disney films are often all about fun in a fantasy setting.
So what better way to celebrate that, other than with this Frozen erupting snow project?
One that will definitely keep the kids entertained for hours, this hands-on craft is as much fun to make as it is to play with.
So gather the family together and make your very own erupting snow to remind you of the joys of winter.
28.

Frozen Pincushion
A great gift for the best sewer in the family, this Frozen inspired pin cushion is a thoughtful way to express gratitude to the keenest of sewing prodigies that you know.
Made with cotton and flannel, maybe this Frozen pincushion gift can provide inspiration for the next sweater you want.
If not, it's still a very useful pincushion to have around for those loose needles dangerously lying around your home.
29.

Frozen Themed Cake
Edible crafts are interesting: you spend hours lovingly preparing and decorating them to look just as you want them to, only to devour them within a matter of minutes and leave nothing but a sweet memory behind.
With that being said, edible crafts are highly addictive to bake. And I think I speak for most people when I say that they are very much appreciated by all who get to enjoy the fruits of your labor.
So don't hesitate in having a go at this wicked Frozen themed cake that'll certainly impress and definitely go down everyone's mouths fast.
30.

Frozen Elsa Night Lamp
A mesmerizing, color changing Frozen inspired night lamp. Who could have asked for something this cool?
This handmade item is created and sold on Etsy, although also easy to DIY yourself if you know something about handmade LED items.
Make your kid's dreams come true by bringing a touch of Frozen into the bedroom while making sure Elsa is always there to look over them at night time when they need a comforting presence.
An astounding design to boot, this Elsa night lamp is visually impressive to say the least and jaw-droppingly gorgeous.
Make anyone's next birthday an event to remember by surprising them with this truly enchanting handmade gift.
31.

Olaf Wall Nightlight
An easier alternative to the Elsa night lamp but no less comforting, an Olaf wall nightlight is more than capable of keeping your kid safe and sound all night.
It's almost impossible to be afraid at night time with this friendly looking Olaf looking over you. So if your child gets scared at night you can always tell them Olaf is right beside them keeping the room safe.
A comforting thought that I think we'd all appreciate.
32.

Elsa's Door From Frozen
If you want to feel like every time you step through the door you enter the universe of Frozen, then perhaps you should consider making Elsa's very own door from the movie.
Probably one of the craziest DIYs in this list but also one of the coolest.
A surefire way to immerse yourself in the Disney movie, opening this door will feel like opening a world of possibilities.
Especially when you wear your Elsa costume, walking through this door will enable you to live out your Disney dreams any time you want. Until you get bored and wanna ditch the door, but at least maybe your kids would like it!
33.

Olaf Wooden Wall Art
The king of funny Disney quotes, Olaf, deserves a place on your wall as tribute.
This custom wall art is fitted with one of his iconic lines and works perfectly in a play room or even comically in a bathroom.
It never gets old quoting Disney movies, so why not frame one of them and stick it up in your house?
Making for a delightful Christmas decoration too, this Olaf wooden wall art DIY is hard not to love. If you want to add this into your place without all the step-by-step work you can also snag it from Etsy since it's 100% handmade to order.
Browse:
Disney
DIY
Frozen
Lists
Cartoons
TV & Movies