18 DIY SpongeBob Crafts & Project Ideas For The Best Day Ever
This post may contain affiliate links. If you buy something we may get a small commission at no extra cost to you. (Learn more).
There's so much to love about the cartoon dish sponge that lives in a pineapple under the sea.
One of the funniest shows around for both kids and adults, SpongeBob SquarePants is the perfect theme for cute little DIYs. From home décor to fun costumes and everything inbetween, I've curated this compilation of the happiest spongiest themed crafts that anyone can make.
So let's dive in and see if we can capture that handmade Bikini Bottom feeling.
1.

Spongebob Penny Box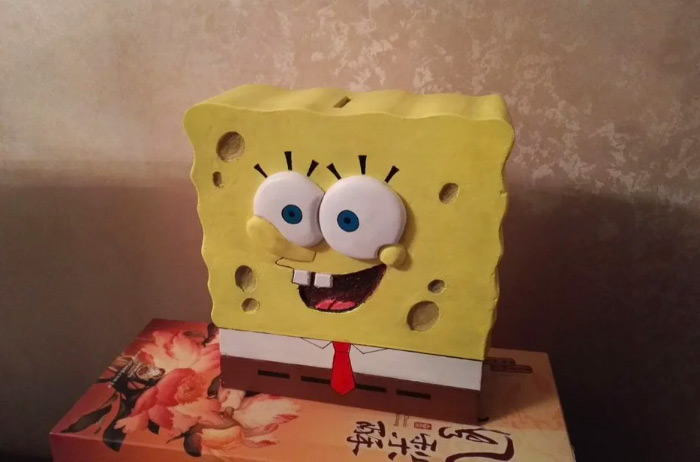 Piggy banks are great. SpongeBob is great. Why not combine the two and make something truly special?
This SpongeBob penny box craft is for anyone who likes the TV show and likes to save money(most people I'm assuming).
Impossible not to love, this SpongeBob penny box is the perfect gift for any kid to add a breath of fresh air to their room and a healthy dose of humor too.
Made with pine wood, this bears a striking resemblance to the lovable sponge and will bring many a smile as you drop your loose change into him.
2.

Krab's First Dollar
Mr. Krabs is prudent with his money to say the least.
The money-grubbing crab enjoys nothing more than the sweet smell of hard-earned cash. That's the inspiration behind this next craft: Krab's first dollar, which first appeared in Wet Painters.
If you want to pay homage to Mr. Krabs and his capitalist ways then you'll love this fun and easy homemade craft.
Using bamboo, paper and cardboard, this project is super easy to put together in a day and get it hanging on your wall. Definitely a fantastic conversation starter for non-SpongeBob visitors.
3.

Krusty Krab Hat
Making a Mr Krabs inspired craft isn't enough for you?
Well maybe making this exact replica of a Krusty Krab employee hat will hit the spot.
If you identify with the Krusty Krab and can't get enough Krabby Patties then you will love owning your own KK hat.
In fact, this gives you a great excuse to throw your very own party! A SpongeBob themed party, of course.
This Krusty Krab hat can be made using various colored cloth, denim, a needle and thread, and some other easy-to-acquire materials.
4.

DIY SpongeBob Choker Necklace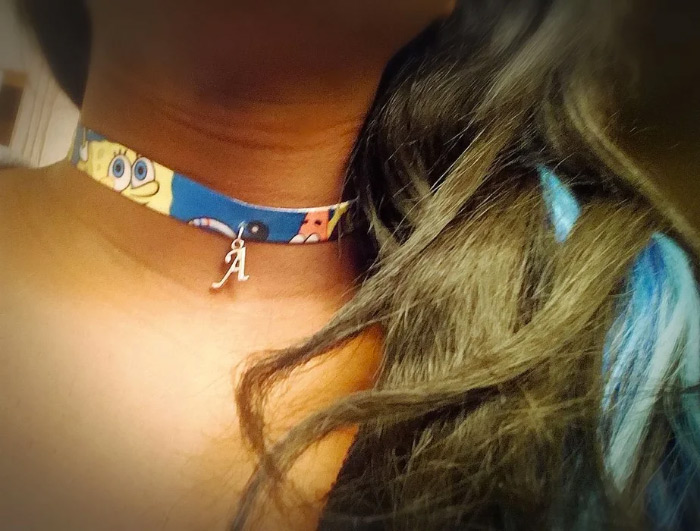 Show off your love for the show with this awesome DIY SpongeBob choker necklace.
Let the world know your good taste in TV shows and your taste in fashion. You'll never have to leave the house again without the joy that is SpongeBob around your neck.
Use some ribbon, hem seam bond tape, jump rings, a fastener, snap ends, a small chain and a common pin; it sounds like a lot of materials but any time spent making this choker will be worthwhile if you end up wearing it often.
5.

The SpongeBob Tank
SpongeBob lives underwater, so naturally it would make sense to showcase him and his friends in a fish tank for some authenticity.
Make this super easy SpongeBob tank and you can start a really fun family project of deliberating over which fish to add and who's gonna feed them.
Use a few fish tank toys to fill out the bottom and customize however you want to give it a more aquatic feel.
6.

Sponge Piñata
Piñatas are always fun. So it's fair to say a SpongeBob piñata would be really fun.
And you can have your very own extremely entertaining version to smash open at any occasion.
A combination of craft paper mache, plywood, and some newspaper will get you started on this awesome project.
This sturdy SpongeBob piñata should be the pinnacle of fun at any party. The rectangular body perfectly lends itself to this piñata craft, giving the kids plenty to aim at.
7.

Eels and Escalators Board Game
A twist on the classic snakes and ladders board game, eels and escalators is from another classic SpongeBob episode and it's a staple to Bikini Bottomites.
This fun replica is super easy to make and you could even make up your own rules to the game!
This one is made using a 3D printer and then some good old fashioned paint and brushes to finish it off.
8.

SpongeBob & Friends Papercraft
No kid's room is complete without the entire cast of SpongeBob.
This papercraft idea is a fantastic way to bring the residents of Bikini Bottom to life and make sure they're always around.
From Squidward and Mr. Krabs to our favorites Sandy, Patrick, and SpongeBob himself. These papercraft characters really pop and would make a terrific nightstand decoration.
All you need is a printer, some paper, and some templates to get started(check the link above for examples).
9.

SpongeBob Bubbles
In my humble opinion, this next DIY should be called SpongeBubbles But that's just because I can't resist a bit of word economy.
Like the scene from the memorable intro of the show, these bubbles can help you make your very own SpongeBob-style bubbles just like in the cartoon.
Make SpongeBob's own bubble brand by printing out a simple template and sticking it on an existing bottle of bubbles. It's too easy not to do and every kid is gonna love this.
10.

DIY Party Favors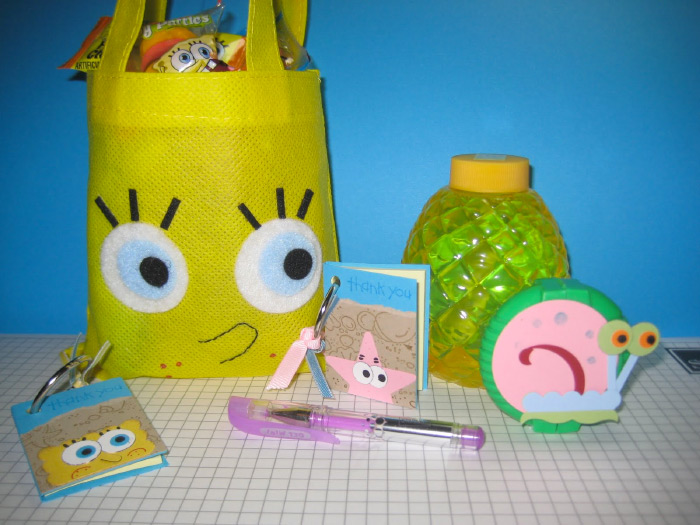 It's time to design and decorate your SpongeBob themed party with these neat DIY party favors.
With all kinds of decorations to convert your home into SpongeBob's pineapple residence, these party favor crafts are all you need to host the best SpongeBob party the world has ever seen – outside of Bikini Bottom that is.
11.

3D SpongeBob Cake
Quite possibly the best cake that I – and probably you – have ever seen, this 3D SpongeBob cake is simply glorious to behold.
Sitting atop a multi-tiered cake recipe, SpongeBob is there with his ever familiar confused face joined by his friends Patrick and Gary.
A cake that will go down well at any event, this vanilla/buttercream bonanza is best made with the whole family while playing some SpongeBob episodes in the background.
12.

Bikini Bottom Bash
The perfect partner for a decadent cake, this Bikini Bottom bash craft is all about recreating the famous fictional town in your own home.
You'll be designing an awesome party setup with all the iconic snacks from the show: Krabby Patties, Krusty Dogs, Jellyfish Jelly and some Kelp Jerky.
Put on this spread and amaze all of your party guests with your creative genius.
13.

Mr. Krabs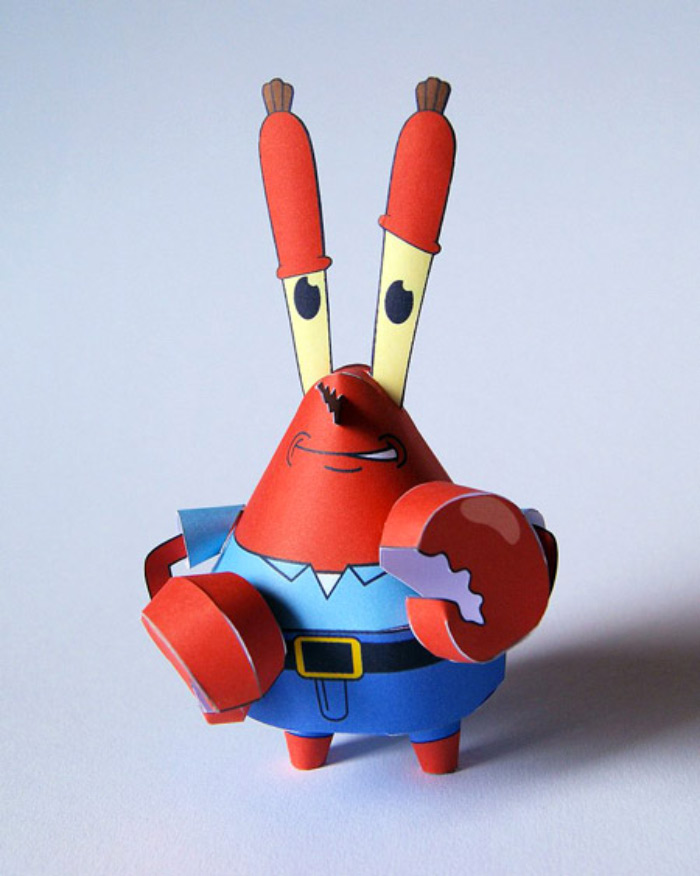 The lovable-yet-flawed Mr.Krabs deserves his own craft. You can have fun decorating this or playing with your kids as you both learn to love the art of papercrafts.
That's why you should consider this DIY imitation of the lovable red guy.
A very lifelike craft, it's truly amazing what you can do with paper and some spare. The 3D appearance definitely makes this one stand out from others in this list and will make for some very memorable times.
14.

SpongeBob Out of the Wall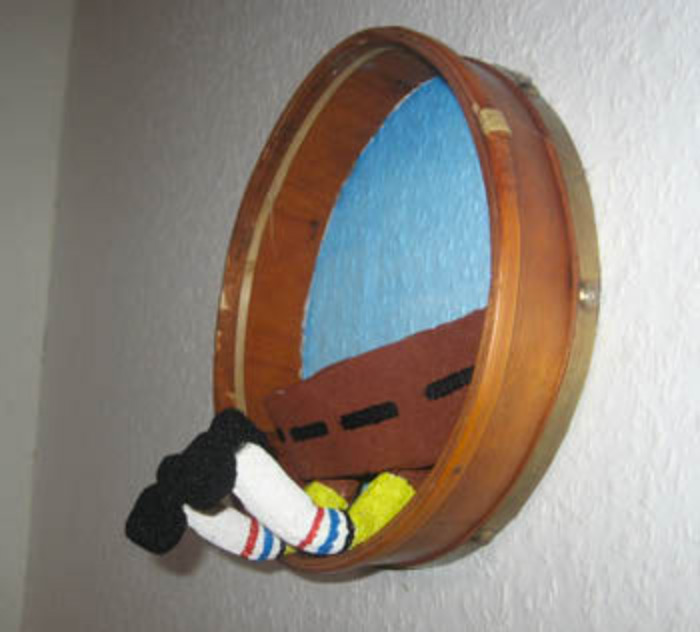 Bringing some SpongeBob related humor to the list, this SpongeBob out of the wall craft is essential for any kid's bedroom.
If you want to feel like SpongeBob is always nearby then look no further.
Use upholstery foam, acrylic paint, and hot glue to have SpongeBob hanging out – quite literally – in any kid's room.
You might get some weird looks from guests but hey, that's what it takes to be a real SB fan.
15.

Realistic SpongeBob Replica
Really bring the sponge-based character to life with this realistic replica toy craft.
Fantastic for acting out your favorite scenes from the show or to keep you company on your work desk.
This cool SpongeBob craft is as soft as you'd imagine too. One of the best things about this craft is being able to customize SpongeBob and accessorize however you see fit.
16.

Pineapple House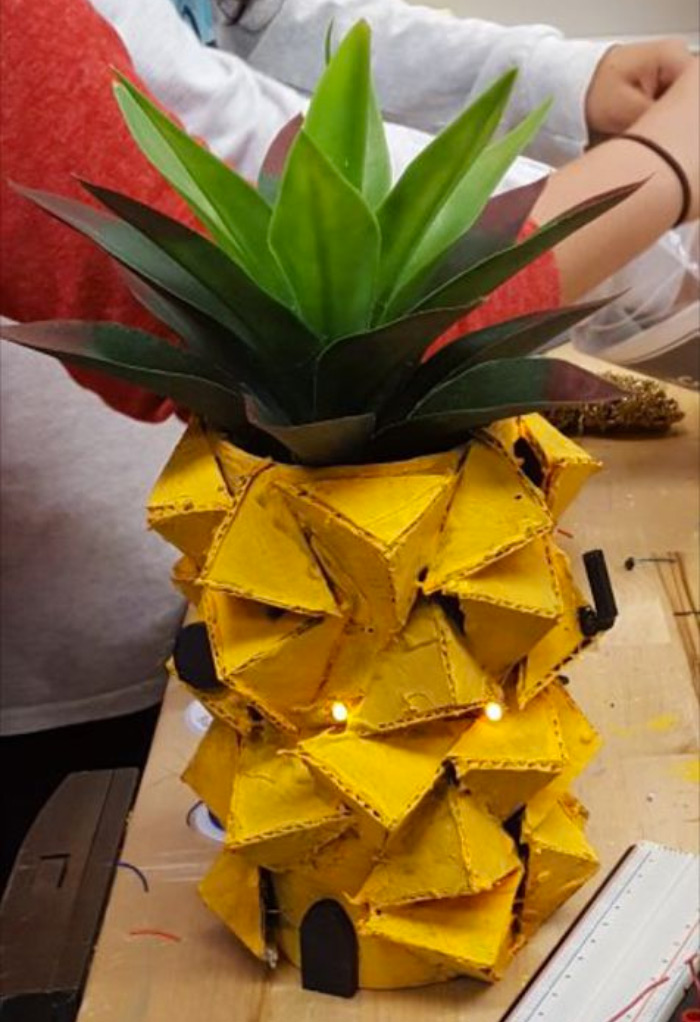 This may be the single DIY you've been waiting for. It's finally time to make the iconic pineapple house we all know and love.
No SpongeBob crafts list would be complete without a craft involving SpongeBob's undersea pineapple house. An abode that hosts many hilarious events and memorable scenes from the show.
This craft can even light up using LEDs to act as a nightlight for the kids. Or also for adults too, we don't judge here.
The main materials for this are cardboard, pine wood, and paint. But don't worry, it's a lot easier than it looks so definitely give this a try.
17.

SpongeBob & Patrick Sock Puppets
A fun way to entertain and introduce younger kids to the wonderful world of SpongeBob and friends, these SpongeBob and Patrick sock puppets can provide hours of silly fun.
Recreate your favorite scenes and put on a show with these DIY sock puppets made from foam sheets, old socks, googly eyes and pipe cleaners.
Granted some people may find these a bit creepy, but if your kids love puppets then I know they'll love these guys.
18.

DIY Halloween Costume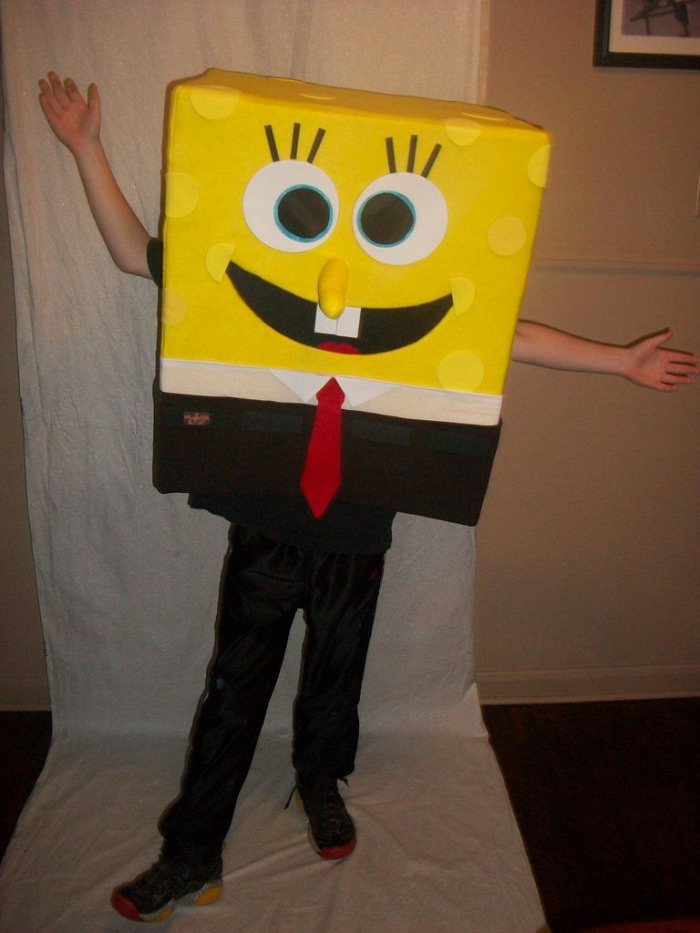 A perfect way to end this list is with a craft to help anyone become SpongeBob – a scary thought perhaps, but this is for Halloween after all.
The best costume at any Halloween party is gonna be SpongeBob.
I have to admit this costume goes the extra mile and deserves some brownie points for attention to detail here.
Browse:
DIY
Lists
Nickelodeon
SpongeBob
Cartoons