The Best Trailer Mods For Farming Simulator 19
This post may contain affiliate links. If you buy something we may get a small commission at no extra cost to you. (Learn more).
The skies are beautiful, the rolling hills are full of crops ready for harvest– and the shiny, perfectly-maintained machinery is glistening under the sun.
Whether you're playing for the efficiency or the aesthetics, chances are you'll eventually want to expand your machine roster – and trailers are among the most essential pieces in your FS19 farming collection.
I recently updated my trailer line-up with the best I could find online, and I thought I'd share with our audience. So here's a brief list of some awesome modded trailers for Farming Simulator 19.
10.

FedEx Trailer
Yes, it's exactly what you think it is.
Federal Express comes to your Farming Simulator 19 by way of this fantastic-looking trailer that'll give a touch of realism to any of your American farms.
It's not the most versatile or useful in the field, but it's too cool to leave out of our ranking. It's fantastic for fun multiplayer shenanigans and taking some interesting screenshots.
Who wants to be a farmer when you can be an Express Delivery driver?
9.

Best Trailers Pack
If you're into the shape of our previous trailer but don't necessarily feel connected to FedEx, consider the confidently-named Best Trailers Pack.
It includes several great-looking trailers with custom animations and cool vinyl designs for you to show off to your farmer friends.
Among the models you'll find here, there are the Hoffis Schmitzcargobull, the Kroger Afroliner SRB35, and the Fruehauf Planenauflieger.
Some are tall, some are wide, and they're all really useful.
8.

Annaburger HTD Pack
Variety is the spice of life, but sometimes, it's better to get all your tools from the same place – for simplicity's sake.
Annaburger Nutzfahrzeug GmbH is a German company delivering innovative and specialized transportation solutions all over Europe – and now, they can even deliver to your FS19 game.
In this pack you'll find fantastic slurry tanks and manure shuttles with lots of customization options to personalize the tires, tank colors, frame colors, and even add an impact head distributor if you wish.
This pack includes the DTS12.00, the TS28.27, and the HTD30.27.
7.

Adurante Pack
I love the simplicity and minimal modular design that make the most from just a couple of pieces.
This Angelino Durante pack brings us a fantastic piece from the Italian agricultural machinery manufacturer.
It's their 200A trailer model in several configurations, including four sides, three sides, and a couple focused on transporting bales and timber.
It supports manual attachment, and it's perfect for those of you who'd rather keep things discreet, clean, and simple around the farm.
6.

La Campagne Pack
If rather than keeping things discreet you'd rather show your colors, consider the La Campagne Pack.
This French manufacturer was born after founder Antoine Come built his own personal trailer in 1964. Since then, the company has grown into a renowned European brand that focuses on robust trailers that can take the toll of daily use.
This pack includes four pieces from their towed trailer line, including the Model 60-21, the 71-24, the 76-29, and the 85-32 – all with the classic La Campagne colors and logo.
Of course, you can customize them. There are three door choices, eight side choices, 12 decoration options, and diverse hydraulic hoses to choose from.
5.

PIM-40 Trailer
I prefer focusing on packs because of variety for the most part, but when I laid my eyes on the PIM-40 Trailer, it was love at first sight.
This unique basket of a trailer will transport crushed mass like the best of them. It's made for transporting silage specifically, but it'll also work for hay and haylage without a hitch.
It features interchangeable colors, but I love how the original terracotta/brick-colored paint job looks on it.
You can see the silage move around in the trailer from certain angles, which looks fantastic, and it supports dirt buildup and wear from use for extra realism.
4.

Toplift Staja and Trentsysteme
If you're looking for something compact and reliable with a colorful style to transport your materials and resources, this Trentsysteme pack is a great option.
TrentSysteme is a German manufacturer that prides itself on its products working perfectly in tandem with one another. This pack will let you try that out with the Trentbox Universal Loader and Trenttank bio-gas containers.
All of them are made of the highest-quality materials, including glass-reinforced plastic that will stand the test of time.
3.

Strautmann Pack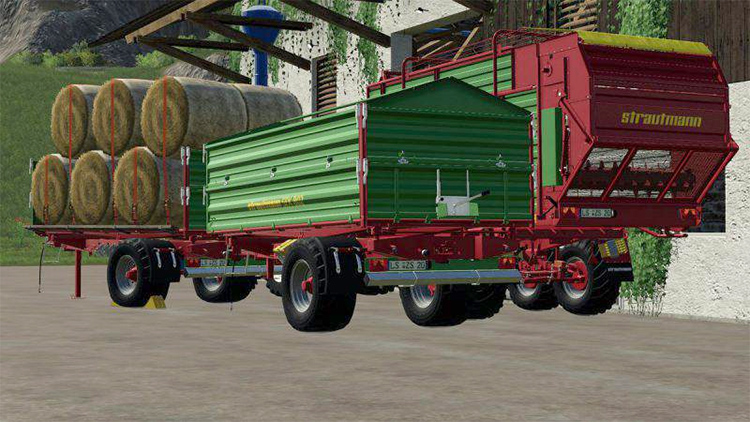 Strautmann is a medium-sized family-owned agricultural machinery company that's become one of the most prestigious names in the region, and this pack brings you some of their best pieces.
It includes the Strautmann SEK802 three-way tipping trailer, the Strautmann Zelon CFS2051 forage wagon, and the Strautmann 2201 universal loader.
They have custom animations for realistic loading and unloading, and it can autoload both bales and bulk goods, which is convenient.
2.

IT Runner 26.23 HD Pack
If you're looking for a single pack that'll meet all of your transportation needs, the IT Runner 26.23 Pack is your best bet.
It includes manure containers, bulk cargo loaders, liquid tanks, and even livestock transport units. Some of its best pieces are the Strautmann Streublitz PS2201 universal loader and the Palfinger Epsilon Q17Z timber crane.
In this pack, you'll also get every combination platform you could need. It's varied, complete, and all the pieces look great.
1.

Bergmann Trailer Pack
You know what goes great with top-of-the-line John Deere tractors? All of these red, green, and yellow pieces in the Bergmann Trailer Pack.
This German brand has over 120 years of experience manufacturing excellent trailers and other farming/hauling equipment. In this pack, you'll get access to the REPEX 34S loading wagon, the GTW430HC grain transfer trailer, and the TSW6440W universal spreader.
These are probably the most detailed and appealing trailers around.
And they're what I'll be using on my simulated farm for the time being.
Browse:
Farming Simulator 19
Lists
Video Games