Best Mower Mods For Farming Simulator 19 (All Free)
This post may contain affiliate links. If you buy something we may get a small commission at no extra cost to you. (Learn more).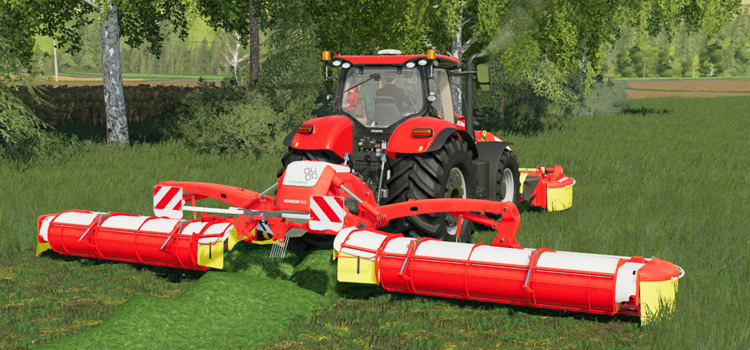 Farming is all about growing stuff.
But we don't want an unkempt growth of a mess.
If you're planning on running a successful farm, you'll need a strong mower to keep weeds and grass from getting out of hand. Whether it's thick grass, weeds, heavy bushes, or even small trees – your mower will take care of them for you.
While the base game provides a fair amount of powerful tools, it's always enticing to look for exciting alternatives among the many mods that creators have released for the game.
I've put together my favorites in a brief ranking to get your mower collection started.
10.

Krone Easy Cut F
Krone is one of the longest-storied German agricultural machinery brands, dating their origins to before WWII.
All of these years haven't been in vain, and their experience is evident in their state-of-the-art products like the Krone Easy Cut F – which will let you mow a 3.1m wide space at 22km/h.
This appealing and compact mower model was originally part of the colossal Krone Big M, but the author decided to scale it down for everyday use.
It was also re-animated in great detail to fit the new size, and decals were adjusted.
It looks fantastic, and it'll turn your tractor into a comfortable and speedy mower.
9.

John Deere RX84B
If you'd rather try an American brand, the John Deere RX84B skidsteer brush cutter is another fantastic tool to keep the grass at a manageable height.
Its black box design is minimal and sleek, giving this high-quality tool an almost futuristic, modular look.
Plus it's able to shred or mow the grass depending on your needs at an efficient speed of 12 km/h.
And you're always in good hands with John Deere equipment.
8.

Chain Mower
Some farmers prefer to keep things simple and old-fashioned, while others don't have the funds to get a fancy skidsteer brush.
For these cultivators, I recommend the Chain Mower.
At a working width of 1.8m, it's fantastic to start out with.
Or to manage a humble, small-sized field. I mean, it only needs 25hp to work, so you won't need any big fancy tractors to get it going.
This simple tool comes in several colors. If you're serious about the humble, "novice farmer" aesthetic, you can choose a rusty, run-down pattern.
7.

AEBI CC36
Another fantastic option for small-scale projects is the AEBI CC36 from the Aebi Schmidt Group.
This manually-operated self-propelled (or rather, human-propelled) mower can cover a width of 2.2m at 12km/h, which should be more than enough for light maintenance work.
With the AEBI CC36, you're getting a lightweight, modern, and reliable mower with Swiss/German brand quality.
6.

Lely Splendimo 900 MC
On the other side of the size spectrum lies the massive Lely Splendimo 900 MC, capable of mowing down massive patches of land in no time thanks to its prodigious working width of 9m.
While Lely usually focuses on dairy production machinery and the like, they also carry some interesting field-working products like the Splendimo.
Other than helping users mow down unkempt fields faster, the Splendimo also looks imposing in transport mode.
You'll get some great screenshots with this one!
5.

Jack Moose Mow-IT Pack
The most varied mower pack I've found is the Jack Moose Mow-IT Pack, which features just as much utility as it does style.
This pack includes three variations of the self-propelled Zero Turn mower. Mow-IT, Bag-IT, and Mulch-IT.
Bag-IT includes a bagger attachment that collects all cut grass, while Mulch-IT makes it vanish rather than leaving it lying around in piles.
Other than these useful variations, the Mow-IT pack includes plenty of custom colors for its machines – as well as underglow options.
Mowing the lawn never looked so good.
4.

Kubota F3060 Mower
I've always been a fan of sleek and efficient Japanese design.
And that's just what you'll see in the Kubota F3060 Mower.
It's a simple and elegant-looking self-propelled mower with a comfortable seat for the operator. This mod has a working width of 2.5m, and it can reach speeds of 25km/h.
This prestigious Japanese brand prides itself on manufacturing machinery that benefits communities. I think this Kubota-inspired mod achieves that for the FS19 community.
3.

Pöttinger Novacat A10 Cross Flow
With a working width of 10m, you'd think the Pöttinger Novacat A10 Cross Flow would shine for its operating speed – but that's only the tip of the iceberg.
The actual reason I included this mower is its gorgeous model, which features incredible detail. Pöttinger's signature bright red and yellow color also gives it a flashy appeal among the more subdued farmland tones.
Pöttinger calls the Novacat "the new standard for mowing combinations", as it sets new standards for service life, reliability, and cost-effectiveness.
For a practical farmer, it's hard not to feel tempted.
2.

Fortschritt E303 Pack
One of the most hardcore mower packs available for FS19 is the Fortschritt E303 Pack, which includes the E025 Mower, the E318 Windrower, and the E318 Tedder.
These are massive, powerful self-propelled machines that'll serve you in many ways.
The E318 Windrower will let you cut grain and lay the stalks in windrows for subsequent threshing and cleaning, while the E318 Tedder is fantastic for better hay production.
With all three, you can give your fields the full course of maintenance they deserve.
1.

Krone Big M500 XXL
If you're looking for the biggest, baddest mower mod in existence, you'll find it in the Krone Big M500 XXL.
This colossal machine has a working width of 22.4m and an operating speed of 50km/h, which adds up to give you the single fastest mowing experience you could wish for.
No field is too big for this bad boy.
Moreover, the Krone Big M500 features a compact road mode that'll let you move between far-apart fields in no time.
Stylish, powerful, and fast – this high-tech mower is the best that modding can buy.
Browse:
Farming Simulator 19
Lists
Video Games