Best Seeder Mods For Farming Simulator 19 (All Free)
This post may contain affiliate links. If you buy something we may get a small commission at no extra cost to you. (Learn more).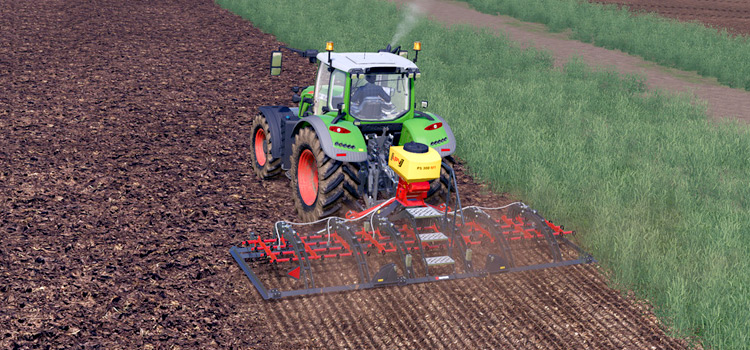 Let's face it: Farming Simulator 19 is a really great game. But it's sadly lacking in the seeder department.
But once again, modders come to the rescue.
Keep on scrolling to dig into our list of some of the best seeder mods out there.
10.

Seeders Pack v1.0
To start us off, this mod is actually a pack that includes several potato planters.
The potato planters in the base game are tiny. There are no fast options either.
That's where this mod comes in.
The planters in this mod pack come in a variety of sizes up to 25.6 meters wide. There are smaller sizes down to 9 meters for smaller tractors, too.
But the main advantage of this mod is that they pull and look like normal planters. The speed and width is just better using this mod pack.
9.

Hassia FS
The Hassia FS planter is certainly not as big as the previous one, but it is a cute little antique seeder.
But more than being cute, you can run this seeder with a tractor as small as 20 horsepower.
This is fantastic for players who are just starting out, and don't have much land or a very big tractor.
Not to mention those of us that just enjoy the small farming roleplay aspect. Not everyone wants to be a mega farmer.
And if you do, well this seeder is still great for getting started.
8.

M82KR3 Planter Bar
Ah, the M82KR3 seeder.
OK that may not mean much to you, but this is a beast of a tree planter.
Tree planting is the slowest process in the game, except maybe waiting for them to grow!
This handy little mod provides a fix for at least one of those issues.
The M82KR3 allows you to connect multiple tree planters together, making as wide of a monstrosity as you want.
I personally haven't gone over 3, as my tractor just didn't want to pull it anymore. There's always a bigger tractor out there, though.
It sure beats one tree at a time. And let's face it, who doesn't like pushing the limits of this game?
7.

John Deere 8350
Up next is the John Deere 8350.
This seeder is a mid-size planter coming in at 6 meters wide.
It has a decent capacity for the size here. But the real plus to installing this mod is all the customization options.
The John Deere 8350 has two selectable sets of wheels and tires, and an optional attachment for the rear that allows you to attach additional implements.
This is extremely useful, since you can attach a cultivator and cut out a step of field preparation.
An additional option is attaching a fertilizer, which would also take a step out of the process. Not to mention it looks great behind the less recent addition of John Deere tractors to the game (or even some of the John Deere mods).
6.

Saphir GS 603
The Saphir GS 603 is a smaller attachment, but the advantage is the fact that the tractor carries the seeder, rather than simply dragging it like a trailer.
This makes for a faster turnaround, and takes less space to do it.
That might make this seeder a handy little tool, but we're not done yet.
This seeder mod also has an optional weeder attachment. Which will save you from having to buy the weeder tools, and you can also do both processes in one run.
So it'll save you even more time spent out in the tractor.
5.

Great Plains GP3P1006NT
The fifth mod on this list is actually made by Giants software, so don't expect anything better than you'd get in real life.
That being said, when they do put a mod out, the attention to detail is always stellar. And broad support for this seeder makes it a great choice.
The quality is almost guaranteed to match everything in-game.
Now the Great Plains GP3P1006NT seeder is 3 meters wide, which makes it fairly small. But it isn't always the size that counts. The seeder looks great, can plant and fertilize at the same time, and is small enough to use with the starting tractors regardless of map choice.
4.

John Deere DB90 36-Row 30
We're winding down this list and closing in on the top, specifically with this John Deere DB90 36 row seeder.
This mod is more for the mega farmer.
It comes in at a whopping 27 meters wide, which makes it bigger than anything included in the base game.
And this John Deere DB90 is a highly customizable seeder to go along with the size.
It has options for the wheels, wheel covers, lights, GPS, and row unit extensions.
Warning: This is a big seeder, and needs a big tractor to pull it!
3.

Classic Row Planter
This pick is definitely an old one.
I mean, this seeder is manual drive. In other words, there's no drive shaft.
The wheels on the seeder power a year as you drive, which makes it spit a seed out in a timed sequence in the pre-plowed dirt.
You won't find planters like this in a dealership. And you won't find them in the base game, either.
Any tractor can pull this planter with ease. And watching it work is just awesome.
Pair it with an equally old tractor mod, and you have your own industrial revolution!
2.

John Deere 1890 40FT Seeder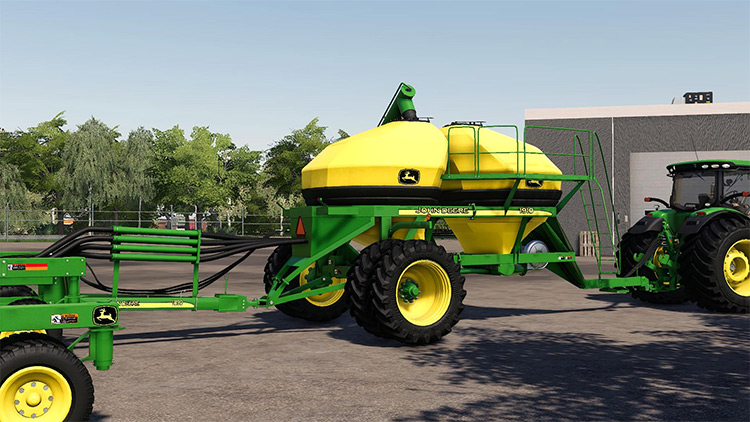 This monster of a seeder deserves its place in the top two.
At an extreme forty foot width, this mod will get your field planted faster than ever before.
It also includes its own seed cart, with a capacity of 9500 liters. Which makes for less stops to refill, and less time spent refilling.
1.

Stara Absoluta 44
The top seeder mod for FS19 has to be the Stars Absolute 44.
This awesome planter is 27 meters wide, and can plant and fertilize in on pass.
It also has a huge capacity of 20,000 liters.
So get your crops going faster and easier with less passes, and even get through the biggest fields without stopping to refill.
Browse:
Farming Simulator 19
Lists
Video Games