The 10 Best Tow Truck Mods for GTA 5
This post may contain affiliate links. If you buy something we may get a small commission at no extra cost to you. (Learn more).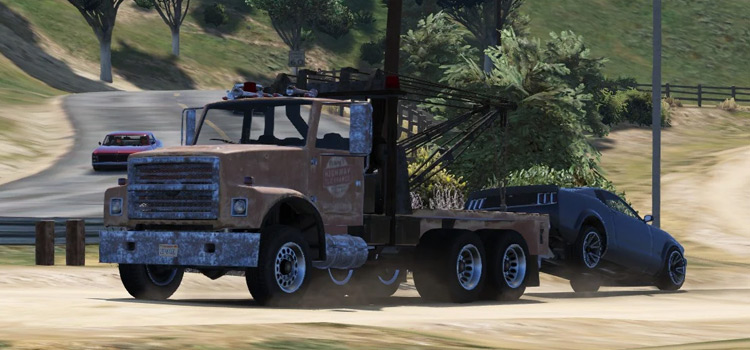 Tow trucks make the world go round, and it's no different in GTA 5's Los Santos.
Think about it: if it weren't for tow trucks, busted Chevrolets and discharged Teslas would line the streets, making it impossible for anyone to get around. You also wouldn't find a single available parking spot anywhere.
City transportation would be even more hellish than it already is, and that's a scary thought.
If you're one of those everyday heroes in the towing business and want to bring some of that behind-the-scenes action to Grand Theft Auto 5, you came to the right place.
1.

Towing Service
Most of you clicked on this article because you love towing, but sometimes, you can't be bothered to do things yourself.
The Towing Service mod is meant to keep Los Santos free of junk rusting away on the side of the road. It makes a tow truck automatically come and take away any busted autos belonging to NPCs, and they'll do the same for you if you give them a call.
There are different methods of towing used for different cars. For example, a destroyed vehicle might warrant a large flatbed, while a regular tow truck does the trick for a hatchback.
Especially large vehicles get picked up by my favorite towing method: a Skylift helicopter. It's great to hitch a ride whenever you want to do some parachuting.
2.

Saleen S331 Tow Truck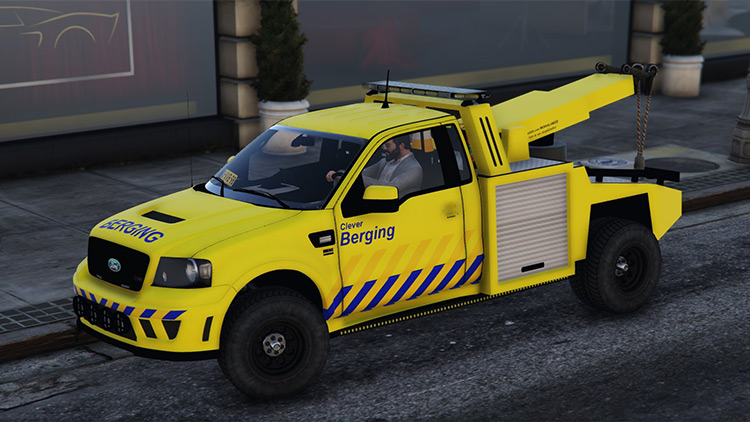 If you've played Forza Motorsport 3 or Forza Motorsport 4, you might recognize the Saleen S331.
Based on the Ford F-150 pickup truck, the Saleen S331 is a high-performance masterpiece by the people behind such legends as the Ford GT and Saleen S7 supercar.
I'm unsure if anyone has ever used a Saleen S331 as a dedicated tow truck, but it looks good with a crane on the back.
Alternatively, check out the LAPD livery for the S331.
3.

Maibatsu Mule Recovery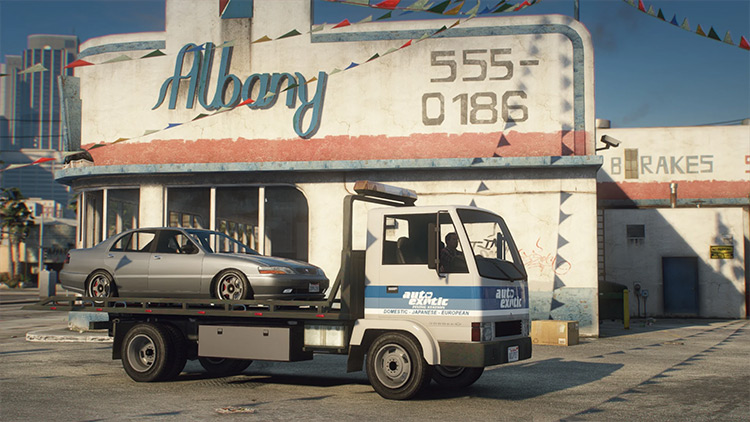 One of the most common flatbed work trucks worldwide is the Mitsubishi FUSO line – represented in Grand Theft Auto 5 by the Maibatsu Mule.
They're easy to drive and built to last a lifetime, so even older models are a common sight.
This ease of use makes the custom Maibatsu Mule Recovery a must-have for anyone in the towing business.
It features a new halogen lightbar, a detailed flatbed platform, new wheels, and other immersive visual upgrades.
4.

CXT Flatbed Tow Truck
Check out the CXT Flatbed Tow Truck for something much more American-style.
CXT stands for Commercial Extreme Truck – a line of large pickup trucks manufactured by American corp Navistar International.
The concept behind the truck was to make a "dual purpose vehicle": it's supposed to haul valuables and advertise your business simultaneously.
It was designed with visual impact in mind – and boy, does it make an excellent first impression.
If you're towing away modded-in Lambos and Aston Martins, you need something with at least this much personality.
5.

Chevrolet 5400 COE Tow Truck (1954)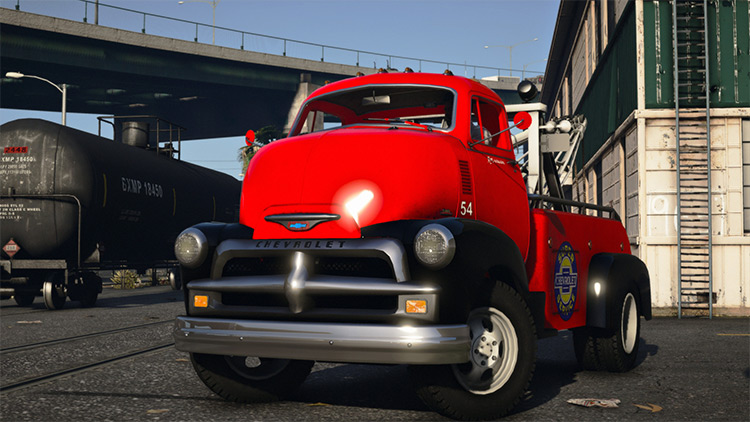 Every town has that one dude that won't let go of their old pickup truck.
When I say "old," I mean mid-20th century.
This Chevrolet 5400 COE Tow Truck has proved more durable than a whole host of things, including the German Democratic Republic and the Warsaw Pact. It has seen things younger trucks cannot even imagine, which adds to its mystique.
The old-school design might make this custom tow truck look a little bit like a toy at first glance, but once you see it in action, you'll have trouble going back to a boring modern truck.
6.

Ford F450 Superduty Platinum (2019)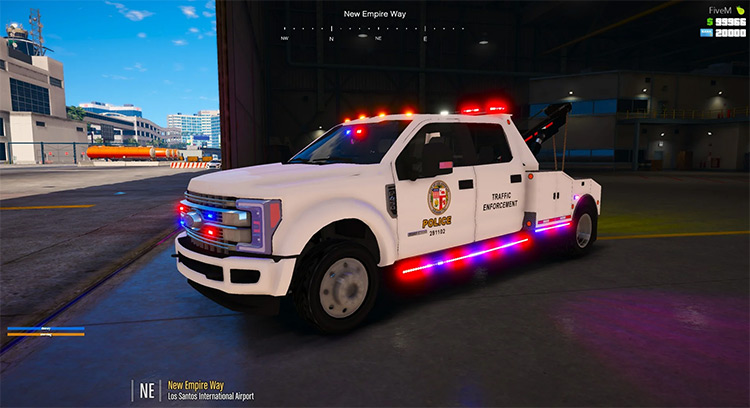 I love the kind of tow truck that does its best to let everyone in the city know where they are.
I'm talking about those trucks with so many flashing lights, it's like you hired a light show instead of a tow truck.
The Ford F-450 Superduty Platinum tow truck is the LSPD's Traffic Enforcement's latest acquisition, shining red and blue lights in every direction from the copious LED strips on its body.
The mod also features alternative custom liveries such as one for the Los Santos Department of Transportation and the Los Angeles Police Department.
7.

Working Winch for All Vehicles
Any truck can become a tow truck if you're brave enough.
You just need the right car to tow and a good winch – which you'll get from this awesome mod.
As its name suggests, the Working Winch for All Vehicles puts a functional winch on every car, bike, helicopter, and plane in the game.
It turns icons like the Sandking SWB and the Rat-Loader into tow trucks and ensures towing will work with any modded vehicles.
8.

Freightliner M2 Crew Cab Flatbed
The Freightliner M2 has everything you need for a good time moving people's cars around the city.
It's stylish, detailed, and highly functional.
The ample windshield gives you an expansive view of your surroundings when driving in first-person, and the interior modeling is a treat.
It also features a detailed engine and a fully-functional bed that makes the whole process of taking away a car more immersive.
9.

Cooler Flatbed Tow Truck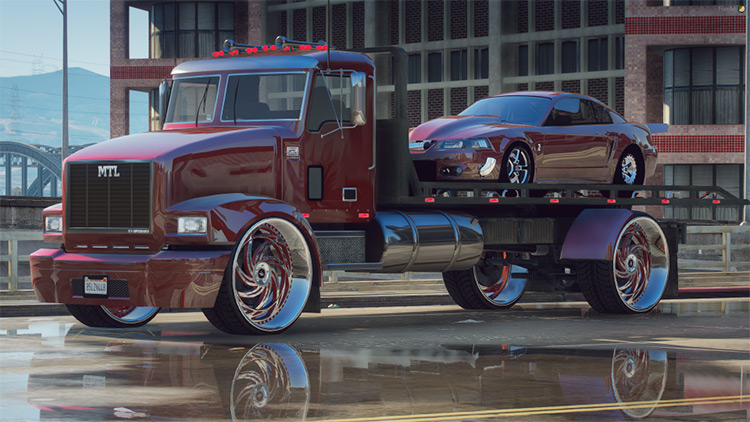 I was about to give this spot to the MTL Flatbed Tow Truck – one of the community's favorites and a must-have in any truck enthusiast's garage.
But when I laid my eyes on this wicked lowered-suspension take on the classic MTL Flatbed, I knew I had to feature it in our ranking.
This tow truck looks like it just came out of Xzibit's garage at the end of a Pimp My Ride episode. The chromed custom rims look gnarly; overall, it's just a beautiful machine.
10.

Kenworth T440 Heavy Wrecker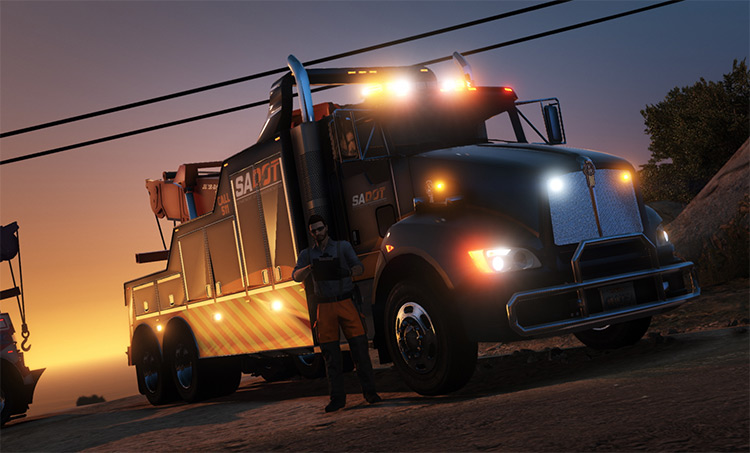 Oh, to be a trucker towing some yuppie's Tesla down from Vinewood Hills on your own Kenworth T440 Heavy Wrecker under a beautiful Los Santos sunset.
Just look at that tow hook!
It's detailed and looks incredibly powerful. You feel that the entire vehicle was designed solely for towing heavy vehicles or pulling stuff out of lakes.
These fantastic looks are backed up by extensive functionality. You've got a wealth of emergency lights to play around with, and that tow arm isn't just for show.
Browse:
Grand Theft Auto 5
Lists
Video Games