Where To Get Black Feathers in RF5 (Location + Uses)
This post may contain affiliate links. If you buy something we may get a small commission at no extra cost to you. (Learn more).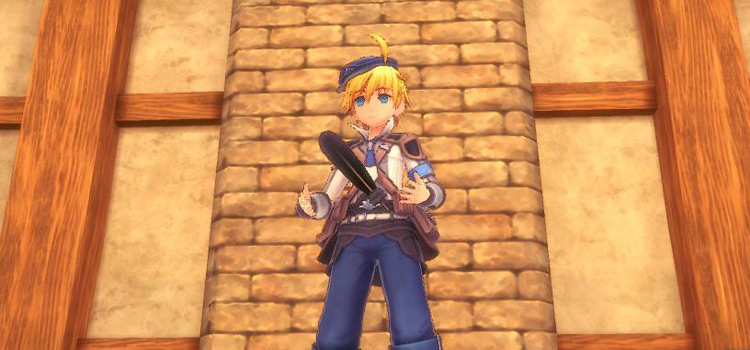 The Black Feather is a mid-game item obtained from Chuckadoodles, which are found at Kelve Lava Cave: Depths.
Since a Black Feather is a rare drop from Chuckadoodles, it's better to tame one. That way they'll produce black feathers at your monster barn every day.
Note: Kelve Lava Cave: Depths is inaccessible until you reach a good ways into the main story (no spoilers).
Black Feather Item Details
Item Category
Price
Upgrade
(Collectible) Feathers
Buy: 1080G
Sell: 135G
Difficulty: 50
Effect: INT + 14
Obtaining Black Feathers
Chuckadoodles are very easy to spot because they have their own area and Monster Gate that only spawns Chuckadoodles.
Once you've found them, here are two ways you can get Black Feathers from them:
Method 1: Monster Loot
The first method to get Black Feathers is obtaining it as loot via:
Defeating Chuckadoodles
Spell Seal item steal
Note: For Spell Seals, you can only steal one (1) item per monster. If the item you obtained isn't a Black Feather, defeat the monster and wait for another spawn.
Obtaining Black Feathers this way will take you quite a while because they have a low drop rate. Unless you have items that boost drop rates, taming a Chuckadoodle will be a better and more consistent way to get Black Feathers.
Method 2: Taming Chuckadoodles
Taming a Chuckadoodle is relatively easy since it drops its favorite taming items.
Give these to a Chuckadoodle to get the best chance of taming it:
Egg (Any Size)
Bird's Feather
Tip: You can brush monsters up to 15 times to increase your chances of taming them.
Once you've tamed a Chuckadoodle, it will now produce a Black Feather daily at the Monster Barn it resides in.
Note: Make sure your Monster Barns have enough space to accommodate the Chuckadoodle. You'll know you lack space when:
The first icon that appears after you give an item is a Skull Mark instead of a Heart
No Musical Notes appear when you brush a monster (brushed less than 16 times)
Black Feather Uses
Use #1: Upgrade Material
The Black Feather offers a modest INT: +14 when used as an upgrade material.
Use #2: Crafting Material
The Wind Cloak is the best item you can make that requires a Black Feather. It has the highest defensive stats for armors around its skill level and will surely last you through the mid-game up to the end of the main story.
As for Weapon Recipes you can craft with a Black Feather, they also offer relatively good stats for a mid-game item.
All Black Feather Recipes
SCROLL
Armor Recipes
Name
Skill Level
Ability
(Base Stats)
Effects
Materials
Wind Cloak
32
Def: +385

M.DEF: +320

Wind Resist +10%

Black Feather
Wind Crystal
Emerald
Cloths & Skins
Strings
SCROLL
Weapons Recipes
Name
Category
Skill Level
Ability
(Base Stats)
Effects
Materials
Earthshade
(Atr: Earth)
Long Sword
30
ATK: +378
M.ATK: +5
DEF: 0
M.DEF: 0
Diz: +12

Black Feather
Gold
Silver
Earth Crystal

Vendetta
Long Sword
31
ATK: +392
M.ATK: 0
DEF: 0
M.DEF: 0
Diz: +12

Black Feather
Silver
Minerals
Armor Fragment

Corsesca+
Spear
29
ATK: +333
M.ATK: 0
DEF: +18
M.DEF: 0
Diz: +8
Steel Blades
Dual Blade
30
ATK: +276
M.ATK: 0
DEF: 0
M.DEF: 0
Diz: +3
Bat Axe
Axe
60
ATK: +2200
M.ATK: 0
DEF: 0
M.DEF: 0
Diz: +2
CRIT: +10%

Strong Knockback

Black Feather
Draconic Stone
Devil Blood
Black Scale
Browse:
Rune Factory 5
Video Games