Sims 4 Adidas CC: Clothes, Shoes & Accessories
This post may contain affiliate links. If you buy something we may get a small commission at no extra cost to you. (Learn more).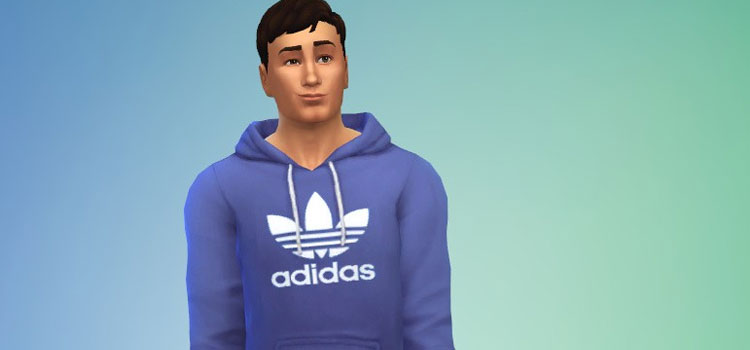 Okay, time for a fun fact: Adidas started in 1949.
Yeah, what?!
That's right: everyone's favorite three-striped apparel and accessory manufacturer began a mere four years after WWII.
To put things even further into perspective, Harry Truman was president. The book 1984 was published. Elvis Presley was 14 years old.
At first I was going to say Adidas has been a household name since its inception, but clearly that's not true. It wasn't until many years later that this label really took off, and it was an even longer road until they became the closet staple they are today.
But enough history. That's not what you're here for.
You're here because you want Adidas CC & gear for your Sims.
And Adidas gear for your Sims you shall get.
1.

Vintage Adidas Athletic Jacket
Adidas is one of those brands that has been around for a long time.
Decade after decade, one generation after another, Adidas has endured.
This jacket from bustedpixels comes is inspired by looks from years gone by.
It comes in several swatches and styles, all including the iconic logo. The colors available here are just pretty, to be straightforward.
Whether you're in bright pinks and purples or bold greens and grays, there's surely something here to fit your Sim.
2.

Adidas Crop Hoodie
In the first of two items from elliesimple, we have an Adidas cropped hoodie, a look that has exploded with popularity in recent years.
Hoodies are a pretty neutral choice no matter what you're doing. Which I think is exactly what makes them so widely loved.
Everyone could use more clothing that works for going to the movies, the gym, the beach, and to dinner all in one day without needing to change.
Or maybe I'm just lazy. That's definitely a possibility.
3.

Adidas Long Tee
At last, I have found a baggy shirt for my Sims!
I have the type of shape and stature that most shirts (or pants, or dresses) really don't fit well straight off the rack. In other words, I'm on the small side.
And, odd as it may seem, I kind of want my Sims to reflect that sometimes.
Since all of them are roughly the same height, a Sim's clothes are always the right size. No need for a stylist or fashion consultant when everything you put on already looks perfect.
With the exception of a few items that are purposefully supposed to look raggedy, like what comes with Laundry Day Stuff, the game is lacking clothes for those Sims who like to be comfortable and free in loose-fitting tops and pants.
All that aside, I really like what elliesimple has done with the Adidas logo here. On each shirt there's a sort of ombre thing going on that's quite cool.
4.

Adidas Gazelle Shoes
Even though this is 'just' a recolor, these shoes are one of my most frequently used pieces of CC. Like, probably in the top three.
And that's saying something.
Almost every female Sim I make has at least one outfit incorporating these beauties. They work for everyone.
Spiteful teen? Adidas Gazelles.
Tired mom? Adidas Gazelles.
Knitting grandma? Adidas Gazelles.
Well, I'd say you get the idea by now. Sum it up to say these are the most versatile CC item I have, because they're just so sweet and simple.
I don't know how or why simply giving us a few more colors made the base game shoe so much better, but mysteriousdane has done it.
5.

Adidas Yoga Pants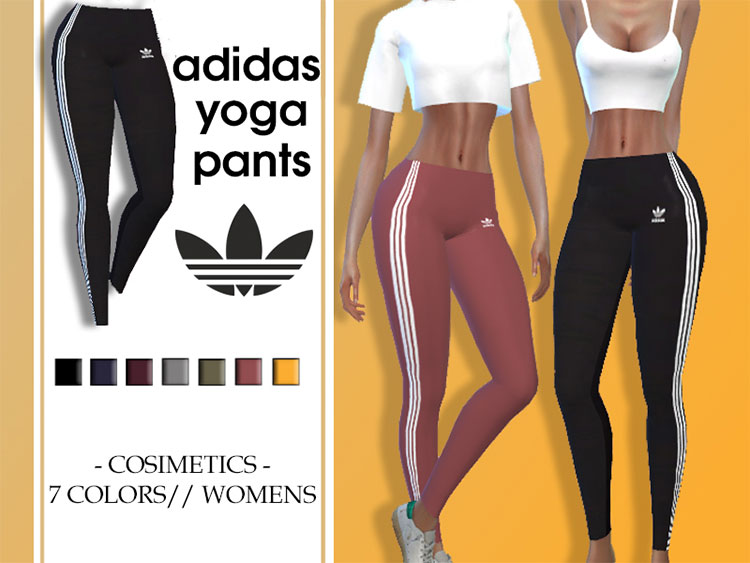 Here's something that I think will go nicely with basically anything else on this list – yoga pants!
Why in the world do I get so excited about yoga pants? Well, here comes this word again… versatility.
I like pieces that can be repurposed for multiple outfits and occasions. And these certainly fit the bill.
They have a classic Adidas look with the three stripes, and are simply aesthetically pleasing.
6.

Athletic Adidas Sweatshirt Collection
You know it's gonna be good when it's called a 'sweatshirt collection',
Once again, it's the colors that have got me. There are so many of them, and they're all so pretty! And creator pinkzombiecupcakes hasn't just given us solids, but various patterns as well.
There's a camouflage one, a few that have a gradient-like color shift, and many with designs inside the trefoil. Not to mention there seems to be at least three different styles.
The texture of these sweatshirts looks very nice as well, appearing to be very smooth and soft.
7.

Adidas Calf Length Sock
There's more than one way to have Adidas on your feet. And I'm not talking about toe rings.
Goodness, my sense of humor sure is strange.
In all seriousness, these socks from llama have a cool appearance. They actually look knit, not so plastic-y like you'll get with many other CC socks.
They come in both black and white, the traditional Adidas flavors.
8.

Adidas Slippers
Here you can replicate another distinct look for your Sims, using Adidas slippers. Or Slides. Or Sandals. They seem to be called all three.
Whatever name you like to use, these are a simple and casual footwear that'll keep your Sim comfy yet trendy.
9.

Kids Adidas Sweater
As with anything popular and beloved by adults, kids are going to want in on Adidas gear.
I actually see as many children wearing Adidas as I do adults, honestly.
This is a brand that has reached every age and gender.
Sims kids can always use more stylish options, so this sweater from hollowsprings is perfect for those of you looking to make your kids a little more fashion conscious.
10.

Adidas Cap
If you're gonna have the shoes, jacket, and pants, why not get the cap too?
Thanks to content creator milky/way, your Sim can wear Adidas literally from head to toe.
And if that doesn't say "cool", I don't know what will.
Here we have the black & white color scheme again, which never gets old. The black-on-black style is my personal favorite!
Browse:
Lists
The Sims 4
Video Games