Best Sims 4 Teen CC: Clothes, Accessories & More (All Free)
This post may contain affiliate links. If you buy something we may get a small commission at no extra cost to you. (Learn more).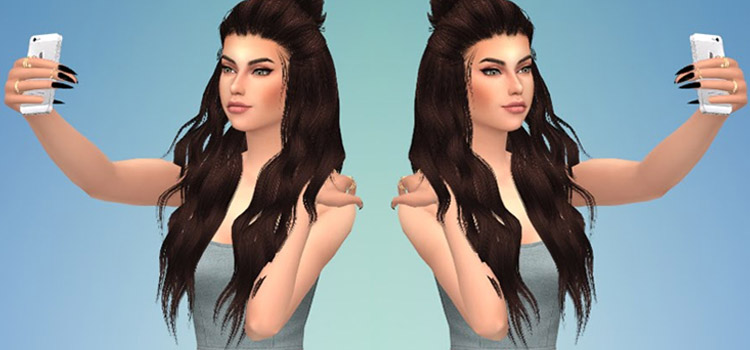 Being a teenager will always be a time of your life that sticks with you – good or bad. It's an age of exploration, learning, and growth unlike any other.
But in The Sims, it's safe to say teens are a bit overlooked. There's little separating them from adults, which is really a shame.
I'd even say the ages between 13 and 19 are so broad it might even warrant another lifestage in the game. But until then, things must remain broad.
Well Sim Teens deserve to look the part, and players would appreciate it if they did. And thankfully there are tons of ways to make that happen through CC!
1.

Teen Style Stuff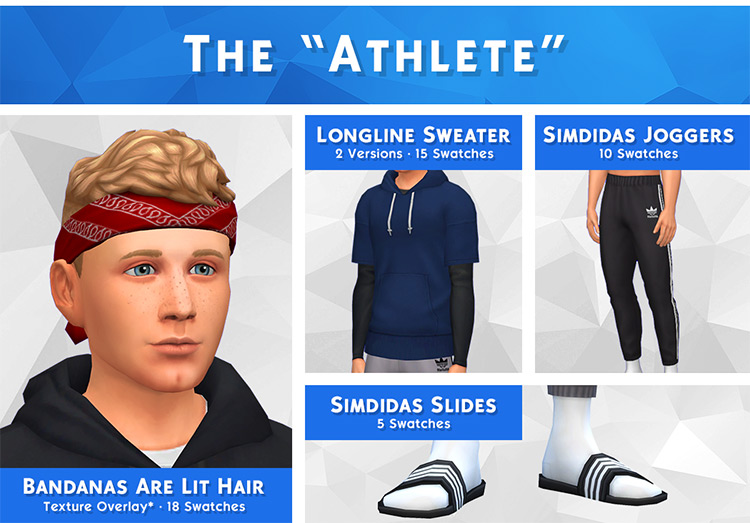 Isn't it always great when you can find a fan-made pack for exactly the CC you were looking for?
This pack, created by two of the most talented CC makers out there (Luumia and Synthsims) consists of very high quality hairs, clothes, and accessories.
It centers on three typical teen styles.
For the athlete, you have 'Simdidas' joggers and sandals, a sweater, and a really cool hairstyle that includes a bandana. The texture of the hair and the way the waves are against the bandana just looks great.
Then you have the It Girl outfit, with a DIY, casual crop top, torn denim skirt, choker, and wavy hair with bangs.
Lastly, there's the Punk Kid. The choppy rocker hair with dyed tips is honestly one of the coolest CC hairs I've ever seen, perfect for just this look. A fishnet crop top, dual tone jeans of plaid and denim, and platform boots are included here as well.
2.

Ariana Dress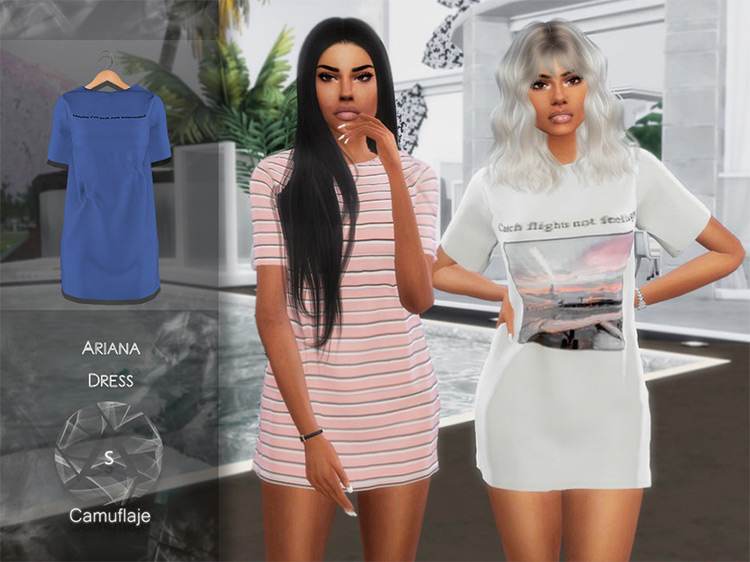 Oversized tops have been in fashion for quite a while.
But I don't think anyone loves them more than a teen.
This dress (or long tee as I would liken it) is just the thing for those stylish girls.
There are 23 swatches here, varying from pretty images to solids or patterns like stripes.
In any case, it takes a certain type of Sim or person to pull this off. You have to be confident, and like many other 'messy' styles, every other part of your appearance has to be perfect to avoid looking too messy.
Luckily, that's pretty easy to achieve with Sims.
Pair this dress with any cute hairstyle and sneakers of your choosing, and they'll be good to go.
3.

Maggie Hairstyle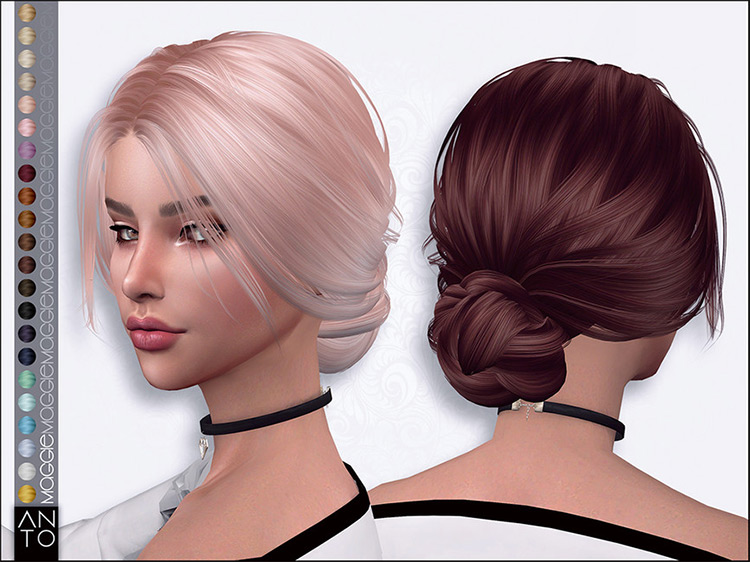 You know how I just mentioned cute hairstyles?
Well, look no further!
This twisty wispy bun is to die for.
Seriously, what I wouldn't do to get my hair to look like this. But even if we don't have creator Anto handy to style our hair personally, our Sims do. Kind of.
That 'messy' look just won't be complete without a bun like this.
It's no wonder such a simple look has taken off lately.
4.

Bucket Backpack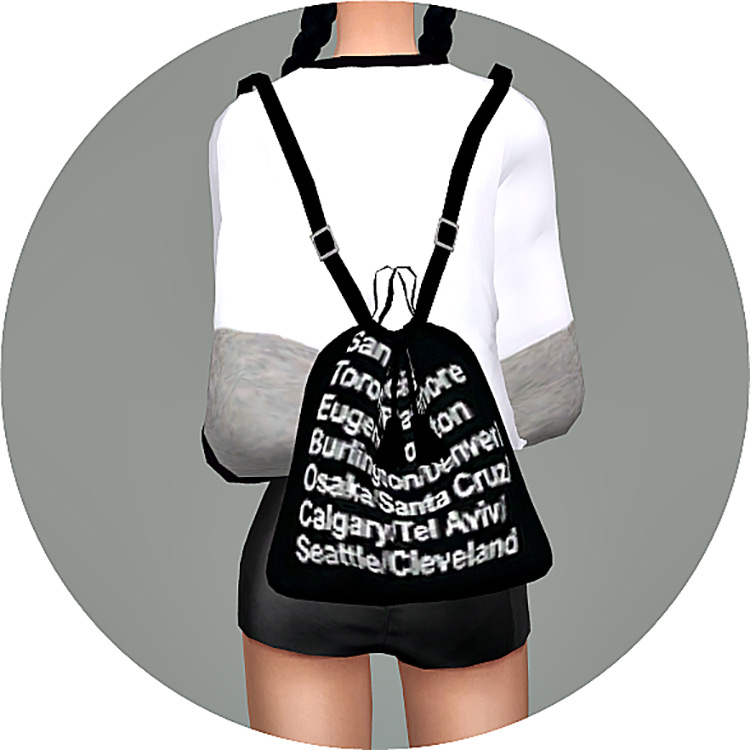 Something else that really seems to have taken off is a backpack in lieu of a purse.
And I can certainly see why.
A backpack tends to be a bit more hands-free and less restrictive than a purse, which you either have to carry or have at your side.
Depending on how much stuff you carry, it can start getting in the way pretty quick.
But a backpack will never really be in your way. Unless you're trying to sit in some chairs…
Well this backpack CC one comes in many awesome swatches, including lovely shades of blue, gray and pink, striking red or yellow plaids, animal print, and even some with text, among many others.
5.

Teenage Dream Trait
This trait will allow your Sim to be the teen everyone wanted to be, but rarely succeeded.
The dream teen. The sweet, charming kid without a thought behind their eyes.
I'm always down for any mod or trait that aids in teens not just being Young Adults with less traits.
The game really doesn't reflect what a short but unique phase of life teen-dom is.
But with the Teenage Dream trait, there will at least be a little bit of variation.
Your Sim will receive some whims more befitting their age, like flirting, throwing a party, updating social network status, as well as money others.
They'll receive some buffs as well, especially confidence, depending on the situation.
6.

E-Girl XXL Makeup Collection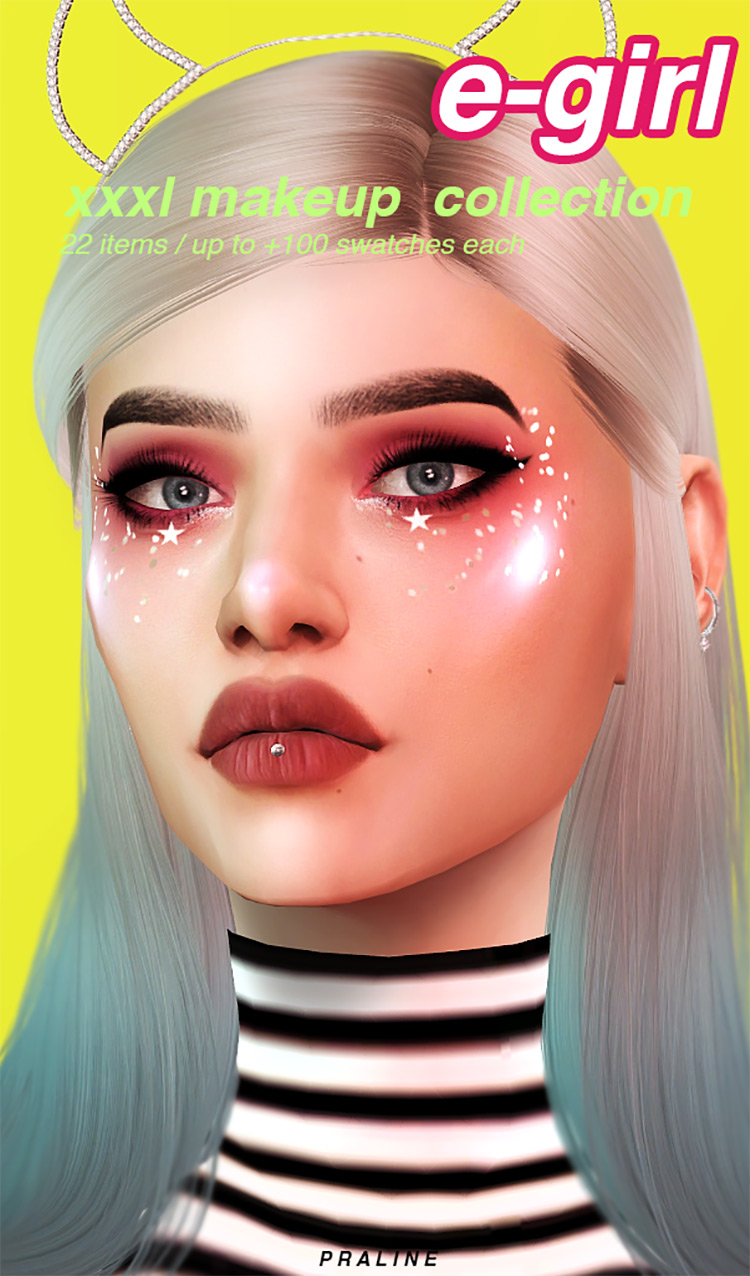 I know it hasn't gone unnoticed that teenagers today are basically professional makeup artists. Seriously, I could never.
I still can't.
But many teen girls have jumped right into the art of makeup and self-expression, and the results are usually pretty epic.
This E-Girl makeup collection includes some of those signature looks. The eyeshadows blending various colors for a bold, expansive shape are included here, as well as some sharp new eyeliners, beautiful blushes, and lush lip glosses.
There are a bunch of downright adorable new face details too, such as little heart face tattoos, confetti, and a ton of sticker styles.
7.

Eloise Hair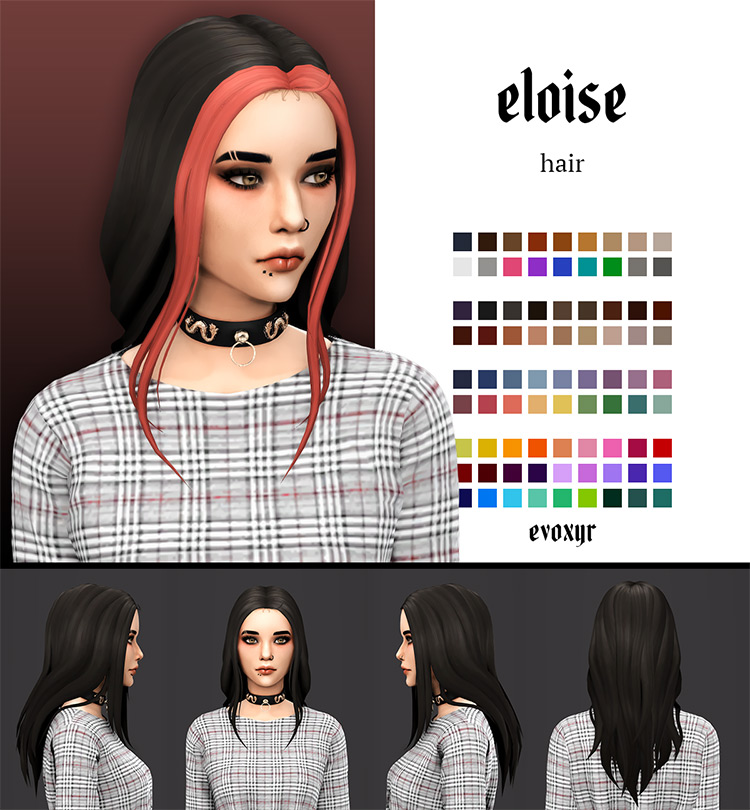 Teens nowadays are equally talented at hair as they are at makeup.
It's a little crazy.
I'm not even that much older, but no one knew what they were doing with themselves when I was sixteen.
Yeah, I'm jealous. But at least our Sims can reflect the abundance of talent today's youth are blessed with.
This beautiful flowing hair from evoxyr will be such a nice addition to your CAS collection.
The best part is the strand accessory, which can add a streak of color.
8.

OVEX Glasses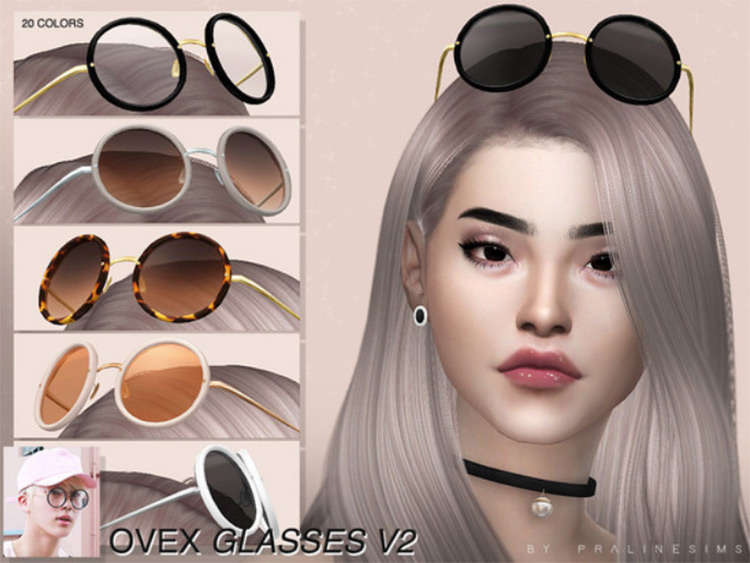 Sunglasses make for a great accessory, whether worn to protect the eyes or atop the head as… well, an accessory.
That may not make a lot of sense unless you yourself have done it. But they're actually an excellent way to hold back your hair or work as part of your outfit.
And sunglasses are the underdog. The thing people rarely think of until the sun is already burning their corneas and their hair is in their face.
Even in the game, there are only a handful of choices for all ages.
At least these circular sunglasses from Pralinesims will make it seem like your Sim has thought their outfit through.
Available in 20 stylish swatches that even vary the lens color, your teen Sim will be the best-dressed person in town.
Or if your teen needs even more options, take a peek at our sunglasses CC list.
9.

Better Zits
As anyone who has been through them can agree, the teen years aren't all glamorous.
For some of us, they frankly weren't at all glamorous.
Hormones do funky things to some people's skin. And I'm pretty sure the only person who will ever utter the sentence, "I want better zits" will be a Sims player.
Well, as far as blemishes and ready-to-burst pimples go, this is as good as it gets.
Creator thriftytrait went so far as to not only make an override for those with the Parenthood pack, but also basegame options as well.
So now your teen Sims can suffer through their youth with accurately detailed acne. It's only fair.
10.

The Basic Sneaker
Contrary to their name, these sneakers are far from basic.
They're sure to add something special to any outfit, more than any truly basic shoe.
With 81 total swatches, including gorgeous solid colors and insanely cute floral or food patterns, you'll never tire of these.
I was the type of teen that, once I found a sneaker I liked, it was my one and only pair of shoes until I wore holes into them.
Your Sims don't have to be that extreme, of course.
But I'm sure if they could actually voice their desires to us, they'd never want to take these off.
11.

White Leather Sneakers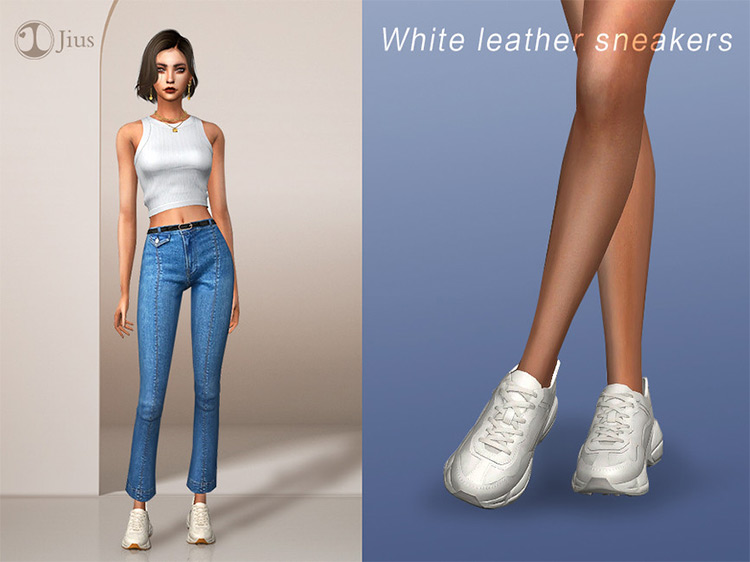 In line with the recent trend of retro fashion, chunky sneakers or 'dad shoes' have surged back into style.
A white (or at least mostly white) shoe is like a black dress.
They're a staple of every young person's wardrobe, simply because they go with everything.
Jeans and sweaters, tank tops and shorts, even overalls – everything will look fantastic with a shoe like this, as the teens have already discovered.
12.

Ripped Skinny Jeans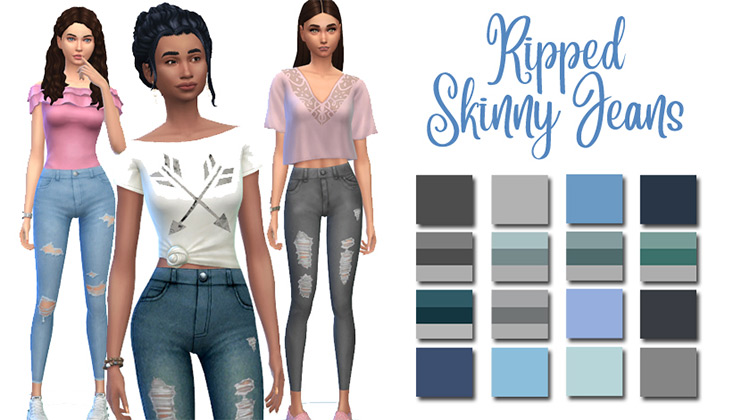 Ripped skinny jeans have to be the pinnacle of teen fashion.
It's been that way for years now.
They just look great, and those tears are always a nice little customization. It's pretty easy to rip some holes in your old jeans.
There are 3 different designs of those lovely rips available in this CC, from worn knees to rips spanning the thighs.
And with 16 different colored swatches, you're sure to find something for everyone.
13.

Short Overalls for Women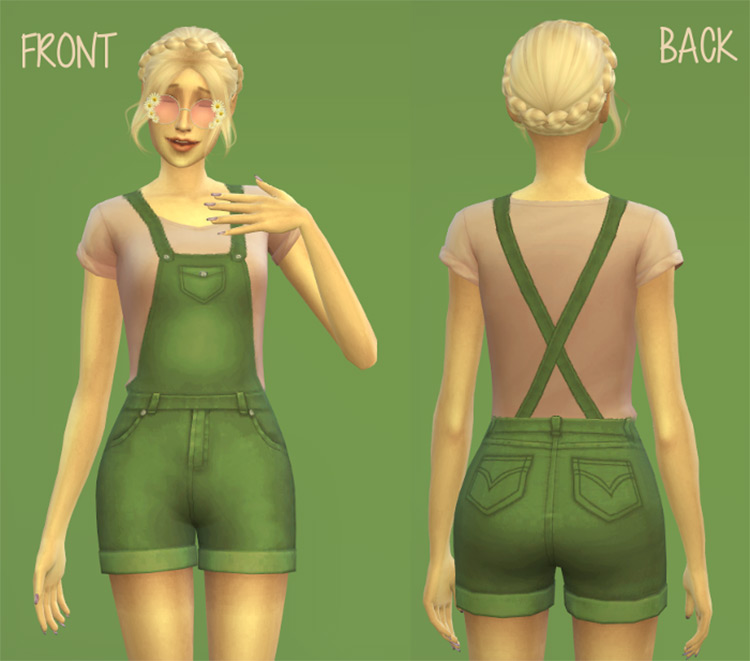 Not only are overalls really cute, but they say 'ready for anything' like no other article of clothing.
What other outfit will be perfect for you to go jogging, do some gardening, and go out with friends? Hmm?
Well, there probably is one.
But it's still a fact that overalls, especially short ones like this, have remained firmly 'in fashion' for several years now.
And it's easy to see why, with all the mix and match possibilities.
Some of that is available here, with several different swatches available. The overalls themselves come in classic shades of blue denim, as well as pink, green, and brown.
And the t-shirts beneath are nothing to overlook, either. They are all nice designs of stripes, solids, or subtle patterns.
14.

Dainty Little Necklaces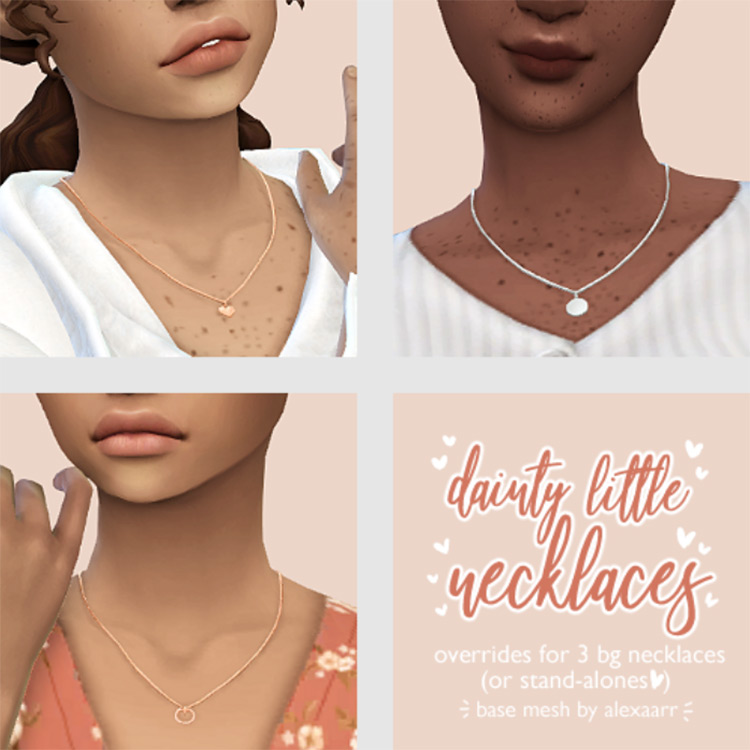 I don't think teens usually opt for big statement pieces when it comes to jewelry.
They usually just want a simple & cute accessory they can wear to school, or out with friends, if anything.
These downsized versions of the basegame necklaces will be the perfect way to achieve that look for your teens.
The heart one has always been my go-to, and I'm glad that now it no longer has to stand out quite so much.
Like the Grinch's heart grew three sizes, this one needed to shrink!
15.

Echo Top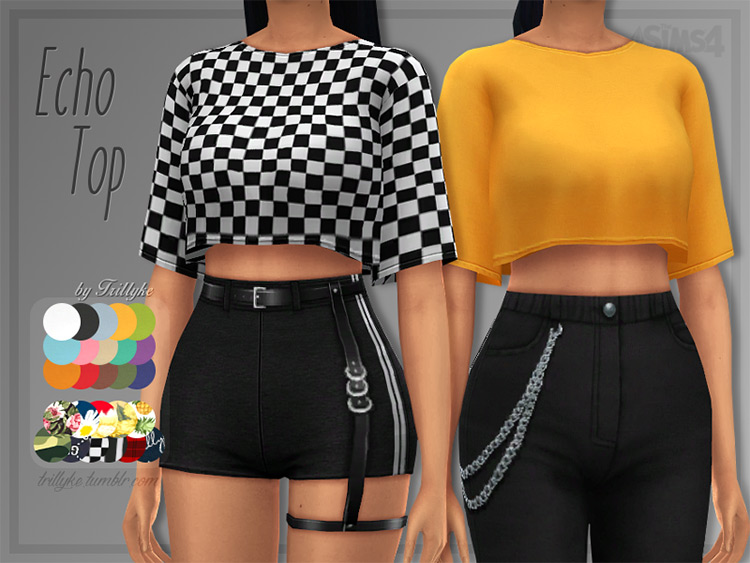 I think The Sims 4 lacks simple and casual tops, especially for the young folks.
The life phases in The Sims are pretty broad. And I understand the clothes aren't specifically meant for any age… but let's be honest, most real life teens wouldn't be caught dead in most of the CAS items we have.
That makes CC items like this that much more special.
This Echo Top from Trillyke may become your new favorite thing for teens.
The cropped style is right in line with what's cool nowadays. And who can pass up all those beautiful swatches?
Flowers, pineapples, plaid – that's the dream teen clothing palette, right there. You'll have plenty of solid colors and more toned down designs to choose from if those aren't your teen's thing, though.
16.

Adidas Sneaker for Men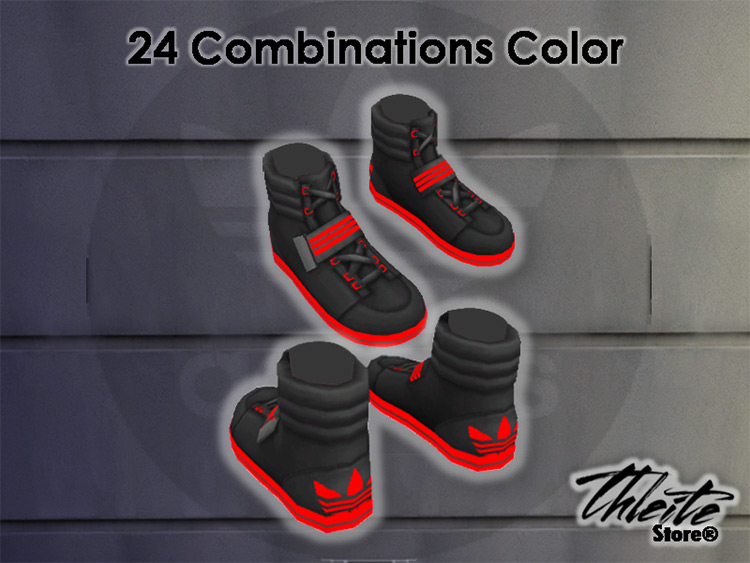 Teen boys, much like teen adults, really don't have a lot going on when it comes to fashion.
There are only so many ways you can experiment with t-shirts and pants.
So, it makes sense that a lot of guys turn their attention to shoes instead.
Big name brands like Nike, Vans, and of course Adidas are often at the top of a teen's wishlist.
So these suave sneakers are sure to be right up any Sim boy's alley.
There's basically every style you could ever want, and any shoe lover would kill for. The strips of color against the white or black swatches make for a very striking look, and I just love the bright solid options.
And best of all, a Sim never has to worry about scuffing or dirtying up their new shoes.
17.

Large Hoodie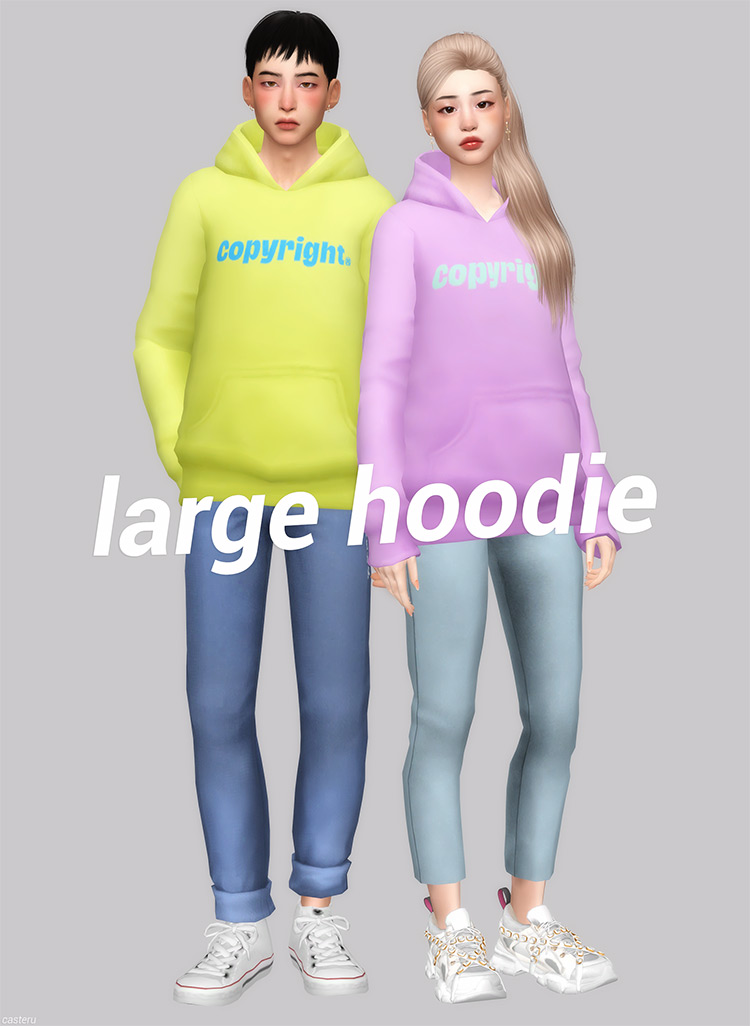 No matter someone's age, they're sure to love a big hoodie.
It has always disappointed me that The Sims has never offered much in terms of oversized clothes.
I don't know anyone whose entire wardrobe fits perfectly.
Besides, big sweaters, tees, and hoodies have become as beloved, if not moreso, than well-fitting items.
It's about appearance as much as comfort. And that's what a large hoodie embodies like nothing else.
18.

Cropped Sweatshirts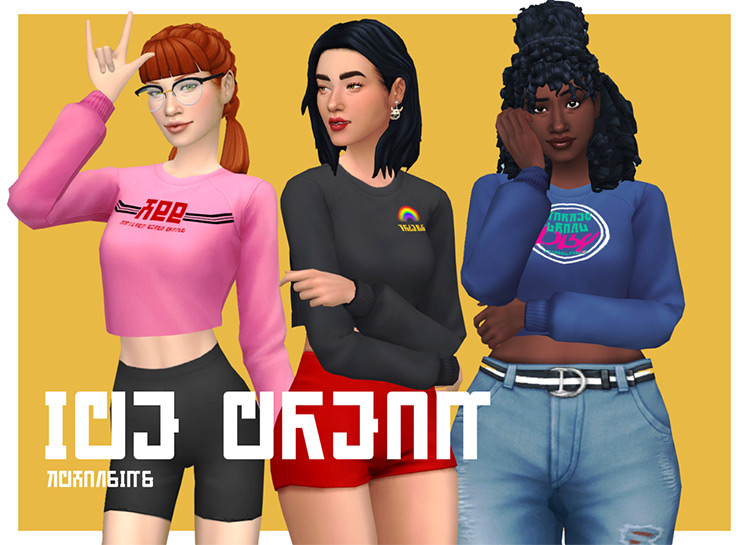 Here we have a cropped sweatshirt, possibly the antithesis of a baggy hoodie.
Anything cropped is going to show off your figure. And any Sim will look great in this!
The texture is really something special, too. I know it's not easy to make clothes actually look like clothes in The Sims games, but this creator has done it.
They just look thick. Like comfy sweaters always do.
The ridged cuff effect on the sleeves definitely is a nice touch as well.
There are 8 gorgeous swatches available here, all with snazzy Simlish designs.
19.

XOEV Glasses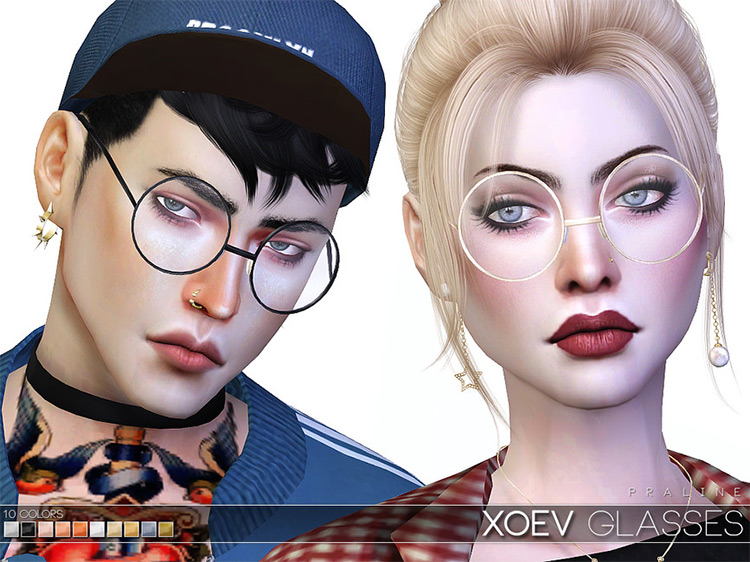 Glasses have had as much evolution as clothing.
From the horn-rimmed ones of the '50s, to the oversized square-framed glasses of the '80s, everything has gone in and out of style again and again.
Now, it seems that circular glasses are all the rage.
Forget those granny glasses. Today's teens want slim rims and round edgeless lenses.
And that's exactly what you'll find in this custom CC, thanks again to Pralinesims. These specs are available in 10 colors to suit all your needs.
20.

Kelsey Hair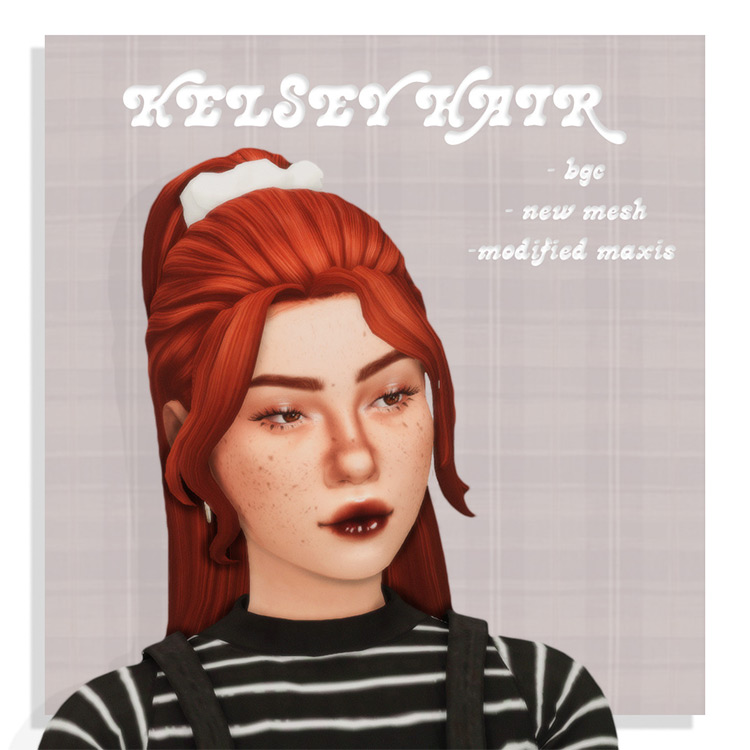 Not everything old school gets shunned.
Quite the opposite, actually.
And if there's one thing from previous decades that inexplicably blew up, it has to be scrunchies.
Why? I don't know.
But they're once again huge with teen girls everywhere, and the cute hairstyles they create are back as well.
This half-updo just wouldn't be the same without a scrunchie.
The smoothness of the hair leading up to the ponytail is honestly pretty enviable – if only real hair cooperated this well, right?
At last, you can live out your true wildest fantasies with your Sims. Like having good hair.
And that's definitely not always easy for anyone, let alone teens with busy schedules.
Browse:
Lists
The Sims 4
Video Games