Sims 4 Coachella & Music Festival CC
This post may contain affiliate links. If you buy something we may get a small commission at no extra cost to you. (Learn more).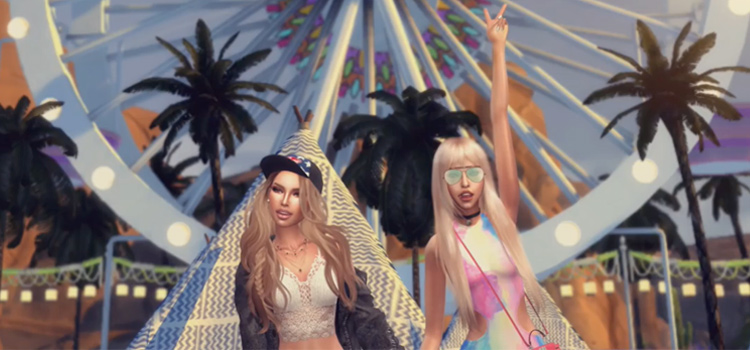 You may have never been to Coachella. But chances are, you know the name.
As one of the biggest music festivals out there these days, Coachella has become synonymous with good music and good times.
Creating your own version in The Sims 4 will be a breeze with all of these lots and hand-picked CC clothes, hairstyles, and other CAS goodies.
1.

Summer Festival Lot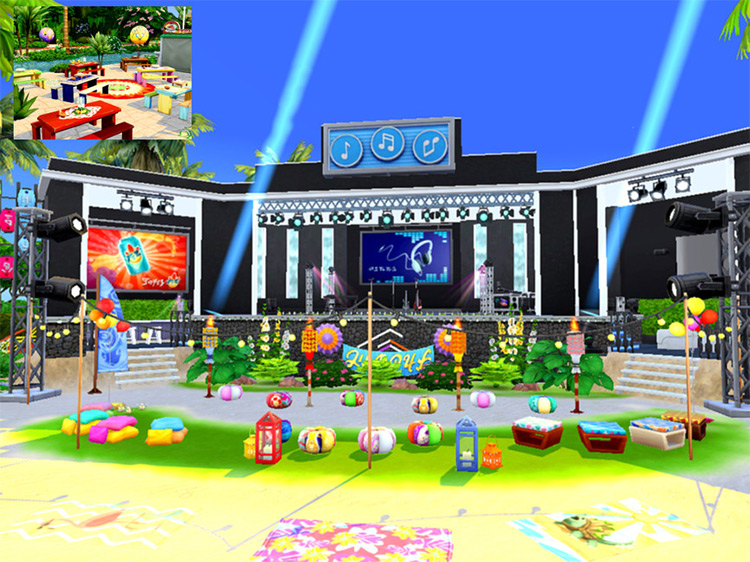 The quickest way to start playing out the music festival experience is with a premade lot, like this one from Mini Simmer.
It's absolutely huge, with tons of opportunities for your Sims to socialize and have fun.
Not only is there a designated concert area, but bars, food stalls, and a camping area, too!
2.

Coachella Pose Pack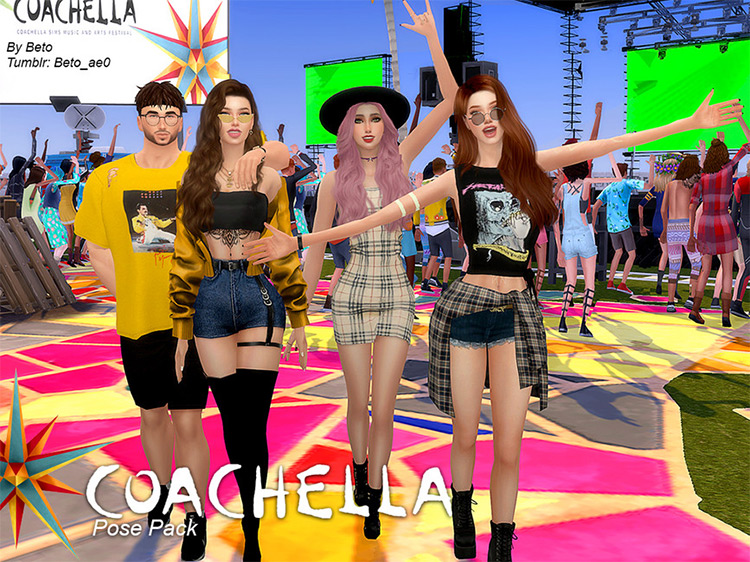 Snapping some pics of your Sim and their besties for Simstagram or Social Bunny is a must.
This pack was made specifically to get that Coachella vibe. Whether your Sim has a huge friend group or just a couple of buddies, don't worry, the available poses include anywhere from 2 Sims to 6.
3.

Music Festival and Concert Mod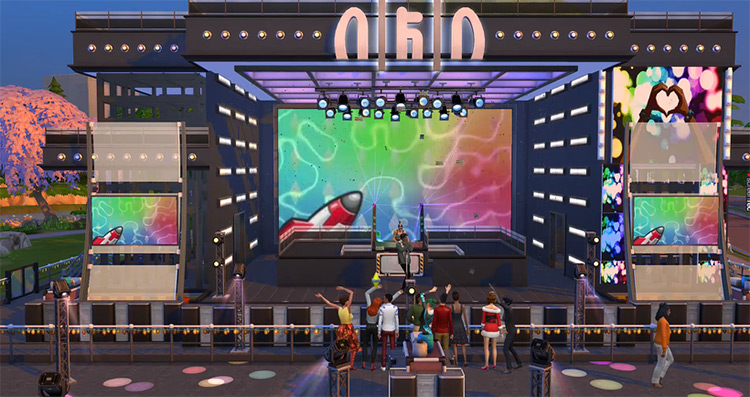 Mercuryfoam's epic mod has got it all.
You can make a music festival like never before thanks to this custom, functional event and brand new interactions.
Performers can easily be hired with the new stage, and as long as you place down a mic stand, you can take the festival anywhere.
4.

Summer Festivals Maxis Match Pants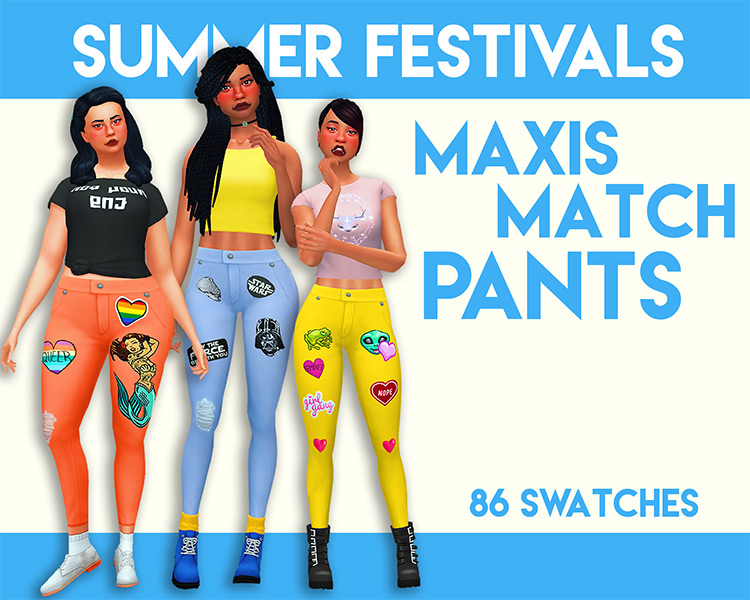 Putting together a killer outfit is definitely part of the fun when going to a music festival.
Give your Sims something to really express themselves with these massively versatile skinny jeans. The 86 total swatches include basically everything you could want like rips, plus custom patches for fandoms, Pride, and even some TS4 references.
5.

Coachella II Pose Pack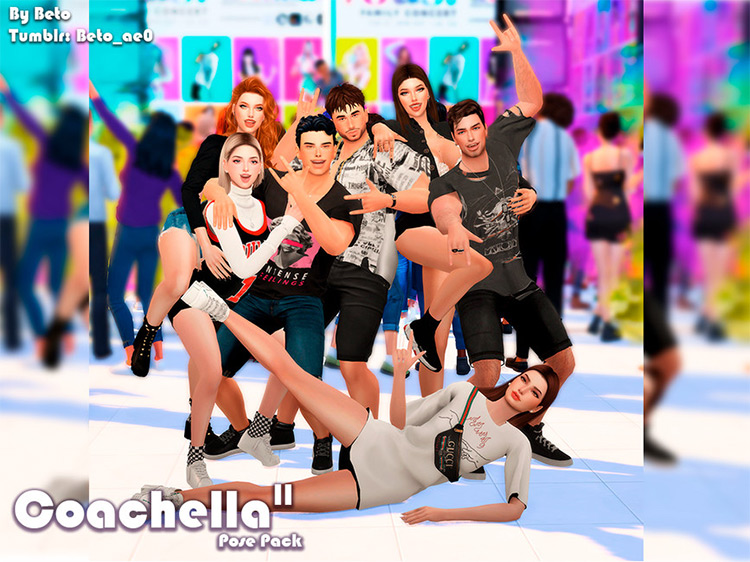 Here are the poses you'll want to grab if you've got multiple Sims hitting the festival, and want to capture some memories.
These candid shots are for bigger groups of friends. Every option looks very natural and believable, making them perfect for you storytellers!
6.

Halter Crop Top Recolor
Considering they're insanely popular at the moment, crop tops are plentiful at any event.
You can really expand your Sim's options with almost three dozen new options thanks to Droolski. The original mesh, by Trillyke, has been given a ton of new colors and patterns.
7.

BAK Sweater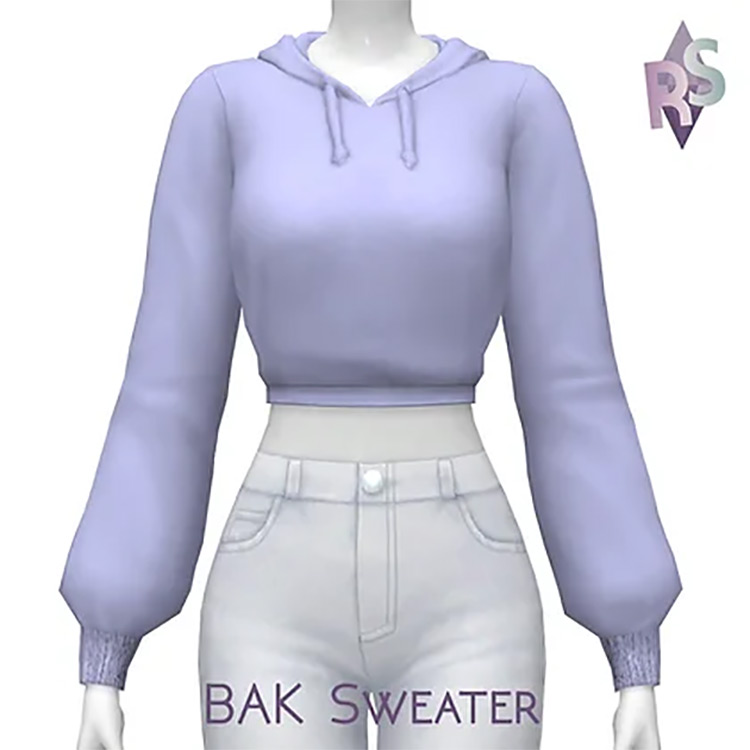 Here's something inspired by a real Coachella performer's outfit. A cropped hoodie is super trendy, so you can't go wrong.
Especially with so many fun swatches!
There are even some separated Simlish logos that you can mix and match with any swatch. Those are found in the gloves section of CAS.
8.

Coachella Single Poses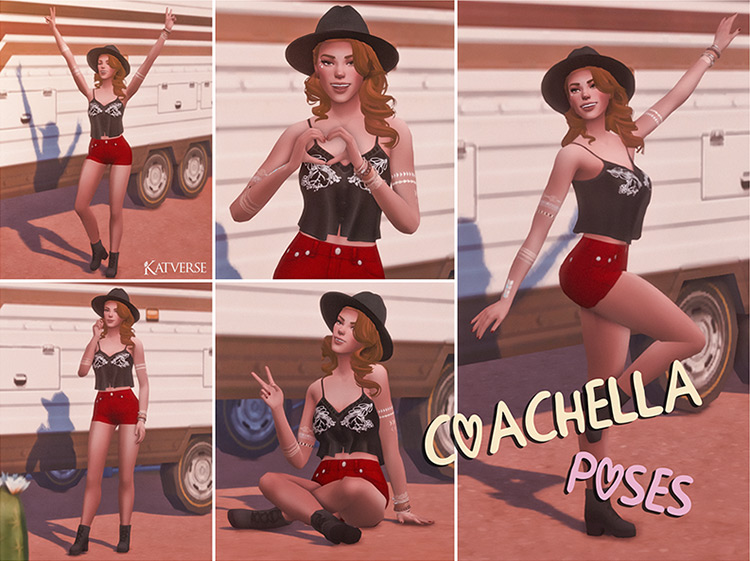 Not everyone is into having a huge entourage, of course. If your Sim is hitting Coachella alone, that's her business!
It's still fun to snap a few pics, which is precisely what these solo poses are for.
9.

Music Festival Lookbook
If you're not feeling fashion savvy enough to put together a complete look from scratch, this Simmer has got your back.
Here's a really cute ensemble, where everything is custom and available to all players. From the hair and clothes and even the makeup, everything you see can be on your Sim as well, free of charge.
10.

Check On It Shorts (Girls)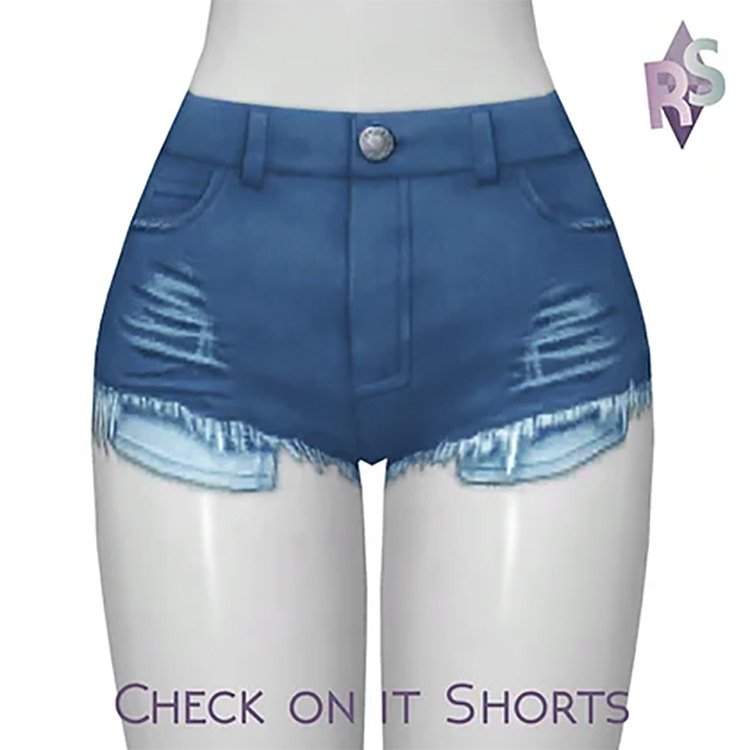 Denim shorts have been a classic for eons, and things are no different now.
The DIY look of these jean shorts makes them perfect for any casual, laidback event like Coachella. Just pair with a light top of your choice and let the good times roll!
And the frayed hem is great for any everyday outfit.
11.

Simchella Lot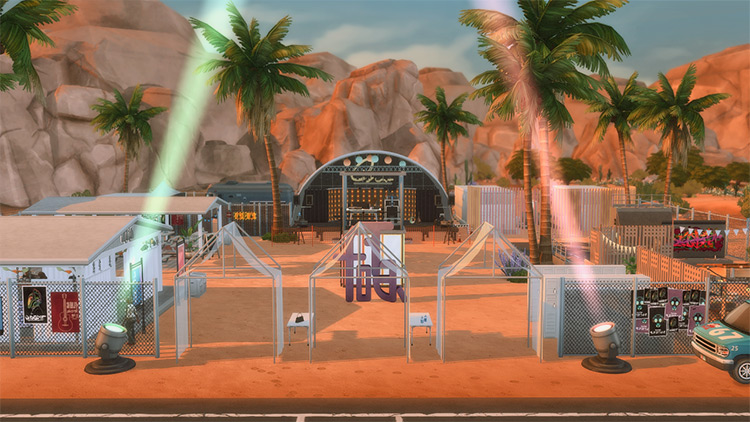 To kick off your Sim's music festival fun using this lot, you will need to own a ton of packs.
It's really amazing how this creator incorporated so much content to create a single Coachella-inspired lot in Oasis Springs. All the same entertainment and functionality is here!
12.

Festival Boho Trousers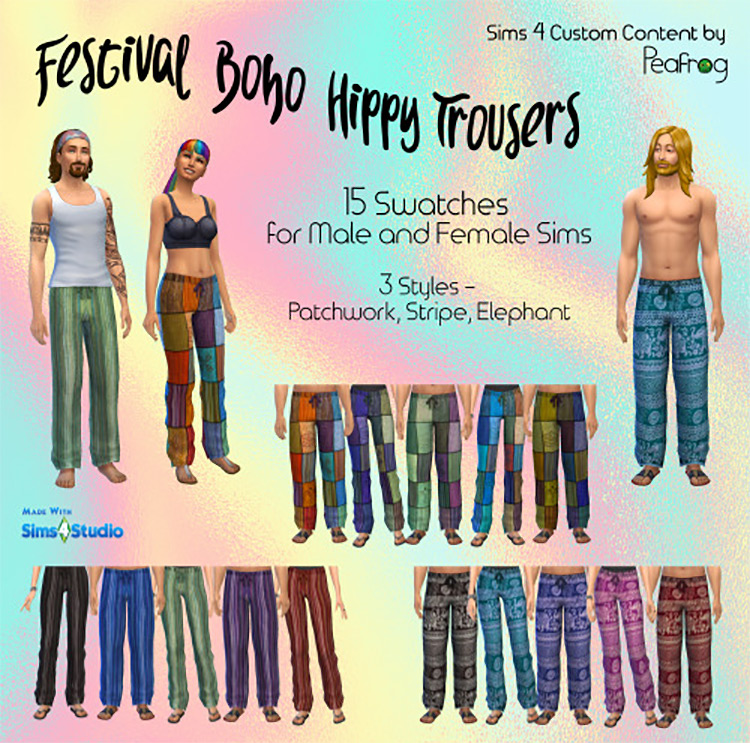 Both masculine and feminine Sims can make use of these very boho pants.
They'll be comfy throughout the day, and undeniably stylish.
There's a variety of colorful, cool swatches including patchwork, stripes, and some elephants. It's like art in the form of pants!
13.

Hita Hair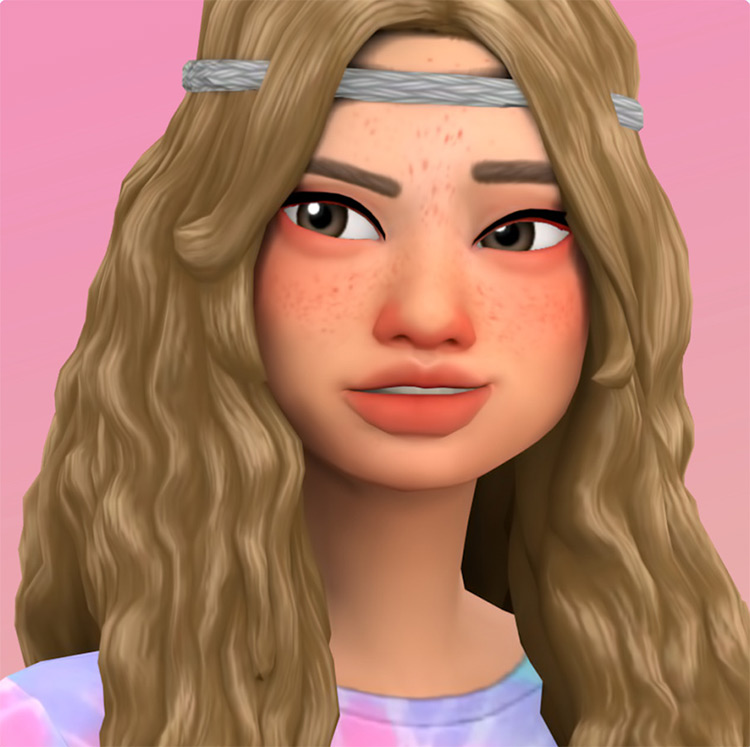 Headbands have been standard music festival wear since the days of Woodstock. The woven look of this one really makes it an ideal accessory to pair with any sort of casual outfit.
The 12 swatches are from a '70s inspired color palette, so each one has a retro muted tone.
14.

Reagan Accessory Jacket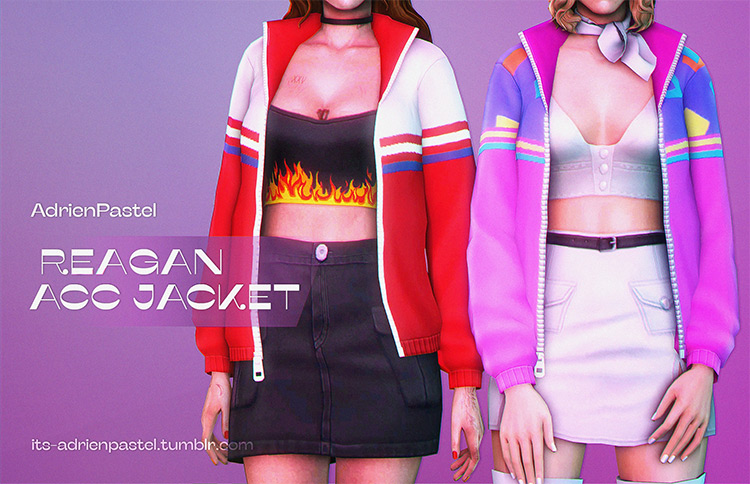 Accessory clothes are honestly a lifesaver. They allow Simmers more freedom and customization than ever before.
You can create some really unique, awesome looks with this chic jacket. The slightly oversized look is an added bonus, and the swatches offer quite a bit of variety.
15.

Leave Your Hat On
A hat like this has become a staple for musicians and concertgoers both.
They've quickly become one of those things that goes with any outfit, like blue jeans or scrunchies.
Although they work particularly well for a boho vibe, all of the neutral color options leave plenty of opportunities to do your own thing.
Browse:
Lists
The Sims 4
Video Games