Sims 4 Hair Scrunchies CC: The Ultimate Collection
This post may contain affiliate links. If you buy something we may get a small commission at no extra cost to you. (Learn more).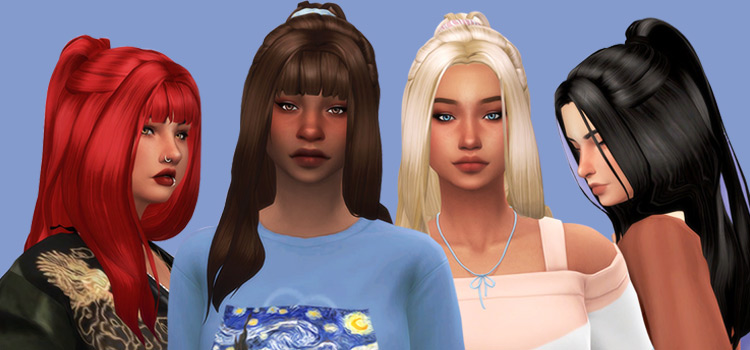 Whether your Sims are wearing them on their wrists to verify their VSCO girl (VSCO Sim?) status, or they're using them to keep their hair out of the way, scrunchies are an essential accessory.
There may not be a lot of them yet, but the demand is rising.
Wanting to create a VSCO girl/e-girl of my own in the lovely TS4 world, I did a little deep diving into the Sims 4 CC market to see what scrunchies I could scrounge up.
I found a decent haul, not gonna lie. Take a look!
Wrist Scrunchies
This section is for TS4 Scrunchie CCs that can be worn on the wrist like bracelets or wrist cuffs.
1.

Mapella's Scrunchie Accessory (+ BONUS! Recolor by gridoff)
| | |
| --- | --- |
| Look In: | Body Accessories, Right Wrist |
| Colors: | 18 solid swatches |
| Recolor: | 28 solid swatches |
This simple scrunchie-on-the-wrist design is quintessential VSCO/e-girl (even if it wasn't designed for that purpose).
I highly recommend this for when you just want a cute hair accessory that doubles as a bracelet, because that is exactly what this is.
The original mesh by Mapella gives 18 solid color options. They're all pretty, don't get me wrong. But they're also all pretty somber and neutral.
If that's your cup of tea (because it's mine) you should be fine with the original file.
If you're looking for brighter, more cheerful shades, I highly recommend gridoff's recolor.
It gives 28 completely new color options that are a little more saturated and diverse. There are four different shades of pink, two different shades of orange, and a lot of brights like red, baby blue, mint green, emerald green, purple, and lilac.
2.

Simschino's Scrunchie on Wrist Solid
| | |
| --- | --- |
| Look In: | Body Accessories, Left Wrist |
| Colors: | 28 solid swatches, 5 two-tone swatches |
This scrunchie's design is as straightforward as the first one. But it's a lot bigger.
Whereas Mapella's scrunchie was smaller and daintier-looking, Simschino's scrunchie demands attention.
And it gets it, too.
The color options for this are pretty good. There are a total of 33 swatches, with 28 solid color options and 5 two-tone variations. The range is pretty diverse with a couple brights, several neons, and a handful of neutrals.
So if your idea of a scrunchie is something big, floofy, and eye-catching, definitely get this one.
But if you've had enough of plain solid-colored designs, the next item might be more your speed.
3.

Simschino's Scrunchie on Wrist Pattern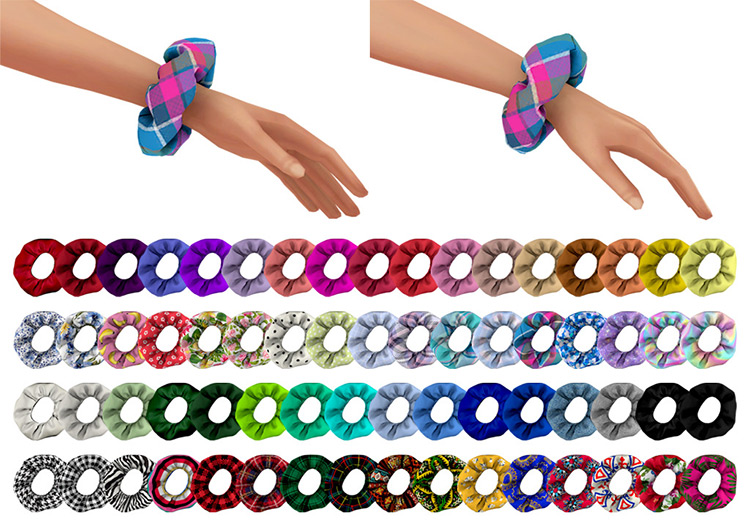 | | |
| --- | --- |
| Look In: | Body Accessories, Left Wrist |
| Colors: | 33 pattern swatches |
This CC is proof positive that good things come in pairs.
From the same creator of the previous scrunchie (Simschino), this TS4 scrunchie CC is more than enough to deliver all your desired patterns – and then some.
When I first downloaded this, I thought it'd be like three or four patterns in several different colors (think Christmas plaid in red and green, black and blue, red and yellow, etc.).
Nope. I was wrong, and I'm happy for it.
Because this CC comes in 33 different patterns – all of which are 100% unique.
Yes, there's Christmas plaid. But there's also gingham, printed holo, polka dots, candy stripes, tie-dyed, graphic yellow bananas on a pink background…
Trust me when I say this scrunchie CC set has something for everybody.
33 somebodies, in fact.
4.

Kiro-Maya's Dress + Scrunchie Bracelet
| | |
| --- | --- |
| Look In: | Scrunchie – Body Accessories | Dress – Full Body Clothes |
| Colors: | Scrunchie – 10 solid swatches | Dress – 15 solid swatches |
So … this scrunchie-on-the-wrist comes with a free dress.
Yeah. I found it unusual, too. But in the curiosity-poking way.
This fashionable combo from Kiro-Maya basically means for you to pair the scrunchie on your Sim's wrist with the full-body dress. And to keep things really coordinated, the patterns and colors of the scrunchie match the patterns and colors of the dress.
So you can mix it up or keep it matchy, depending on your Sim's mood!
The dress and the scrunchie come in one .zip file, but they have separate .package files for your Mods folder. So in theory, you could just install the scrunchies if you dig into the folder.
I'm not going to tell you what to do, but I am going to say that the dress is pretty cute.
5.

DSCOmbobulate's Grandeur Scrunchies
| | |
| --- | --- |
| Look In: | Body Accessories, Right Wrist |
| Colors: | 16 solid swatches |
Now that we've seen just how big, bright, and bold scrunchies can get, let's head back to the smaller dainty scrunchies category.
This is the last Sims 4 scrunchie CC for this category, but it's certainly not the least. Not with the level of detail put into it.
DSCOmbobulate's scrunchies already have a pretty unique design (at least, compared to the previous four).
They're sectioned pretty securely, looking almost beaded in a way. I will say that they looked like large, funky friendship bracelets at first glance.
But what really sold me on this CC is the attention to detail. The creator offers this scrunchie in two specific materials: velvet and silk. Yes, there's a visible texture difference – not so drastic that it smacks you in the face, but not subtle either.
Hair Scrunchies
Now this is a list of TS4 Scrunchie CCs that are worn as removable or optional hair accessories.
A lot of them come with set hairstyles, but some can be worn with other hairstyle variations. Take a look!
6.

Phoenix-Sims' Aurore Hair w/ Scrunchie
| | |
| --- | --- |
| Look In: | Head Accessories; Hats |
| Colors: | 12 solid swatches, 8 two-tone swatches |
Alpha CC texture isn't normally my style, but I didn't mind this hairstyle.
The high-pony-plus-front-bangs was doing it for me, maybe.
The scrunchie itself is pretty darn cute.
It's of moderate size, has a believable cotton-like texture, and comes in 20 different patterns – most of which feature graphic flowers on colored backgrounds. Tiny, whitish flowers on purple, red roses on baby pink, peach carnations on cornflower blue … you get the idea.
If you want to use the scrunchie with other hairstyles, I recommend going for really high ponytails and buns. It sort of has to be an exact match.
7.

Grafity Allie's Hair + Scrunchies
| | |
| --- | --- |
| Look In: | Head Accessories; Hats |
| Colors: | 20 solid swatches |
I love the hairstyle almost as much as I love the texture of the scrunchie. I'm just a big fan of space buns, okay?
But I'm not going to overshadow the scrunchies here, because they look incredible.
Soft, shiny, and so, so silky. They're easily one of the bigger accessories on this list, too – perfect for wrapping around sizeable pigtails.
The color options for this CC are pretty good: 20 solid colors, with enough vibrants and neutrals to keep things diverse.
The scrunchies will only work with similar hairstyles. That is to say, double buns and pigtails that are pretty high up. Try the pigtail hairstyle from The Sims 4 Discover University pack. The scrunchies look great with it!
8.

Feral Poodles Ella & Bella Hairs w/ Bonus Scrunchie Acc
| | |
| --- | --- |
| Look In: | Head Accessories; Hats |
| Colors: | 30 swatches (includes 12 two-tone and three-tone options) |
To test this scrunchie accessory out, I downloaded the Bella version of this hairstyle (nothing against bangs; it's all just personal taste).
But I think this scrunchie is one of the rare ones that can work well with other hairstyles, given the placement of the ponytail: not too high, not too low.
Basically the Baby Bear to this scrunchie's Goldilocks.
And I can confirm that it was a little easier to find other vanilla game hairstyles that would work with this accessory.
Tried it with the high ponytail (with the bandana accessory) from The Sims 4 City Living and the braided wolf's tail (with the undercut) hairstyle (default Masculine category) from The Sims 4 Get Famous pack. They looked great.
The scrunchie is a removable accessory that you can download separately. It has a pretty decent mix of solid color designs and graphical/patterned designs.
I especially love the red and blue gingham patterns. Reminds me of picnics in July.
9.

LeeleeSims1's 90s Babe Braids with Scrunchie
| | |
| --- | --- |
| Look In: | Head Accessories |
| Colors: | 20 solid swatches |
"Babe" is very apt here.
I'm a sucker for big braids, and the whole hairstyle – from the high pony to the random stray front bangs – had me screaming. Toss in a couple unconventional hair accessories, and I was fully on board.
So with this chic hairstyle from Lee Lee, you have the option to accessorize with a scrunchie, some metal beads, or both. And they're all separate .package files, so you can still pick and choose which ones you like best.
The scrunchie for this piece is as simple and straightforward as they come, but in the best way.
It's big, it's slightly poofy, and it comes in 20 different colors (all solids, plenty of saturated, vibrant shades).
Just like the one from Feral Poodles, this scrunchie also works well with a bunch of other hairstyles. I tried it with the high bun + bandana hairstyle from The Sims 4 Get to Work, the high ponytail + bandana from The Sims 4 City Living, a simple high ponytail from the base game, and the pulled-back updo (with side braids) from The Sims 4 Movie Night.
It's pretty diverse, yeah.
10.

Tekri's Megara Hair
| | |
| --- | --- |
| Look In: | Head Accessories; Hat |
| Colors: | Hair – 18 solid swatches | Scrunchie – 65 solid swatches |
So if you're a Disney freak-geek, you'll definitely love this very accurate mesh of Megara's hair.
If not, eh. Get it anyway.
In all seriousness, I did enjoy this set as-is.
Maybe it's the hair's ludicrous length. Maybe it's the bang's total asymmetry. Either way, I have a redheaded Sim that suited the style perfectly.
The scrunchie is, sadly, one of the harder ones to match with vanilla game hairstyles.
It's a little too high up for some hairstyles and it's a little too specifically sized to properly show up on others. But because there are so many color options for it (65, to be exact!) I decided to keep it on the list.
The shade range is incredibly diverse, too.
Neutrals, brights, neons, and warms are all properly represented.
There are separate download links and files for the hair, hair tie (a bonus optional accessory), and scrunchie.
Browse:
Lists
The Sims 4
Video Games