Sims 4 Daybed CC & Mods (All Free To Download)
This post may contain affiliate links. If you buy something we may get a small commission at no extra cost to you. (Learn more).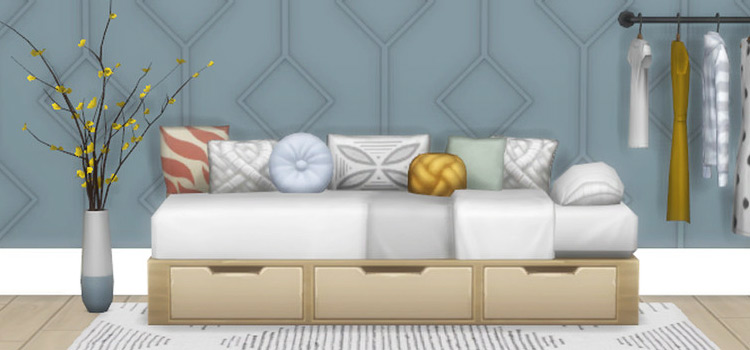 Daybeds are the chameleons of furniture.
They're the perfect combination of a couch and a bed. You can sit on them during the day and sleep in them during the night.
This is what makes them perfect for any of your Sims that are a bit tight on the budget. Or on the living space!
And even if they can afford a separate bed and couch, daybeds are super stylish and cool. Still worth considering.
Have I managed to convince you about the greatness of daybeds yet? If so, then let's dive into some custom daybed CC you can grab for your next build.
1.

Bedder Than A Couch Daybed Frames by Ravasheen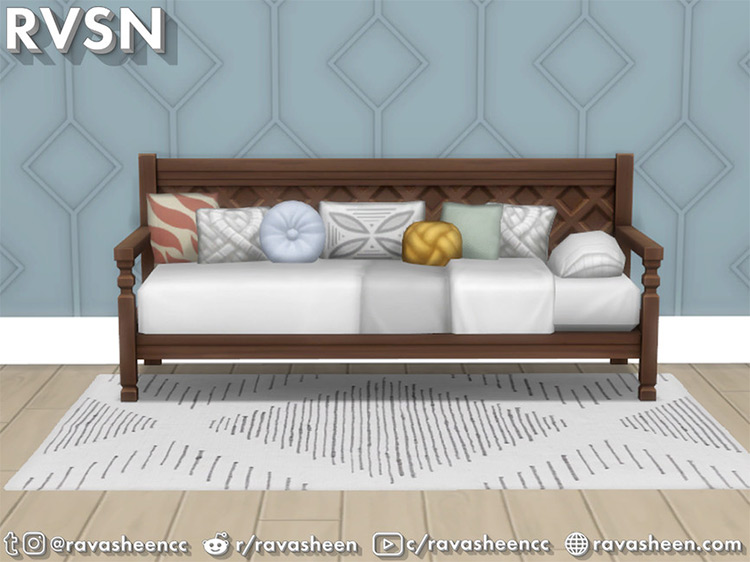 This daybed is amazing – almost like an optical illusion.
When you first look at it, you see a regular couch. But wait!
Now that I've mentioned it, I bet you can also see how it's a Sim bed, can't you?
You have seven unique designs to choose from with this set which makes it even better – or should I say bedder?
2.

Chez Moi Day Bed Conversion by pixeldreamworld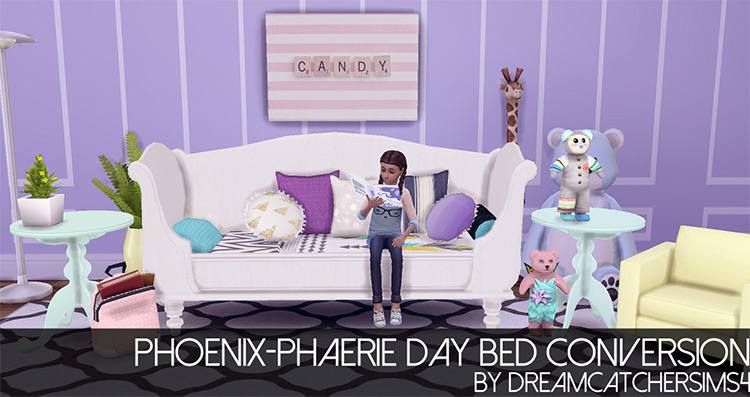 So I think this one is definitely among the more elegant & upmarket choices out there.
It would be a great addition to a classy living room. No one would notice that it's not a regular couch, but your friends would definitely appreciate the extra comfort when they ended up crashing on it.
This CC comes in 28 different colors, including some neutrals, pastels and even a couple of bright colors.
3.

Teen Edition Daybed by SIMcredible!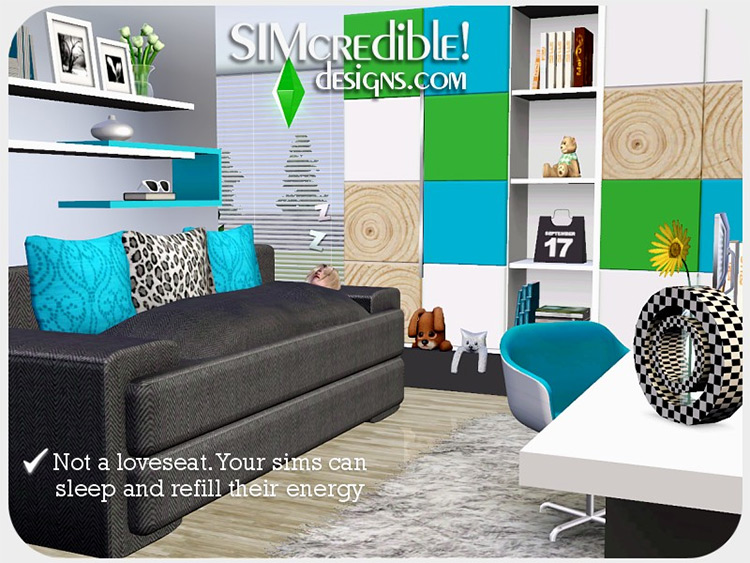 If you're into daybeds but you're really not into the whole "hybrid" look, try this on for size.
At a glance you'd never guess this could function as a bed too. Not in a million years!
After all, it looks more like a slightly uncomfortable sofa – not like a comfy bed… But appearances can be deceiving.
The cushions on this one are a particular standout – I absolutely love the blue ones, and I adore the lavender ones even more.
4.

Potterybarn Home Office by ShinoKCR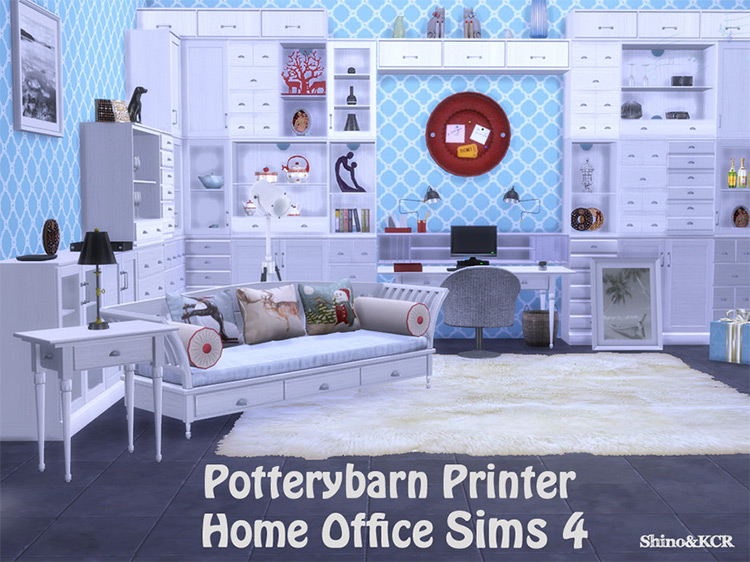 We all remember that one episode of Friends when they get obsessed with Pottery Barn furniture.
And for a good reason! Pottery Barn is great. I mean, look at this CC set. Isn't it gorgeous?
This home office set comes with 16 items, including a stunning daybed.
Not that we want to encourage our Sims to sleep in the office and work overnight, but it does happen sometimes. This way, at least they'll get a good night's sleep and avoid back pain the next day.
5.

Shabby Chic Dining Daybed by ShinoKCR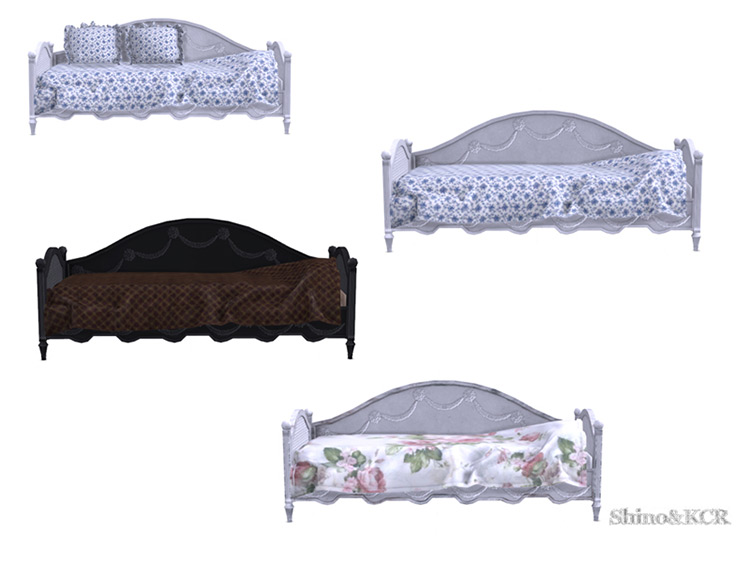 Shabby chic is one of the most cozy and comforting styles out there.
Who doesn't like slightly worn-out looking furniture? You know, worn-out in a fashionable, cool way.
I can just see this daybed in a cute cottage near the forest.
Your Sims could put on some music, switch the fireplace on, and cuddle on this daybed.
Don't tell me that doesn't sound like a dream to you!
6.

Cologne Bathroom Daybed by ShinoKCR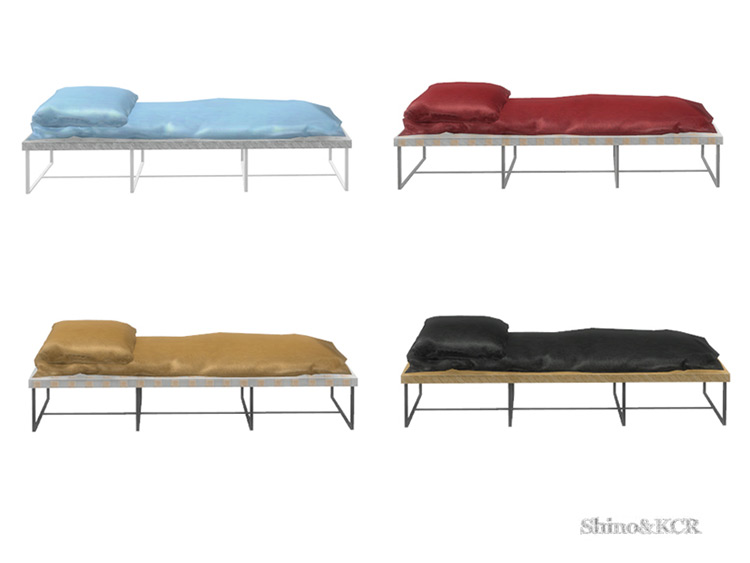 Sometimes, you don't want your daybed to be all vintage and fluffy.
Sometimes, you just want a cool metal frame and some leather.
Well if this is the case, here you are. I found exactly what you're looking for.
You're welcome.
And best of all, this daybed belongs to a whole CC set too: a bathroom set!
So if you want to get some matching furniture then you can get the full set here.
Browse:
Lists
The Sims 4
Video Games