Best Earrings CC & Mods For The Sims 4 (All Free To Download)
This post may contain affiliate links. If you buy something we may get a small commission at no extra cost to you. (Learn more).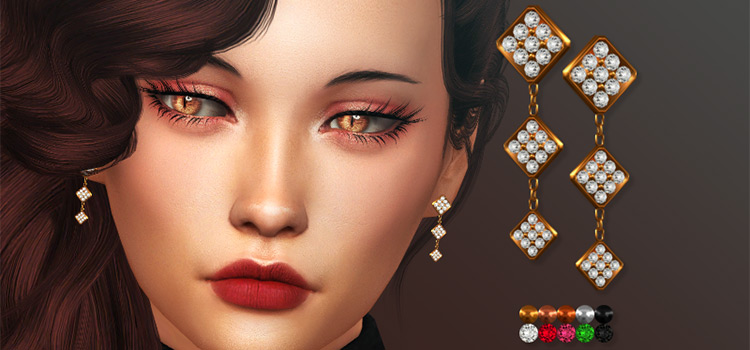 Earrings are the most versatile accessories ever.
From a simple stud to apple-sized hoops, the ears carry the weight of completing the overall look. And because Sims start as blank slates, essentially, earrings can do wonders.
Searching for Custom Content earrings can be fun, but time-consuming, and I know you would rather play God than sift through hundreds of options.
Resource sites can also be pretty overwhelming, and I wouldn't want you to play empty-handed after a relentless search.
Narrowing down the best earrings out of the massive collection online wasn't easy. But here we are! The best earring CC to hang onto for the best and worst outfits you'll ever try on.
20.

Squaretacular Earrings
The plumbob of the Sims series is a gaming icon.
The symbol is synonymous with the game that made even Elon Musk believe that human beings are part of a simulation, built by god-like AIs.
What better way to honor this symbol than wearing it as an everyday accessory?
The Squaretecular Earrings are simple enough to be worn for any occasion.
This pair of dangles are base-game compatible with a style that won't overshadow your Sim's facial features.
If you love the game as much as you claim, then you've found the perfect pair.
19.

Freckled Honey Earrings
The Freckled Honey is a 5-star shop on Etsy that utilizes polymer clay to create handmade earrings.
CC creator Ridgeport then converted three items from the shop – Charlotte Dangles, Linen Studs, and Good Things Ahead Arches – into TS4-compatible accessories.
They look as stunning as their real-life counterpart.
The recoloring made by Simminginchi is the final icing on the cake.
Wearing rainbows might sound ridiculous, but this CC made it possible and too adorable to not try it out.
18.

Fan Earrings
If you have the Island Living expansion pack, then this CC might be familiar to you.
Sure, it's only a smaller version of the original Fan Earrings.
But the downgraded size made all the difference to make it adaptable for casual wear.
It's definitely a cute piece for the tropics, but it can look better with styles beyond the beach look.
17.

Nia Earrings
Plumbobs sure did inspire a lot of CC creators. These upgraded Squaretacular Earrings boast a longer length and two more hanging plumbob-shaped details.
The piece looks heavy, sure. But thankfully, Sims don't have to worry about saggy earlobes.
Long dangle earrings work best for Sims with long necks, small faces, and a triangular facial structure.
If your Sim has none of those, I wouldn't blame you for attempting to try it on – it's a gorgeous accessory that's worth the effort.
16.

Neva Earrings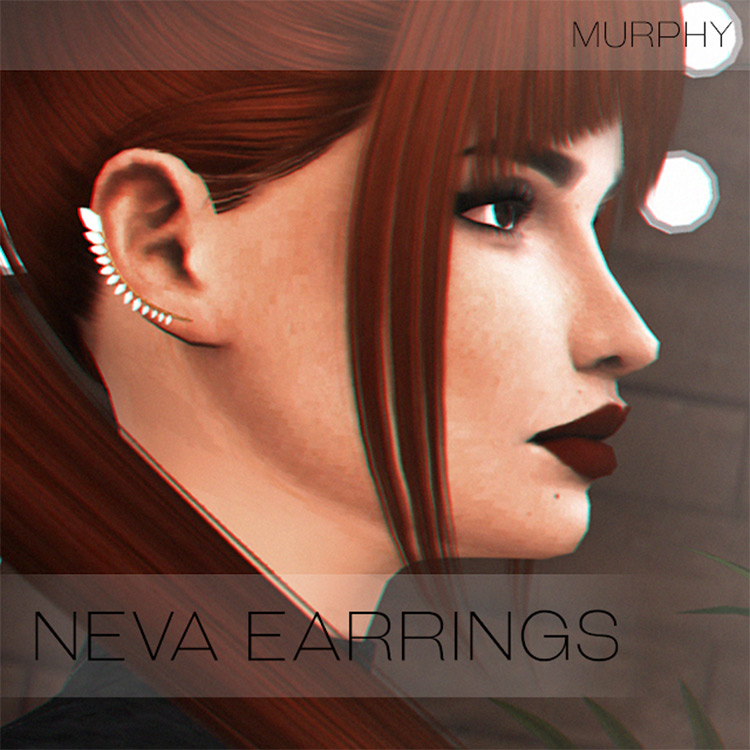 This list will test your knowledge of how much you know about different types of earrings.
If you don't know what this is, then let me educate you on the beauty of crawler earrings.
This chic trend decorates the exterior shell of the ear.
In this case, the Neva Earrings create a trail towards the top of the ear, displaying a wing-like detail.
This free CC has 32 colors to choose from, more than enough variations to make you look fly (no pun intended).
15.

Solar Earrings
Earring concepts have always been involved with celestial objects, and this pair of Solar Earrings is one of the best I've seen that doesn't involve stars.
These dangly beauties are one-of-a-kind.
Because each earring is usually made to be an exact copy of one another, it's easy to see the appeal of this CC.
And even though each piece shows off a different design, it doesn't look awkward (unless it used Saturn or Uranus as a basis).
There's also the convenience of choosing the size too. Because hey, some people like it small, some like it big. No judgment!
14.

Round Rattan Earrings
Personally, I'm not a fan of large dangle earrings.
But these Round Rattan Earrings make me want to work my Sim into overdrive to achieve the Beach Life aspiration and skinny dip in a jacuzzi wearing nothing but these beauties.
When you're out getting coconuts, sunburns, and enjoying Kava Parties, remember to hang a pair; you wouldn't want to waste the opportunity to look hotter than the sun!
13.

Sutton
Everyone has those enormous hoop earrings big enough for a frog to leap into. And your Sim will not be an exception.
Streamlined hoops are the most essential types of earrings to keep around – and this Sutton pair is enough to make a daily fashion statement.
Even though the size is similar to a baby's head, Sutton's simple metallic design offsets the scale to provide a subtle style.
If you're down for your Sim to exude some big hoop energy, Sutton is your CC of choice.
12.

Bare Hoop Earrings
As Jennifer Lopez once preached, "Women should never go without earrings."
If J. Lo so wills it, then it shall be done.
Bare Hoop Earrings are made to be worn forever.
These can literally match any outfit your Sim wears, no matter the color or style. It's small enough to not disrupt the overall look, but simple enough accentuate it.
And these earrings are sophisticated even without the gemstones and jewels.
I could list probably ten more reasons why this basic piece deserves a space in your computer's memory, but I'm confident you'll give it a shot.
Why? Because J. Lo said so, that's why.
11.

Earring 01
Who would've thought that the Deathly Hallows would make such fine accessories?
Death Eaters would kill to have these earrings. But fortunately, there's a way that you can beat them to it.
This CC might not look as magical as you think. But what it can do is complement whatever form your Sim will take shape in.
From casual stretches to formal stints, these dangle earrings can provide an enchanting boost in appearance for every Sim.
10.

Vignette Crystal Earrings
Unlike Elsa, you don't have to go into the unknown and sing inside a cave to have a glamorous makeover.
These Vignette Crystal Earrings are a gem of a find, fit to adorn a Snow Queen with refined beauty.
If you have some queenly duties (like throwing a pretentious Charity Benefit Party) where you intend to shine brighter than your subjects, then a pair of diamond-encrusted earrings should distinguish you from lowly Sims.
Maybe even throw in a tiara for good measure.
9.

Clyde Earrings V2
Every Sim needs a trusty stud earring – the small kind, the simple kind.
The Clyde Earrings V2 CC is that one-and-done accessory to mark your signature look.
It's that kind of accessory that provides confidence and a sense of comfort, because you trust how it'll carry your look.
It might not be as flashy or sparkly as the other items in this list. But I believe it's a Sim's basic right to have a stylish stud.
8.

Peach Earrings
You don't have to jump through hoops to make a statement.
These are the earrings you didn't know your Sim needed until you saw it on this list(hopefully!)
With its concentric hoops and pearl stud, This CC flawlessly creates an elegant combination that can stand alone on its own.
7.

Heart Hoops
The heart shape is a staple design for any lady's accessory.
Almost every jewelry store I've seen has either heart-shaped bracelet charms, or heart-shaped lockets. Quite frankly, I'm sick of it… but these threader hoops take the design & lovesick shape a step in the right direction.
Threader earrings are designed to loop through the lobes, making it possible to maintain the shape without looking like a metal heart was glue-gunned on your ear.
As sick as I am with love-shaped things, this CC won my heart.
6.

Luxury Earrings
Every once in a while we want to treat our Sims like royalty.
Heck, we can even create a royal family and throw balls just like how it was back in the day.
We can create any scenario to shine the spotlight on our Sim, cause she deserves it.
The only challenge is making them look worthy of the attention.
How you do that is fairly easy: snap-on these Luxury Earrings, studded with diamonds, to not look like a princess born out of wedlock.
5.

Hoops & Leaves V3
This CC has two more versions which are great in their own way, but when deciding which one was the best, it had to be the simplest of the three.
When it comes to the design of the accessory, it's by no means special.
But the package as a whole is unique. It consists of one hoop and a small, leaf dangle.
Kudos to Nords for creating a wonderful CC that I would love to get for myself in real life!
4.

Metal Shine Earrings
Heavyset earrings, in my opinion, take too much attention and cause more lobe damage than any other thing on the planet.
I also believe that no accessory should be as scandalous as the wearer.
What this CC does right is accentuate the features of a Sim's face. Nothing more, nothing less.
The minimalist approach is truly becoming the style of the generation.
And it's just fitting that your Sim reflects what's currently trendy – starting with these stunning Metal Shine Earrings that would complete virtually any outfit you have in the closet for your Sim.
3.

Diana Earrings
As someone who has three piercings on both earlobes (because I always chicken out of having my helix pierced), I very much appreciate the design of these Diana Earrings.
They're simply too exquisite and finely-crafted for a CC that it actually took me a moment to verify if this was real or not.
Now it's worth noting, this is a Sims 4 exclusive. And our TS4 Sims have once again lucked out on having the best accessories that we'd want for ourselves.
2.

North Star Earrings
Yes, I know, I'm obsessed with double piercing accessories.
And I'm proud to say that this pair of North Star Earrings is the best of its kind.
It doesn't need diamonds or rubies or any other gem to shine.
It's got a star of its own to dazzle in the simplest of styles. If you're looking for that extra twinkle to your Sim's otherwise lackluster appearance, then put on a pair of these babies and glow up.
1.

Bahira Gold Star Earjacket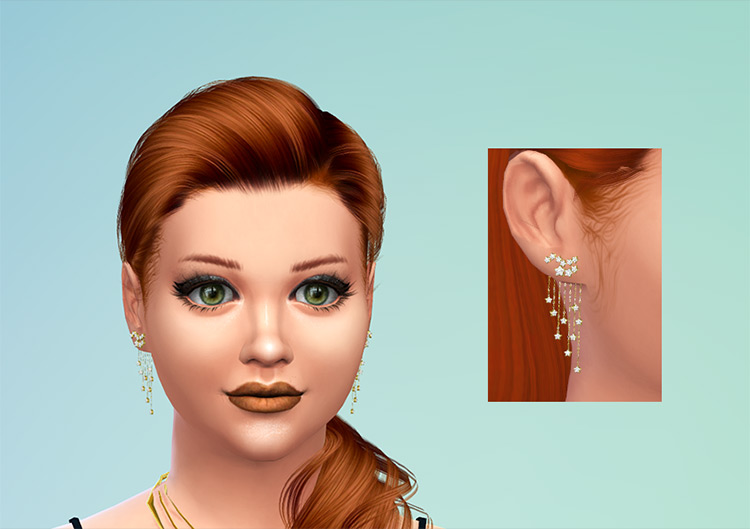 What if I told you that you could wear shooting stars?
You'll surely call BS. But earrings have always replicated the feeling of wearing stars (as seen in the previous entry), and with this Bahira Gold Star Earjacket, it's as close as you can get to becoming a natural phenomenon.
If you find this CC stunning, then you'll be happy to know that this jacket actually exists and can be bought in real-life. You know, in case you want to go matchy-matchy with your Sim.
And although the design is not original, your Sim will surely appear radiant beyond the night sky.
Browse:
Lists
The Sims 4
Video Games