The Sims 4: Best Shabby Chic Décor CC For Your Home
This post may contain affiliate links. If you buy something we may get a small commission at no extra cost to you. (Learn more).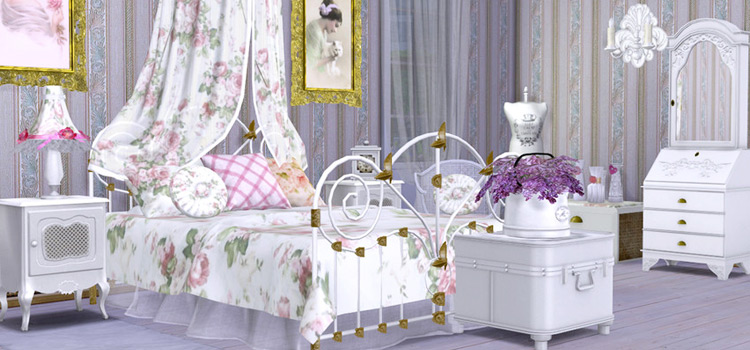 It's something that has been said a million times, but I'm gonna have to make it a million and one:
I miss the color wheel from The Sims 3.
There are lots of lovely items in The Sims 4. But without that precious wheel, we have no choice but to reuse the same swatches over and over.
That can really be frustrating if you have a different style than what's offered. Even the coolest shaped lamp won't make the cut if it doesn't have the right color you're looking for while furnishing your Sim's home.
If you do have tastes that the game's modern furnishings and decor don't satisfy, then I'm sure you've already delved into CC.
But you may not know just how beautiful shabby chic things are – the term really doesn't do it justice!
This style is composed of slightly battered appearances, a vintage flair, and quite often, florals. Which means it's an awesome way to switch things up when it comes to decorating and furnishing in-game.
1.

Shabby Bargain Bedroom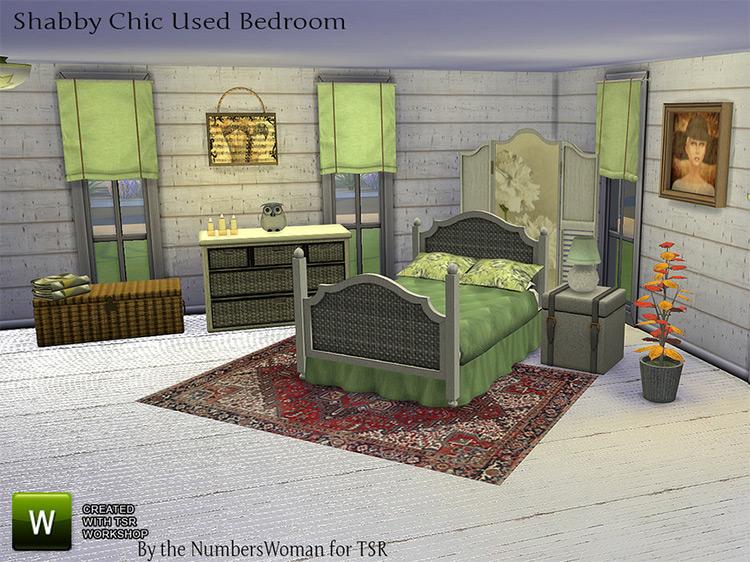 There might be nothing better than finding whole CC sets dedicated to a certain style.
This bedroom collection is full of items that have that 'thrifted' look, which I know is huge in real life right now.
For many people, myself included, buying used items is more enjoyable than buying them brand new.
Second-hand furniture comes with its own history. And personally I like that it's already a little worn.
You don't have to worry about scratching or damaging something that already looks like it's been kicked down the stairs a few times.
It may seem like I'm knocking this style, but I'm actually not at all.
I think it creates a cozy atmosphere. And that's something every house could use, whether it's in Willow Creek or the real world.
This bedroom CC set comes with plenty of wicker items in a nice brown swatch, as well as several with extra swatches like a lovely lime green.
2.

Shabby Chic Bathroom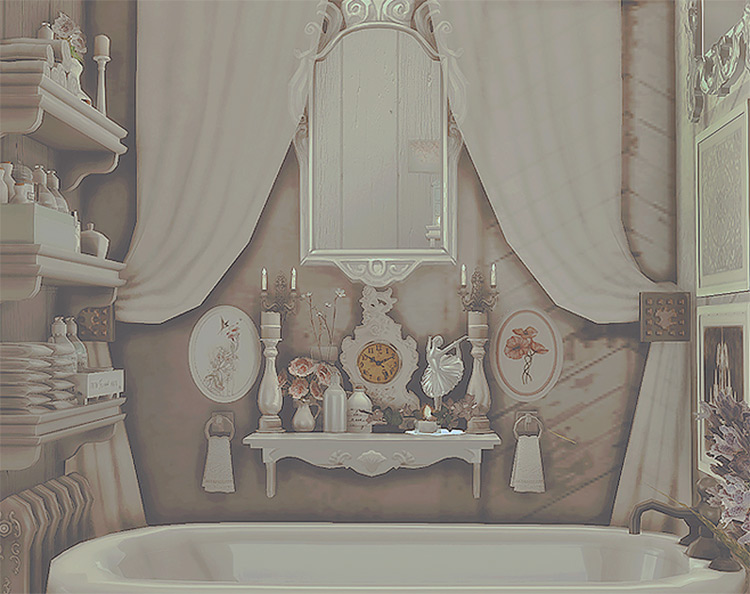 When it comes to decor, the bathroom is often the most forgotten room of the house.
You can pretty much get away with having nothing in there besides towels and toilet paper… and working plumbing, of course.
But a nicely decorated bathroom can make all of the difference in the world for residents and guests alike.
No space has ever suffered from looking too good, right?
These items will definitely go a long way in making your Sim's bathroom an aesthetically pleasing space. There are several different types of flowers in fittingly small pots you can place, as well as some beautiful new wall hangings, towels, and toiletries, amongst other things.
All items are shades of white or cream with splashes of pinks or purples thrown in – that's basically the official bathroom palette.
3.

Shabby Chic Living Room Set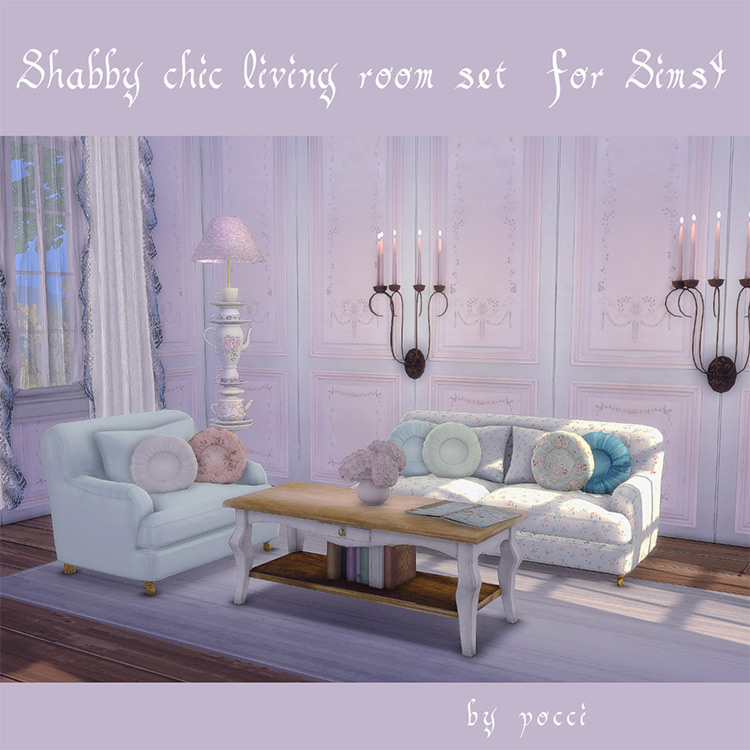 If I had to use just one word to describe all things shabby chic, I would use "pleasant".
That's really the best summarization.
Soothing colors and patterns, an inexplicable familiarity, and overall comforting… that's shabby chic, and that's this living room set.
The loveseat and chair included here look great, and come in ten matching swatches. They include pastels and florals, as well as a few others – dark blue, purple, and black.
I think those will add a modern touch to any old-style furniture, as though your Sims reupholstered.
There are also some decorative pillows you can place as you please, and a wooden coffee table.
4.

Shabby Style Kitchen Clutter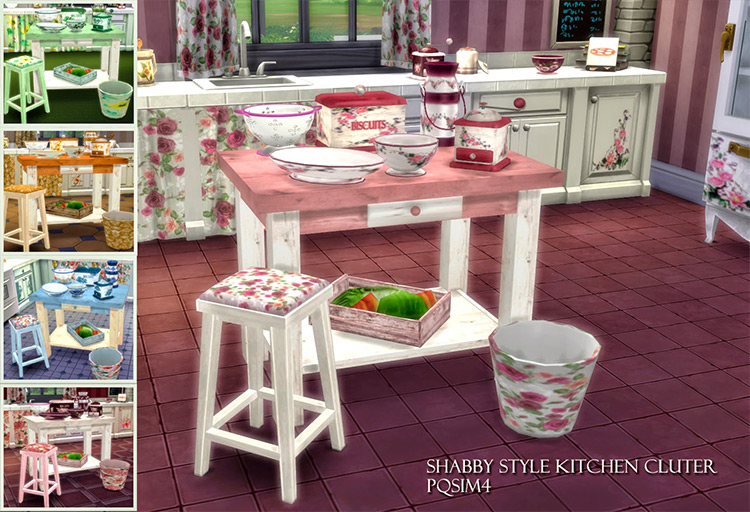 As you may have noticed, floral patterns are like the backbone of shabby chic.
And I'm definitely not complaining.
This CC creator incorporated that very style onto several items for your Sim's kitchen, including buckets, stools, tables, dishes, and containers.
They all are available in many different colors, too. From country blues to very '60s brown/orange, as well as beautiful pink or green, these things will be an instant upgrade to any kitchen.
5.

Shabby Chic Stuff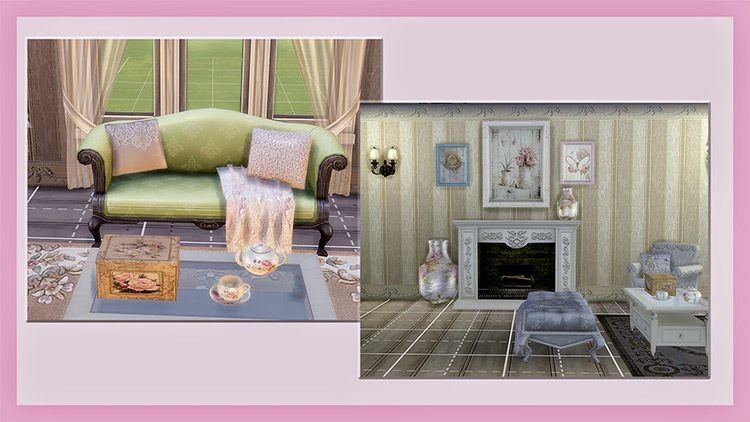 Here's some more custom items that'll be great for your Sim's living room.
This CC set not only includes furniture, but pictures and rugs as well.
First let's talk about the decor, since that's probably my favorite part.
There are a few 'shabby' paintings that are honestly really pretty, and then some heart-shaped wall hangings with flowers and birds.
The recolors for couches and chairs are brilliant as well, featuring all the styles that just feel 'right' for shabby chic. Plaid, flowers, and other patterns abound.
There are even some wallpapers here to really spread this look throughout the entire room.
6.

Shabby Chic Dining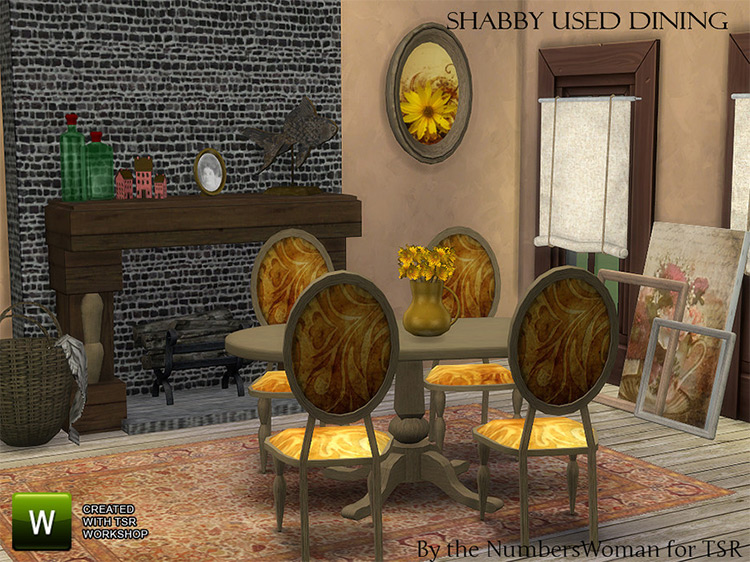 Well, we've covered basically every other room of the house. So we're definitely due for a dining set!
From the same creator as the Shabby Bargain Bedroom Set above, comes this wonderfully shabby CC dining room set.
The chairs feature basic designs or pastels, and you can match the wood to the table (it's oval shaped).
I know plenty of people don't care about the shape of their table, but sometimes I get tired of corners, ya know?
7.

Pandora Toybox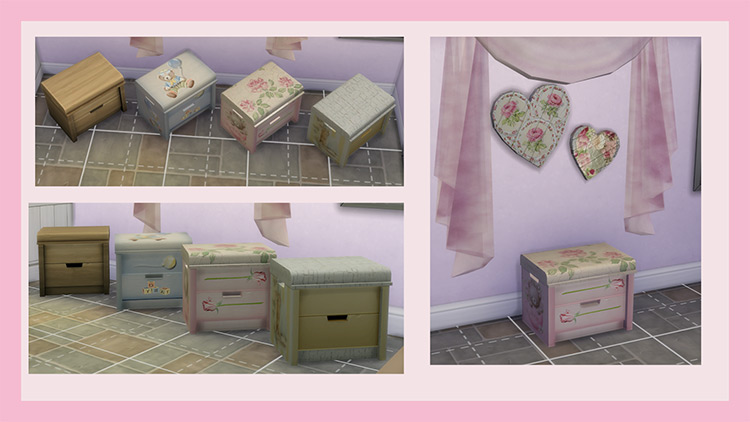 If you're gonna go shabby chic, you've got to commit.
As in, why would you want to have beautiful CC-filled living and bedrooms while your children's rooms look the same?
It just won't jive, and we can't have that.
And this recolor is almost too cute for words.
It features bears and bunnies, and of course, pastel colors.
There's also a solid wood swatch with no animals, but come on… that bear's wearing a bucket hat!
8.

Shabby Chic Rustic Bookcase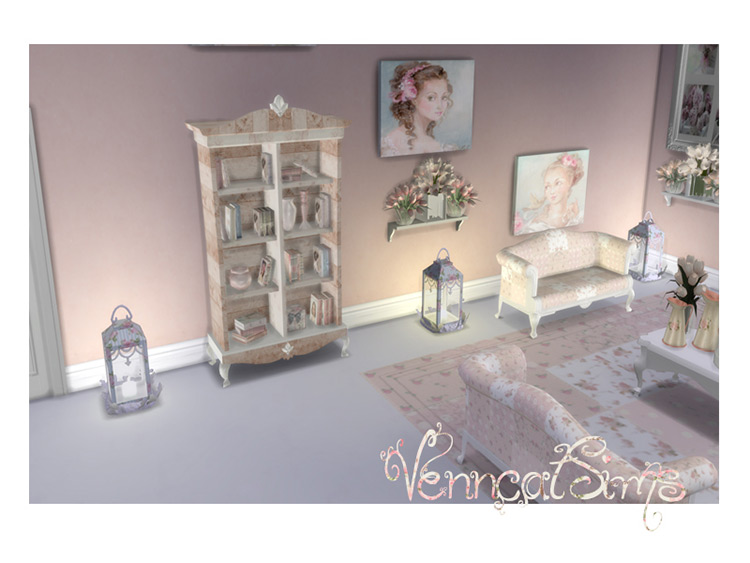 I've noticed many creators saying the same thing with the shabby chic style:
We want items that look like they were acquired at a garage sale, thrift store, or flea market.
Well, bookcases have to be one of the most common items bought that way. They're usually pretty sturdy, and as such, will last generations.
And why shouldn't they?
I'd be hard pressed to find a bookcase I'd actually consider ugly… there just aren't many ways to mess them up.
But to find one truly beautiful could be difficult… unless you turn to Venncat.
This creator has made a bookcase that really is gorgeous. And with so many swatches, this will add an air of elegance to any bedroom, living room, or home office.
9.

Single Pipe Sink with Curtain
Want something out of sight? Toss a curtain over it.
That's the first rule of shabby chic, I think.
The sink that came with Parenthood is one of my favorite sinks in the whole game. But as we've already covered, you're limited to just a few swatches,
Fortunately, this creator has fixed that. There are now 12 swatches in total, any of which will work for a shabby kitchen. There are plaids, stripes, and of course… dare I say it… flowers.
Man, this could almost be a drinking game at this point.
I wish there were more synonyms for the word 'flowers', because as many times as I've said it, there are no two swatches alike on this list!
All of the floral patterns here are a little less vintage than most of the others, offering a perfect middle ground between "I picked this up from the estate sale of a 90 year old woman" and "it's brand new."
10.

Shabby Chic Bedroom Collection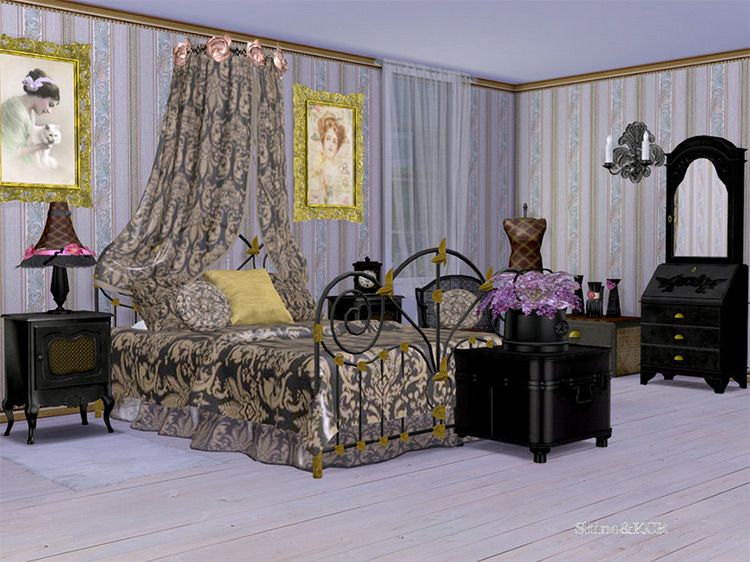 When it comes to bedroom CC, it'll be hard to find any prettier than this.
The bed has a canopy, ornate frames, and gorgeous bedding complete with a sheer skirt.
Plus there are swatches of both black and white, with busy patterns.
Also included are some tables, dressers, trunks, and many decorative items like mannequins and clocks.
Everything goes together very nicely, creating a perfectly furnished & cohesive space.
You can truly match everything, including the lamp and trunk, or mix the swatches a bit to really maximize the 'shabby' part.
11.

Shabby Bargain Kids Stuff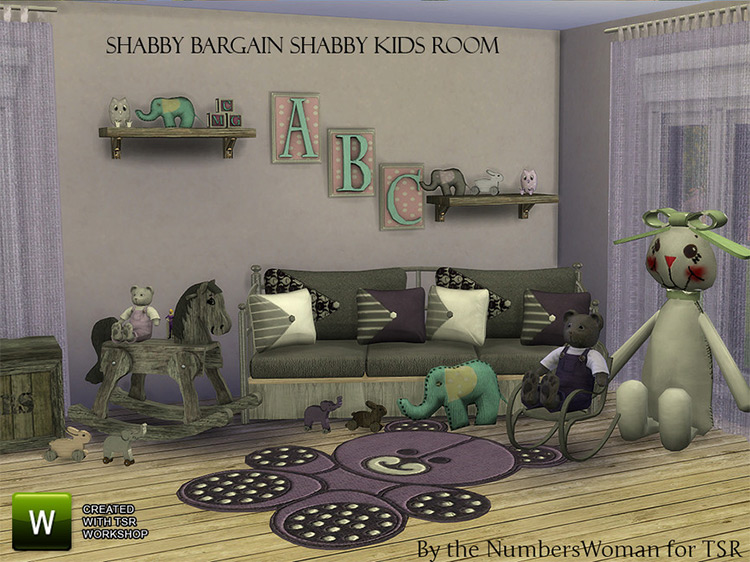 Kids' rooms are the perfect place to go full shabby chic.
I'm not saying children aren't deserving of new items. But there's a reason many of us start out in life with next to nothing that was ours first.
Knowing how kids are prone to damage or ruin things, just by being kids, a lot of parents will smartly opt for second-hand stuff.
And most of the time, kids don't complain. Or at least I didn't.
New stuff is new stuff, even if it's only new to me.
And this CC set really does look nice either way. It features several decorative stuffed animals in a rather old style, plus plenty of decor and even some furniture.
Kids can even play with the bunny in the CC preview!
12.

Shabby Chic Dining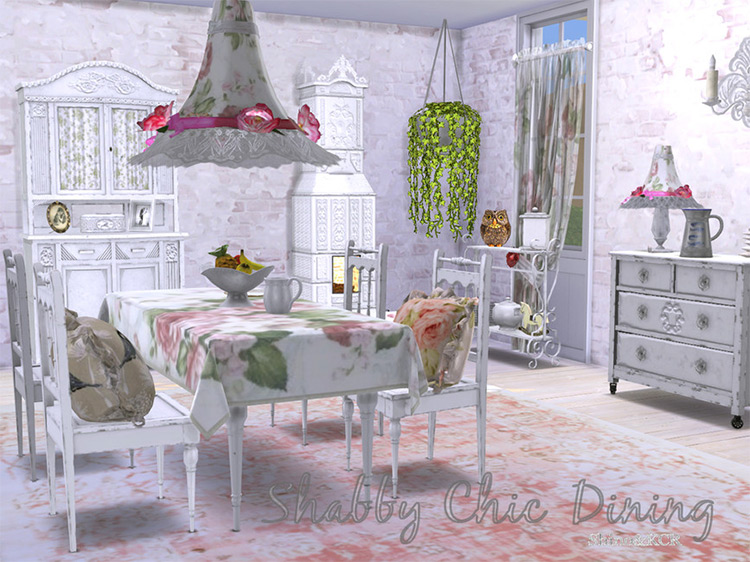 Here we have another dining set, in a very soothing color pattern.
Many of these items are white with a slightly battered appearance, and subtle patterns. My favorite part, however, is the table – it has a tablecloth!
I have no idea why this has always been left out of the game.
I mean, the buffet tables kind of have them, so why can't our dining tables?
They just make things look nicer.
And it's a little easier to clean up spills, right?
Aside from that, everything here matches without being too overwhelming. So this CC will make for a very nicely decorated dining room with little effort.
13.

Shabby Chic Living Rug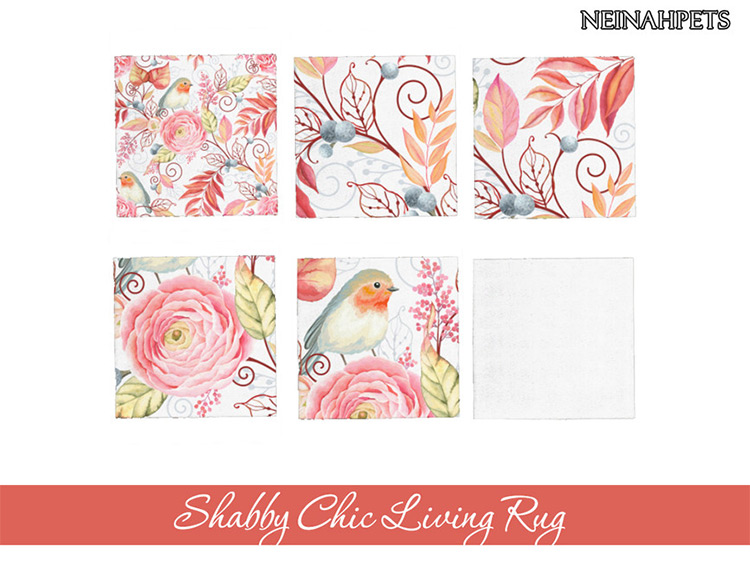 Rugs are one thing you can never have too many of.
In The Sims, at least.
In real life, you definitely can.
But you can't cycle through options and switch out decor quite as easily in real life, so it's nice to have plenty of options in our TS4 builds.
These square rugs are a great way to add a pop of color to any room, with a definite shabby chic theme.
There are swatches with leaves, flowers, and best of all, an adorable little birdie.
14.

Shabby Chic Living Room Stuff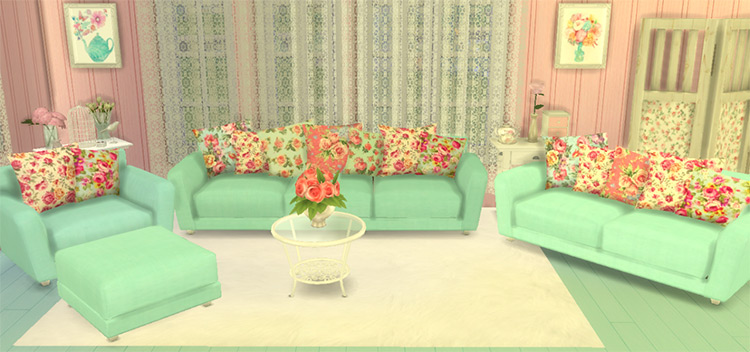 Colors really do shine in shabby chic decor and furniture.
There has hardly been anything darker than a pastel this entire list, and I kind of love it.
Bright swatches like these make any room more sunny and cheerful. Add in some floral throw pillows and you've really got it made.
This small set also comes with a plush rug, and it has a fantastic texture.
You'll definitely want to release the robot vacuum every night to keep it looking so soft and fluffy!
15.

Boho/Shabby Chic Paintings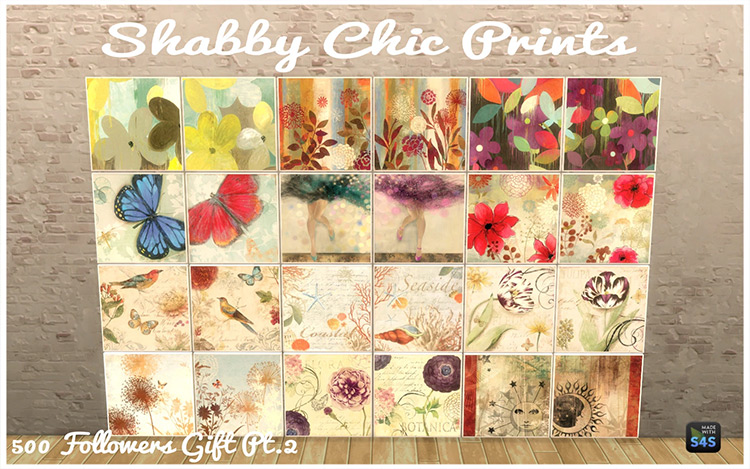 What good is all this furniture and decor if you only have newer paintings to hang on your walls?
With this CC pack, there are enough prints for you to decorate your Sim's whole house and still never get tired of them.
Most of them feature natural designs like birds and plants and butterflies, but there are small landscape paintings as well.
I think the rustic prints will fit right in with this style, too.
They contain cozy imagery of keys, boots, and buildings.
All the wall art here is available in different sizes and tons of swatches, so you can create aesthetically pleasing and artistic shabby spaces wherever you please.
Browse:
Lists
The Sims 4
Video Games