Sims 4 Dog CC: Dog Beds, Dog Houses & More
This post may contain affiliate links. If you buy something we may get a small commission at no extra cost to you. (Learn more).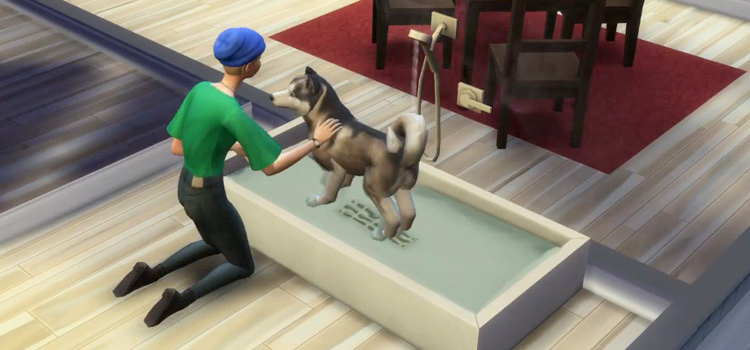 Here's one for all the puppers out there!
We all love The Sims for different reasons. But one of the main things I love about this game is just how realistic it can feel.
When the Cats & Dogs pack came out, it really added to the realism that I crave as a simmer. EA did a fantastic job including so many breed options and a fantastic CAS section for the pets, plus a wide variety of build/buy objects.
But CC only makes things better, right?
Whether you're after a collar or a pet bed, all of these items were made with love for all of those good boy dogs out there.
1.

Muttropolitan Dog Set by Ravasheen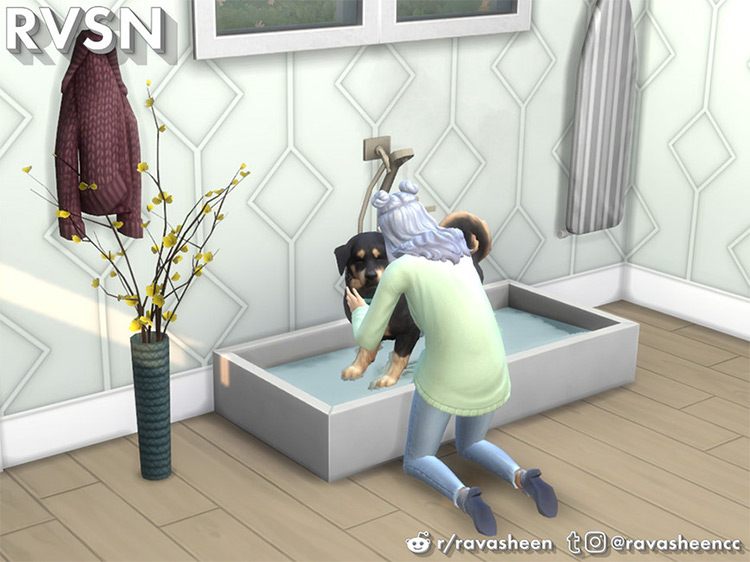 We've all been there, I'm sure.
Your Sims are just going about their day when their dog runs into the house covered in mud and acts like they've really done something great. Your Sim has to stop whatever they're doing to give the dog a bath, but wait….you only have a shower!
CC creator Ravasheen comes to the rescue with this fantastic set.
They've created a cute little dog washing station that's small enough to fit most houses. And along with the tub, they've also included a new bowl set, training objects, and even a cute little doggie door.
All the items in this set add so much to your game!
2.

Cabinet Pet Bed by Leo Sims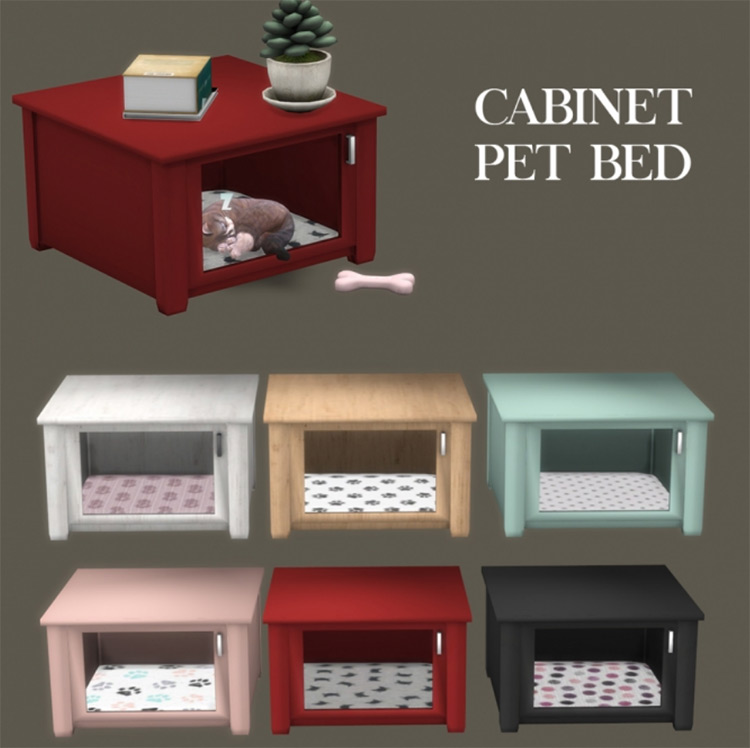 Oh, this one is just so cool!
I know that I have personally struggled to fit in pet items in some of my builds, either because of space issues, or a lack of Simoleons.
But this bed by Leo Sims could change all that.
It's a fully functioning pet bed that is built into an end table.
If you only have space for one or the other, well, now you don't have to choose.
It comes in six pretty swatches with various patterned beds, so the design options are almost endless.
3.

Dog Collar Clutter by BrazenLotus
If you're looking for some solid décor or clutter items for your pet friendly home, then look no further.
BrazenLotus has created an expanded set of clutter items from Cats & Dogs that includes two collars on hooks, and one black leash on a hook as well.
These would look so great by your front door, really bringing in that addition of realistic items into pet owner homes.
4.

Emoji Ball by Kliekie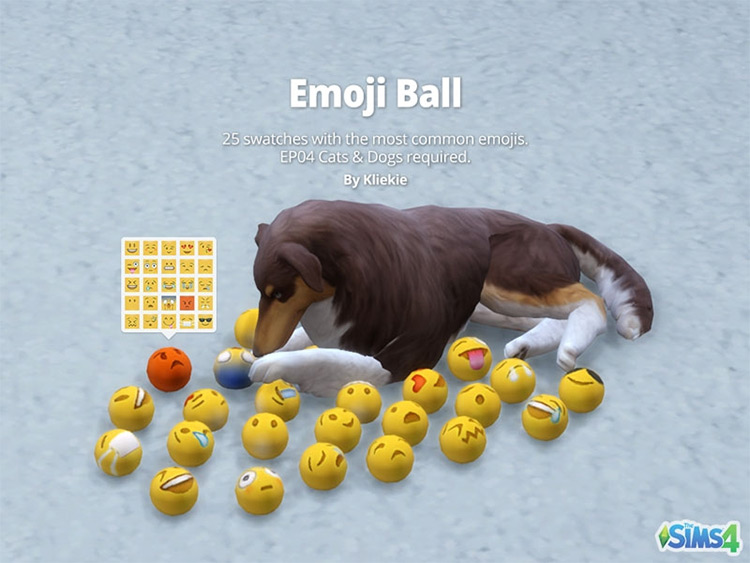 Okay, this is probably one of my favorite CCs so far.
Kliekie has created the cutest dog toys with emoji faces on them!
The ball comes in twenty-five swatches which have the most commonly used emojis, so your doggos can even express their feelings while you're playing fetch.
I mean really, cool is this set?
5.

Service Animal Accessories by Oakstar519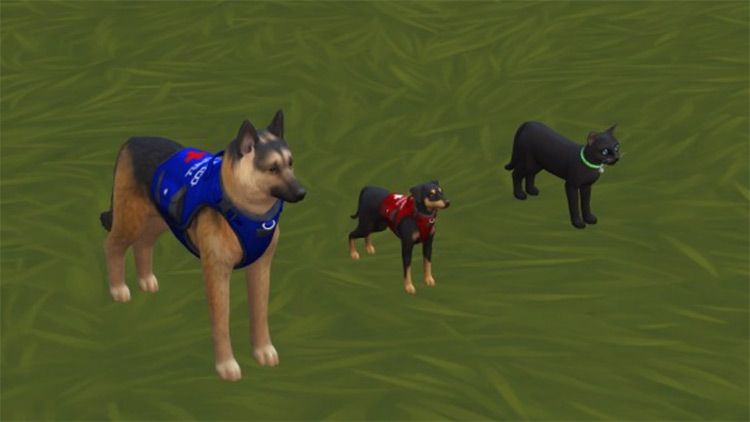 One of the many reasons why The Sims is (and always has been) my favorite game, is the level of inclusivity that it brings to the table.
EA has done a fantastic job already. But CC creators are always on a totally different level, and it never ceases to amaze me!
This accessory set by Oakstar519 gives your Sims the ability to have service animals, all with these adorable vests and collars.
And let me say, the attention to detail with something as simple as this is so perfect.
6.

Rainbow Collar by Blahberry_Pancake
Guys, I cannot with this collar. It's the perfect blend of soft and strong.
And all of your dogs are going to look great in them!
The swatches include four pride flag color patterns, and then ten other colors as well. And every one of the swatches are so cute!
The collar itself looks like black leather, and it's connected with a metal heart in the center. I can't get over how good it is.
7.

Fancy Pet House by Simtographics
I can't be the only one who always wanted a doghouse like this, right?
Simtographics has taken the architecture from Cats & Dogs and turned it into the most perfect doghouse for your game.
It functions as a pet bed, so it's completely functional and comes in three swatches.
Your dogs are going to be living the luxe life with this house, for sure.
8.

Small Dog Dress by Studio K-Creation
There are so many options out there for dog clothes in The Sims 4.
But this one really stood out to me.
There are two options in design here, but unfortunately, it only works on small breeds of dogs. Still, it's something!
And there's a ton of different swatches as well.
At a glance, there's a full dress option and then a skirt-only option. And they're all equally adorable.
Trust me, your smol doggies are going to love this one.
9.

Color Pet Food Bowl (+Simlish Names) by Pinofurude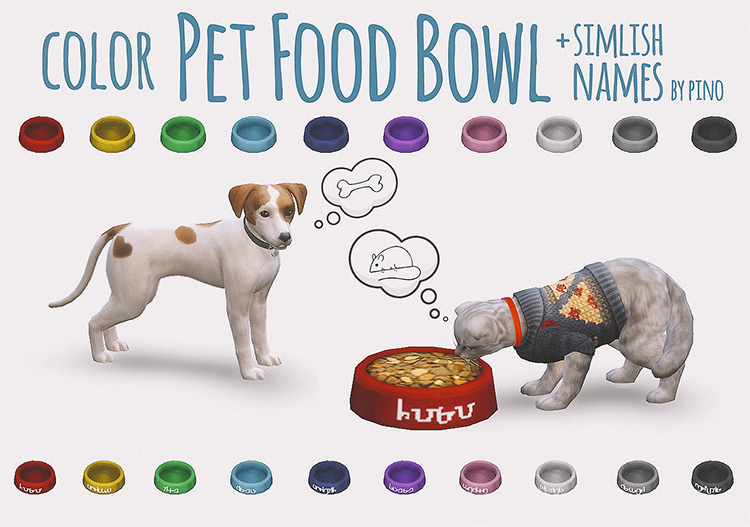 Now this simple food bowl might not seem all that special.
But the color swatches are what really brings it up a level, in my opinion.
The very bright and colorful bowls come in either a plain option, or an option with Simlish names written on them. And there's something about that small detail that I really appreciate.
Your precious pet can rest easy knowing that they're being represented in your house with their own personalized food bowl.
10.

Couronne De Fleurs by Nolan-Sims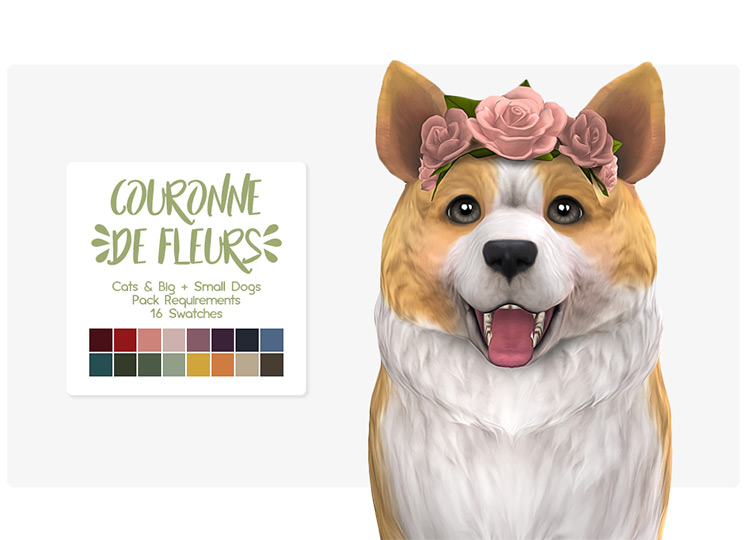 Did I save my favorite CC for last? Absolutely.
Nolan-Sims creates some of the best CC for The Sims 4. But this item for the dogs (and cats too!) is my favorite that they've ever made.
This crown of flowers is a total vibe for your pets, isn't it?
The crown works on both large and small pets, and comes in sixteen swatches in total.
This one could definitely be used for a formal outfit for your pooches, too. Could you imagine them wearing this in a wedding?
Or if you don't have anything too formal, this can fit an everyday look for your virtual four-legged best friends.
Browse:
Lists
The Sims 4
Video Games