The Sims 4: Best Fur Coats CC To Download
This post may contain affiliate links. If you buy something we may get a small commission at no extra cost to you. (Learn more).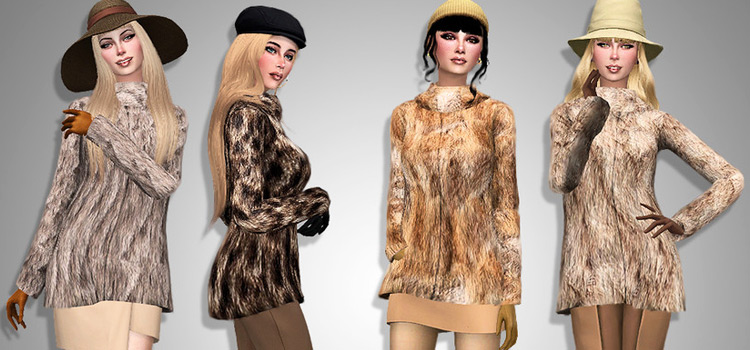 Fur coats have been synonymous with glamor and high-living for decades now, maybe even longer.
They create an expensive look (in more ways than one) and are sure to make the wearer feel more confident than ever.
These luxurious coats take many forms nowadays. From faux fur to real fur, short jackets to long coats that nearly touch the floor – there is definitely something out there for everyone.
Except Sims.
Because unless you get some CC, there are no fur coats for them!
Good thing plenty of Simmers have made them, right?
1.

Tall Fur Coats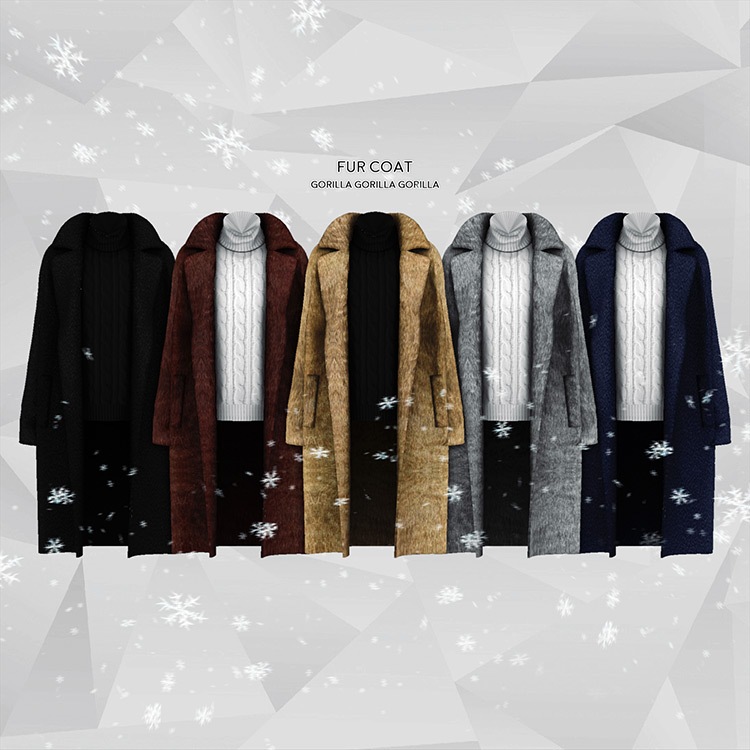 When I first saw these, I thought they were real.
They really look that good.
Texture is pretty important when it comes to some types of CC clothes, and fur is definitely of them.
This creator has done a great job of recreating that soft appearance on this coat.
It's a very long, dramatic style that will reach just past your Sim's knees.
There are few other 'high fashion' items in the game, but this qualifies for sure. Your guy Sims will be the talk of the town, and definitely look better than all of their neighbors.
2.

Faux Fur Coat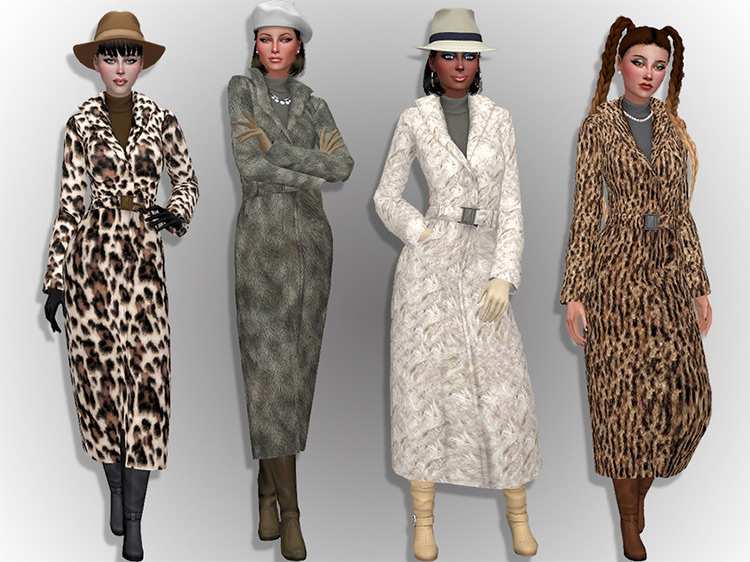 Here we have another long coat – even longer than the first.
This one drapes perfectly around your Sims, with cinching in all of the right places. The collar sits open, and it is paired with a lovely turtleneck sweater.
There are 8 swatches in total, and every one of them is beautiful.
The animal print patterns really pack an extra bold punch, but the simple white or gray options are nothing to overlook, either.
No matter which one you go with, it'll make your Sim a bit more elegant for sure.
3.

Coat Fur Trim Conversion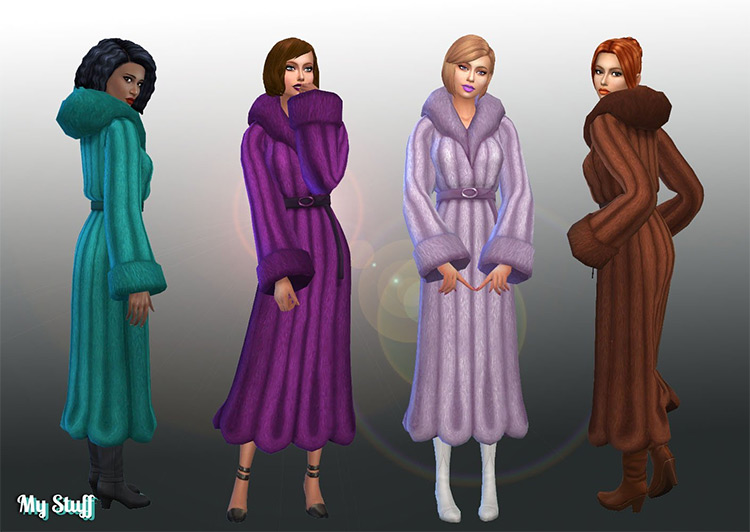 I'm not saying only snobs wear fur coats… but your Snob Sims need this.
Cruella de Vil wore fur for a reason, okay?! I mean, I don't know what that reason is, but it just fits.
What doesn't fit is that there's no coat like this already available in Nancy Landgraab's wardrobe.
Snobs aside, this is just all around a gorgeous conversion. You may recognize it from The Sims 2, but honestly it fits right into The Sims 4.
I can't believe something like this didn't come with Vintage Glamor Stuff, honestly, because that perfectly sums it up.
4.

Collared Faux Fur Jacket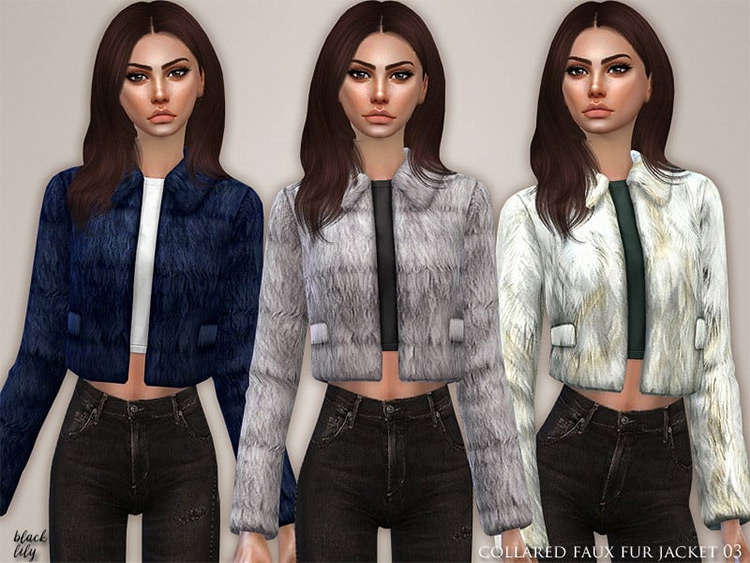 Everything we've seen so far has been pretty intense.
Big, bold, and beautiful.
But sometimes, a Sim just needs a little something fashionable. That's exactly what this jacket is.
It's a much smaller and shorter option, but still satisfyingly furry.
The length is even a little cropped, so be ready for your Sims to either show their midriff, or wear high waisted bottoms.
No matter what, these jackets will still bring a classy flair to any outfit.
5.

Let It Go Fur Coat Set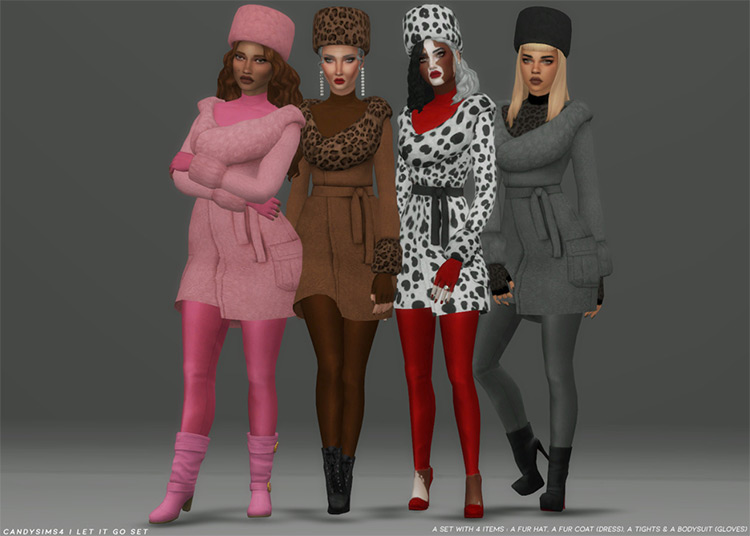 Now we're back to high fashion. Glitz, glam, and luxury!
This creator actually created a whole CC set to go with these awesome coats.
There are matching hats and tights available as well.
But the coats themselves are definitely the focus. They're a very classic style, with a dress-like shape and color coordinated accents. Several of the swatches are either animal print, or have animal print trim.
And with an astounding 33 swatches, you'll never run out of elegant coats to suit your Sim, that much is certain.
They're chic, gorgeous, and will be an amazing choice for everyday wear, as well as for cold weather.
6.

Male & Female Accessory Long Fur Jacket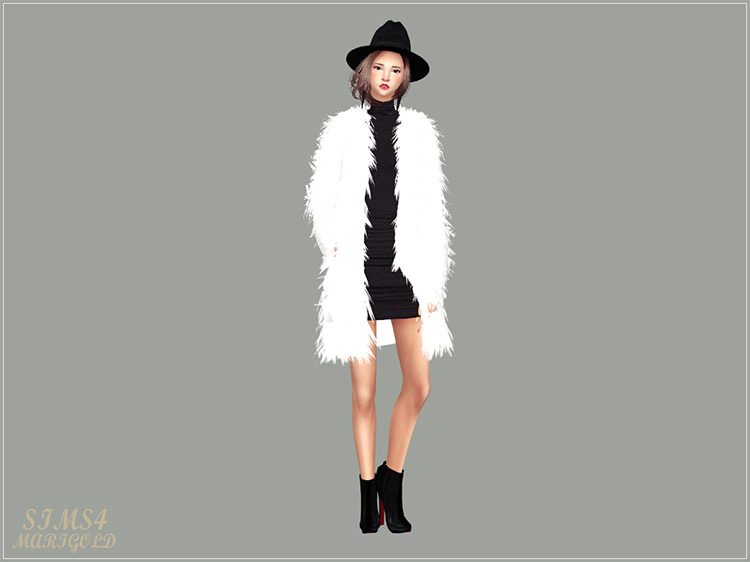 Accessories offer so much more freedom in CAS than you may realize.
They aren't just restricted to rings, necklaces, and the like when it comes to CC.
Many creators have made clothing items like vests or coats that are actually in an accessory category, so you can wear them with basically any top.
That's exactly the case with this beautiful fur jacket.
It's actually in the bracelet category, so it's totally up to you what your Sim wears with it.
And this might just be the fluffiest coat on this list – I wish I could touch it!
But best of all, this is another jacket available for both males and females. I never think of fur coats to have so many unisex options, but I'm very grateful that's the case.
Nothing says "power couple" quite like matching fur coats, right?
7.

Fur Coat for Males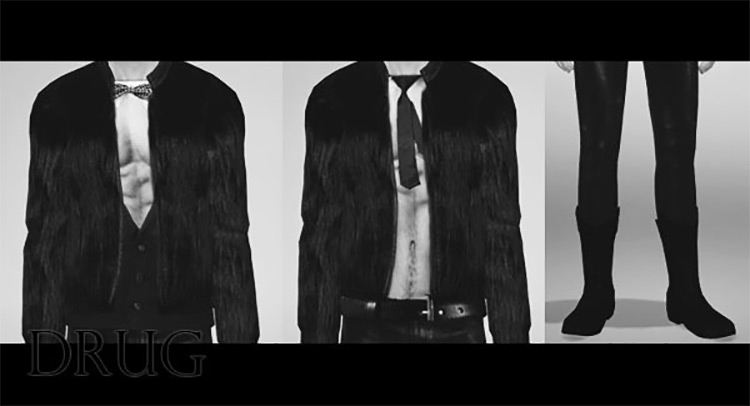 Here's another fur coat just for the guys, to keep them looking their fuzzy best.
Uh… that sounded really weird. Moving on.
Like so many others, this CC has a fantastic texture.
The level of detail is great, and there's no questioning that this is fur.
The black is a great choice. End even on the model Sim, it looks amazing.
The word "debonair" comes to mind.
8.

Women's Short Faux Fur Coat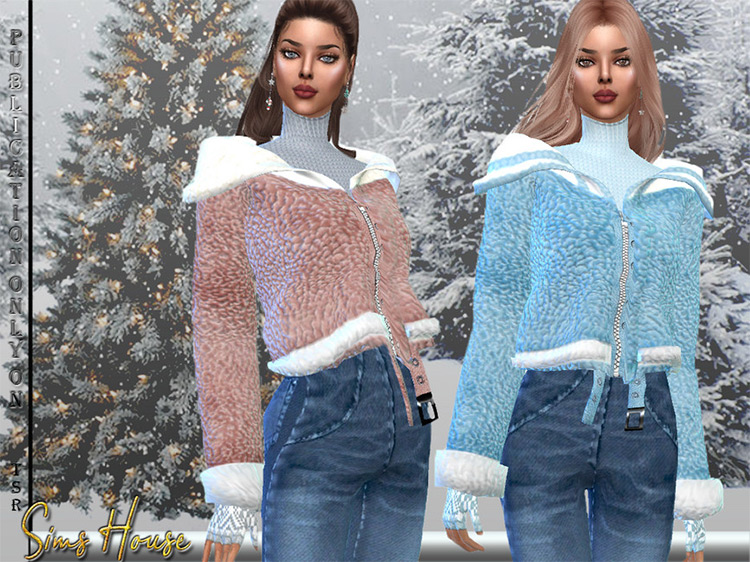 Fur is fur, right?
Whether it's faux or real, the end result usually looks pretty similar.
And nowadays, most people will agree faux is the way to go.
This short coat exemplifies why that is.
It has a fleece-like appearance and is tailored in all of the right places.
If you have Seasons, then you know winter wear can get a bit repetitive if you play a lot. Heck, some of it doesn't even look that warm.
When your Sims are in for a blizzard, you want them dressed for the weather, but in style.
Well, there's no question that's what we've got here.
CC maker Sims House has brought the best of both worlds together – fashion and function.
9.

Fur Coat BD141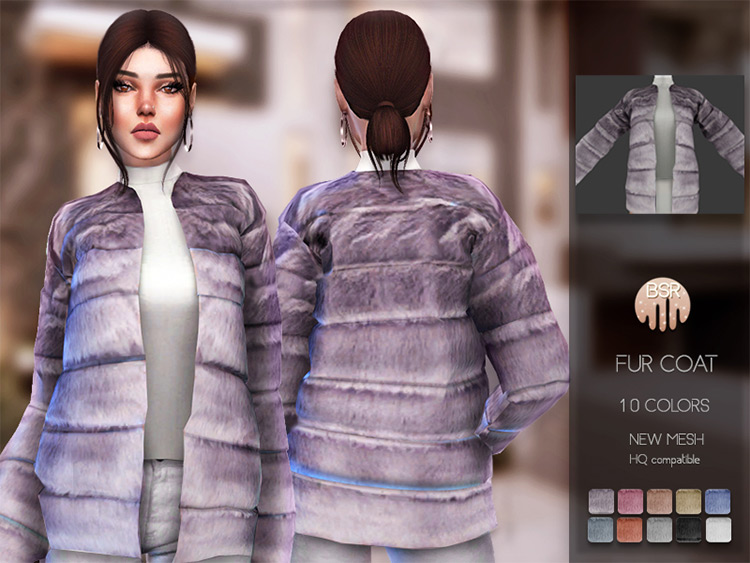 I'm not sure exactly when the style of puffer jacket took over the world, but it's safe to say it has.
People ranging in all ages, from toddlers to adults and even elders, like to rock this style.
There's just something especially comfy and modern about it.
So you know what multiplies those feelings by 10?
Fur!
Yes, this furry coat has the puffer design, complete with the textured ridges. That has to be the best combination since chocolate and peanut butter. Or The Sims and llamas.
10.

Faux Fur Jacket CC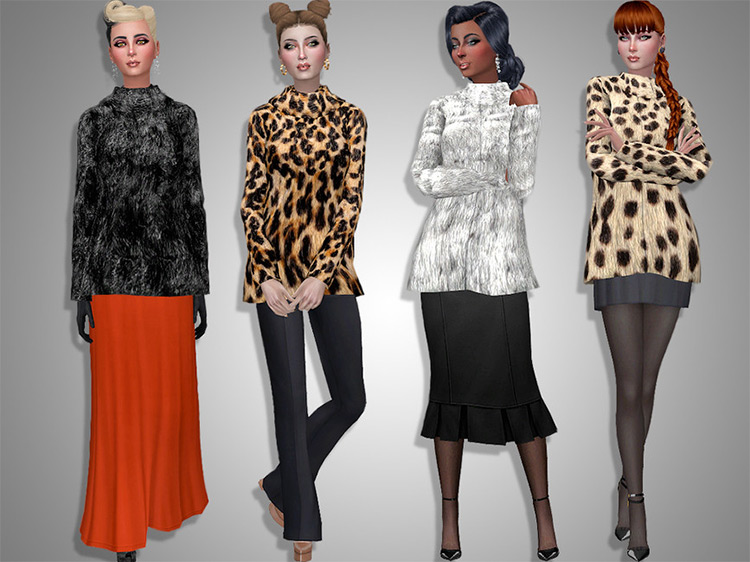 Wow, talk about quality – the details in these fur patterns are just crazy!
It really does look like an animal pelt, but no animals were harmed in the making of this CC.
Not only because this is The Sims, but also because the creator even specifies that it's faux.
The 8 available swatches are all very different from one another, featuring not only your classic animal prints like leopard, but each of the solid color furs just looks so… real.
One of them reminds me a lot of a lion, and I don't know if that's something people wear, but it sure looks cool.
These are wearable for all of the outfit categories you would expect – every, formal, party, and of course, cold weather.
Browse:
Lists
The Sims 4
Video Games