Sims 4 CC: Best Hair Bow Accessories (All Free To Download)
This post may contain affiliate links. If you buy something we may get a small commission at no extra cost to you. (Learn more).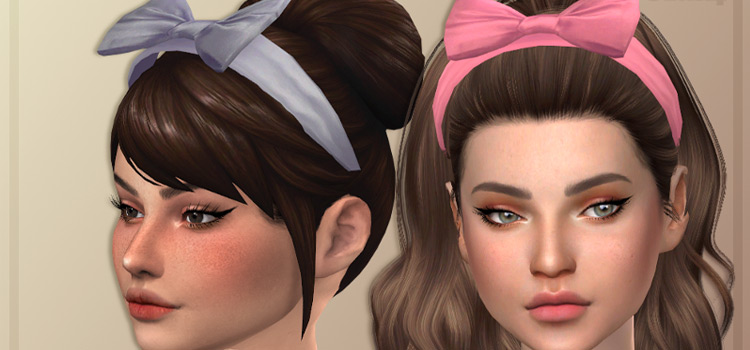 Accessories definitely make everything better. Over-accessorizing? No such word in our Simlish dictionary.
And no such thing in the Sims community, where heaps of awesome custom content is available at the click of your mouse. And hey, we don't ever have to think of wardrobe storage… so yes, we're definitely hoarding every cute thing we can get our hands on.
When we think about accessories, we immediately think of bracelets, necklaces, and earrings. What we usually forget is that our hair deserves some flair as well! Hair accessories can definitely amp up any hairstyle in an instant, and with the right one, your Sim will surely pop.
And what better way to stand out than donning a colorful bow? You could get one for any occasion–casual, formal, party, everyday wear, there's a lot of CC out there!
So I've listed the prettiest and most interesting hair bows CC for you and your Sim to gush over.
12.

Half-Back Accessory Bow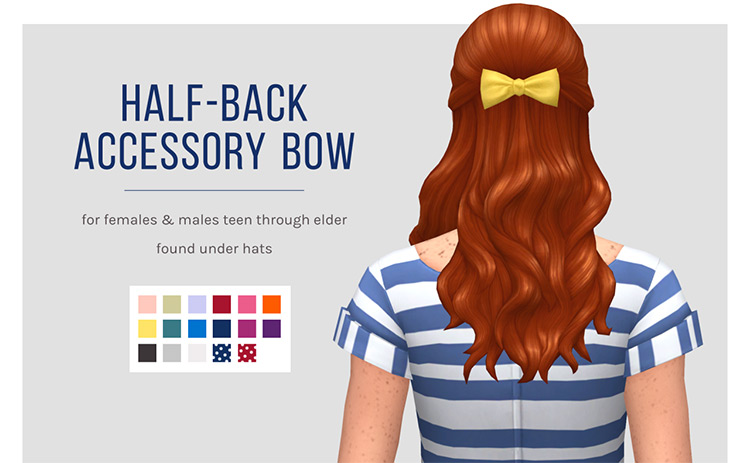 Let's start off the list with the basics.
This hair bow by Femmeonamissionsims is a simple yet sweet selection for your dainty Sim.
Perfect for a lazy afternoon stroll around Magnolia Promenade, or for a quick casual lunch out at the bistro with friends.
11.

Nightcrawler Sasha Bow
Spruce up that same old updo with MahoCreation's stylish leather bow.
This gives you a formal look while still retaining your fun and quirky side, so it's perfect for semi-formal parties and gigs.
You can wear this bow as you serenade the night away at San Myshuno's Stargazer Lounge, looking quite the star yourself.
10.

Yeyin Bow
What's better than one bow, you ask? Two bows, of course!
This pigtail duo is a cool twist to your average hairpiece.
I can just see that the red one would look extra cute paired with a red and green dress, maybe some stockings too. You know, for the winter holiday season.
All while your house is decked with Christmas ornaments. Ah, I can see it now, and you look great gurl!
9.

Accessory Bow Headband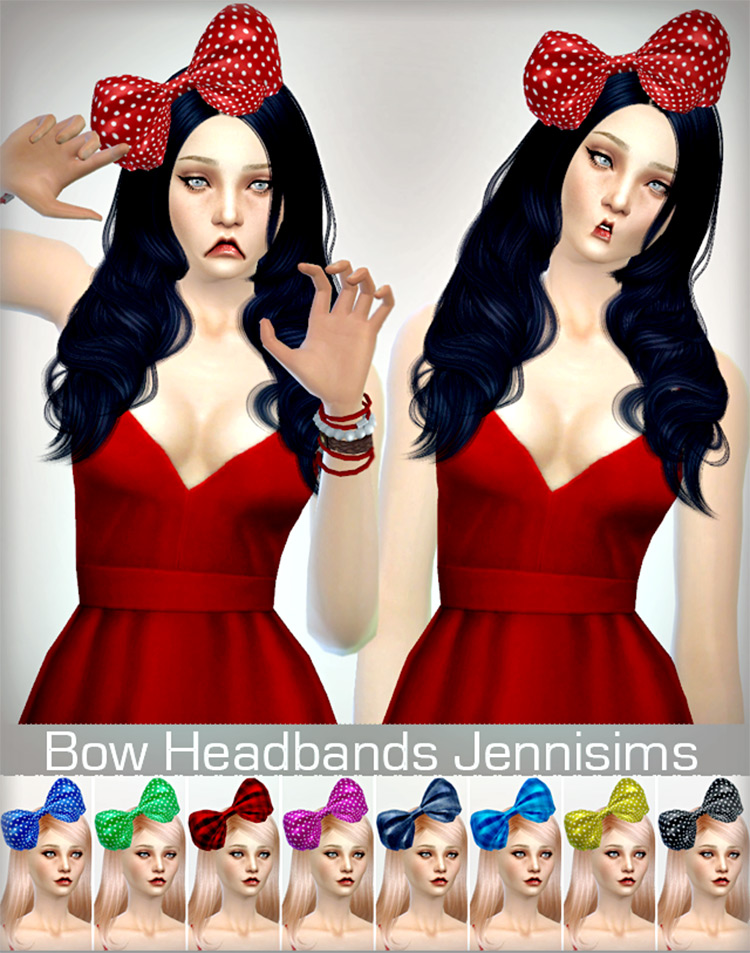 The. Perfect. Girly-girl bow.
Unleash your Sim's quirky side with this HUGE red polka dot bow CC by Jennisims.
Now that's show-stopping for sure.
This is a fun accessory to add if you want to join the excited spirit of festivals such as the Romance or Humor and Hijinks Festivals.
Or you know, just casually use it on your way to the movies. Who's to stop you?
8.

Korean Face Wash Headband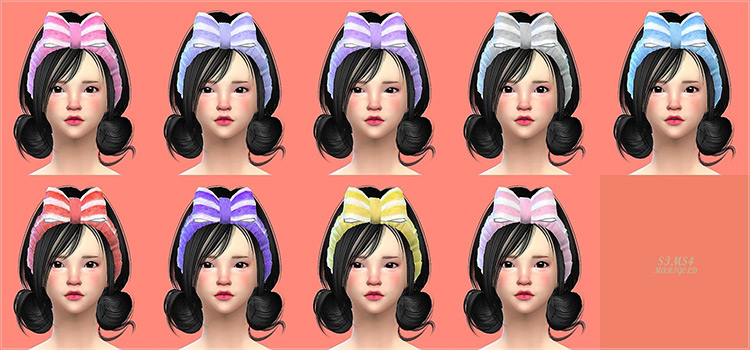 A bow at home? No problem.
Relax and feel your vacation with Marigold's cute Korean Face Wash headband—no more of that towel turban.
At the end of a long work week, you definitely deserve to put on your robe, fuzzy slippers, and this headband to head out to the sauna.
Get a deep tissue massage or lavender aromatherapy while you're at it. Your Sim deserves the best.
7.

Minako Hair and Bow Accessory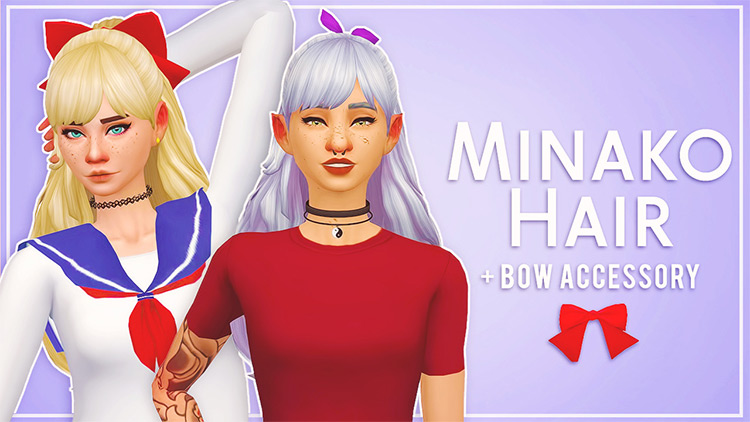 Sailor Moon fans, rejoice!
This is bright red bow by Moon-Craters is Sailor Venus-worthy.
Now even your Sim can jump into cosplay for Geekcon.
And even if you're not a cosplay fan, well this bow is still a great add-on for your everyday look.
Especially with blonde or pastel-colored hair. You know you wanna try it!
6.

Hair Bow Basic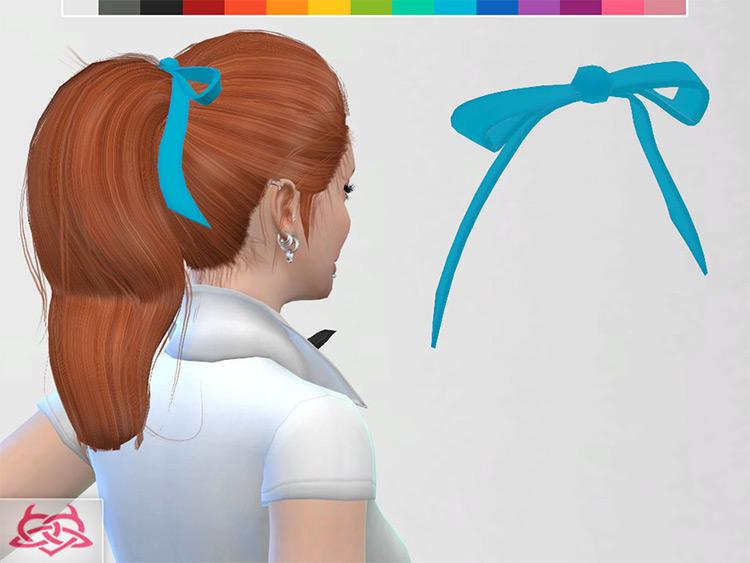 This simple but stylish bow is no-nonsense. The perfect accessory for when you go to work as the chef or baker of your own dream patisserie.
Pull your hair up into a ponytail, add this bow, and you're all set to churn out some mouth-watering dishes.
Successful and in style, your Sim is on a roll!
5.

Bow Headbands
Simiracle has not one, not two, but THREE awesome bow headbands in this hair accessory set—now that's a steal!
I like the yellow bow the best out of the three. But it really depends on the outfit, right?
Let your island-living Sim put on her best swimwear and complete the look with mega wavy hair and this yellow bow headband.
She'll surely be a head turner down at the beach.
4.

Moonwalk Headband
My nest spot goes to this vintage Moonwalk Headband CC created by Trillyke.
With this felted bow headband, it's time to bring out the big bouffant and wavy hairstyles to recreate that posh retro glamour of the 50's.
Your Sim can never go wrong with this classy yet fun accessory. Especially when you pair it up with an A-cut knee-length skirt.
Don't forget the rouge lipstick and the demure attitude too!
3.

Big Ribbon Hairband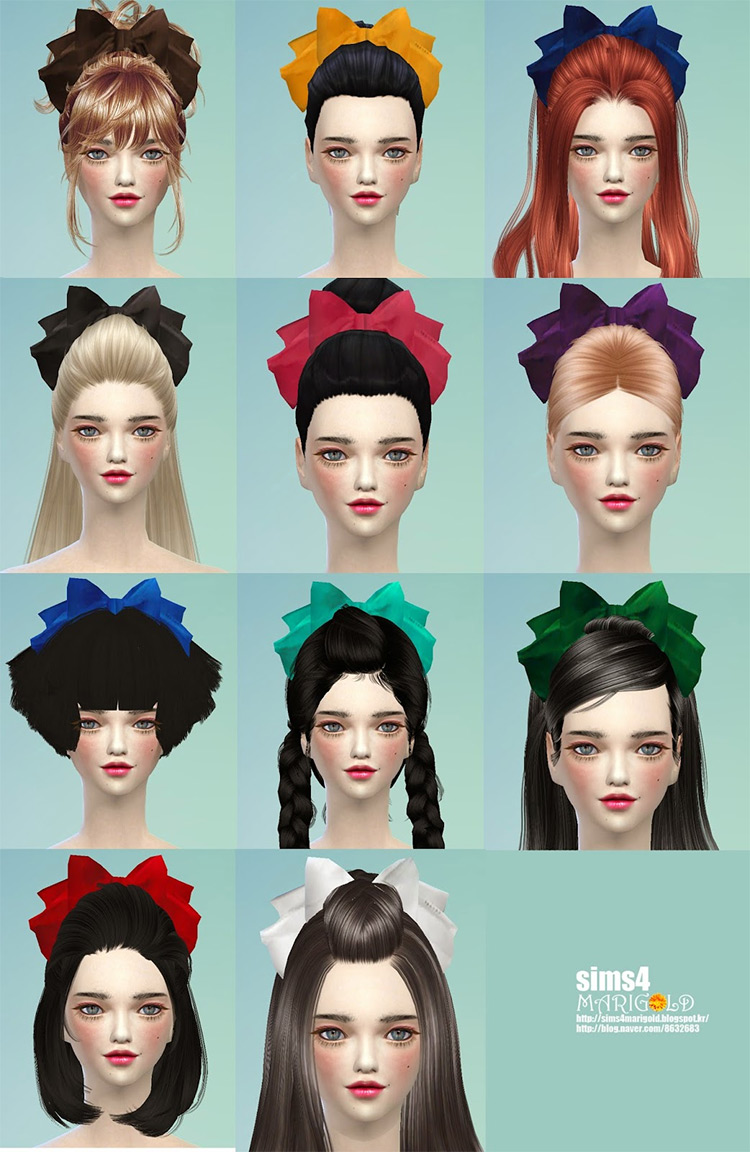 Yet another lovely entry from Marigold!
This big bow just exudes elegance and confidence, with a hint of playfulness.
It's designed to sit perfectly on top of any hairstyle of your choice, and it comes in various colors to match your outfit too.
It's definitely the accessory to grab if your Sim is feeling extra dressy and posh for the day's events.
2.

Bowknot N01
So we've got a lotta bows to choose from, but what about this cute ultra-detailed bow from S-Club LL?
I mean really, this is so well-designed that I can see my Sim wearing it all year round.
The details make the bow so realistic, too.
Definitely good to pair with a dainty yellow sundress for a picnic in Granite Falls, but it'll match any look. Even if it's with sweaters or skirts or jeans.
1.

Big Lace Bow Headband
And… *drumroll*
Marigold takes the top spot with this luxurious silk & lace bejeweled bow headpiece! It lets your Sim live out your rich primmadonna Barbie doll dreams.
This is great for formal events, when you want to emphasize that your Sim is clearly the guest of honor at the party.
Even if there are no formal parties any time soon in your Sim's social calendar, use this bow however you want. Use it at the café, the club, even take it with you when you go to work—no one will be able to stop you in all of your haute fashion glory.
The world is drab, darling, but that's why I'm here to step it up. That's the story this bow tells.
Browse:
Lists
The Sims 4
Video Games