Harry Potter Tattoo CC For The Sims 4 (All Free)
This post may contain affiliate links. If you buy something we may get a small commission at no extra cost to you. (Learn more).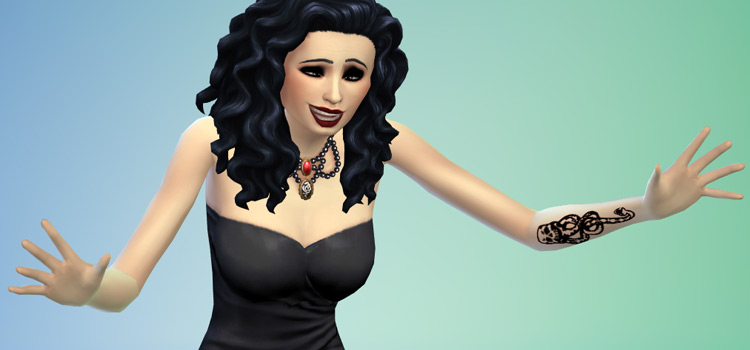 All of us Potterheads have one thing in common:
We sure like to let everyone know about our undying love for this series.
(Even if that might've changed in the last year or so. But let's not go into that. This is The Sims. Our happy place.)
One way we can let everyone know we love Harry Potter is to just have a simple tattoo. Body art that clearly shows our standing in the fandom. There are lots of options, too.
You can go small and subtle with the Deathly Hallows symbol. Go medium with a colorful tattoo of your house's crest. (I'd get Hufflepuff, what about you?)
Or just go full on and get a massive Dumbledore across your back. If you dare, that is.
And thanks to custom content, your Sims can be right there joining you.
1.

Harry Potter Tattoos by Suzue
Let's start this list off with a bang, shall we?
This set has it all – I mean, there are 30 swatches, after all. (15 for the back, 15 for the arm.) And they're all available for anyone – all gender, and all ages.
Starting from Teen, of course. You can't tattoo toddlers. That's not right.
And there are some proper classics here. The Marauders' Map. The Golden Snitch. And the good ole' Death Eater mark.
Oh, and let's not forget about the massive Dementor! Now that sure makes a statement.
2.

Harry Potter Tattoos by Shanany
This set has 3 really beautiful tattoos that every proper fan will definitely appreciate.
The Deathly Hallows symbol is a must.
The Expecto Patronum image is stunning.
And don't you even get me started on the time turner. I love the time turner! It's from the best book and the best movie.
(Fight me. I'm right.)
3.

Harry Potter Tattoo for Women by remaron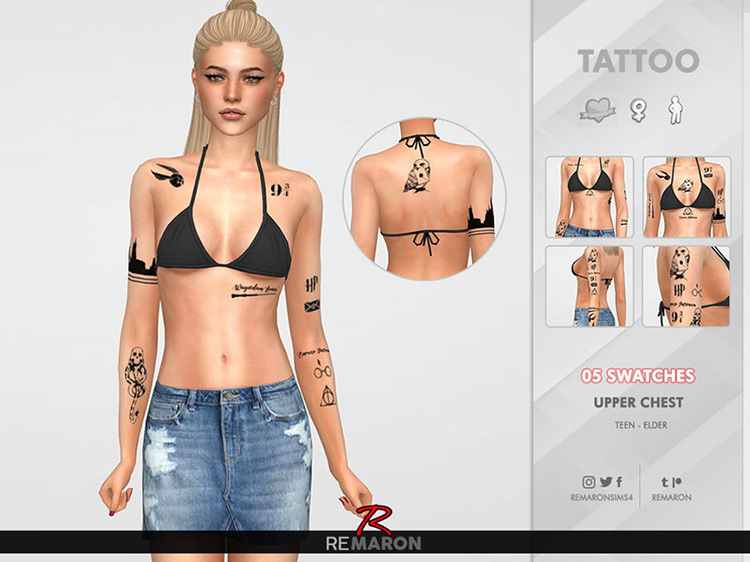 We've had quite a lot of tattoos on the bigger side so far. But don't fret! If you're looking for something a bit more subtle for your Sim, I've got you covered.
All you have to do is check out this set of women's Harry Potter tattoos.
There are 5 swatches available, and they're all cute and relatively small.
My personal favorite is Hedwig. I love Hedwig. (Who doesn't, am I right?) And having a tattoo of the best owl in the world – well, that would be an honor.
4.

Harry Potter Tattoo by GossipGirl-S4
Ok, back to some of the more extravagant pieces!
Like I said, Prisoner of Azkaban is (in my opinion) the best installment in the series. So naturally, I started fangirling extra hard when I saw that Expecto Patronum Prongs tattoo.
Just… stunning. There are no other words.
There's also a massive Dobby tattoo. And we all love Dobby, don't we?
(Don't cry. Do not start crying.)
There are plenty more options in this set, all absolute pieces of art. Check it out and see for yourself!
5.

Harry Potter Tattoo #2 by SimsJohnSims
Now here's a more risqué and unusual Harry Potter tattoo.
Don't tell me this one wouldn't be just perfect as a matching tattoo your favorite Sims couple got for Valentine's Day. That should definitely be a thing. How romantic!
It's simple, it's unique, and it's like nothing we've had so far.
6.

Set Female Tattoo by Liz O'Brien
Yet another incredible set of tattoos for the ladies. Each of these would 100% make a statement.
There are 7 of them overall, and all pretty unique if you ask me.
Personally, I love that they're all in black – it makes having a massive owl on your back just a tad classier.
My favorite one by far is the Avada Kedavra one – number 7. There's just something funny and cheeky about it. I'm definitely getting that one for my Sims.
7.

Harry Potter Tattoos Pack by Everlasting-Garden
Here's a set that's more like what you would get if you were trying to only subtly hint that you're a Potterhead.
You know – most won't notice, but those who will, will become your best friends forever. The geek in me recognizes the geek in you.
You'll find many Harry Potter staples here, such as the Dark Mark, Harry's scar, the Golden Snitch, Always, and a little Dumbledore quote about dreams and life that everyone loves.
Basically what I'm trying to say is this CC has pretty much everything you'd need to get some HP-themed ink on your Sims.
8.

Death Eaters Tattoo by Shanany
A lot of these tattoo packs come with lots of Harry Potter stuff. You know, like the actual boy-who-lived, Harry Potter.
But if you're more of a fan of the Dark Lord and don't want to litter your game with this heresy stuff, you can just get this one.
A fresh & dark mark, ready to summon Him-Who-Must-Not-Be-Named.
9.

Muggle Tattoos by Tiramisims
Hold on, did you say muggle tattoos? Who'd want that?
We're all wizards and witches here, after all.
But don't worry. These aren't actually muggle-themed. They're Harry Potter themed, still. You have the Marauder footsteps and all.
Maybe this is the set you can use for your Potterhead Sims, as opposed to your real wizards.
That's how all your Death Eaters will know who to eliminate first. See a Muggle tattoo? Avada them!
10.

Hogwarts is my home by sugar owl
So this female tattoo set has some designs I haven't seen elsewhere.
There's the train which has this fairy tale, almost cartoon-like charm to it. Hogwarts is my home. And you have Alohomora, too. A properly underappreciated spell, if you ask me.
Everyone's always talking about Avada Kedavra, or Expecto Patronum, or Expelliarmus. Or even Wingardium Leviosa.
But what about good old Alohomora? Do you know how many times I've thought about how much I need this spell? (Yes, I have occasionally forgotten to take my keys with me – Ooops.)
11.

Harry Potter Tatttoos Cool V2 by Sagittariah
Really, you have to appreciate the dedication of us Potterhead Simmers.
In this pack you'll find 12 swatches in total, one prettier than the other. There's the crest, the owl, and lots more!
But no spoilers here: check it out for yourself.
You're in for a lovely CAS time.
12.

H Potter Fanboy Tattoo by SimmieV
Who says men can't be massive Potterheads too? They shouldn't be this underrepresented in the community.
And they won't be, not anymore. Not with this male-centric TS4 tattoo set.
This one has everything for your guy SIms. Even a massive shoulder tattoo of Harry's face.
Not sure who's going for that one, but hey it's there.
You can actually have your Sim achieve a full body Harry Potter tattoo look. And here's a little secret for your bachelor Sim: there's nothing sexier to millennial women than that – so this is one pack well worth adding to your CC folder.
Browse:
Harry Potter
Lists
The Sims 4
Video Games