Sims 4 Maxis Match Harry Potter CC: The Ultimate Collection
This post may contain affiliate links. If you buy something we may get a small commission at no extra cost to you. (Learn more).
What do you get when you have an unhealthy obsession with The Sims 4 and Harry Potter?
Lots of magical custom content that'll make you feel all sorts of emotional, apparently.
The series may have ended years ago. But I (and I'm sure many other Potterheads) will never completely leave Hogwarts. This world of witchcraft and wizardry is just too precious and too special to let go.
If you're on the same boat, then let's spice up your TS4 gameplay with some HP-themed CC, all 100% Maxis Match.
1.

Harry Potter Fan Pack 2.0 by cherryonkpop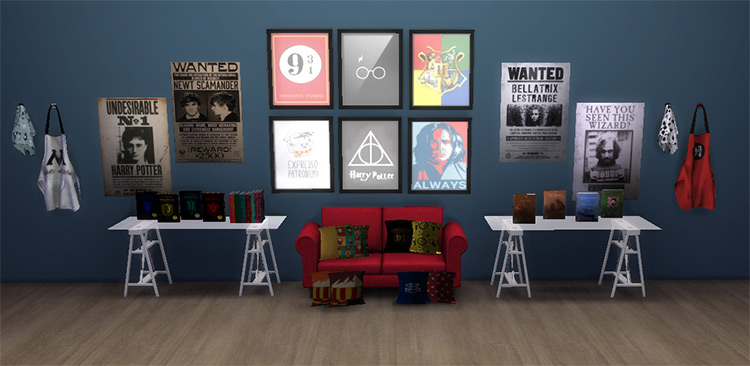 For the diehard HP fan who wants a snazzy Potter-flavored bedroom, here you go:
A really cool grab-bag of 7 Build n' Buy items that are all distinctly Harry Potter themed.
From throw pillows with distinct canon-complacent designs to a decorative stack of all seven books in the series, this stuff pack is full of fun fan goodies.
There are even some hanging aprons for only $1!
2.

Hogwards Wardrobe (Fan Made Stuff Pack) by iSandor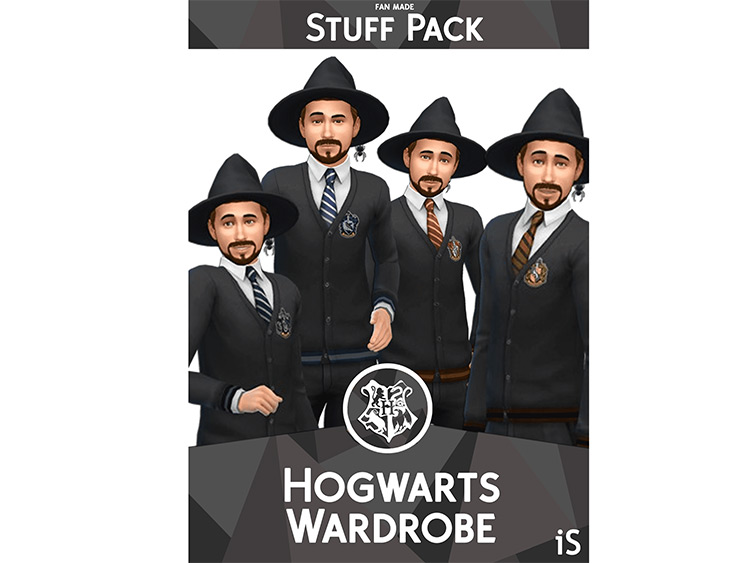 What do you get when you combine an extensive, fan-made CAS CC set with Male-frame-compatible clothing?
This beautiful HP-flavored clothing pack by iSandor. And bestie? It is extensive.
I thought we were looking at just the Hogwarts uniform and maybe some house scarves, but no.
This creator included:
The athletic shirts from the Triwizard Tournament
Quidditch sweaters (or jumpers) for all four houses
And even some modern denim jackets with the iconic four house colors
Plus loads more clothing sets for Male Sims!
3.

Quidditch Jumper by Mal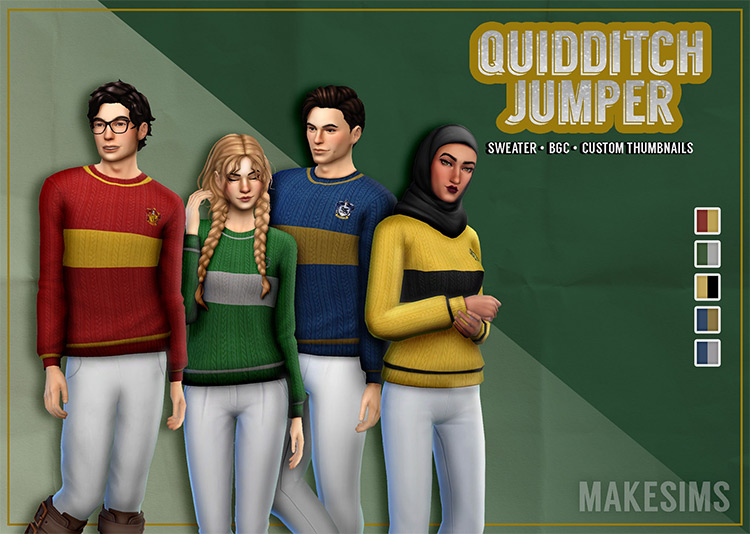 If you'd rather just have the Quidditch jumper for both Male and Female frames, that's cool too. Keeps things easier.
Plus, Mal's version has a thicker ribbed knit texture which I really like.
This one comes in 5 swatches; the standard color combinations of the four houses plus a Ravenclaw sweater based off of the movie's sweater (which is blue and silver rather than silver and bronze).
4.

Quidditch Robes by Mal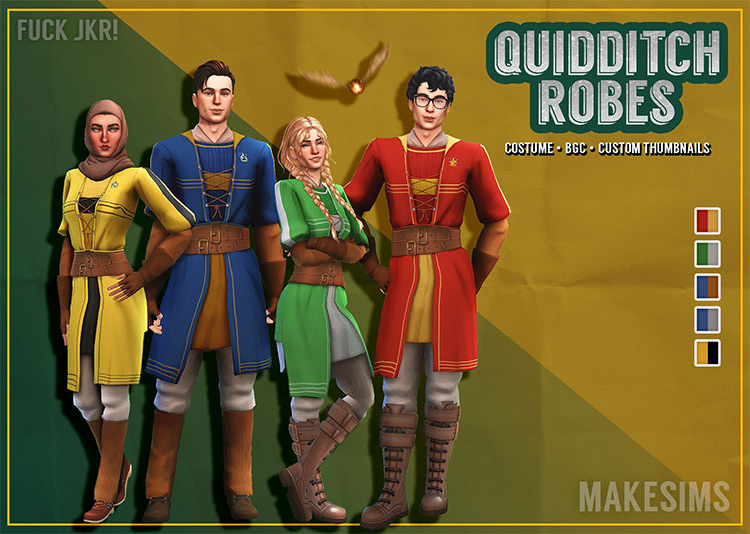 Enough with the chitchat, time for the actual game.
Quidditch jumpers are great for keeping the spectators warm in the stands while they show their support.
Let the players duke it in proper, standard-issue Quidditch robes. Whatever color your Sim wears, make sure they're ready to represent!
5.

Chikkadii's Marauder Jacket by chikkadii-sims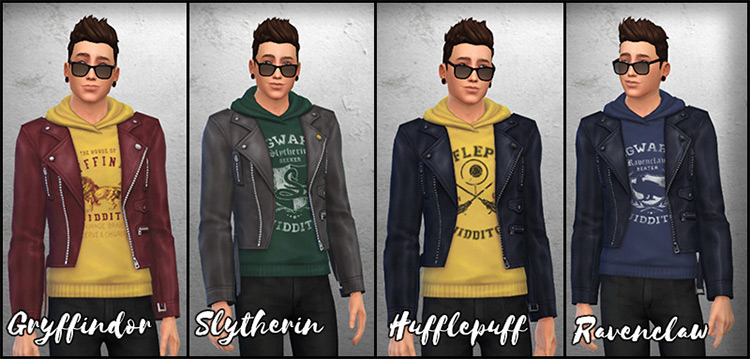 Two-toned cable sweaters and practical white button-downs are all well and good, but how about a more modern style?
Chikkadii certainly thinks our beloved witches, wizards, and Muggles alike need a bit of a denim-and-leather wardrobe update.
Here are four hoodie-and-jacket combos for the discerning Gryffindor, Hufflepuff, Slytherin, and/or Ravenclaw.
You get the house emblem on the back and an interesting HP-themed graphic on the underhoodie.
6.

Harry Potter Paintings by cherryonkpop
For the more subtle fans who like to keep their Potter-themed affairs private, here are some simple, minimalist posters.
It's a medium-sized, wall-mounted square painting that comes in 30 different designs.
Each design contains a visual nod to the approved lore, a canon-compliant scene (or saying), or a fandom-specific quip.
My personal favorite design goes, "It's 'LeviOsa, not leviosaA." Truly, only those who watched the movies can understand.
7.

Owl Accs by Natalia-Auditore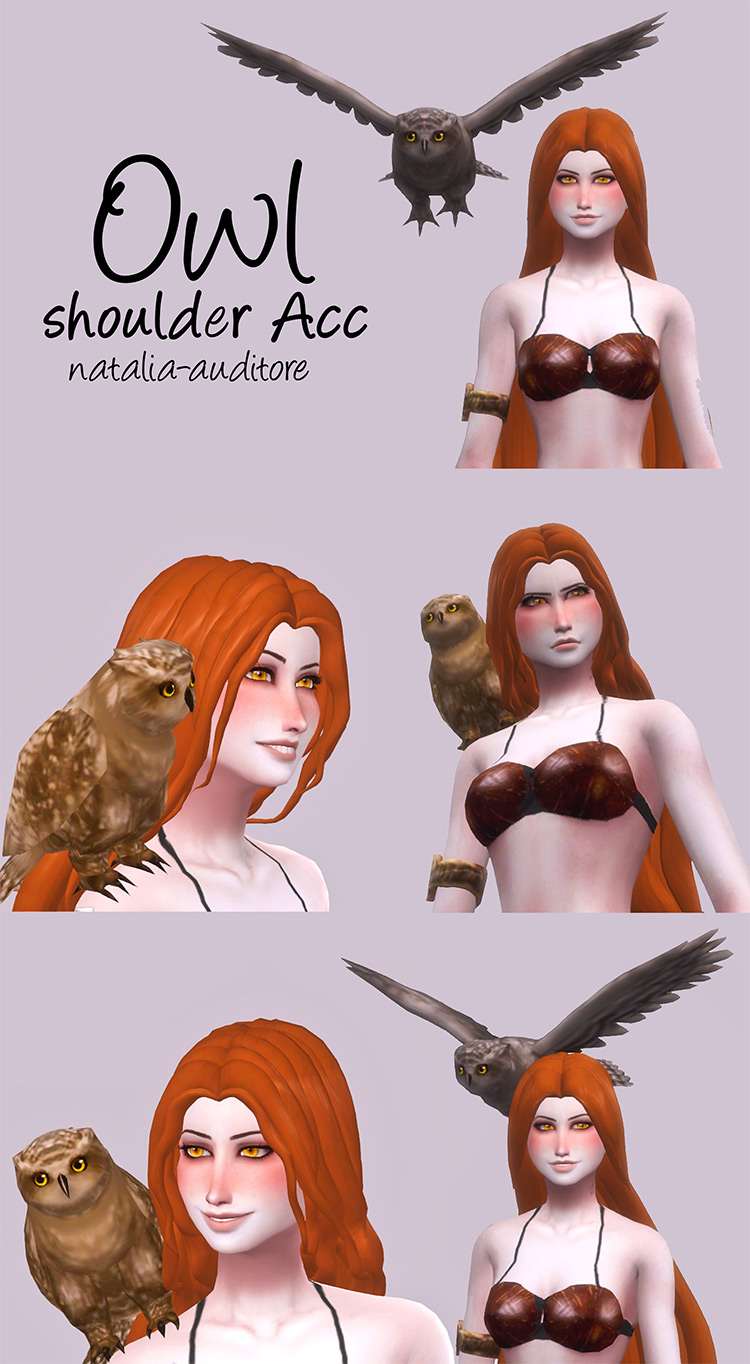 This CC item doesn't have "Harry Potter" in the name, and nowhere in the description does it reference the fantasy franchise.
However, I would argue that many a witch/wizard in Hogwarts can be seen walking around with an owl perched on their shoulder.
Plus, Hedwig is arguably more prominent throughout the entirety of the series than a good chunk of recurring human characters.
So why not get your Sim a loyal owl (accessory) that follows them around?
8.

Simlish Harry Potter Pack by silverhammersims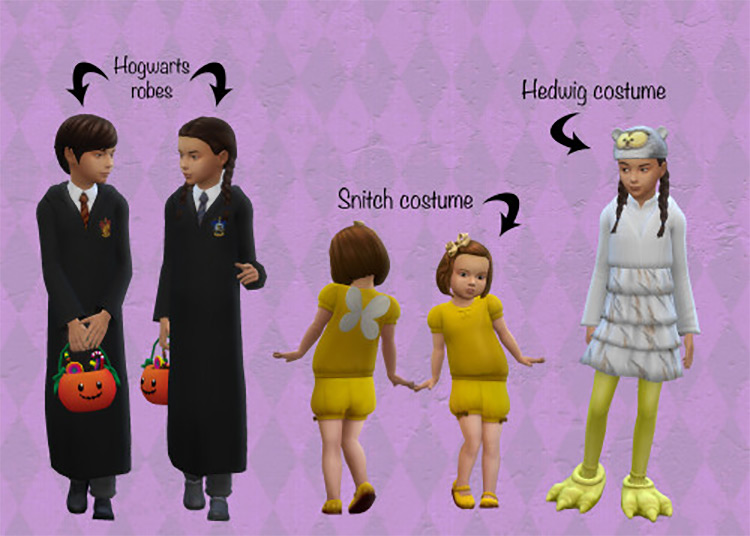 This is a literal plethora of wizards n' witchery in one stuffed CC pack, so to all diehard HP fans reading this?
I hope you're prepared.
There are 14 items in the download, including a homemade Mandrake costume for Toddlers (which is just hilarious), kid-friendly Hogwarts robes, cozy Weasley Alphabet sweaters for all ages, and a Newt Scamander outfit.
Just to name a few things.
Note: Don't forget to check the description to see what packs you'll need! The creator was also nice enough to separate the download into items that need packs and items that are base game compatible.
9.

Harry Potter Tattoos by sagittariahx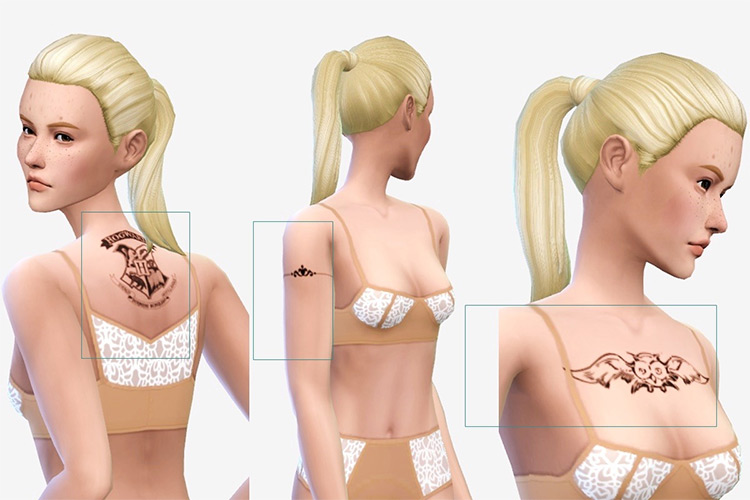 How about some bewitching tattoos for the HP-and-ink lover?
Rowling's magical universe is filled with impressive visuals, and these tattoos are proof of just how pretty HP imagery can be.
There are twelve swatches in this CC set, ranging from specific icons (like the Hogwarts crest) to more general illustrations (like a quill and spell book).
10.

Harry Potter Books (Readable) by KaraStars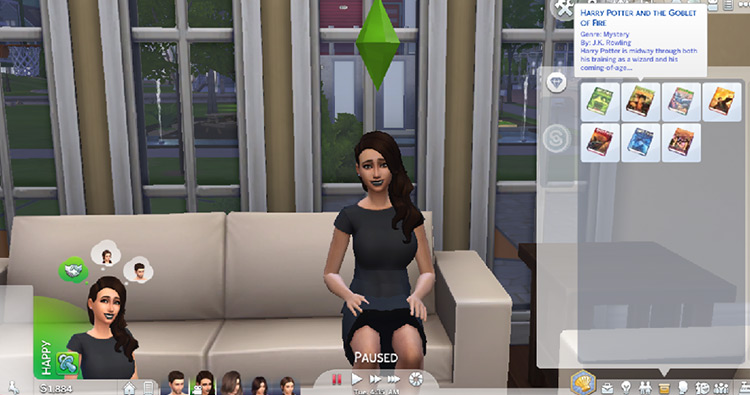 Now your Sim can read the entirety of the Harry Potter series — just like you!
These 7 new custom books carry the same name and cover as J.K. Rowling's seven fictional installments.
They go for $80 Simoleons per book, and can be purchased via bookshelf in-game.
11.

Hogwards House Ghosts Paintings by simplistic-sims4

The Potterverse is not without its fair share of creepy curios.
Take the four Hogwarts House Ghosts… and place them in paintings! Perfect Halloween/Haunted Mansion décor. Let Nearly-Headless Nick, The Fat Friar, The Grey Lady, and The Bloody Baron grace your walls.
Or, you know. That impish thorn-in-the-side that is Peeves the Poltergeist. He's got a swatch too.
12.

Harry Potter Fan Pack by cherryonkpop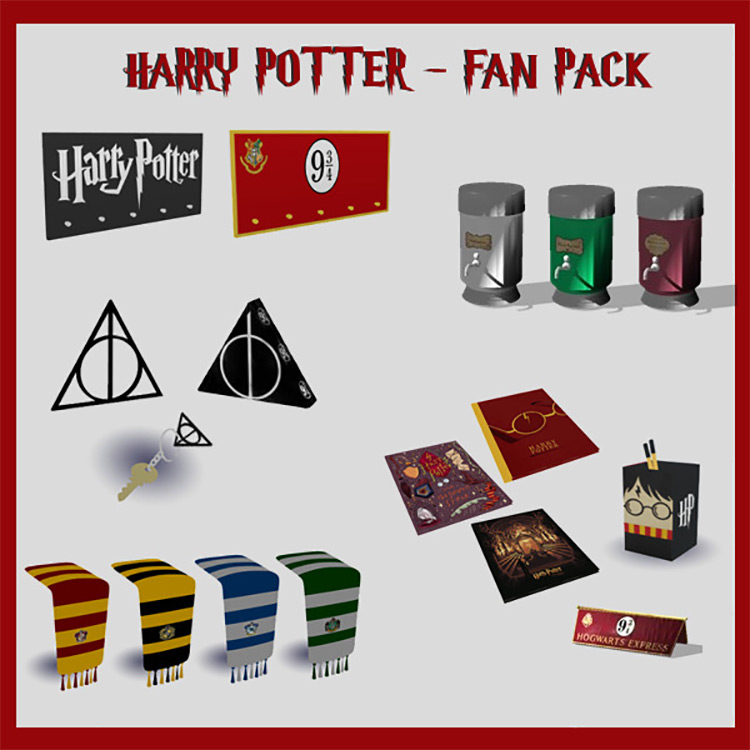 More cute and creative HP-flavored clutter to spice up your Sims' bedroom!
Or living room. Or office. I'm not judging!
There are 9 items in this pack, including:
Acasual scarf deco item (in the four house colors, of course)
A cutely cartoony pencil holder
And a functional Deathly Hallows lamp
Plus plenty more!
Just some small bits n' things for fans who like to keep it simple.
13.

La Friperie K-Asual 7 Hogwarts Tees by tech-hippie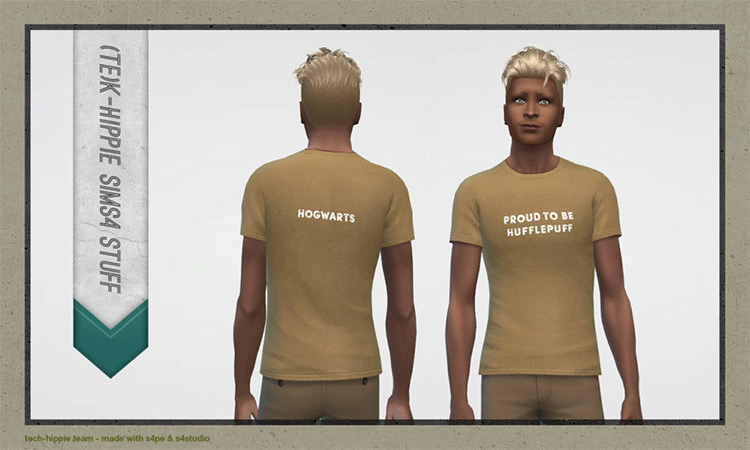 "Auror here"
"Proud to be Gryffindor"
"Parseltongue"
These may seem like nonsensical phrases to the uninitiated. But for Potterheads? These lines are beautiful.
I love how the minimalist style is kept throughout all the swatches. Really makes it ideal for casual, every day wear.
14.

Harry Potter – The Deathly Hallow (Necklace) by Miguel Creations TS4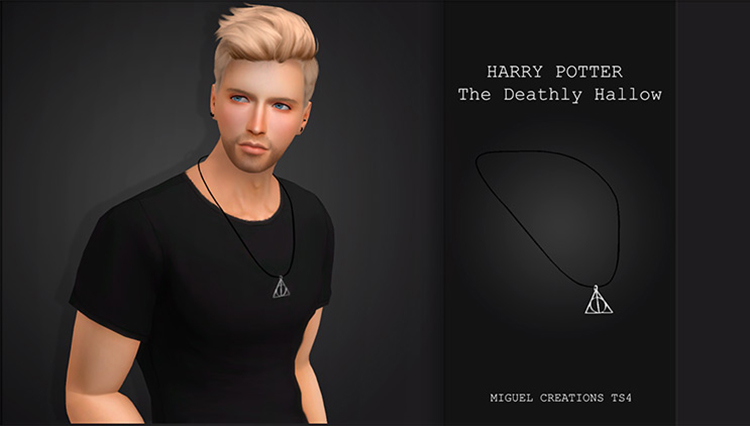 Accessories are an awesome, subtle way to incorporate your interest into your outfit.
The high-quality ones are simple, stylish, and only make sense to those who know.
Those who don't usually just see them as normal (if not snazzy) pieces of sterling. This necklace with the Deathly Hallow pendant is one such example.
P.S. Heavy adfly warning on this download. If you can't get to the .package file, try this link and see if it works.
15.

Deathly Hallows Earrings by ladyfancyfeast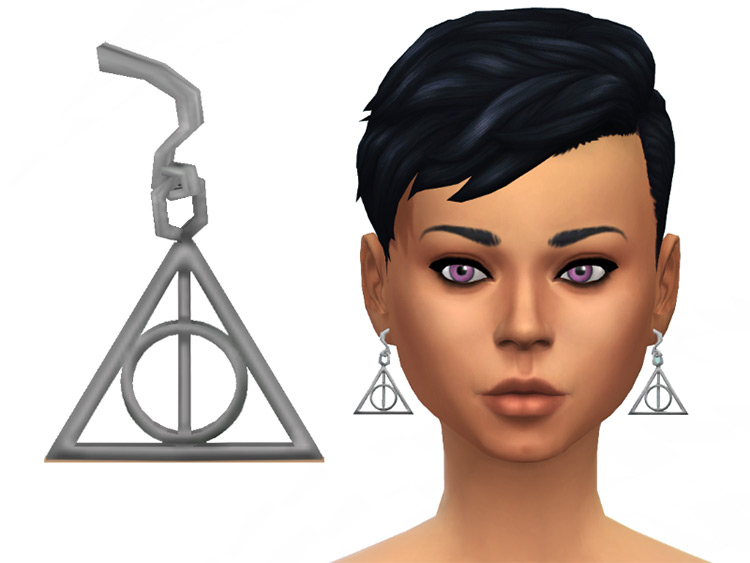 Don't feel like wearing a necklace? That's fine. Any true HP fan can recognize the Deathly Hallows regardless of what body part it's hanging from.
(That sounded wrong, but you get the point).
These earrings are beautiful, noticeable (to Potterheads), and they're (most importantly) very tasteful.
16.

Five Quidditch Wallpapers by Potterhead Sims
Every time there's a Quidditch match, whoever's in charge of decorations can just flick their wand, mutter a couple words, and voila; the colors and pennants of the competing houses appear on the stadium walls.
We non-magic folk, unfortunately, have to settle for entering Build & Buy mode to change the wallpaper.
(At least it's still easier than changing wallpaper IRL).
17.

Nimbus2000 Functional Broom by Severinka_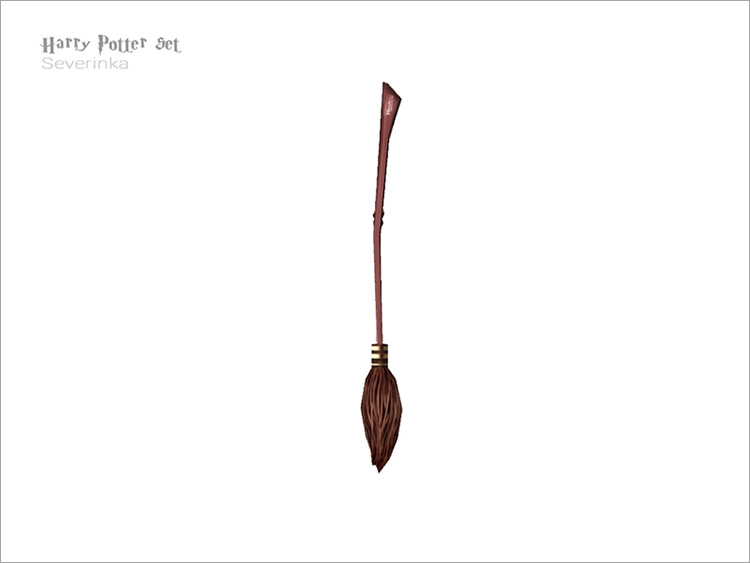 So I know Harry's iconic Nimbus2000 got obliterated by the Whomping Willow (RIP).
And I know he's been using the Firebolt Sirius gifted him ever since.
But I have a soft spot for his first ever broomstick, and I know many fans do, too.
Let your magical Sim to take to the skies, HP-style, with a functional Nimbus2000 broomstick from Potter lore!
18.

Dumbledore Accessories by Philosimy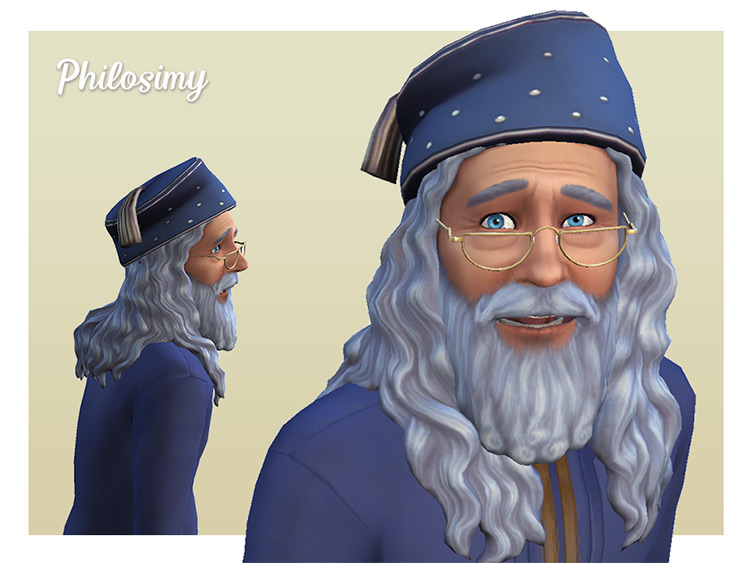 Where would Harry be without Hogwarts' kind, brilliant, and eccentric Headmaster?
Albus Dumbledore may change outfits with every movie, but some key elements of his getup remain the same: his flat tassel hat (sometimes missed because of how small it is) and his half-moon spectacles (mentioned almost every time we see him).
19.

Hermione Granger by Daenerys and TS4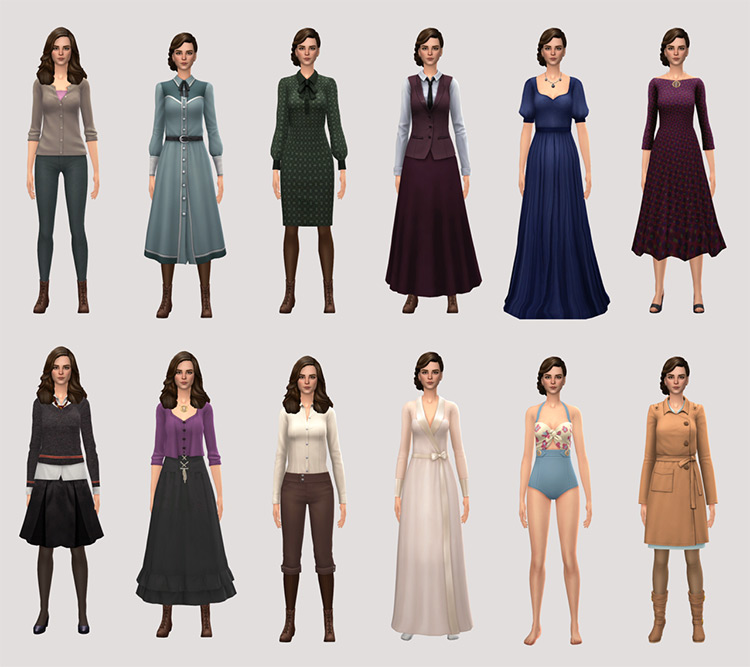 I was originally just after Hermione's wand, because I genuinely love the movies' take on how different wands belonging to different characters look.
But if you want the actual character in your game as well, the creator included the tray files in the zipped folder!
(You'll find the wand's separate .package file in there, too; don't worry.)
20.

Hogwarts Button-Up by llazyneiph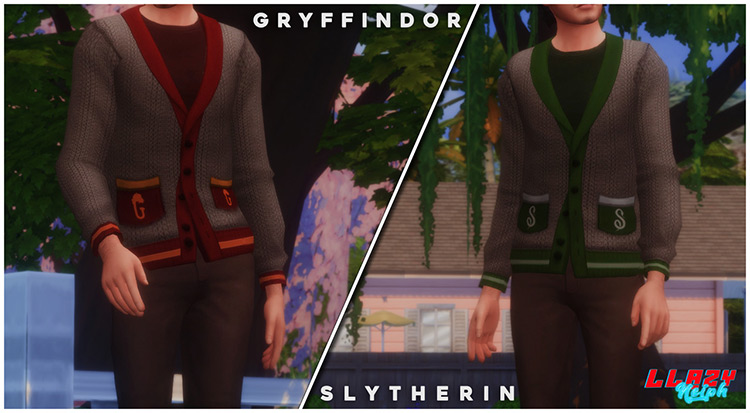 This isn't any sort of standard-issue uniform from any of the magical schools in HP lore.
But it is a very stylish button-up that comes in the iconic four color combinations of the four Hogwarts houses. Black and yellow, red and gold, blue and bronze, green and silver.
Just Pick your Sim's favorite.
21.

Fan Made Stuff Pack: Pufferhead Stuff by MLys Makes CC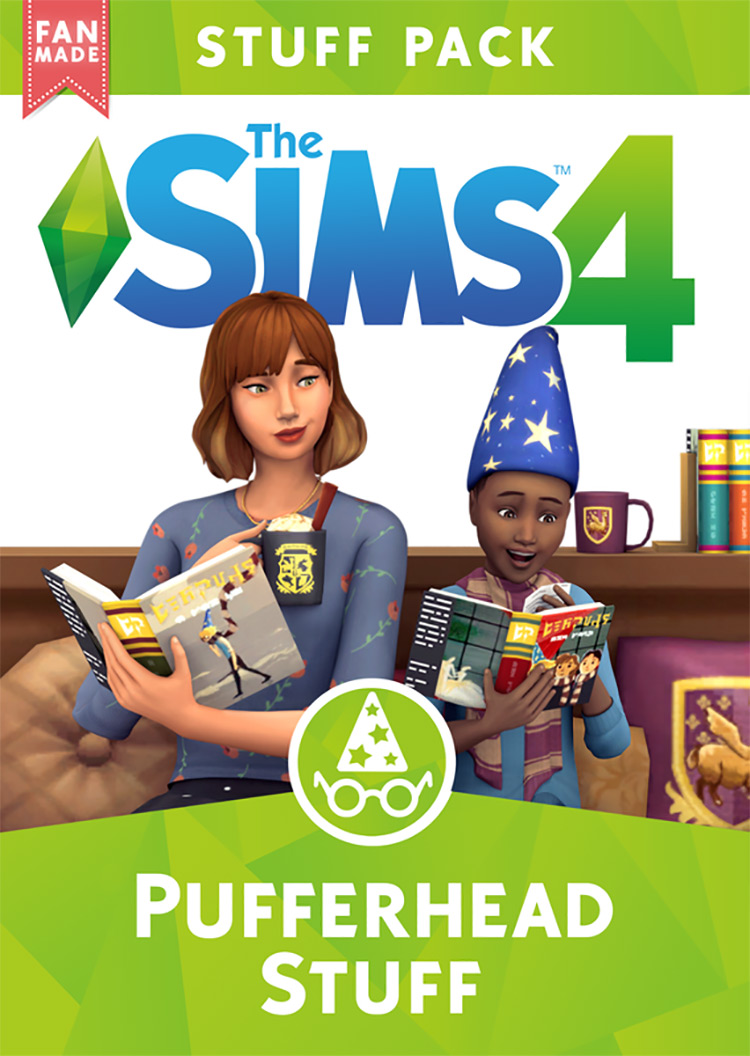 Good Lord, where do I even begin with this pack?
How do I summarize how impressive it is?
Not only did the creators craft an entire Simlish literature universe so that Sims could have their own version of the Harry Potter franchise, no. They followed it up with actual, usable, base-game-compatible items (new items!!) to really push the immersion.
19 CAS stuff
26 new decorations
11 furniture items
6 activity items
And 2 new wallpapers
There is a lot to unpack—literally.
I recommend you read through the entire website first; it is nothing short of mind-blowing.
22.

Harry Potter Wall Art by Miss Mel
Do you or do you not want an, "after all this time? always" poster on your Sims' walls? I know I do. And I know that you, my fellow Harry Potter fan, do too.
That line is one of the heaviest lines in the entire franchise, and it deserves to be framed.
(There are also eleven or twelve other designs so that you're not limited to Severus Snape's most heartbreaking dialog).
23.

Harry Potter's Lightning Bolt Scar for TU-AU by Slums (a3ru)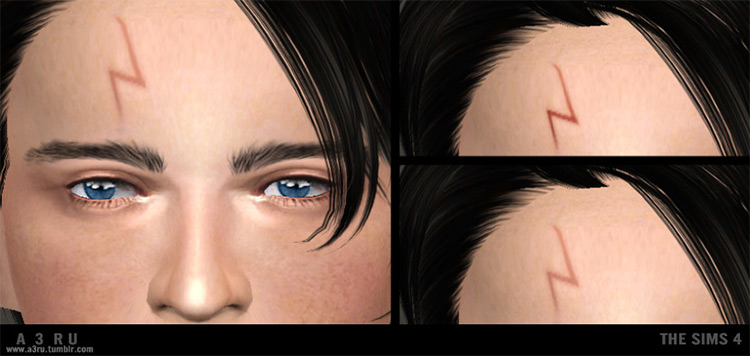 Would this really be a list of Harry Potter CC for TS4 if I didn't include Harry's famous scar?
This custom CAS item (found in either Face Paint or Gloves) works a real treat despite being uploaded more than five years ago.
I can't guarantee how it'll show up on some custom skinblends or default replacements, but on vanilla base game EA skin? It looks wicked.
Browse:
Harry Potter
Lists
Maxis Match
The Sims 4
Video Games