Sims 4 Home Office CC: The Best Custom Content To Download
This post may contain affiliate links. If you buy something we may get a small commission at no extra cost to you. (Learn more).
Everyone needs a good workspace to get stuff done.
Some Sims flourish in a messy environment; others want their timetable organized for the whole week.
No matter what you like, there's always something out there to make your home office match your Sims work habits.
Today we look at the best of the best for home office CC.
These items will have you happy to end up at home, with a home office that you may never want to leave.
13.

Modern Office Drawers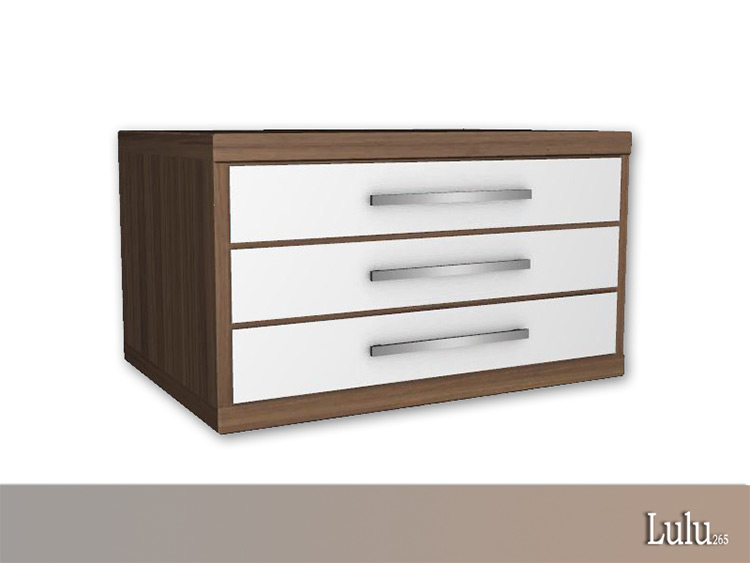 The opener for this list is these modern drawers done by Lulu265.
A sleek wood finish for the table portion and shiny cream white for the drawer creates a beautiful contrast for this piece.
It's a great piece to have multiples of running across the walls to fill space.
Plus, every great business person needs drawer space. I think.
12.

Talking Mugs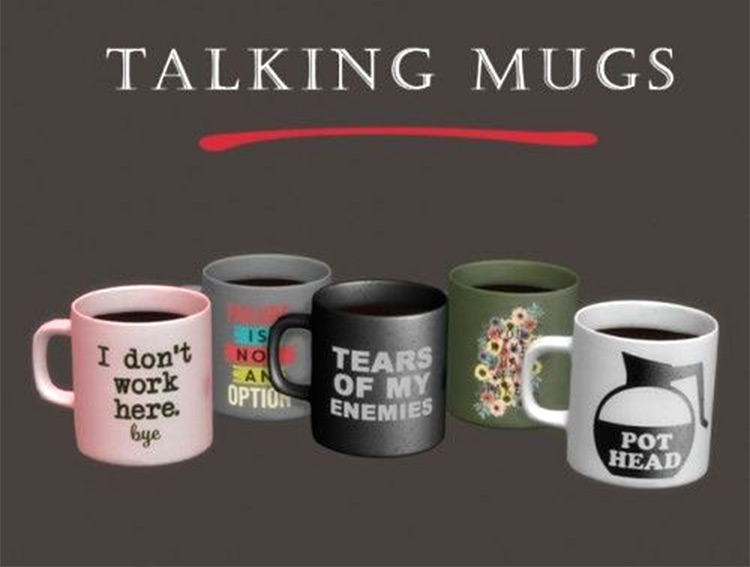 No office workspace is complete without coffee mugs.
That is just cold hard (in this case warm and tasty) facts.
This set by LeoSims comes in 5 variations including my favorite, a black mug with the text 'Tears of my Enemies'.
Nothing wrong with having your morning coffee with a bit of attitude.
11.

Office Desk Chair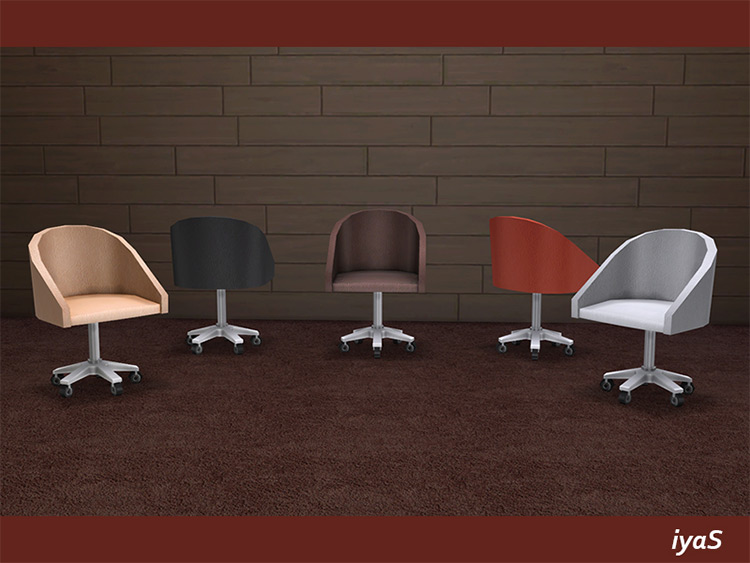 Rolling into the rest of the list, we have this sleek office desk chair by popular creator soloriya.
The swatches for this object are gorgeous and stand out in terms of colors you don't see too often in the vanilla game.
This includes a cocoa brown and flashy orange as my personal favorites.
Everyone loves these rolly chairs, so might as well roll around in style.
10.

Life is Strange Conversion Kit
For any Life is Strange fans, you can now have your own personal Max clutter!
Whether you're trying to re-create Max, or just show that your teenaged Sim uses your office space, this set by Veranka does the whole nine.
This set also includes a smooth black desk and chair combination, along with clutter items such as notepads, polaroids, a camera, and Max's journal.
This CC set could also work great in a Discover University dorm room, for any of you college Sims.
9.

Jenna Office Chair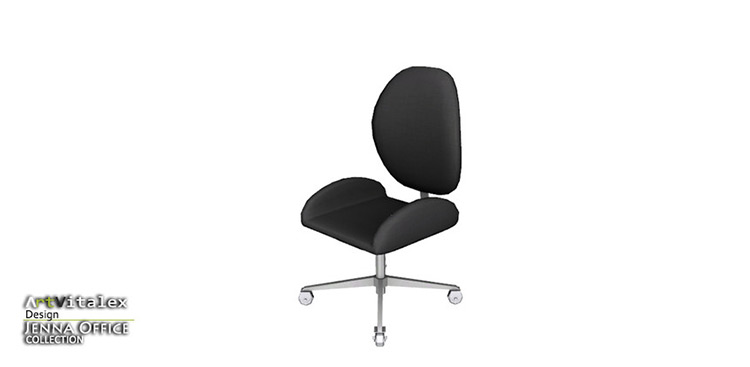 We all know a Jenna.
Jenna likes her coffee iced, her heels high, and most of all she likes looking cute at her desk.
This is Jenna's seat of choice.
ArtVitalex does a great job per usual making this sexy but strict pink office chair.
They even designed an entire office/home study pack if you want all of their matching CCs in one download.
But this chair would definitely be the boss' chair, and in this case…
Jenna is the boss.
8.

Sonic Printer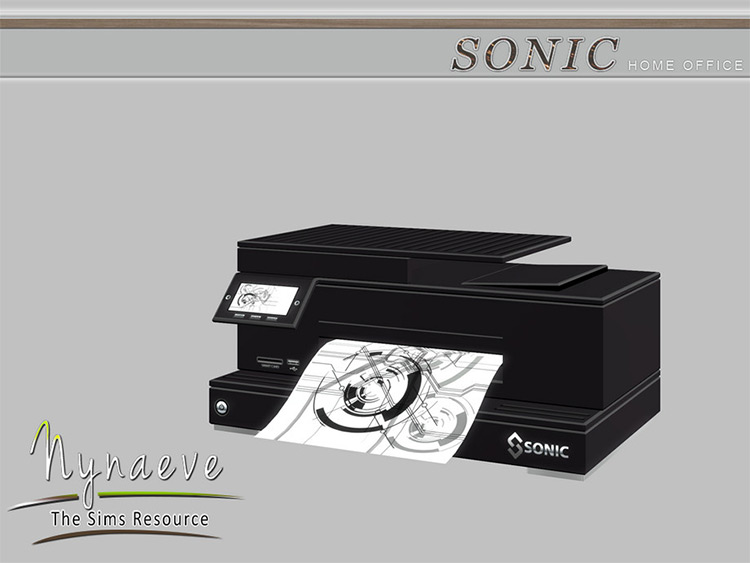 My favorite part of doing these CC lists is finding items I wouldn't expect to find online. Trust me, TS4 has a lot of crazy CC.
Then I end up finding items that not only I didn't expect to find, but I also need to have in my game.
Enter the Sonic Printer.
This printer by NynaeveDesign is not only unique, but extremely detailed.
It has a scan screen, small ports for the USB, gorgeous branding and topped off with an overall stunning design.
Yes I know, I'm talking about a printer. But it's a must for any home office, real or simulation.
It also comes in two great swatches, jet black and lime green. Try going green, have some fun!
7.

His & Hers Home Office Wall Unit
With Lulu265 making their second appearance on this list, we discuss another surrounding furniture piece.
This is a wall unit usually in the background of one's office.
The CC comes in crisp black with shimmering gold drawer handles. It's the perfect place to put clutter like books, trophies, or picture frames.
Personally, I think it would look great in any upscale home from the City Living expansion.
6.

Aeon Laptop
Laptops have overtaken the desktop computer for a long time… well really smartphones, but that's another story.
So if we're going for a modern office approach, why not have a laptop at the center of your desk?
This specific laptop by Winner9 comes decked out in stickers, making it perfect for a Discover University student.
I'm not judging though. Maybe there's an elder astronaut somewhere who just needed to have an alien sticker on his laptop.
You never know.
5.

Neutral Light Lamp
Somehow we've gotten this far into my list without discussing an integral part of any home office: the desk lamp.
With lamps and desks being the two things that come to mind first for a home office, I had to be critical on which ones I thought could be on this list.
The two main factors I used to rank this: the uniqueness and design.
This light lamp by Angela does both pretty darn well. The spine of the lamp acts like a human body, and the actual lamp acts as a head. Cool, right?
The position of this lamp shouldn't take up too much space, either. And you have to give props to Angela for coming up with a unique design.
I think the biggest selling point to me was the similarities to the Pixar lamp. And really, who doesn't love Pixar?
4.

Chen Office Bookcase
Next up we get a Japanese inspired bookcase by soloriya.
I always love seeing cultural representation in these pieces and this one does a solid job of that.
Coming in 4 swatches (the best being dragon red) this circular bookcase provides a unique aspect to the home office.
This could be a great corner piece, or even having multiple layered across a single wall could fit thematically.
I would consider it the most underrated piece on this list, stemming from the fact people may not download this or try to match it to their specific office space.
I guess it's their loss, your gain!
3.

His & Hers Desk Lamp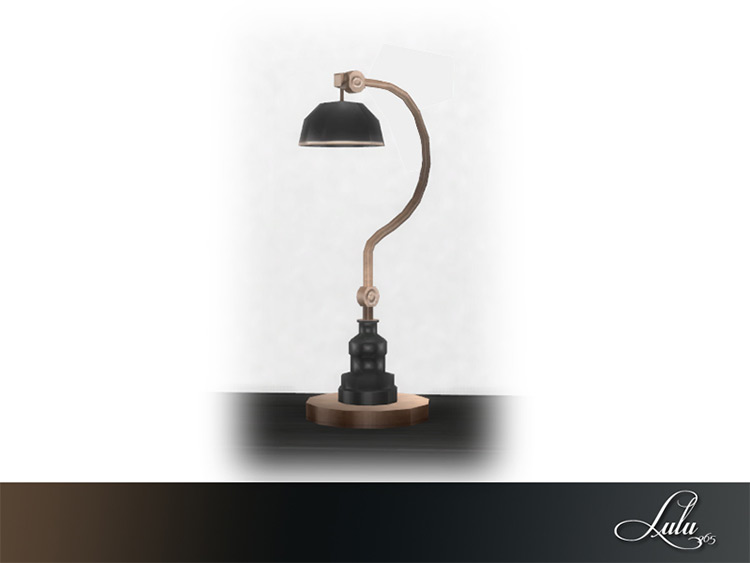 At times, nothing can beat that classic vintage look.
This lamp by Lulu265 is definitely her best piece on this list.
This CC features a vibrant color scheme of black and bronze throughout, with a hunched spine and hovering lamp bulb.
For anyone who's into the more vintage, rich look… this lamp is a perfect piece for your old fashion office.
2.

Aeon Desk
We've seen rich and vintage, and we've seen dorm style desks.
Well the Aeon Desk by Winner9 is the middle ground we didn't know we needed.
The 6 swatches (especially Deep Sea Teal) and the overall design of the desk make it easy to place in any office area no matter the theme.
It also features the lamp rest where you could place numerous items like lamps, laptops or even your satire coffee cups.
The versatility of this CC is what makes it stand out, apart from the fact that it's solidly designed and super practical for your home office.
I mean, we all need a surface to work on.
1.

Aeon Bookcase
It's a rare occurrence for many of the top items on my lists to come from the same creator.
However, Winner9 hit the jackpot on this one.
While the Aeon Desk was well designed, the Aeon Bookcase is visually stunning on another level.
The curvy design is dashed in slick silver and it's the perfect piece for any modern day home office.
Not only that, but the swatches included here match with both the Aeon Desk & Laptop. This lets you have the matching set, or pick between your other room accents appropriately.
This bookcase has the absolute wow factor for any Sim who wants their office to feel like home.
The unique design, the imaginative build, and excellent detail gives the Aeon Bookcase CC my highest rating. No books needed.
Browse:
Lists
The Sims 4
Video Games