The Sims 4: Custom Ottoman CC For Your Home
This post may contain affiliate links. If you buy something we may get a small commission at no extra cost to you. (Learn more).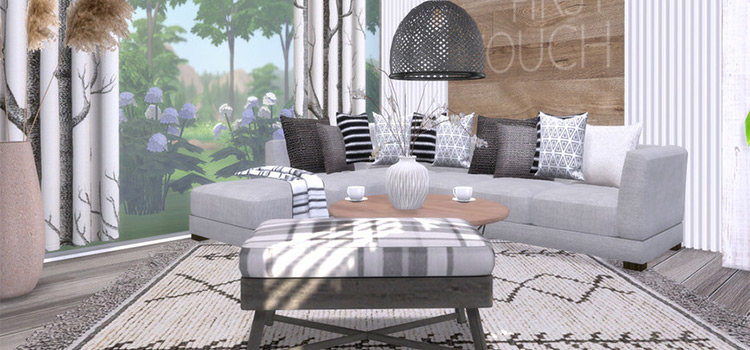 We all know The Sims 4 doesn't have the greatest selection of furniture, much less a great selection of seating.
And if you're looking for the right ottoman to complete your room?
Forget about it.
Ottomans are one of those small pieces of furniture that don't seem relevant until you have one, but the impact they make on room design (and foot comfort) is far from small.
Not only are they multifunctional, since they can support a wide variety of body parts and function as a high-spill-risk coffee table, but they're also the perfect accent piece.
And with this list, I've taken the work out of finding them!
1.

Living Avon Ottoman
One of the greatest benefits of an ottoman is that they can be used as extra seating without using up too much precious extra space.
In the real world, that makes them invaluable since you usually only have so much room for all the big pieces of furniture you need.
But in The Sims… honestly, it's the same situation.
These ottomans can be used individually, but they also come with seat-rest attached versions so you could easily fill a room with ottomans and your Sims would be none the wiser.
I have to warn you that the texture is definitely realistic, though. So it might stand out in a Maxis Match house.
2.

Theorem Hallway Ottoman
I'm of the opinion that there's no such thing as "too much" seating.
I love the idea of having plenty of different places for my Sims to cozy, chat with friends, read, or whatever else.
After all, that would be my ideal home.
And what else is the Sims for if not making an ideal world?
This ottoman is made explicitly for hallway usage.
Obviously you don't actually have to limit it to hallways, but it's designed so that you can slide it up against any wall regardless of having other seating nearby.
3.

Atlas Ottoman
The Atlas Ottoman lives up to its namesake.
And this is no simple ottoman to set your feet upon, nor is it a basic one-person seating.
This is the titan Atlas, destined to uphold all of the heavens on its pillow-y, cushion-y surface.
Alternatively, it can hold up to three sitting sims and one decorative item in its center!
No matter what the task, this ottoman won't let you down.
It has 5 recolors (green, navy blue, black, white, and coral) and can fit in with a lot of different designs – but if you want a perfectly matching interior, it actually comes as part of an optionally downloadable set.
4.

Upholstered Ottoman
Squares and rectangles are popular ottoman shapes, and with good reason.
They're easy to fit wherever, and they mesh nicely with other forms of seating, resulting in a very satisfyingly cubical piece of furniture.
This ottoman takes all that good stuff and dials it up to an 11.
Seriously, it looks like a perfectionist's ice cube. And I mean that in the best way.
But never fear – your sims won't get a chill if they use these!
This CC is a recolor of the ottoman from the Spa Day gamepack (so it's necessary to have that if you want to use these).
You actually get 10 recolors, to be exact, and they all feature different elegant & modern patterns.
5.

Anthropologie Rug-textured Ottoman
I don't know if you're familiar with Anthropologie rugs, but if you're not, let me fill you in.
They are gorgeous, classy, and funky, all rolled into one item.
And they're high quality to boot.
Unsurprisingly, that quality and design comes with a hefty price tag.
In The Sims, on the other hand, all you need is a quick money cheat.
I can't say I've ever imagined turning a rug into an ottoman. But it works incredibly well in this CC.
Complete with 6 swatches, this textured ottoman is an excellent addition to any room in need of fashionable seating.
6.

Metropole Ottoman
This CC reminds me of legos.
I know, that sounds a little weird, but hear me out!
They're rectangular, for one. They're also really colorful!
But the kicker is that they're perfect to piece together with other ottomans, just like those wonderful toy bricks.
Whether you buy into my lego metaphor or not, this ottoman will still be a fabulous addition to your build.
And they're kid friendly (another similarity! I'm telling you, all they're missing is the little lego imprint) plus they're definitely safe since they can be used as edgeless coffee tables.
Kids in The Sims aren't anywhere near as accident prone as real ones.
But it's fun to kid-proof rooms just for the sake of it.
7.

Zara Pouf
Crochet ottomans, AKA poufs, AKA the ultimate bean bag upgrade, are the kind of stool that I'd love to have in my bedroom (as opposed to the living room).
This means they're already filling a very underserved niche.
You might be wondering why you would even want a crochet pouf/ottoman instead of just a bean bag.
Fair question!
Bean bags are exclusively used for seating, but this CC can easily be used as a table, chair, or as an easy way to display your sims' imaginary crocheting hobby.
It's hard to beat that!
Browse:
Lists
The Sims 4
Video Games