Sims 4 Pool CC: Best Swimming Pool Custom Content (All Free)
This post may contain affiliate links. If you buy something we may get a small commission at no extra cost to you. (Learn more).
Summer is in full throttle. And just like real-life, your Sims are ready to cannonball into their summer too!
In this list I'll share some of the best swimming pool custom content you'll find online.
Whether you're looking to throw a rad pool party, or find the cutest thing to float in, we've got what you're looking for.
Let's take the deep dive and see which CC are going to have all your virtual neighbours wishing they had a poolside as dope as yours!
15.

Guajira Poolside Bed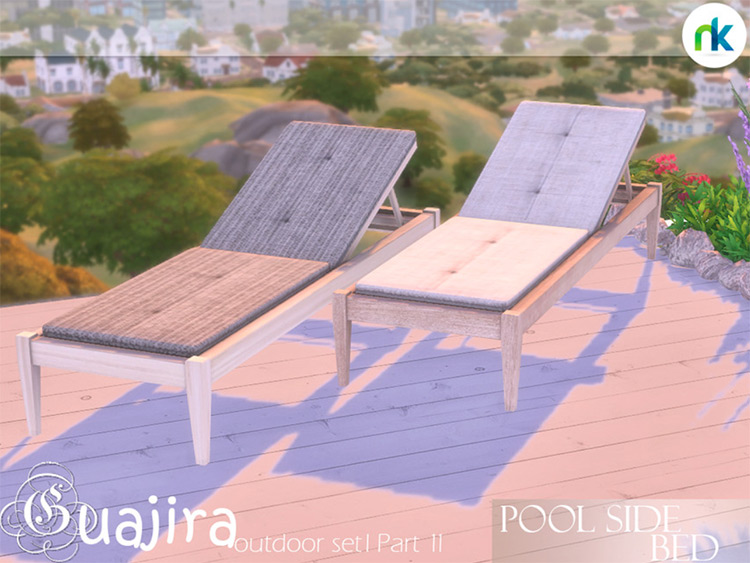 Kicking off our list is a simplistic pool side bed by creator Nikadema.
I enjoy the modern yet elegant touch to this nifty bed.
And if you don't want to go swimming yet, why not relax in style?
It comes in two sleek color options, classic white and satin gray.
14.

Splash Area Sign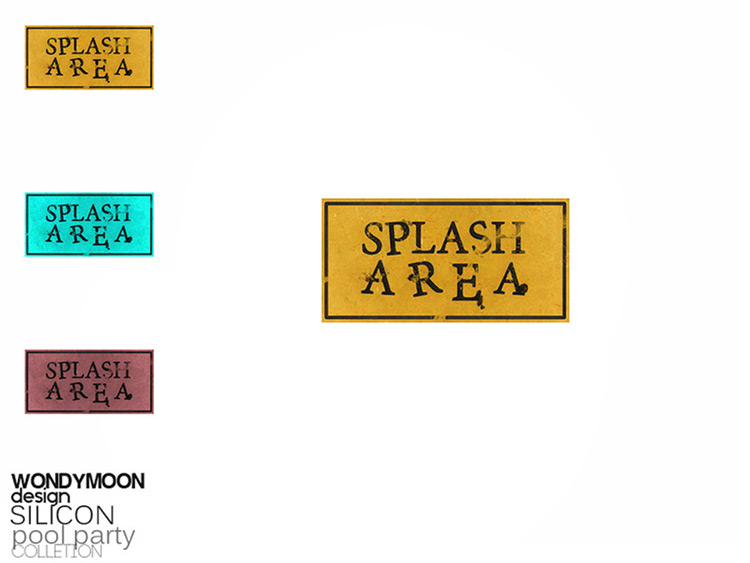 You ever hit the water park and see those ridiculous "Water Zone" or "Splash Area" signs?
Well thanks to wondymoon you can add a little water park flare right into your Sim's backyard!
You can stick these poolside, by the bar, or if you're a Backyard Stuff Pack owner, right by the pool slides (considering it's a legitimate splash zone).
Unless you're building an actual waterpark…
Then you might want several of these.
13.

Pool Floor Tiles
Here we have an intriguing detail piece.
I know we've all been diving underwater staring at the grid-like squares that make up the pool floor. Well, maybe just me… but now we can actually apply these tiles to our pools!
A unique add-on by MahoCreations, this gives us some realism to those who live for the little things in their games.
A total of 7 colors are available with this add-on, and I'd consider this one of the more detail-orientated CCs on this list.
12.

Poolside Beach Towels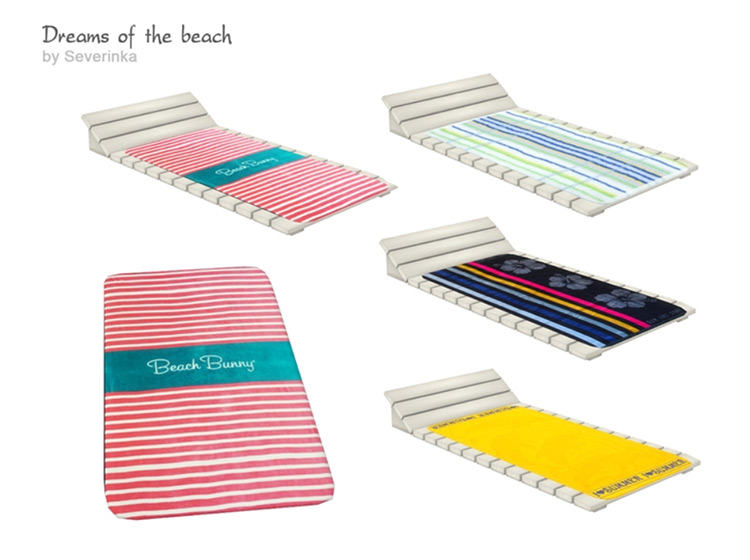 Now that we've finally taken a dip in the pool, we need something to dry us off.
Creator Severinka_ shares these awesome décor beach towels.
This is a must for anyone creating those epic beach vibes at home, or looking to liven up their Island Living.
My personal favorite from this set of 4 is a red and white pinstripe towel with a bold teal Beach Bunny logo in the center.
Sleek and spicy at its finest.
11.

Gummy Bear Floaty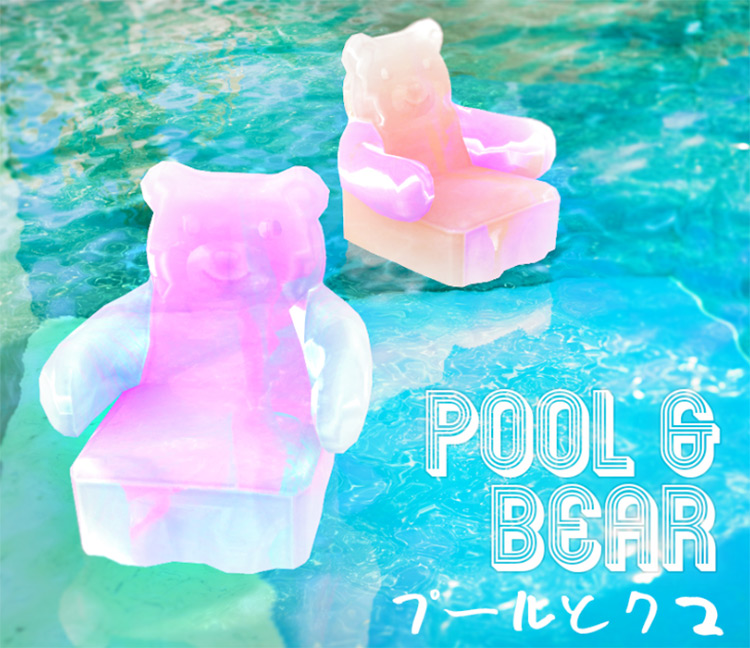 Our first floaty to make the list comes from creator siox.
This pink and purple bear floaty looks just as good to sit on as it does to eat. But please, don't eat it.
The gummy bear styled seat is adorable, just be sure not to pop it!
Regardless, who doesn't want to float in the water sitting on a giant gummy bear?
10.

Juno Patio Umbrella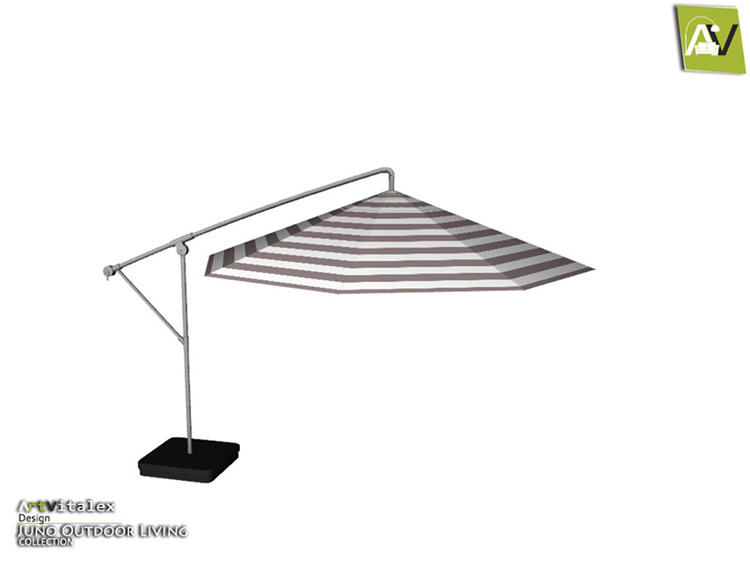 For all my Island Living owners, listen up!
Yes, there are plenty of ways to relax in the shade that are in-game.
But in my opinion, this is the best patio umbrella.
The lamp-like structure alone gives you the vibe that this would actually sit by a pool or near a beach.
The three swatches included here also give a realistic touch, without sacrificing a nice design.
Not to mention, it's shape makes it great to place poolside beds or deck chairs perfectly underneath it.
ArtVitalex definitely hit the nail on the head with this one, or should I say… the umbrella by the pool… yes, that was purposely a lame joke 🙂
9.

Vintage Pool Tile Set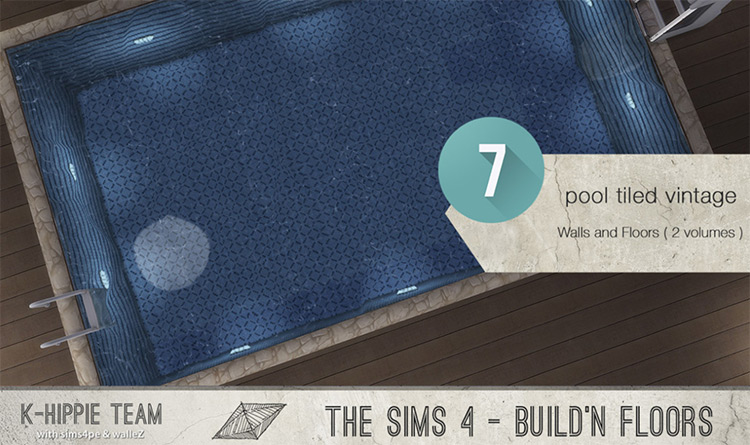 Creator k-hippie makes an appearance with his vintage pool tile set.
This specific set takes the detail up a notch by providing more than just a grid like square design.
This set includes crosshatches, stripes, and dots, among 14 total mosaic tiles.
The real standout is that the floor tiles have coordinated pieces to match the pool walls. How cool is that?
While the other set mentioned earlier definitely has outstanding details, this CC takes the cake for its superb attention to detail and larger variety.
8.

Sunny Day Children's Pool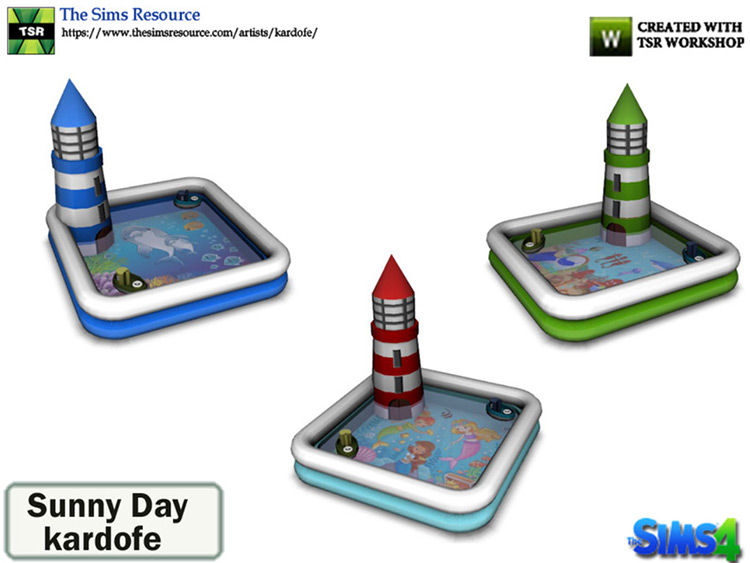 Sometimes, kids aren't ready to take the leap into the big boy pool.
And thanks to kardofe, those children with reserved personalities have somewhere to get their feet wet… quite literally.
This CC includes a kiddie pool filled with some toy boats and a lighthouse to let the kid's imaginations run wild.
Along with 3 different colors, each color also has a different floor design to boot.
The blue having a dolphin design, the red with mermaids, and the green with various aquatic animals. Everything that your virtual kids will love.
A neat CC for children who want to experience the shallow end just a bit longer.
7.

Pool Jumping Ladder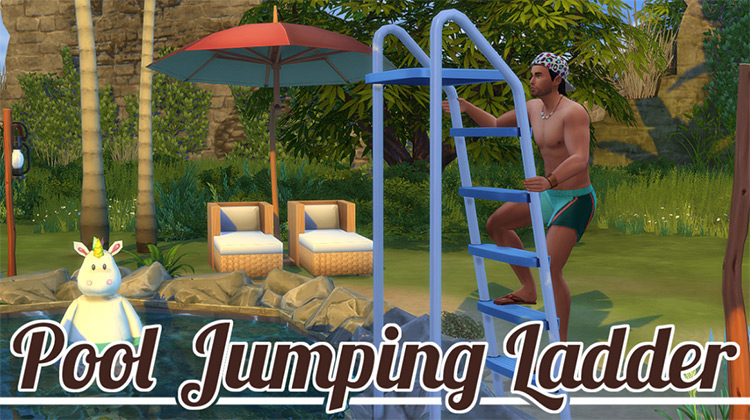 To flip the switch on reserved personalities, this next item is definitely for the daredevils.
This diving ladder by jools-simming is an awesome take for those looking to dive, backflip, or cannonball into watery goodness!
I love these action pieces that help spice up the pool area. Especially since the vanilla diving boards in The Sims 4 are rather generic.
In the wise words of Ron Burgundy…
CANNONBALL!!!
6.

Flamingo & Swan Floaty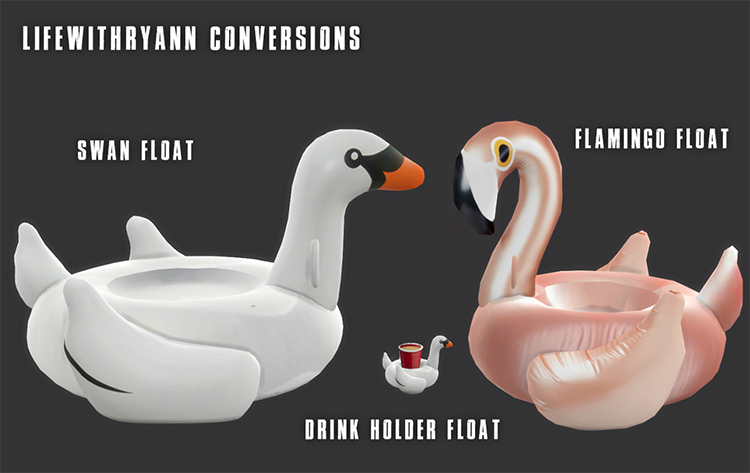 Everyone and their mother has seen someone on Instagram floating in a flamingo floaty.
Well thanks to lifewithryann this can now be you(or your sim) in TS4.
This CC features 2 different variations too: a flamingo and a swan. Both are awesome.
And did I mention this also comes with a tiny drink holder float? A cute addition to the set.
All I can say about this one is Simstagram will never be the same.
5.

Vintage Lifeguard Chair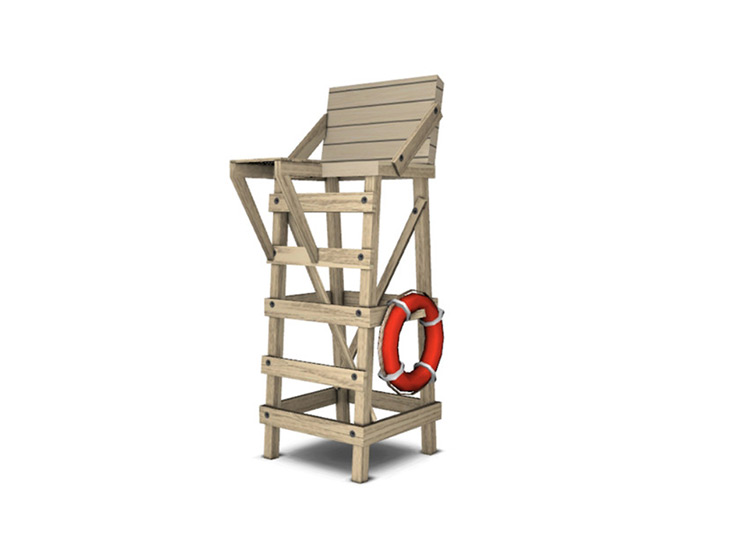 Well, well, well. No one ever thought a lifeguard chair would ever be needed in The Sims, let alone be used.
Reason I say this is because for one reason or another, sims usually tend to die from… drumroll please…
Drowning.
Well that's all going to change now (probably not), this awesome lifeguard chair made by Angela is definitely the most unique item on our list.
For anyone really diving into the Backyard Stuff Pack and creating a waterpark, or just a really intense backyard pool area, this CC can help add the real-life touch of having a lifeguard on duty.
I think it's time to stop paying the maid and hire a lifeguard full-time to fill in this seat. On second thought, keep the maid too.
4.

Trip to Hawaii Float Lounger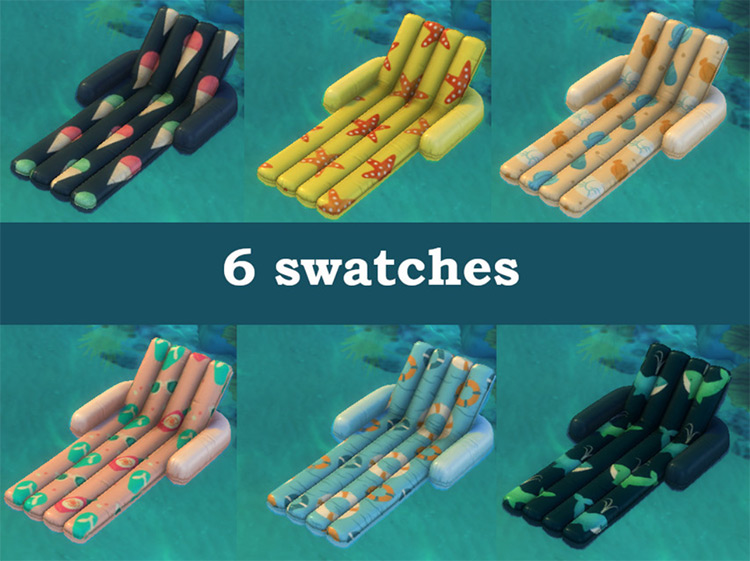 For those looking to float in a laid-back "blew out my flip flop" style, this recolor of the Trip to Hawaii Lounger by hoidernus is the way to go.
This redesign takes the current model and adds some vitality into the design.
With 6 different swatches, the standouts include a yellow lounger with starfishes and a dark green lounger with ice cream cones plastered across it.
The Island Living expansion is a must for these, but it's definitely worth it if you want to lazily float in style.
3.

White & Teal Pool Slide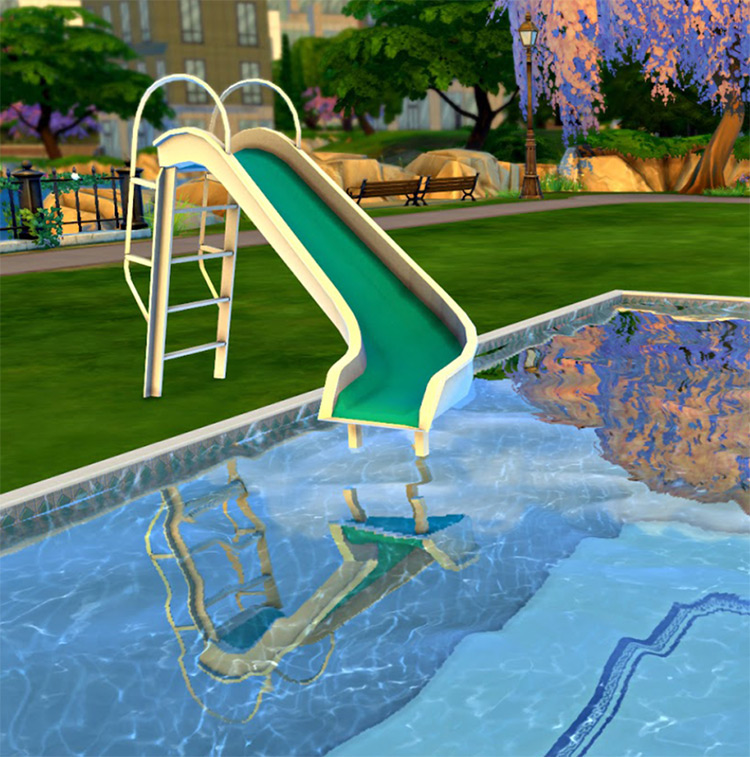 We've jumped off diving boards, we've floated in & on various animals, but we've yet to do the most exciting thing that a swimming pool offers.
Two words: water slide!
This slide comes in a gorgeous white metallic polished off with the actual slide being a sleek teal.
Thanks to cmomoney, we don't just have to experience slides on the playground anymore.
2.

Silicon Tube Floaty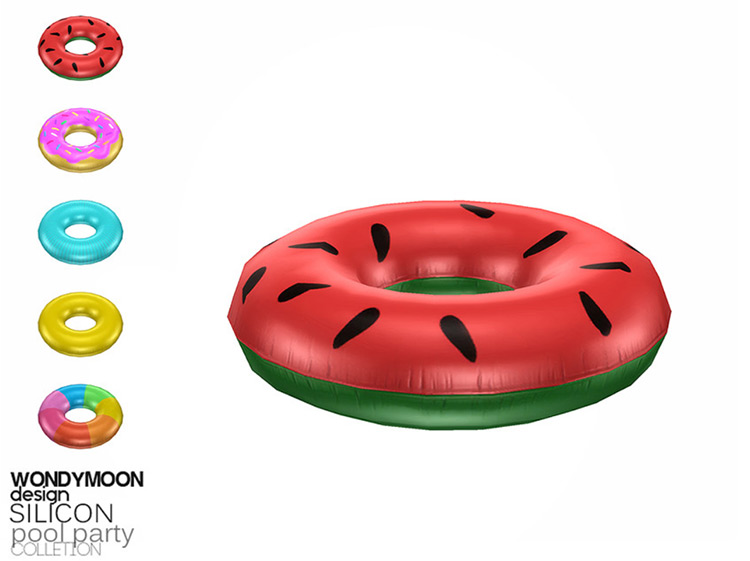 As we slide into our top 2 we have wondymoon making his second appearance on this list.
This time we take a look into a silicon tube floaty, which comes in 5 diverse designs.
As one of the best looking items on this list, wondymoon tops himself with how great these items look. The tubes are well crafted, and the designs are even better.
This includes two food inspired tube designs, a watermelon and a pink donut with sprinkles.
But moving away from the edible tubes, we also have a solid gold design, a sparkling sky blue, and a rainbow colored tube.
Whether you want to float in a donut or just a tasteful rainbow, this floaty CC pack covers it all.
1.

Josie's Pool Floats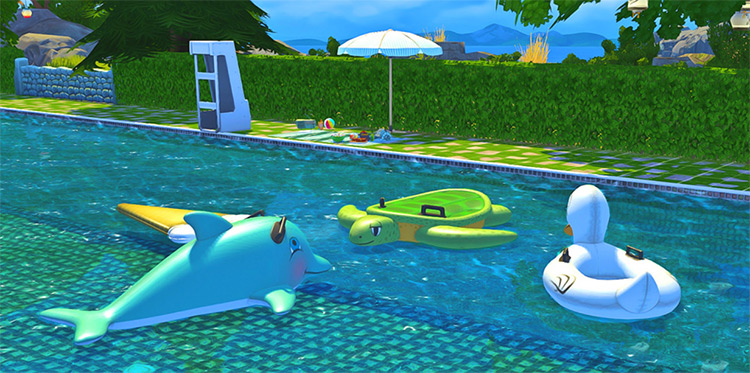 Well if you haven't seen the common theme, one item has been the standout for custom content for swimming pools.
And that's the beloved floaty. This trend continues up to the top of our list with these pool floats by josiesimblr.
All four floats included in this set are exceptionally well designed. Starting with swan tube, of course, which strikes again for Simstagram likes.
Followed by both the ice cream cone and shiny dolphin, both being cuddly and adorable at the same time.
But my personal favourite goes to the sea turtle.
They just look so relaxed. And if Finding Nemo taught me anything, it's that sea turtles are awesome.
More than just a pattern or color change, each floaty here is unique on its own. Josie really perfected the tube design in this CC pack, making it one of the best ways to really enjoy your Sim's swimming pool.
Browse:
Lists
The Sims 4
Video Games