Best Sims 4 Lifeguard CC (All Free To Download)
This post may contain affiliate links. If you buy something we may get a small commission at no extra cost to you. (Learn more).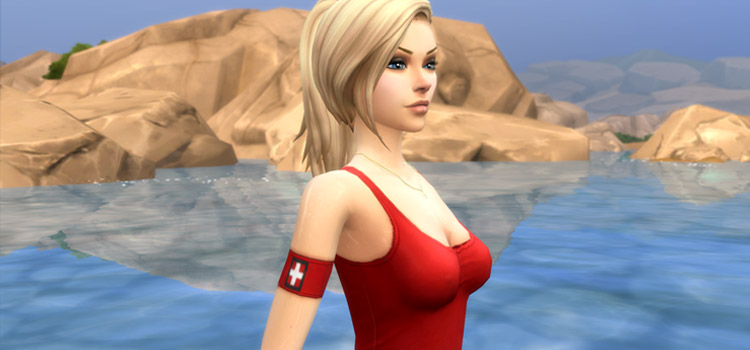 Being a part-time lifeguard has become one of the most popular careers in The Sims 4: Island Living.
That shouldn't come as a surprise, since it involves hanging out at the beach or by the pool all day.
Honestly, at this point, should it still be considered a job?
The answer is yes – because truth be told, it's not as easy as it looks.
Sure, it does feel like a vacation sometimes. But you also have to deal with the pressure of making sure that everyone stays safe.
So to get your Sim ready for that Lifeguard career, here are some awesome CCs worth adding into your game.
DSF Lifeguard Swimwear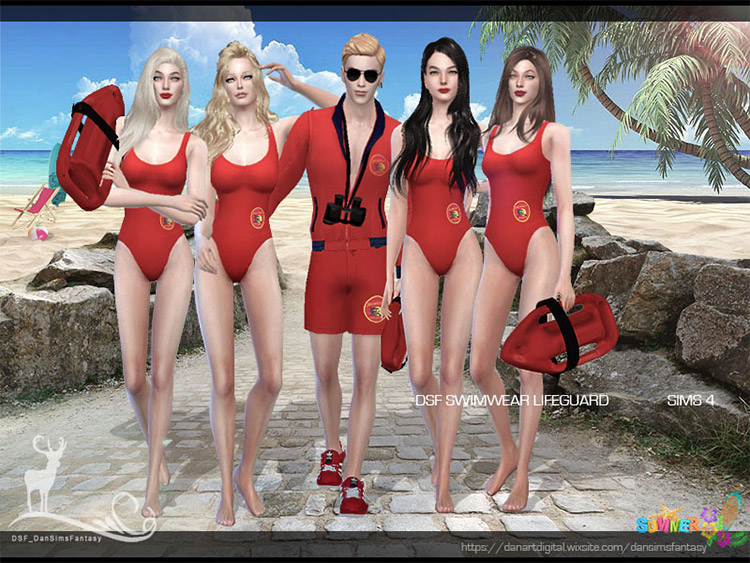 Let's say you want your Sim to pursue a career in nautical safety.
Now what?
Let me help you jumpstart your Sim's career with this lifeguard swimwear set by DanSimsFantasy!
This CC provides lifeguard bathing suits for men and women to complete your Sims transformation into lifesaving hotties.
Lifeguard Male T-shirt and Shorts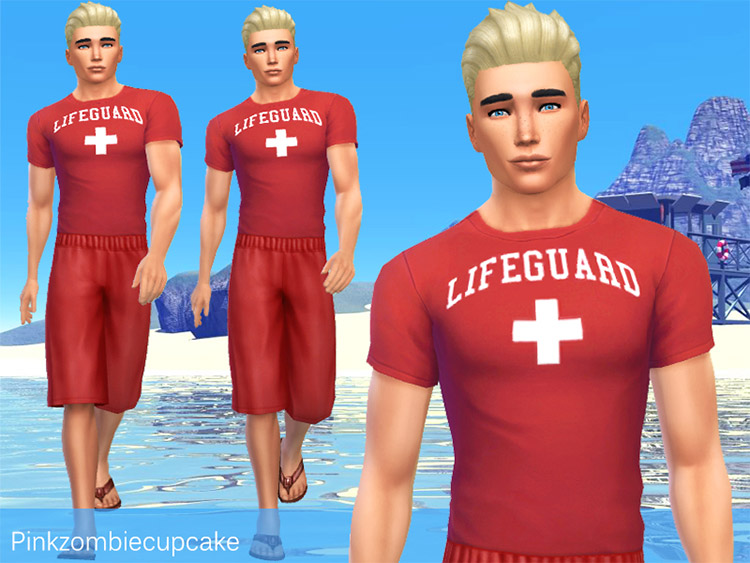 Unfortunately, you can't just wear your favorite pair of Speedos when you're on duty.
Otherwise, people will think you're just some random beach bum.
If your Sim needs a uniform that looks and feels good, then get this Lifeguard T-shirt and Shorts CC set by Pinkzombiecupcakes!
It looks very comfortable and easy to slip out of when someone needs saving.
Plus, they're colored bright red. So any drowning beach patron can spot you from a mile away.
The "I'll Save You" Set
Lifeguard outfits are generally designed for function, not fashion.
However, CC creator MMOUTFITTERS has found a way to make both work with their "I'll Save You!" set!
With stylish sweatshirts, tanks, and shorts included in the pack, both male and female Sims can wear these – whether they're on duty or just hanging out (kinda like, Baywatch?).
Download it and get 4 swatches in each package!
Lifeguard Swimsuit
Here's a custom lifeguard-themed swimsuit that'll surely cause some accidental drowning.
So it's probably not the best outfit to wear at work…
The only reason why it's on this list is that it's ready-made for gorgeous bombshells.
How could we say no to that?
Download this CC by Puresim if you're ready to save lives and break hearts!
Lifeguard CC Set
A lifeguard without a whistle is like a painter without a brush.
Without it, your lifeguard Sim is virtually helpless.
Folks tend to get loud and rowdy when they're splashing around in the water, so shouting alone won't help much.
Plus, with this hot red piece on, other Sims would have no choice but to notice you and do as they're told.
Have your male Sims command the beach with this custom CC set by Bear.
Zipper Suit
Who says emo kids can't be lifeguards?
If the typical bright-red color scheme doesn't suit your gloomy soul, then this gray recolor of the Island Living Lifeguard Zipper suit certainly should help.
And you get bonus points if you dyed your Sim's hair in crazy hues. Because this suit really makes those colors pop.
Baywatch Bathing Suits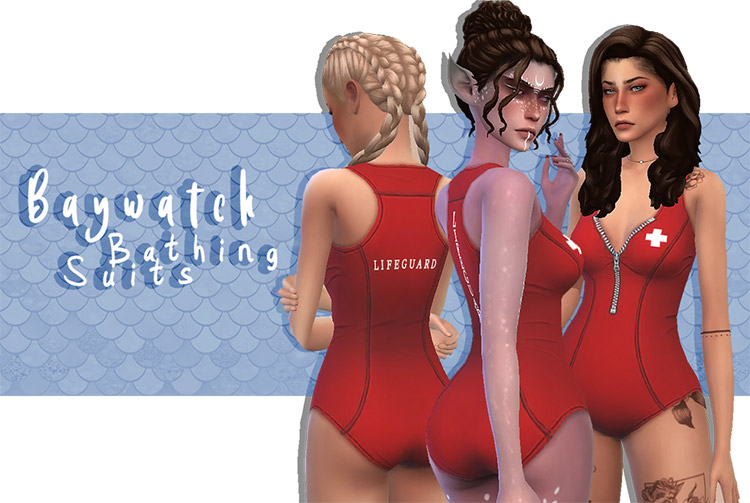 When Baywatch premiered in 1989, it forever changed the image of lifeguards around the worlds.
And it shot celebrities like David Hasselhoff and Pamela Anderson into superstardom.
Maybe you're too young to remember the show, but you're more likely to be more aware of the original compared to the forgettable 2017 remake with Zac Efron and Dwayne Johnson.
But whatever generation you're from, your Sim better pay tribute to the main pop culture phenomenon that made lifeguards hot & in-style.
Perfect CC for your Sim to try out for their first day on duty.
Browse:
Lists
The Sims 4
Video Games