Sims 4 CC: Best Mid-length Hair For Girls (All Free To Download)
This post may contain affiliate links. If you buy something we may get a small commission at no extra cost to you. (Learn more).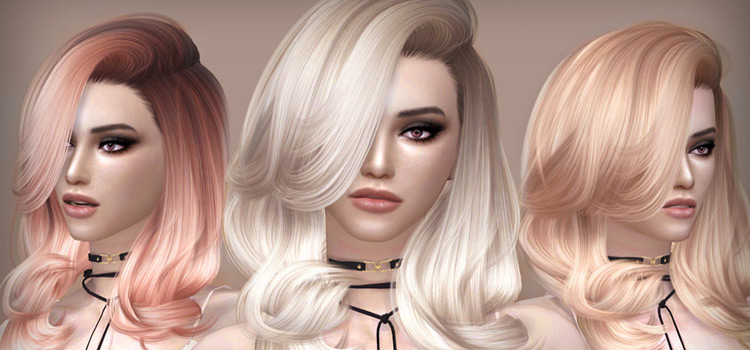 A Sim's hairstyle can either make or break the entire look you're going for.
Sure you can have the perfect outfit and glamorous make-up, but the look won't be complete without the right hairstyle.
If you're anything like me, or if you've ever played The Sims before, you'll find that the original in-game hairstyles just don't quite make the cut.
When I'm trying to create a certain look, I've found the in-game styles to be a bit… Boring. Especially when I'm looking for a good mid-length style to match my ensemble.
There's no amount of color tweaking that could make the vanilla hairstyles any better for the looks I am going for.
That's why we have the wonderful world of custom content!
I've been on the search for some fabulous mid-length hairdo's that I can customize to fit a bunch of personalities, and the CC world has not let me down.
10.

SKYSIMS Hair 260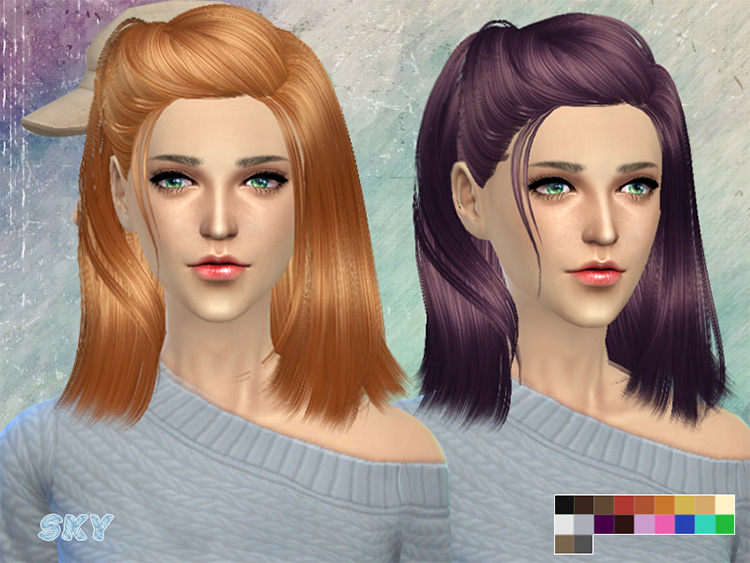 This mini french twist, created by SKYSIMS, is a natural look that pairs well with any casual outfit.
As a girl with simple taste in real life, I'm a sucker for an easy "pull out of my face" style that creates a cute and effortless look.
I love the detail SKYSIMS creates with the texture in this style too.
The fallout of the bangs gives this style a natural and whimsical feeling, perfect for those casual brunch dates with all of your sim's girlfriends.
9.

WINGS-TZ0607 Swoop Mid-Length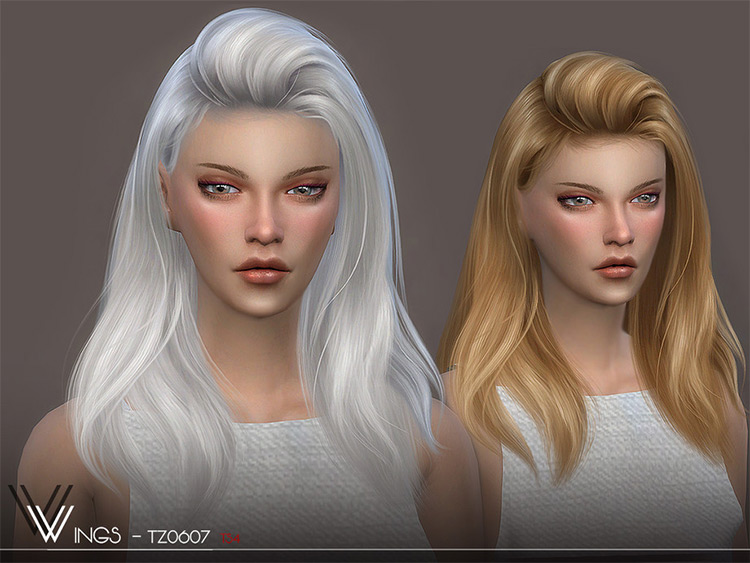 See? I'm just naturally drawn towards the effortless looks.
I like this style more because it allows you to easily dress up the look, just by changing the outfit and adding a smokey eye to the mix.
Wingssims did a great job creating the perfect "swoop your hair back" appearance.
The natural highlights add to the overall texture here, giving your sim that "fresh out of the salon" look.
This style comes with 20 different colors to choose from, so there's some great variety in here. The creator states that recoloring is allowed too, as long as you don't include the mesh.
That's a great deal in my book!
8.

Crazy In Love Curls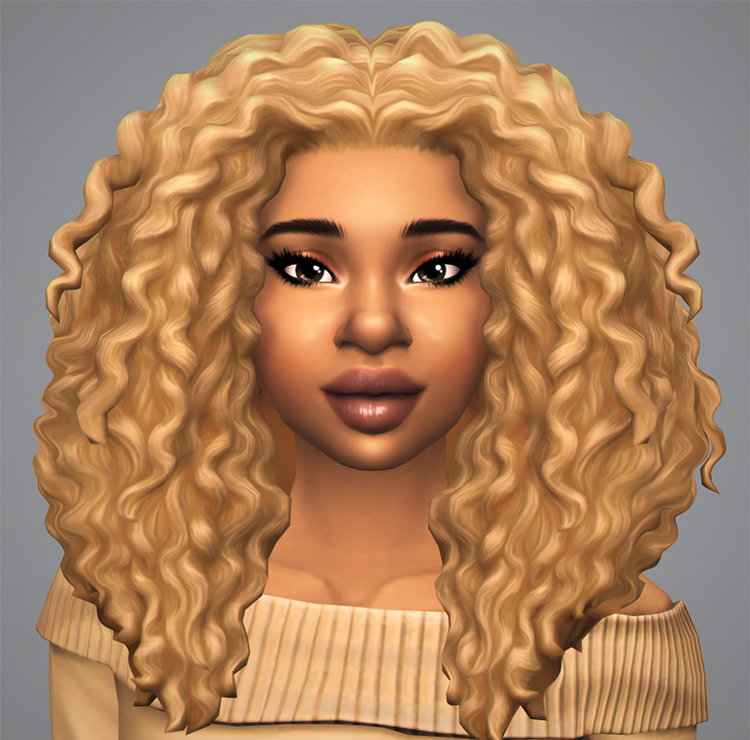 SavvySweet is right: I am crazy in love with these curls!
Who doesn't love a curly girl?
There are some curly options in-game, but they don't do the curly-headed people any justice.
I love a good curly style, but I don't necessarily want a big afro either. SavvySweet created the perfect Beyoncé-inspired look with lots of texture and lots of volume.
This CC is made to be compatible with hats too, and it includes 18 EA swatches of hair colors to choose from.
A voluminous, curly hairstyle compatible with hats? Count me in!
7.

Crow Hairdo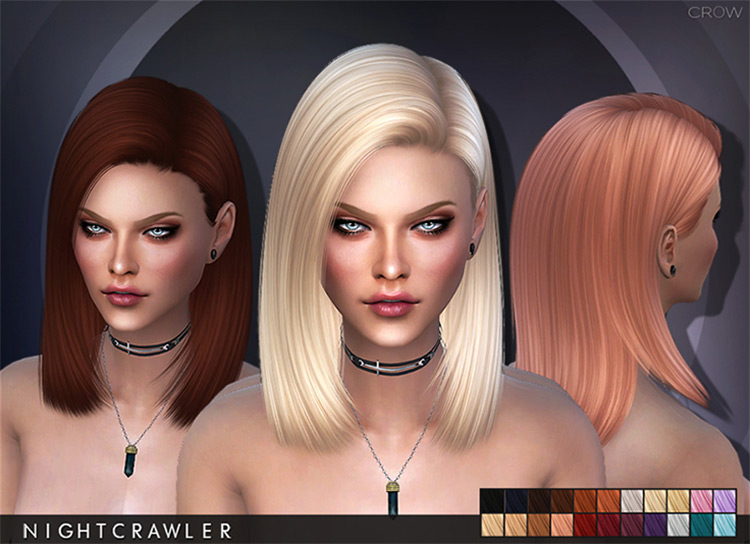 One of my favorite CC creators is definitely Nightcrawler Sims.
They create flawless, modern hairstyles that are to die for.
This look in particular, is perfect for literally any occasion.
You can dress it up or down, depending on your sim's activities for the day.
I love the sleek, straight style with finely cut ends, and the side part adds a little sass to your appearance.
This style comes with 24 colors and it works with hats as well, making it a good versatile option. But I'm not sure I'd be throwing a hat over this.
6.

Mollie Hair
Now we're starting to get to the good stuff!
Creator Anto knocks it out of the park with this mid-length CC.
If you want that perfect "I just curled my hair" style, look no further.
In real life, I can curl my hair like this… but the curls will fall out in about 2 hours no matter how much hairspray I use.
In The Sims world, your sim can rock this style for a night out on the town and still look flawless when she finally makes it to bed.
And can we talk about the color options? Wow!
The platinum blonde and burgundy red colors are amazing.
5.

GetUp Hair
I told you, Nightcrawler Sims has magic powers or something.
At least when it comes to creating CC for hair.
This is another effortlessly-styled look that I love. Because honestly, this is the way I wear my hair 90% of the time.
This naturally wavy, layered style is a great casual look for the busiest of women.
She just wants to go out with her girlfriends without spending a ton of time she doesn't have on her hair. And with custom content, you won't need much time at all.
This style comes with 22 colors, including that perfect honey blonde and those funky unnatural colors.
Why not add the perfect hat to your ensemble to show off your put-together lunch date look?
4.

Clay Hair Retextures
Okay, who doesn't love braided pigtails?
This look is great if your sim is feeling a little spunky, or if she just wants her hair pulled up to clean around the house.
Personally, I love getting out of the shower and braiding my wet hair to let it air dry. Then when it's fully dried, I pull it all out and bam… I have a cool wavy hairstyle to sport for the next couple days.
Do I do this in-game with my sims? I sure do!
Even if you don't play super realistically like I do, this is still a fun and sporty look that your sim can wear for more active lifestyles: like when she's working out, or spending time outside with friends.
Aveira Sims has added 60 colors of the rainbow to choose from for this look, making the versatility of this hairstyle a gorgeous option for any lady.
3.

Erratic Hair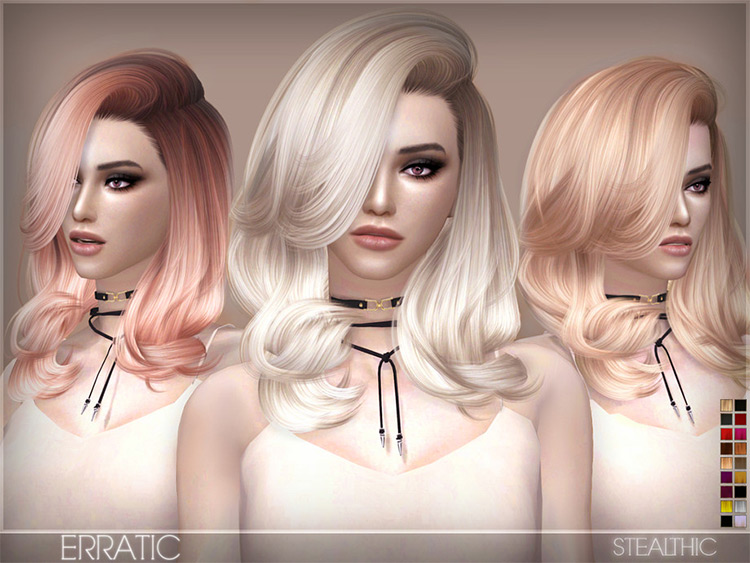 Coming in hot we've got this CC from Stealthicis, and it's absolutely fabulous.
And when I say hot, I mean HOT!
Give your girl this voluminous hot-roller look, paired with that little black dress and a deep smokey eye for her next date night with that special someone.
The mysteriousness behind this look is sure to reel in your lover at first sight.
Go out on the town, or hang out at the lounge and dance the night away. Your date's eyes won't be looking anywhere else. It's a showstopper!
This CC comes with 18 colors and can I just say, I am in love with that icy blonde and the rose gold colors.
2.

Roulette
Okay, so this style is a little out of my personal comfort zone. And by a little, I mean a lot.
But that's why it is so high up on my list of personal favorites.
It's the perfect look for my alter-sim ego.
Let's all give thanks to Anto for creating yet another fabulous mid-length hairdo for my list.
Inspired by Rihanna's Russian Roulette, this side-shaved look has my heart pounding already. My alter-sim ego craves the bad girl look, and who am I not to give it to her?
Maybe toss your sim some cat eyes with eyeliner and some bold red lipstick, and you've got yourself a Rihanna in the making.
Let's be honest, Rihanna brings out the bad girl in all of us.
1.

Kira Hair Space Buns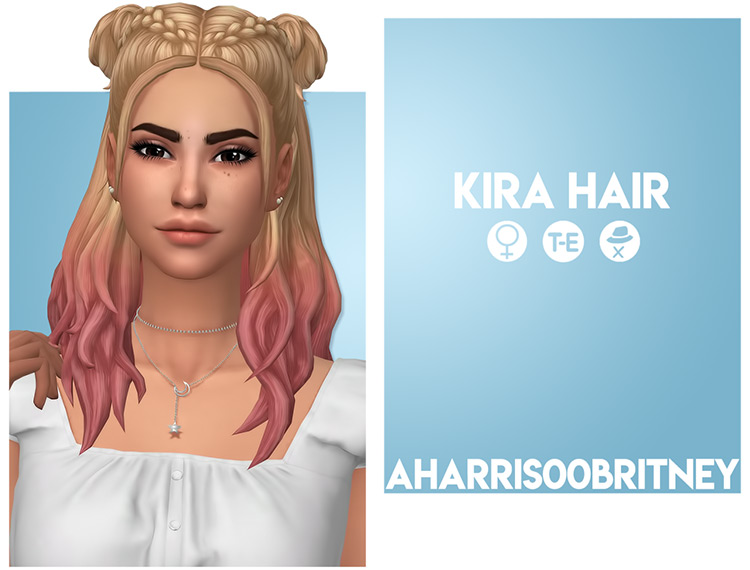 Coming in at the top, aharris00britney on Tumblr has created my all-time favorite mid-length hairstyle.
Space buns!
The '90s are in full swing here girls. The braided space buns, with just a little bit of bangs left out to frame the face, are my favorite go-to hairstyle in-game. And in real life.
Pair that with the ombre option included in this CC pack, and I'm in hair heaven.
The creator includes 18 EA colors, on top of 20 Tropical Punch colors to choose from.
And really, who doesn't adore some spunky space buns?
Browse:
Lists
The Sims 4
Video Games