The Sims 4: Best Minecraft-themed CC & Mods (All Free)
This post may contain affiliate links. If you buy something we may get a small commission at no extra cost to you. (Learn more).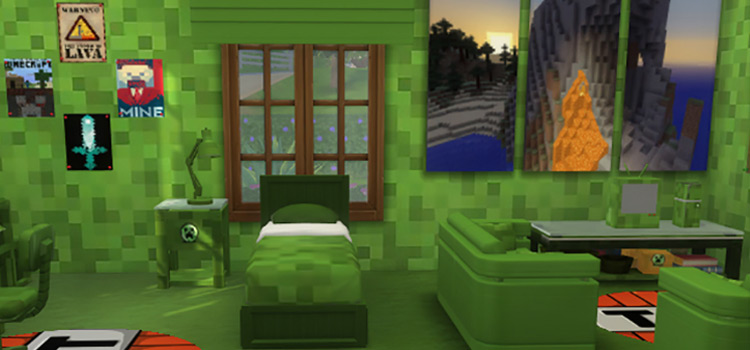 Minecraft's history is fascinating, and full of twists and turns you wouldn't have expected when the Alpha first came out.
So I know many of you long-term fans been looking for Minecraft additions to your Sims 4 life.
How will you re-create your lil' brother in TS4 without some Minecraft furniture and apparel?
The CC community has plenty of Minecraft custom creations to explore – and I've put together the best in this list, so you can get back to the gameplay faster.
1.

Minecraft CAS Background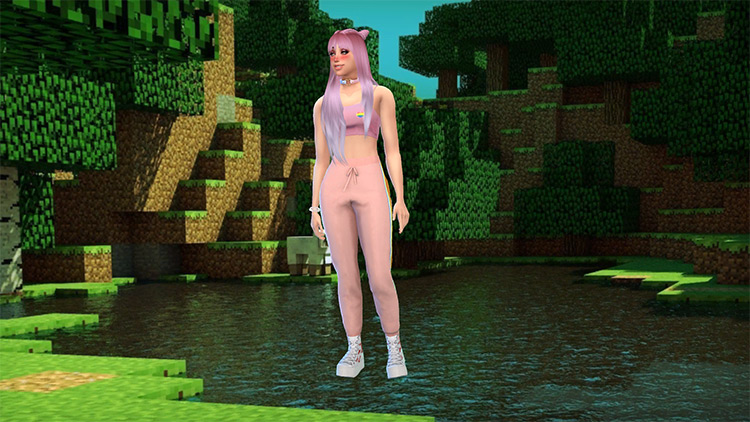 First up, we've got some peaceful Minecraft ambiance to help your creative juices flow as you try to make Steve, Alex, Herobrine, or even a pig in CAS.
This Create-a-Sim background by xWISPAx depicts a peaceful blocky glade caressed by the sun on a beautiful sunny Minecraft day.
It's the kind of place that makes you stop to take in the scenery if you're running good mods for better graphics in Minecraft.
You'll love to have this if you decide to do one of those challenges where you try to re-create the Minecraft mobs/animals as characters in The Sims 4.
Note: we have a whole list dedicated to custom CAS backgrounds, so check that out if you want more options.
2.

Minecraft Dirt Block Table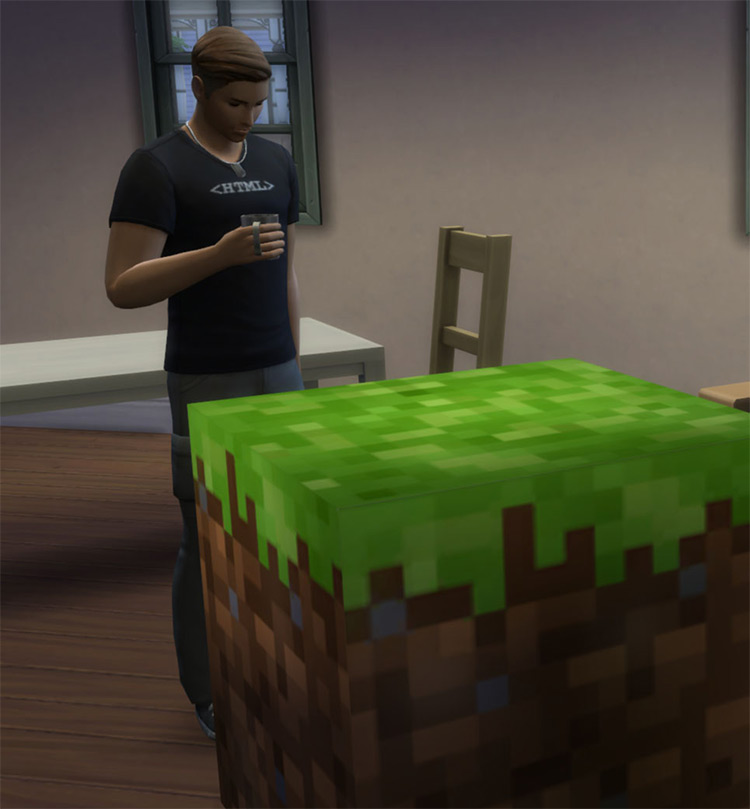 The humble dirt block is the universal symbol of Minecraft and one of the most iconic items in gaming history.
This block taught me you don't need polygons or high-definition textures for realism in gaming.
Forza Horizon 5 may have hyper-detailed ground models where individual pebbles reflect light, but can you dig in it? No, you can't. On the other hand, the dirt block even plays an earthy sound when being dug up.
The Minecraft Dirt Block Table by Lynqoid is perfect for any gaming enthusiasts with a soft spot for Minecraft. What better table for your backyard than a cubic meter of dirt?
3.

Minecraft Posters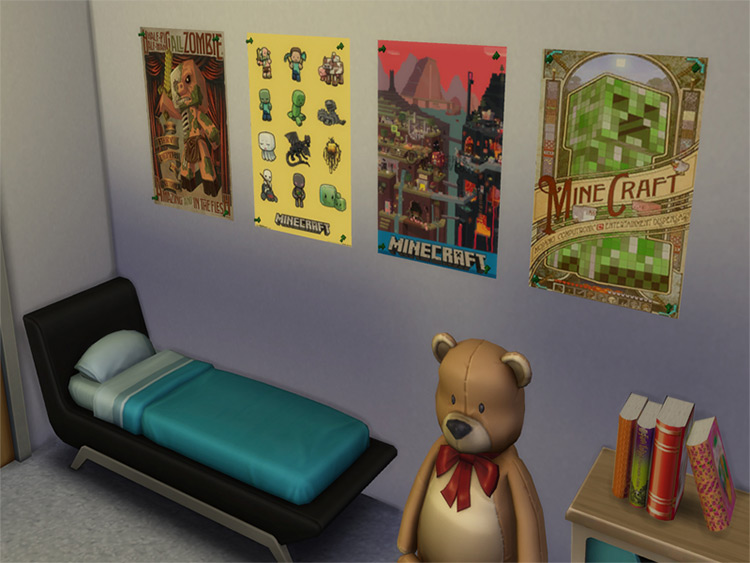 Growing up, I used to have the walls of my room plastered with as many anime and video game posters as possible without my mom thinking I had gone insane.
It was all Mega Man and Sonic the Hedgehog back then.
But if I was a kid now, I'd have creepers and blocky sheep everywhere.
And my Sims would have stuff like Juanni84's Minecraft Posters.
This set of four colorful posters is perfect for decorating the room of any Sim child or teenager who's likely to yell, "get the f&#% out of my room, I'm playing Minecraft!" if you forget to knock.
4.

Kids Minecraft Sweaters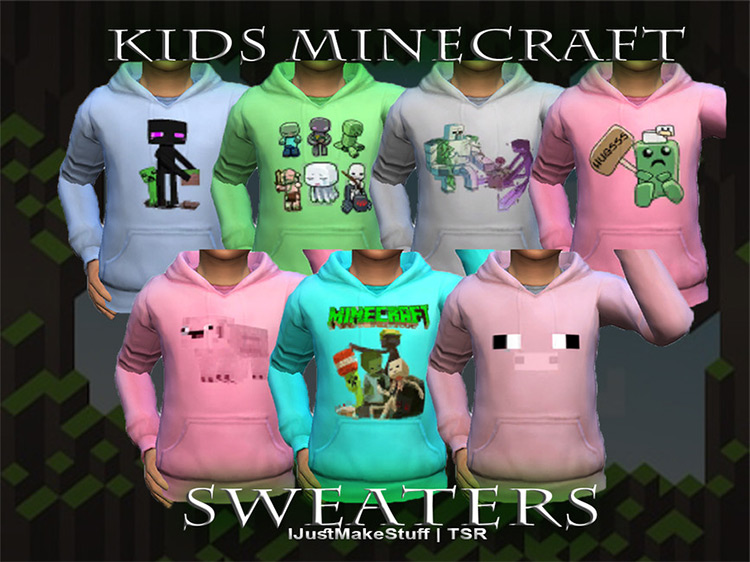 One of the most common ways I see people showing love for Minecraft on the go is with themed Minecraft apparel.
Sweaters bearing the likeness of a spicy creeper or a stoic pig have become a common sight worldwide – and your younger Sims shouldn't be left out of the trend.
Creator IjustMakeStuff offers this beautiful collection of seven different Minecraft sweater designs ranging from minimalist to "I drew this on with fabric paint." There's something for every kid!
5.

Minecraft Kid's Hats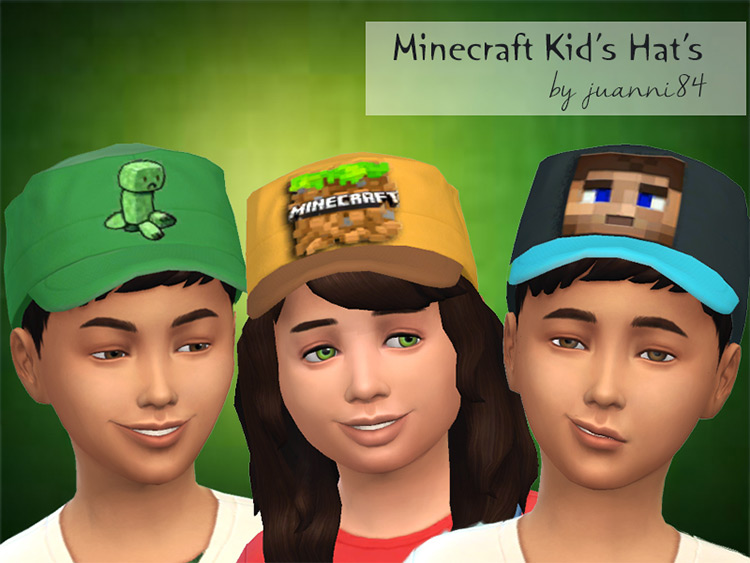 Any normie can go out in a Minecraft sweater without drawing attention – but only true blockheads will go the extra mile and pair it with a hat.
You need to be a real hypebeast to become a walking advertisement for Minecraft. This kid is not just "a fan"; they eat and breathe Minecraft. They're building Redstone machines without guides! Their dreams have HD texture packs.
Alternatively, you can just skip the sweater and wear the hat by itself.
You know, just to stay humble.
These Minecraft CC hats made by Juanni84 are the perfect playful addition to any kid's wardrobe. And they'll help like-minded kids (read: Minecraft addicts) find each other with ease.
6.

Minecraft Children T-Shirts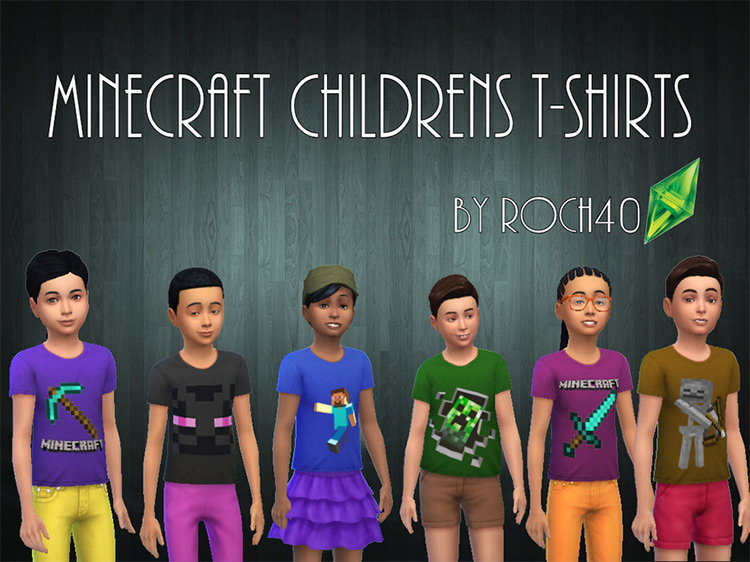 Printed t-shirts have been the most popular way to show your love for bands, movies, politicians, and video games since they were invented in the 1950s.
If your Sim kid wants to partake in this long-standing consumerist tradition, this Minecraft t-shirt collection by Roch40 is the way to go.
The pack features six colorful t-shirts with great Minecraft designs like creepers, skeletons, mining tools, and Steve adorning the front.
They're perfect as a comfy everyday t-shirt that every Sim kid needs.
7.

Minecraft Block Puff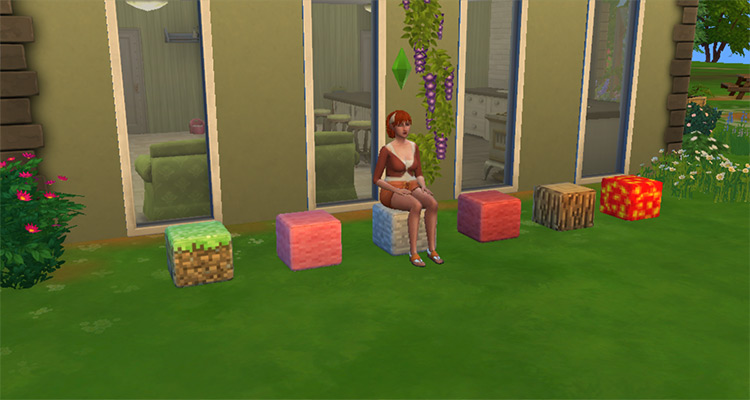 Everyone needs some seating space wherever they do their gaming – whether that's their bedroom, the living room, or a game room if you can spare the square footage.
Puffs are a cheap and convenient way to provide room for many people to join in your gaming fun.
Because puffs are generally lightweight, easy to store, and some of them can even be used as storage space themselves.
And this custom Minecraft Block Puff takes all of that convenience from the real world & adds it into The Sims 4. Along with adding the bright colors and pixelated designs of Minecraft blocks.
Use these to create the ideal gamer seating are for your die-hard gamer Sim.
There's many swatches for different Minecraft textures like dirt, stone, wood, and lava, among others. So you're bound to find one that works for you.
8.

Minecraft Bedroom Set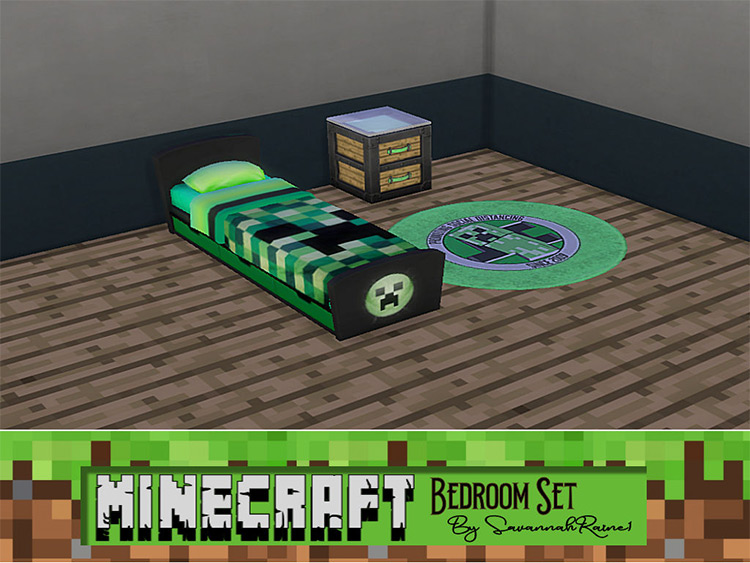 If you like Minecraft furniture and want to take it to the next level, check out SavannahRaine's Minecraft Bedroom Set.
This custom furniture pack features four themed beds, carpets, and bedside tables based on creatures and items found in Minecraft.
Specifically, there's a set dedicated to ocelots, endermen, diamonds, and creepers.
These combos are ideal for a teen's bedroom. And individual pieces like the carpet and bedside table can be transferred to other environments like a game room or the living room.
Additionally, you can get the Add-on Pack 1 and Add-on Pack 2 to expand your CC collection even further.
9.

Miner's Cabin Set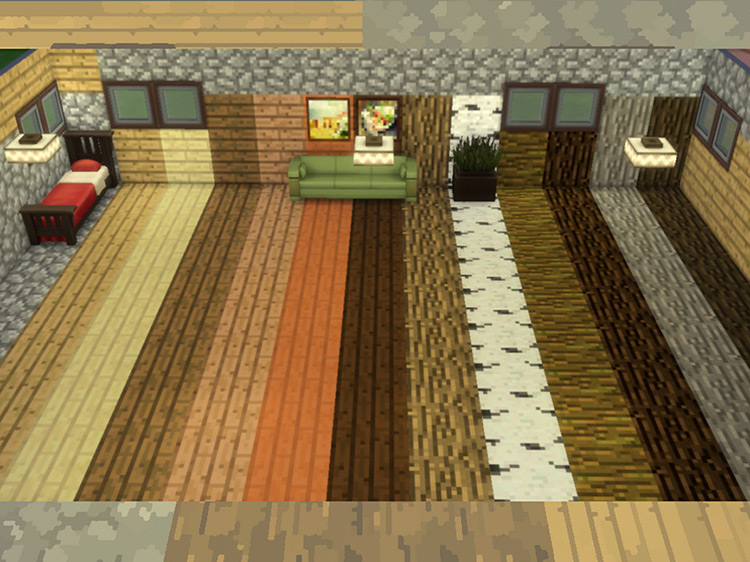 Rather than just getting some Minecraft-themed furniture, why don't you get stuff straight from the game?
The Miner's Cabin Set by SuspiciousSparkleHorse offers you the unique opportunity of living inside an authentic Minecraft environment with floor tiles, wallpaper, and rugs featuring the same textures you'd see in the game.
Now, I don't mean "similar" textures.
I mean literally the same.
There are all kinds of planks, uncut logs, cobblestone, and more to make your home look like your Minecraft survival hut.
The above link will only get you the floors, though. You can find the walls here, and the rugs here.
10.

Pinkfizz Minecraft Bedroom Set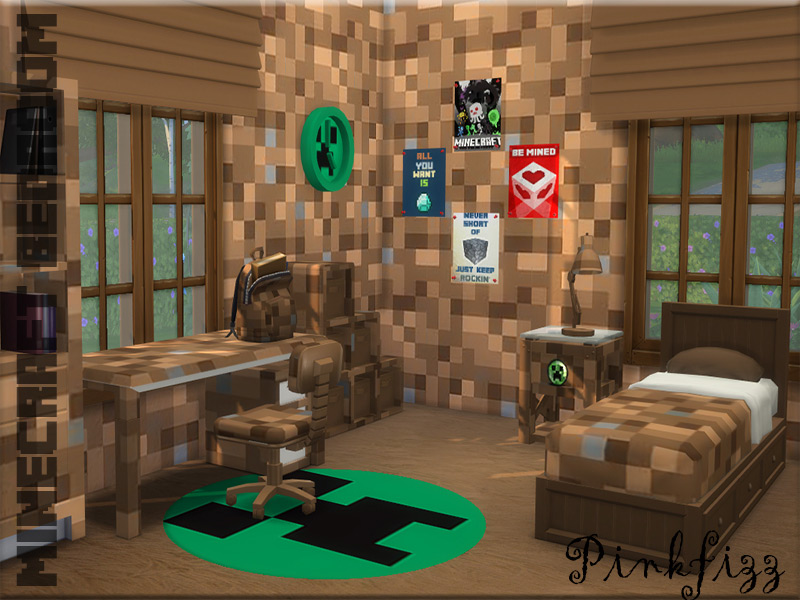 My favorite Minecraft stuff pack is Pinkfizz's Minecraft Bedroom CC set – featuring 22 different creations that'll open the doors to Minecraft-inspired interior design.
Pinkfizz took textures and themes from Minecraft and used them as inspiration for beds, bookcases, desks, sofas, and everything else you'd think of putting in a Sim's bedroom.
There are also a bunch of Minecraft posters – because the creeper rug and wall clock were not obvious enough.
Truly, the possibilities are endless with these pieces.
You can go all out with a 100% Minecraft room, but individual components can also bring life to otherwise "regular" rooms.
Your kid doesn't have to live in Minecraft, but a poster of a diamond Minecraft sword might make them feel empowered.
Tip: be sure to check the creator notes on this CC, because some items require the Kids Room Stuff Pack, and a couple others require City Living. But a good number of these items are also base-game compatible.
Browse:
Lists
Minecraft
The Sims 4
Video Games