Sims 4 My Little Pony CC & Mods: The Ultimate Collection
This post may contain affiliate links. If you buy something we may get a small commission at no extra cost to you. (Learn more).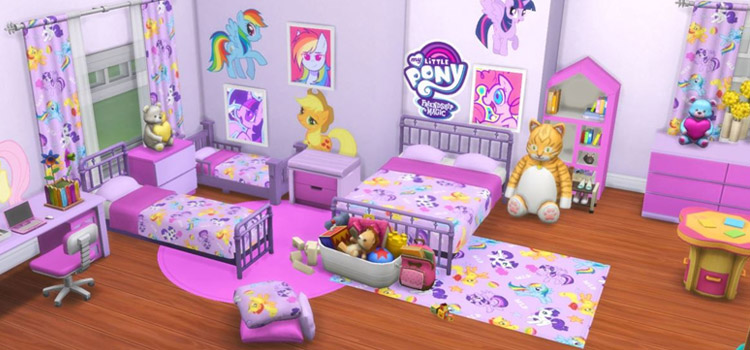 My Little Pony is one of the most beloved children's shows of the last four decades.
Recently it's developed a whole new generation of viewers while still offering original fans that warm & fuzzy nostalgia.
Colorful and vivid, it's no wonder why MLP-themed items would make a great addition to children's bedrooms and rec rooms in The Sims 4.
We searched far and wide for the best of the best, so don't hesitate to put these in your game if you've been struggling to find some great MLP CC.
My Little Pony Posters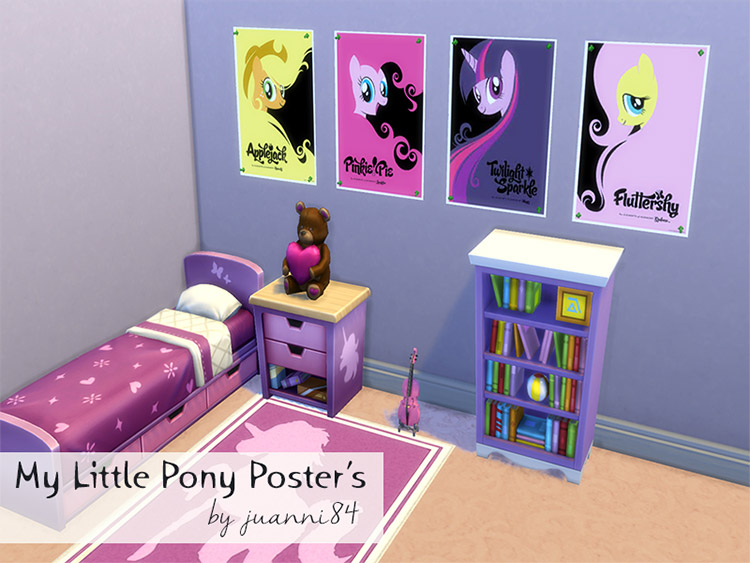 Show your love for MLP with these My Little Pony Posters by Juanni84.
This four-poster set features characters from the show:
Apple Jack, Pinkie Pie, Twilight Sparkle, and Fluttershy.
We love the color palette here, because it adds just enough without overpowering the rest of the room.
There are even pins in all corners of the poster too – which gives this CC a homemade & realistic touch.
Princess Cadence Hair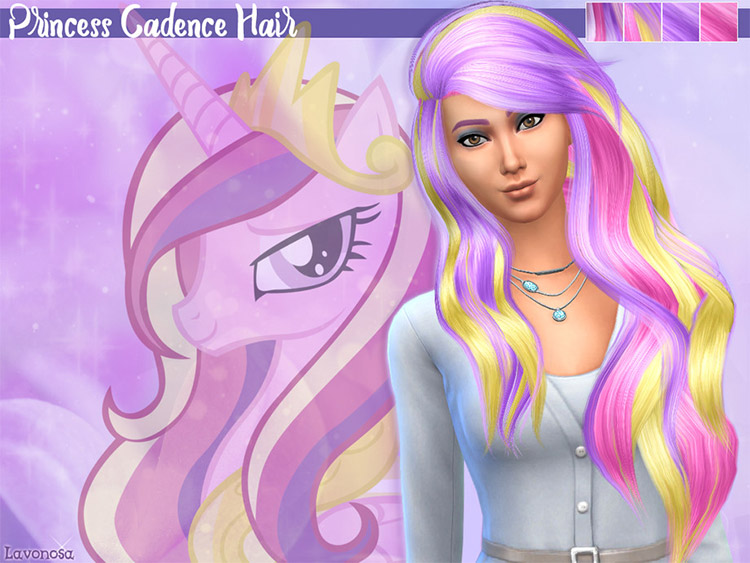 Princess Cadence lovers will totally love Lavonosa's custom hair CC.
This pastel-rich style features long, multi-colored flowing locks inspired by the colors of Princess Cadence's mane – yellow, pink and purple.
There's also a pink, purple, and pink/purple mix swatch for a total of four.
Just be sure to download the mesh first before you try it out.
My Little Pony Top for Toddlers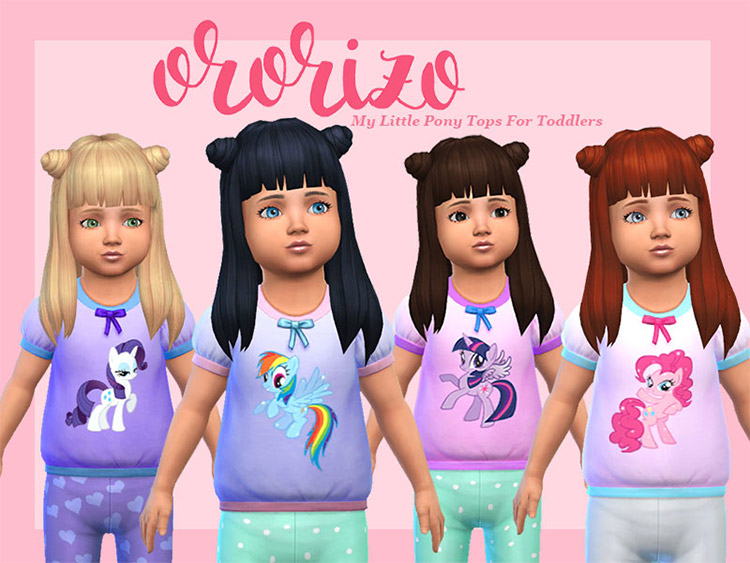 Have your littlest Sims show their love for MLP with this custom top for your little ones.
Creator Ororizo's four-top set has all your favorite characters with the bold, bright colors they're known for.
The sleeves are poofy, and there's even an adorable little ribbon bow at the neckline.
And since this shirt is a recolor of a base game shirt, no need to own packs to use!
My Little Pony Bedroom Set for TS4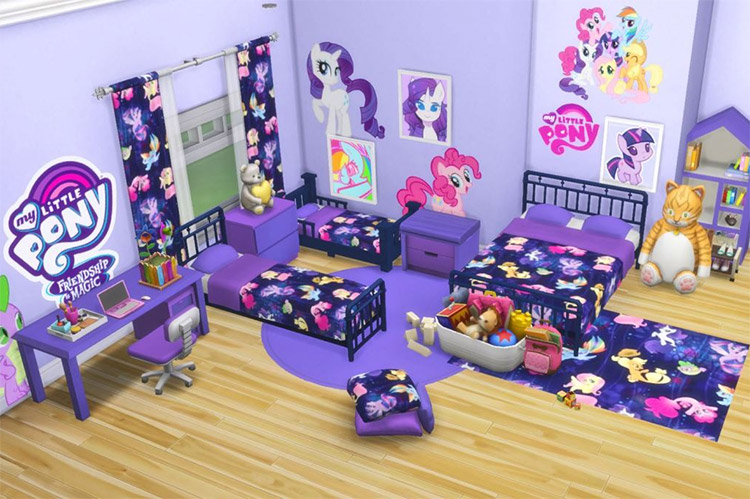 Posters are one thing, but what about an entire bedroom set?
Yep, this custom MLP CC set is for the biggest fans of the series.
MLP-themed beds, rugs, wall decals, pillows, curtains… and that's just some of what's included.
It is worth mentioning that this set does use assets from Parenthood, Kids Stuffm and Toddler Stuff, so make sure you own these packs before adding to your game.
My Little Pony Skin Overlay Set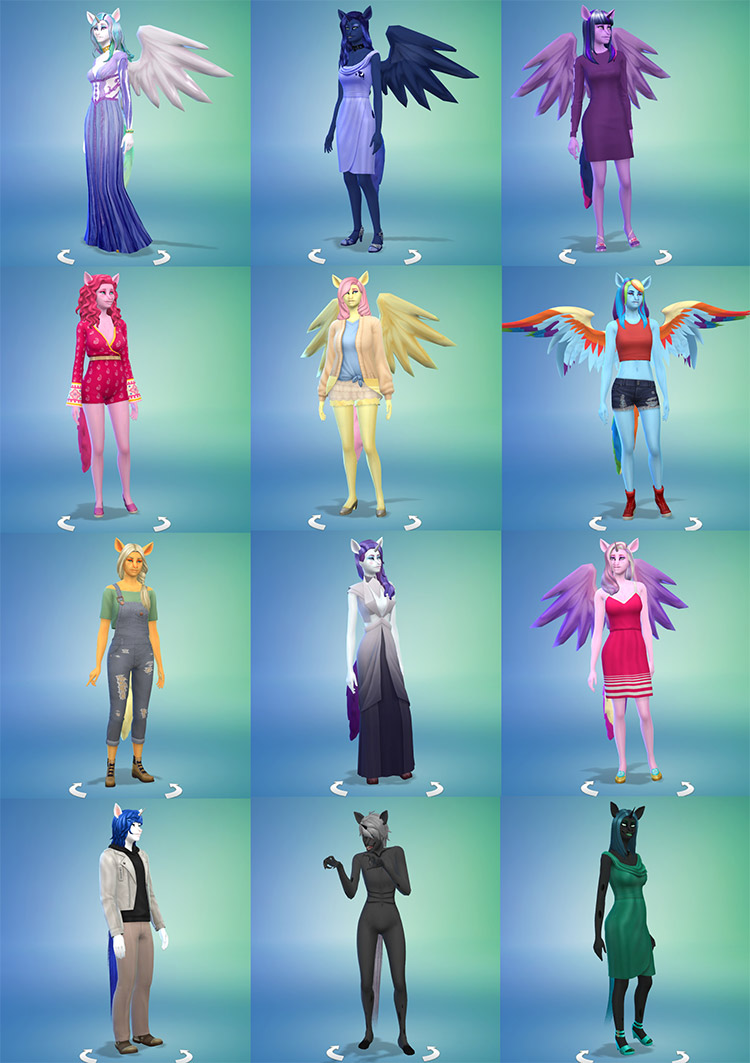 If you've ever wanted to dress your older Sims up like MLP characters, here's your chance.
This My Little Pony Skin Overlay Set by Crowface includes 12 characters from the show, including Princess Celestia, Applejack, Shining Armor, and Queen Chrystalis.
All CC appears to be Maxis-Match friendly, and there's no mention of any packs required for use.
These are great options for either a fantasy-based world – or a really elaborate costume for Spooky Day.
MLP Horse Ears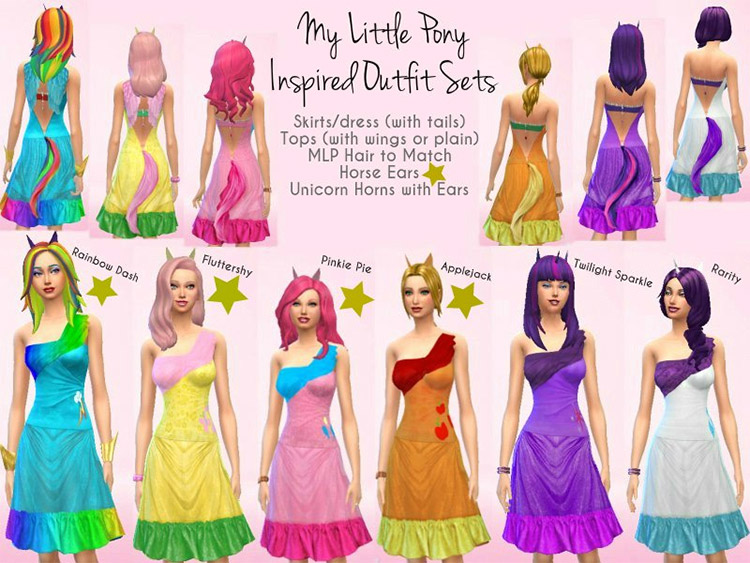 If the last entry was a little too detailed for you, then check out Cocobuzz's MLP Horse Ears.
These cute low-key ears look more like something you'd find in a costume store than in a prosthetics shop.
There are six sets of ears for six characters in total, including Rainbow Dash and Rarity.
And this can be worn by YA Sims or older.
You'll find this in the sunglasses category, and it's actually part of a collection that includes MLP inspired outfits. So give that whole set a try if you're curious.
My Pretty Pony Figures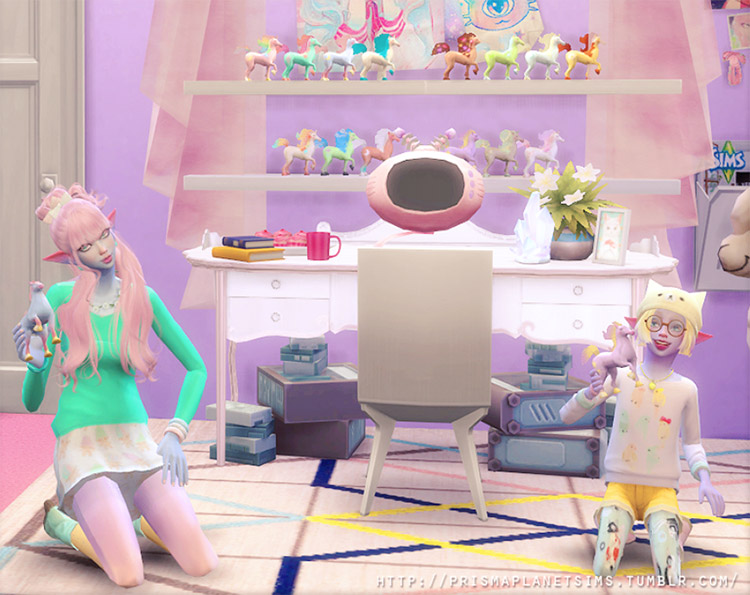 There are a special group of Simmers who live real-life inspired things in their games, but not the actual product.
These custom MLP figures by PrismaPlanet offer exactly that:
A set of 14 majestic colorful horses that are very similar to MLP, but not direct copies.
The toys are not only very Maxis-Match friendly, but they're also fully functional for playtime.
If you'd love the idea of there being a MLP-type franchise in The Sims, this is definitely one CC pack to check out.
My Little Pony Bedroom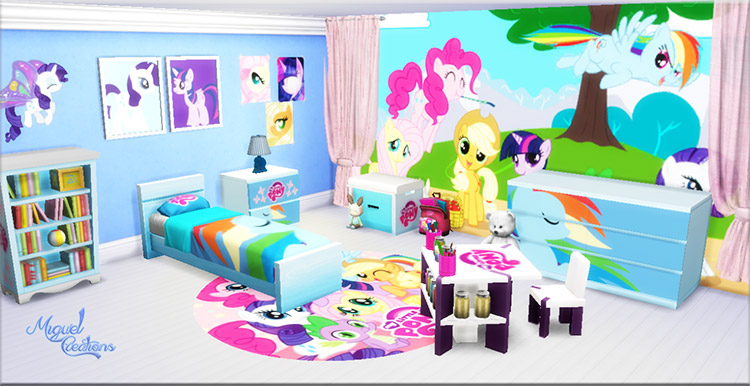 Another MLP bedroom set?
Yep – three, actually, and they're all equally amazing.
VictorMiguell's CC pack comes with three unique bedroom set styles (pink, blue, and purple) with 14 unique items in each one.
Some items in the set include a bed, bookcase, toy box, activity table, and schoolbag, with swatch options ranging from one to 20.
They're HQ, but don't clash with the in-game look – and are base-game compatible.
Sweet Dreams Nursery Furniture Set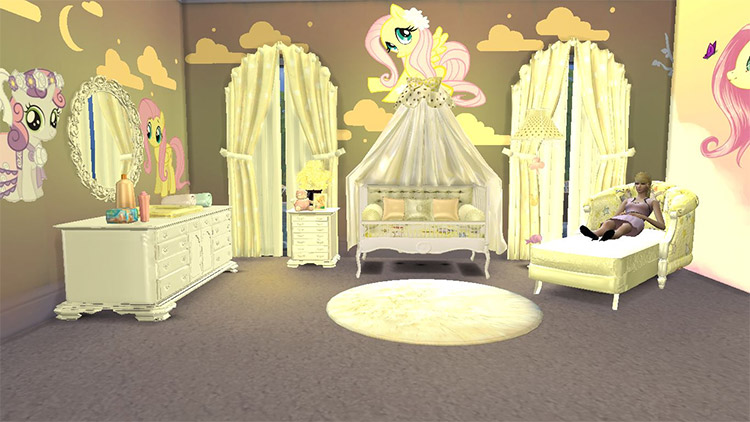 It's never too early to create My Little Pony fans.
This custom Sweet Dreams Nursery Furniture CC from Sanjana actually includes four cartoon-themed nurseries.
But it's the My Little Pony one we're excited to share for this list.
The yellow and pink-themed room comes with some pretty awesome stuff that we don't have in game currently, like a changing table and a really adorable curtained crib.
We count at least 11 unique items here, but there could be more, and there are at least five swatches for this set alone.
Honestly, there's too many great things to cover so definitely check this out for any custom nursery build.
My Little Pony Beds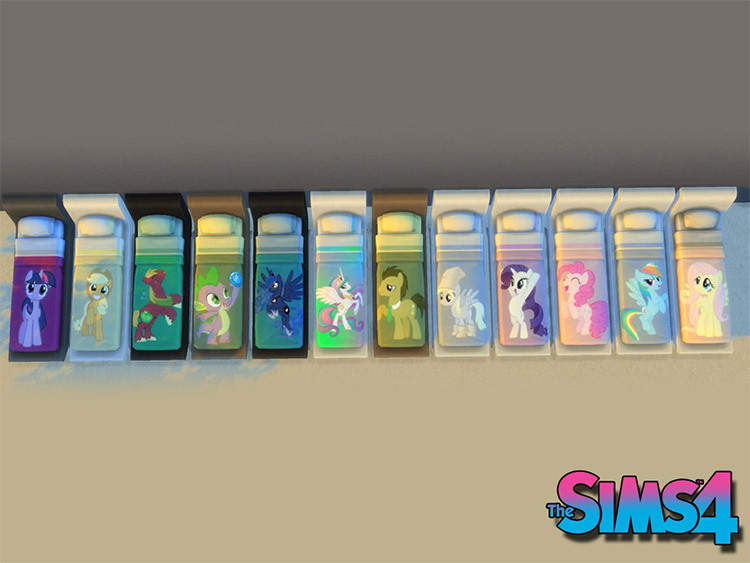 If all My Little Pony everything in your kid's room is a bit too much, no worries.
MissRatata's custom MLP beds are simple and sweet.
You'll find a kid-sized bed with 12 different bedspreads, all featuring specific MLP characters.
It might be light touch that your child's room needs to show their love for the show, without turning the space into a shrine.
There's also two other sets of recolors, if you're interested in those too.
My Little Pony Create-A-Pet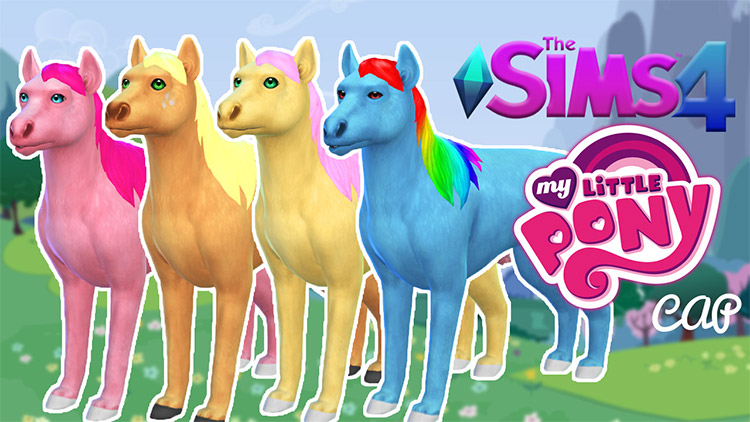 Wait – actual My Little Ponies?
Not quite.
But through the power of Create-A-Pet and CC creator TheAllegedSimmer, these are still really darned cute.
As you know, Cats and Dogs only gave us… well, cats and dogs (and raccoons, for some reason).
So while we don't actually have horses, a bit of creativity and CC goes a long way.
This set includes Pinkie Pie, Shutterfly, Apple Jack, Twilight Sparkle, and Rarity, created with CAP for dogs.
You will want to download some CC which the creator used (download it here), but otherwise you're good to go.
Browse:
Lists
The Sims 4
Video Games