Sims 4 Yeezy Sneakers CC (All Free To Download)
This post may contain affiliate links. If you buy something we may get a small commission at no extra cost to you. (Learn more).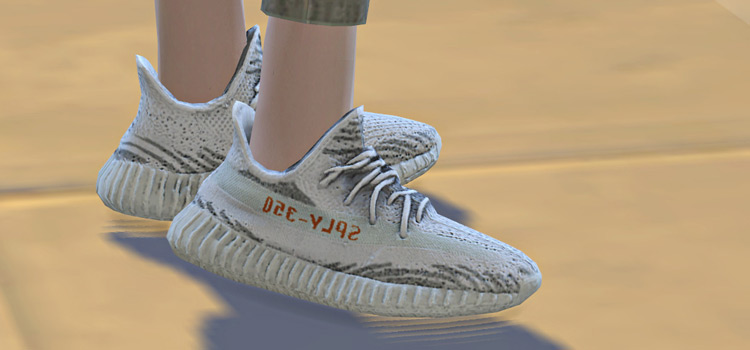 Ah, that name. Yeezy. It's as memorable as the shoes themselves.
This Adidas and Kayne collab may not be the one anybody was expecting, but it's now iconic for a reason.
Every Yeezy style stands out on its own, and fortunately, you've got more than one to choose from for your Sims.
1.

Yeezy Pack
Here's an entire set to really boost your Sim's sneaker collection.
10 total swatches offer a sampling of the real-life designs everyone's dying to have.
All of the black options are super bold, and the plain white's a classic. Plus there's plenty of others to go around!
2.

Yeezy Boost 350
These also have a super realistic look.
They're complete replicas of the real thing, bringing all of the modern style people expect from Yeezy's.
From the laces to the treads, Becky-Sims' take on these sneakers is highly detailed. The 9 swatches also bring some fun and unique colors, including lime green and cherry red.
3.

Yeezy Sneakers By Greenapple18r
The type of custom content a Simmer prefers is totally subjective. Some prefer things that are more on the Alpha side, like the previous two Yeezy options.
Others are committed to the Maxis Match style, which generally looks like it could've come from the developers themselves.
Here are some sneakers for you MM fans. They really look great and still have that iconic smooth appearance, but they'll fit right into any vanilla Sims 4 save.
4.

Yeezy Boost 700 Wave Runner
The look of the Wave Runners is just as snazzy as the name itself. This colorful, original design sets them apart from the rest.
It's also another example of just how accurately real styles can be brought to our Sims. There's no mistaking what these are. Anyone who's in the know will know they are Yeezy's.
5.

Yeezy 700 Inertia
Some chunky sneakers are a wardrobe staple these days.
They go with absolutely everything, and bring a youthful vibe.
So why not opt for a pair of Yeezy 700 Inertia's for your Sim's most chic moments? The dash of color, in the form of a couple small orange stripes, only makes them better.
Browse:
Lists
The Sims 4
Video Games