Fun Pink Island Design Ideas For Animal Crossing: New Horizons
This post may contain affiliate links. If you buy something we may get a small commission at no extra cost to you. (Learn more).
I absolutely adore the color pink.
I have a pink desk, pink gaming setup, pink Switch cover… If I could live in a pink house, I would probably do it!
But until I get brave enough to grab a few cans of flamingo-colored paint, Animal Crossing: New Horizons provides the perfect outlet to let my blush, rose, and bubblegum colored dreams come to life.
So if you're looking for the ultimate head-to-toe girly ACNH makeover, you can get some inspiration from these stunning examples featuring all the shades of pink you can squeeze onto one tiny island!
15.

Pink Bakery Kitchen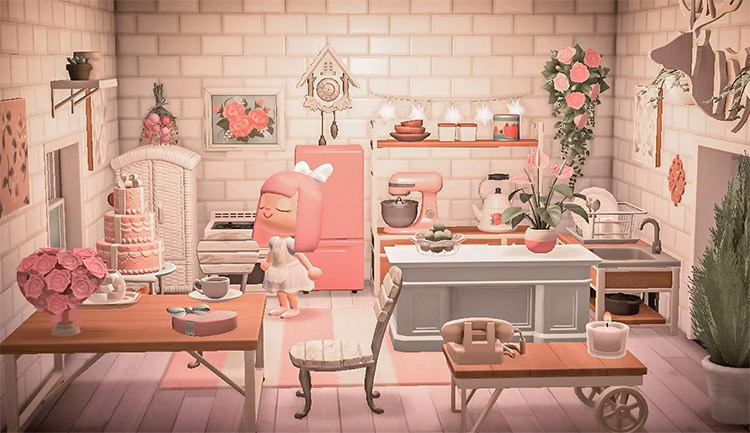 If you've ever dreamed of opening up your very own Parisian bakery, specializing in romantic wedding cakes and dainty macarons, this pink kitchen can help you live out that fantasy (without hopping a plane to France).
The key to creating the perfect rosy bakery is sticking to neutral colors for the walls and basic furniture, then adding pops of pink with items like rugs, the fridge, the standmixer, and your decor.
And you can't forget to include sweets to showcase your baking skills.
This player used the Wedding Cake for their centerpiece, but you can search for hat cake patterns and custom tiles to add something extra special!
14.

Sanrio Home Office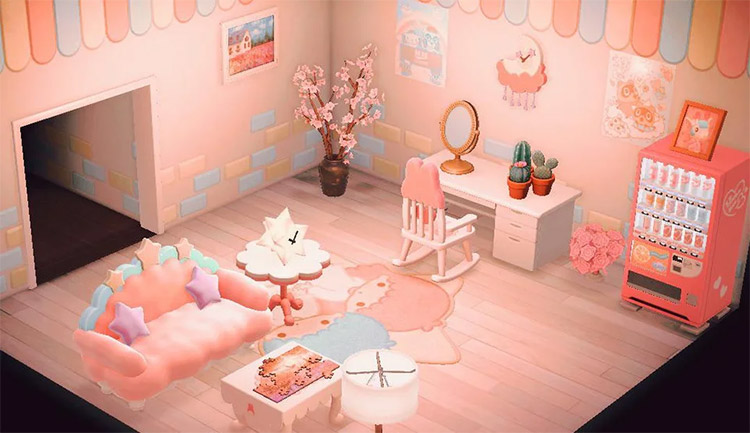 Did you get lucky enough to snag one of the amiibo card packs featuring the Sanrio collaboration?
This player did, and they used it to inspire this darling office that comes complete with a stocked vending machine.
Even serial procrastinators would be tempted to get things done if it meant spending some time surrounded by candy-colored pastels and posters of their favorite Animal Crossing friends.
The Sanrio packs include exclusive portraits that are just too sweet to pass up.
13.

Cheery Cherries Indoor Bathroom & Spa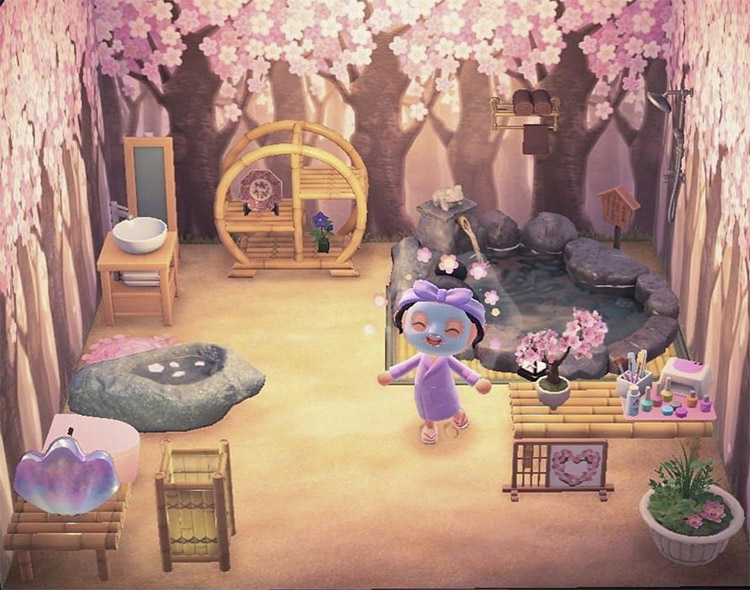 Pink is usually associated with those who like the finer, feminine things in life.
And mucking around in an outdoor spa probably isn't one of those things.
Skip the mud, insects, and grass. Instead, relax and rejuvenate under the falling sakura blossoms with a pink indoor spa and bathroom!
Most indoor spas don't come with all the amenities of a bathroom. But this space-saving player combined both into one for the ultimate zen experience, right in the comfort of their own home.
This room even comes with a spot to pamper yourself with a pedicure!
12.

Fuschia Feast Dinner Party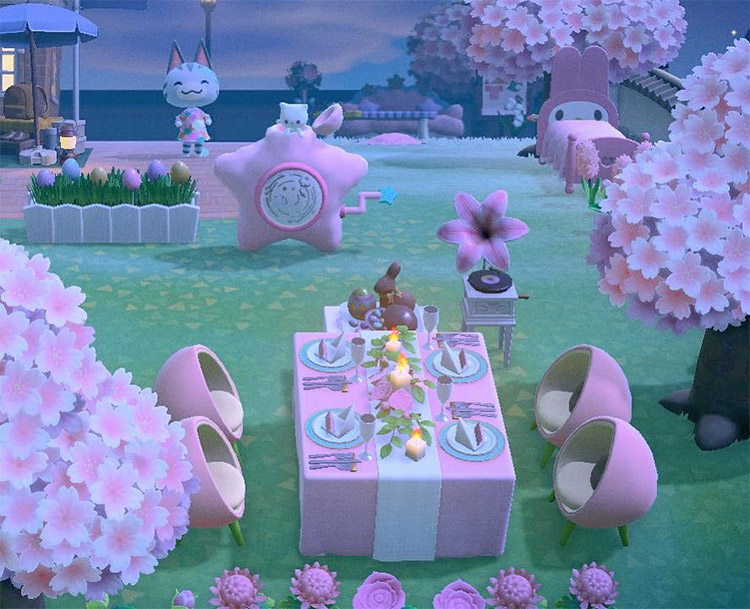 The blooming cherry trees that take over our islands every spring are a stunning backdrop to any pink-themed event.
So this player's dinner party was off to a great start, even before they placed a single item of furniture.
Islands that have a peach as their native fruit are going to have a much easier time coming up with blushy tones to spice up their small areas.
For example, this Island Resident Advisor pinkified their dinner party with adorable peach-shaped chairs.
Adding even more charm are the throw pillows shaped like the pit!
As you can see by the My Melody Bed and Kiki & Lala Cloud Maker, Sanrio items are popular additions to pink designs.
They add a little something special for your guests to enjoy during your fuschia al fresco feast.
11.

Mermaid Beach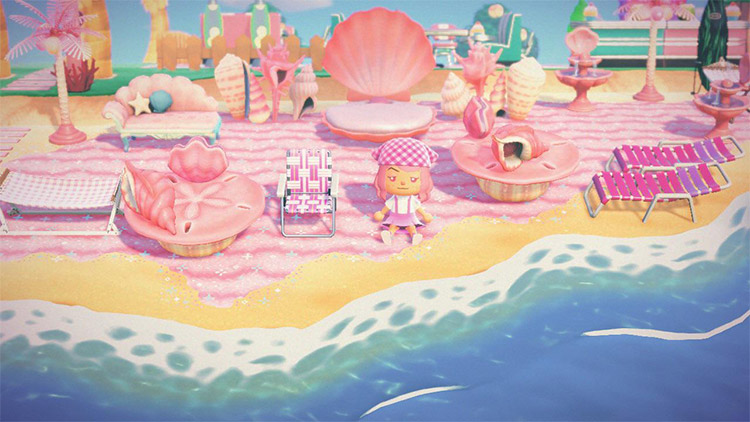 Summertime is the quintessential time to head out for some sun and surf.
But it can be tough leaving your pink indoor paradise just to get sand in your shorts.
With a little creativity, though, leaving home doesn't have to mean that the color palette has to suddenly shift!
Start by laying down the customized Sandy-beach flooring colored to a delicate shell-pink sand as the foundation for your fabulous seashore hangout.
Then, top it off with just about every mermaid-themed item you can possibly think of. They perfectly combine a beachy feel with lovely mixtures of pink, blue, and purple.
Fill in empty spaces with shell furniture.
You can switch up your choice for color between the standard pink, or the pearly variation that shimmers in a range of pastel hues.
10.

Princess Peach Castle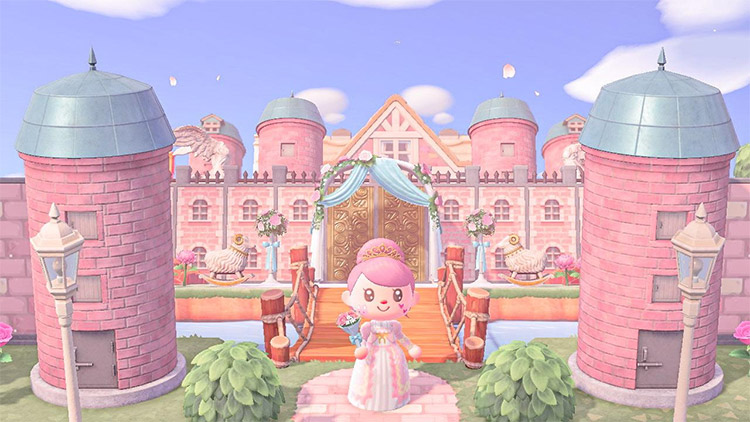 Sure, this castle isn't officially licensed as the Princess Peach castle.
But if anyone would approve of this clever combination of silos and simple panels, it would be her!
If I made this design, I'd make this palace the main entrance into a pink island extravaganza.
For a whimsical fairytale feel, lay down a pink brick road that leads to a drawbridge crossing. Then place a wedding arch in front of the main castle doors.
9.

Retro Diner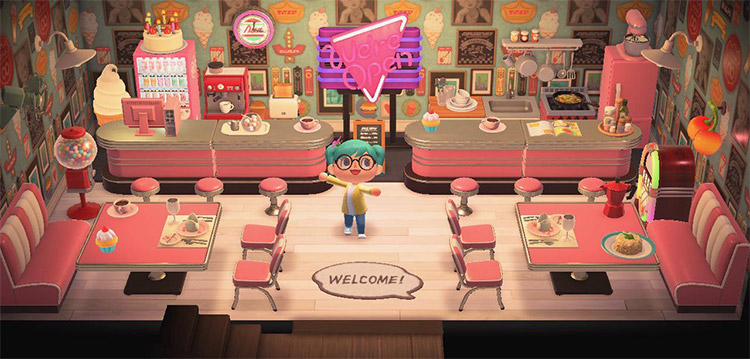 I'm loving the vintage vibe of this pink retro diner!
It's got everything you need to enjoy a delicious meal, without all the hassle of dirtying your own kitchen.
New Horizons provides tons of items to amp up that antique diner aesthetic, like the huge neon sign, whimsical ice cream lamps, and classic diner furniture.
If you're crafty (and I know you are) grab your paint brush and your customization kits! Just about everything that comes in this set can be given a fresh coat of your very pinkest paint.
Finish it off with coral-colored appliances, and you can open for business!
8.

Moon Fae Lake
Sometimes, we can all get a little carried away turning our islands into the salmon-tinted paradises we dream of.
If you're overwhelmed with trying to gather up all the items, or aren't sure where to start with a complete island overhaul, keep things simple with a fairycore lake and sitting area.
All you'll need are a few custom brick codes, a couple of pieces of outdoor furniture, and some lovely pink blossoms.
Haven't nabbed the roses and hyacinths in pink yet?
White daisies make a lovely complementary flower for filling in some of the empty space until you do!
My favorite part is the tiny island with a pink moon right in the middle of it. It's perfect for stargazing or simply taking a break after a long day of advising your island residents.
And if you want even more fairycore ideas, we've got you covered.
7.

Hello Kitty Cafe
Combine all of the Sanrio hype with your retro pink diner, and you've got the Hello Kitty Café.
This charming little outdoor restaurant proves that you don't have to go hunting for exclusive amiibo cards to bring some of that Sanrio magic to your island.
This creator used sweet furniture and pink kitchen accoutrements, then jazzed it up with custom coding on the panels and booth.
Hello Kitty is such a cute character too. So it's hard not to be tempted in for a cold smoothie or baked goodie.
You can add as many little pink details as you want, but this is another option for those who enjoy their magenta tones in moderation.
6.

Pastel Goth Bedroom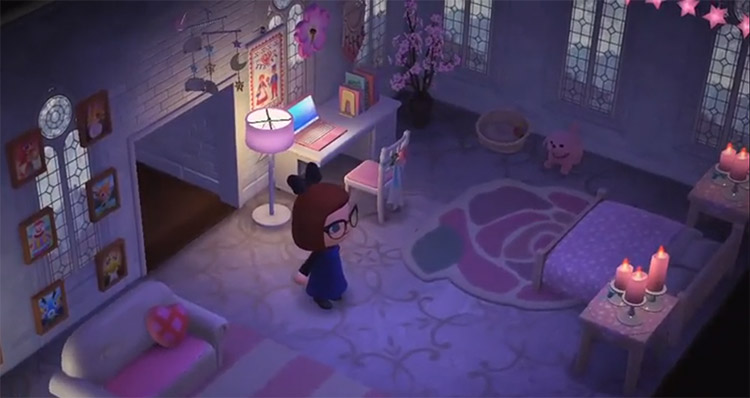 Just because you prefer to keep things a little on the darker side, doesn't mean that you can't also enjoy a punchy pink aesthetic.
Add in a splash of gothic motifs to give your princess-y palette a little more edge.
Start with your walls and windows for a slightly spooky nighttime look. Gothic castle wallpaper looks even better when it's seen under flickering candlelight and bathed in the glow of the moon.
Roses are another decor idea that fits both the frilly, pink look and the more mysterious alternative look… Even if most roses would be dead, black, and withered in the ideal gothic bedroom.
This player uses the pink rug to bring in some florals, but keeps the rest of the room simple and clean with small pops of pink for accent.
5.

Expanded Able Sisters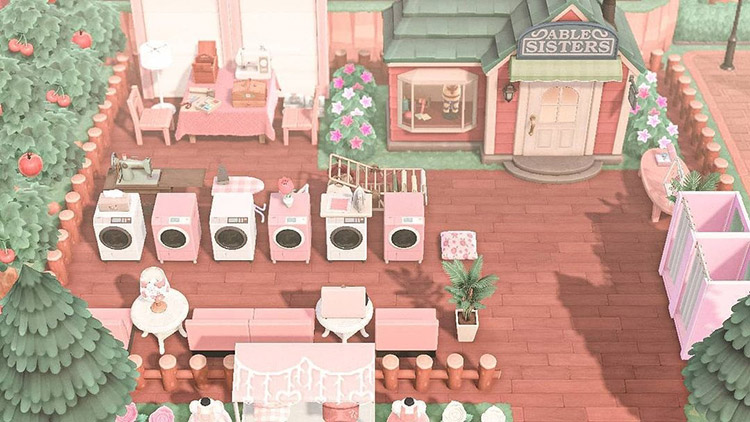 Let's give everyone's favorite hedgehog tailors a little more room to run their business.
This design adds a dry cleaning and sewing space in a delicate & whimsical design.
You can even make this space as flexible as you'd like.
This creator practically built an entire outdoor version of the store, complete with a sewing space for Sable and changing rooms for your ACNH friends to try on custom designs.
My favorite part of this design are the alternating rows of white and pink washing machines.
It makes perfect sense for a tailor's shop to come equipped with laundry facilities. And this creative player brought the idea to life!
4.

Charming Studio Apartment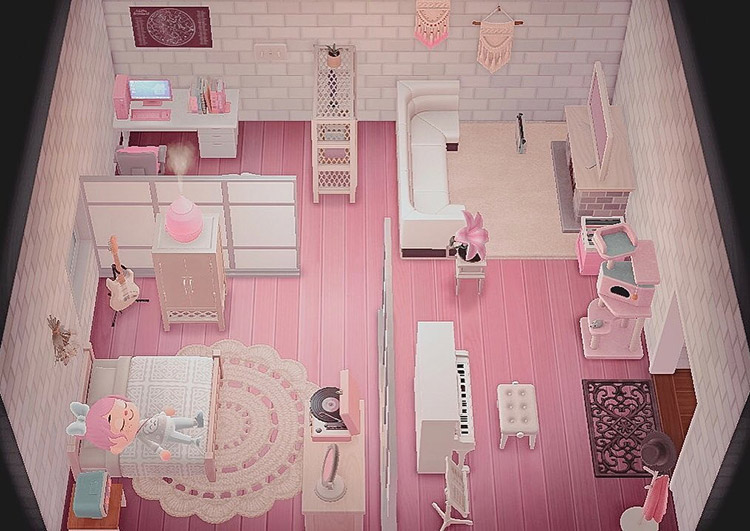 With an eye for space and interior design, you can transform your house into a brilliant apartment complex, complete with themed rooms!
If only my studio apartment had been this adorable, I may have not minded the cramped space…
Give your visitors a luxury experience with everything they need for the ultimate pink living quarters, all without going overboard.
Even with a pink floor (which can sometimes make things seem a little too sticky sweet) there's a nice balance of neutral items to keep things from getting saccharine.
This creator understands that it's the little things that really pull a room together, like books that match the computer setup, a floral feature on the gramophone, and a cozy cat bed for a cuddly companion… All in the same shade of bubblegum pink!
3.

Marina's Boba Tea and Mochi Stand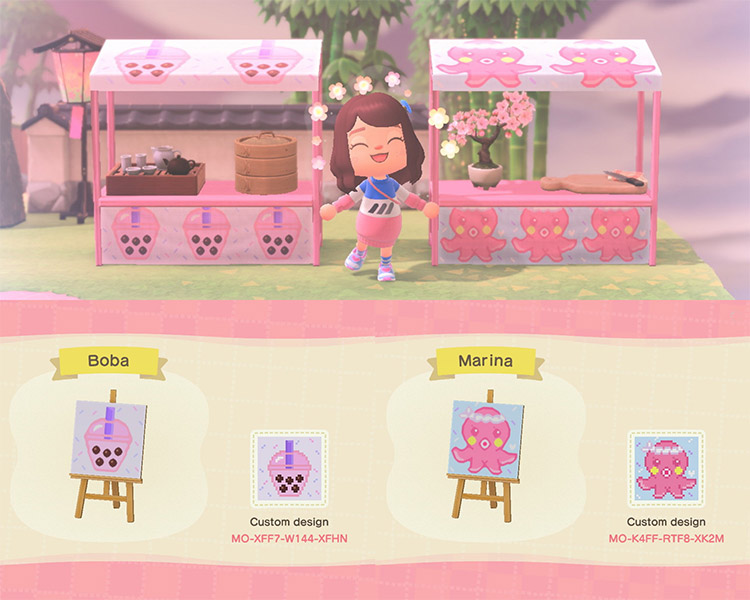 Boba tea + mochi + Marina is a recipe for the cutest afternoon snack ever!
You'd use custom painted stalls to create tiny treat stands for this idea.
This creator chose a charming combination of strawberry bubble teas and the loveliest cephalopod on dry land, Marina, for their canopy paint jobs.
Then, lay out tasty Japanese confections for your villagers to enjoy. Be sure to put out a sign showing off the daily specials too.
If you want to add a little more to the area, you can transform it into a micro cafe with a couple of dining tables, chairs, and floral centerpieces to complete the look.
2.

Pink Blooms and Blossoms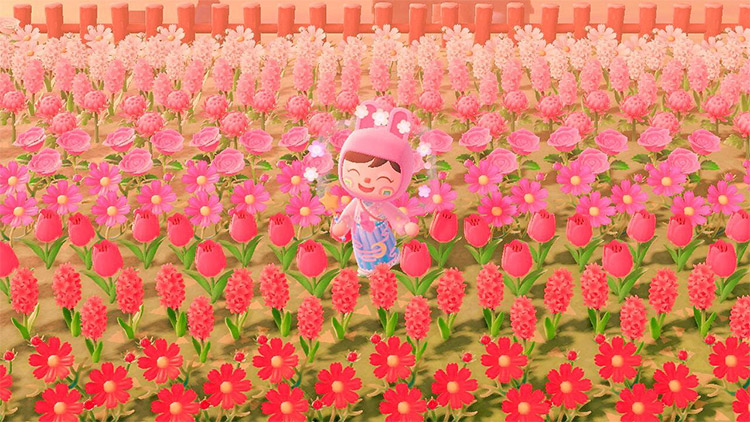 It might seem silly to put something as simple as a pink garden so high up on the list.
But I think that pink is such a lovely color that even an island full of blushing blossoms should be enough to boost your star rating to a 5!
Bring in shades of crimson, mauve, and white, then align your flowers from darkest to lightest. It'll create a stunning ombre effect that will look stunning every time a breeze rustles through the petals.
And you can boost your gardening cred by becoming a pro flower breeder by creating hybrid pink blooms, like cosmos, mums, and roses.
1.

Pink Tea Party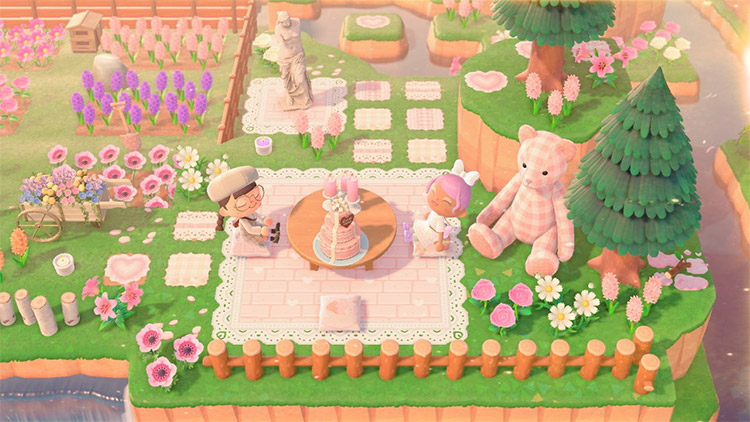 I don't think anyone can deny how absolutely charming this picnic tea party for two is!
It combines so many elements into one flawless design, and it all looks incredible in shades of pink.
From the lacy blanket to the three-tier cake, it's a cotton candy-colored paradise that can take up tons of open space on your island.
Along with the pink poppies, lilies, and roses, this creator designed tiny path squares in a variety of patterns that almost resemble a quilt design.
This quaint choice goes perfectly with the pastoral & rustic appearance of the flower garden, and the natural fencing.
One of the most darling details are the little votive candles scattered around in the grass.
I can only imagine how lovely it would be to enjoy the sunset from this terraformed overlook as the sky explodes into a fireworks show of glittering stars.
Browse:
Animal Crossing
Lists
Video Games