ACNH Mermaid Design Ideas & Mermaid Room Inspo
This post may contain affiliate links. If you buy something we may get a small commission at no extra cost to you. (Learn more).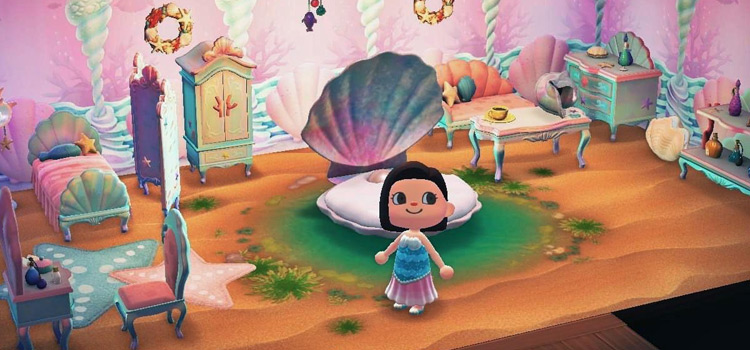 If you've ever gone swimming around your island and went diving for sea creatures, you have probably caught a scallop at some point.
A quirky otter named Pascal then asks for the scallop, and you get a prize in return.
And if you're lucky then you'd get a recipe for one of the various DIY items in the mermaid set.
So the question is: what the heck should I do with all these items?
Well if you're thinking of a custom mermaid build in New Horizons, here's a few ideas to get you started.
10.

Beachside Salon
A lot of these ideas simply rearrange the same furniture in different way, and here's a cool outdoor idea that does just that.
All of these items can be crafted from various shells and pearls, so be sure to comb your island's beaches daily.
Some specific items you'll need here include mermaid tables, chairs, screens, sofas, dressers, and shelves.
Just find a nice beach area and arrange the tables and chairs into individual stations with a nail art set on each table for those lovely manicures.
Finish it off with a mermaid table, cartoonist set, and laptop so you can check in for your appointment.
9.

Mermaid Castle
I've seen this idea done in many ways. And each time I'm taken aback by how breathtaking it looks!
Some of the mermaid items that you'll need to craft for this design include wardrobes, lamps, screens, arches, and fencing.
However, you'll also need to craft some frozen pillars out of regular snowflakes and large snowflakes.
These pillars can be customized to be many different colors, too. So go with whatever look you want.
You can stick with the pictured standard ice color, and that gives it a more aquatic feel. But there's also the pink option that I've seen used for more of a bright bubblegum theme.
8.

Deep Sea Deep Sleep
This design creates a lovely place for you to sleep, while embracing the deeper aquatic life.
This player also incorporated items from a similar series too: the shell set.
But you'll still need shells to those craft items such as the shell bed, table, fountain, speaker, and lamp.
Also, I hope you saved up some summer shells. Cause you'd need them to craft the underwater wall so that you have some fishy friends in your room!
You can also use star fragments to craft a crescent moon chair for some illuminated nighttime reading.
While the only actual mermaid items pictured here are the mermaid rug and flooring, this room sure gives you the feeling of actually living the life of a mermaid!
7.

Coral Reef Living Room
Now this design is just basically everything mermaid-themed, all in one place.
You have mermaid flooring and wallpaper setting up the scene, and tons of mermaid furniture to go with it.
There's a shell table with some mermaid chairs, and a mermaid sofa setup like a little dining area. Very cool.
This player also utilized a mermaid shelf, dresser, and wall clock, which you don't see as often as the more standard furniture items.
Scattering some star fragments on the floor gives this room an illuminated and magical feeling, as one would expect from a mermaid's house!
6.

Modern Mermaid Bedroom
This bedroom stands out because it shows off how you can expertly incorporate the mermaid items with other furniture pieces.
Here you'll find some mermaid wallpaper, a mermaid lamp, a vanity, and a shell speaker.
However, there's also some log furniture too. Like the bed and bench that are customized to better fit the color scheme.
Some items that stand out to me are the starry garland, which can be crafted using star fragments, and the cute sofa, which can be purchased via Nook Shopping.
Finish it off with a whirlpool bath, and now you can relax in your new aquatic abode.
5.

Mermaid Island
This is a fun little idea that gives you more privacy with your mermaid paradise. Which can be hard to come by on an island full of talking animals.
You'd start by finding a nice body of water, or sculpting your own, and creating a private island for yourself in the middle.
There's a nice mixture of shell and mermaid items here to try out.
We have some mermaid lights, a shell bed, shell fountains, and a shell arch, all just some of the main features.
The floor lights are a cool idea too, and they make the scene really come to life at night.
4.

Pretty Pink Parlor
This feels like a very cool updated parlor/salon idea, but with some added items that I think give it an extra something special.
To make this, start by crafting a mermaid sofa, chair, vanity, wardrobe, and shelf to set up the parlor area.
Be sure to craft the mermaid flooring and wallpaper as well.
Those create the magical environment.
Wish upon a few stars so you can craft a Virgo harp and Cancer table to liven up the scene.
The placement of all these items, as well as the beautiful statue, really help to give this room an almost royal vibe to it.
You are a mermaid princess, after all!
3.

Mermaid Playground
Even mermaids can have fun on a playground.
Here's an outdoor beachside idea that incorporates some previously unseen elements.
We've got standard items here like the mermaid sofa, table, shelf, and lamp, so you'd need plenty of shells and pearls to craft those.
Then there's the moon and nova lights that you'll need to craft from star fragments, so be sure to stop Celeste when she visits.
And once again here, you can scatter the fragments on the ground to give the scene a little sparkle.
Lastly, what makes this a playground is the fun teacup ride, which can be bought on Nook Miles.
Maybe you could take this to a whole new level by designing your own mermaid-themed amusement park!
2.

Undersea Bathroom
As per usual, we have an indoor undersea scene here.
But this time it's made into a gorgeous bathroom!
The mermaid items you'll need to craft this design for yourself include the mermaid screen, dresser, rug, and vanity.
Also, craft some undersea flooring and wallpaper with those elusive summer shells.
As for the actual bathroom elements, you can purchase a long bathtub, shower booth, and a deluxe washer, each on their own.
Then craft a wooden full length mirror and a basic sink, and you have a mermaid bathroom like no other!
1.

Royal Mermaid Wedding
Along the beach you can create your very own wedding aisle decked out with various mermaid/shell items, as well as custom designs.
And if you try this out, I bet you'll love the finished result.
Pick a good spot first and start by laying down some custom paths that you can make or download.
This player went with a nice shell path to fit the aesthetic.
Next, craft some shell arches to mark the ends of the aisles, as well as shell fountains, tables, and lights for decoration.
I like the sitting area of just a rattan end table and mermaid sofa, because it serves a practical purpose of letting people chill out, but it still matches the whole beach/mermaid theme.
Then to bring this whole idea together, be sure to proudly display your wedding dress at the end of the aisle.
Because it's somebody's big day, and they deserve nothing but the spotlight!
Browse:
Animal Crossing
Lists
Video Games