ACNH: 15 Scary Horror-Themed Island Design Ideas
This post may contain affiliate links. If you buy something we may get a small commission at no extra cost to you. (Learn more).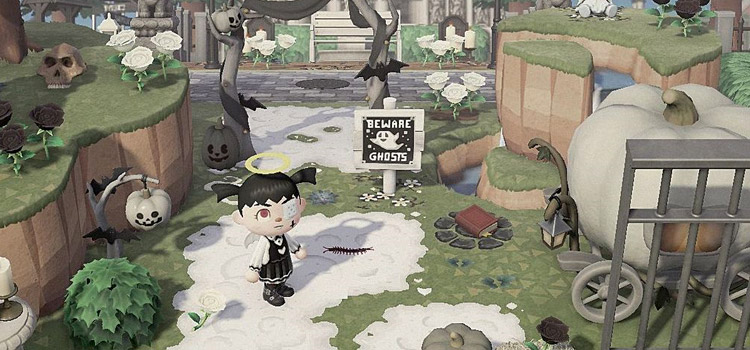 The moon has risen. The dead have risen. The darkness is coming for you.
Welcome to the horror that is available to you in Animal Crossing!
I know, a game about befriending cute talking animals and growing fruit trees doesn't sound like it mixes well with horror.
But I'm here to tell you, it absolutely can work – if you have the right tools at your disposal.
So here's some truly horror-themed ideas for your New Horizons island, and they're sure to chill you to the bone!
15.

Spooky Writer's Nook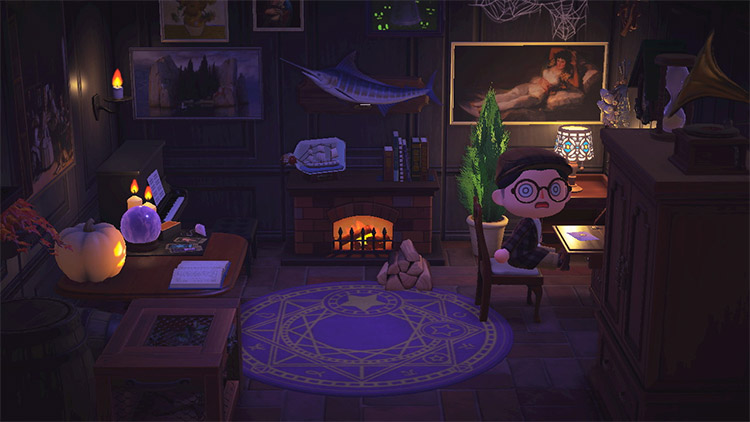 As a writer, I prefer a fun, comfortable environment for writing.
Well this looks like the room where Stephen King probably writes.
You'll want to start this idea with some brown hallway walls, brown brick flooring, and a magic circle rug to set up an already dark room.
Purchase plenty of antique furniture like an antique table, dresser, chair, and bureau.
Then, setup the spookiest decorations you can find. Craft some spooky candy sets, purchase a fortune teller set, and even buy a fireplace if you can.
Now turn down the lights, and you're ready to embrace the darkness as inspiration strikes.
14.

Basement Dungeon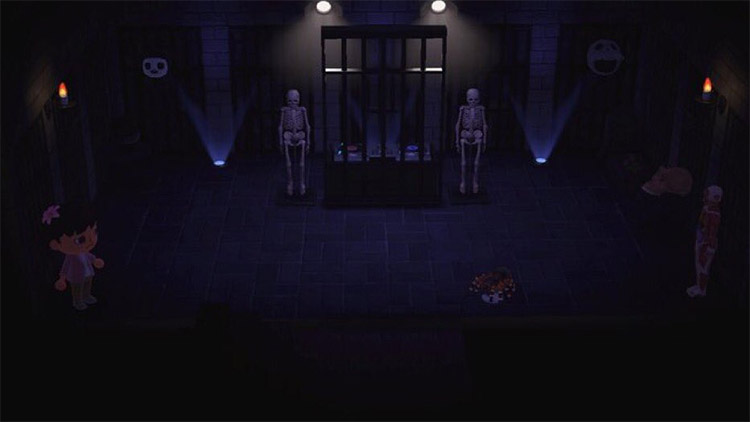 Why is the basement always the spookiest room in the house?
Well, maybe except for the attic.
If you want a spooky basement for housing prisoners or torturing victims, then here's a simple idea to try! (also, maybe get some help?)
To start, put up dungeon wallpaper and brick flooring for a cold environment.
Craft plenty of prison bars to create many cells for all your poor victims.
Then purchase some skeletons and anatomical models to represent said victims. We've definitely gone to the dark side of Animal Crossing with this one.
13.

Spooky Pumpkin Entrance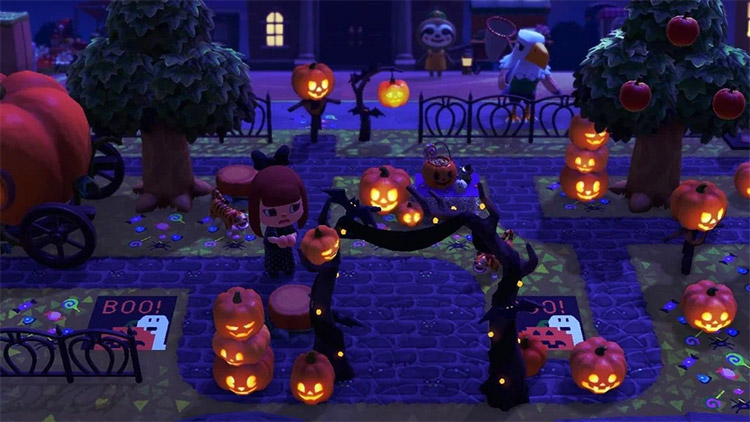 Horror may not be your scene. So maybe you want to go with a more tame Halloween design like this spooky entrance way.
Give off a good impression when visitors take that first step onto your island.
To make this, you'll want to set apart a large space for your pumpkin patch.
Most items you'll need to craft from orange pumpkins. So start with some spooky fencing to encircle your entrance.
I personally love the spooky carriage as well as the spooky table and chair settings. It gives everyone a nice place to hang out when the visit.
Be sure to include a spooky arch right at the entrance to your island, too. It sets the theme.
12.

Ghostly Caverns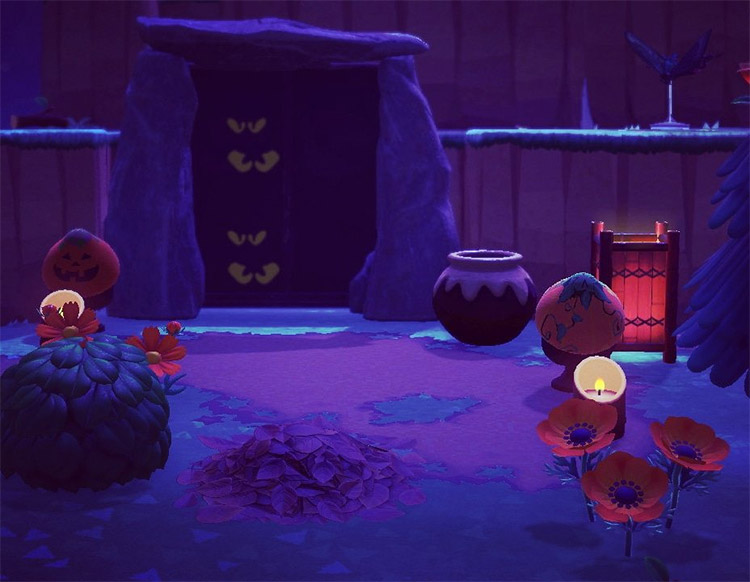 If you want to add a small spooky touch somewhere, then some grandiose Halloween display may not be your scene.
But creating this small, dark cave can be an idea worth trying.
The two main items you'll need are a stone arch, which you can craft from a bunch of stones, and some simple panels customized to look like eyes peering at you out of the darkness.
Then just set up some custom pumpkin hats to add a little flare to your cavern of darkness.
11.

Stone Shrine Sacrifice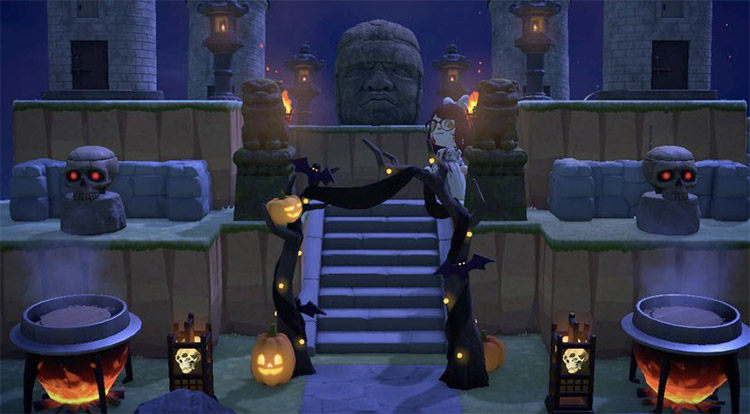 This design requires a sacrifice.
To be clear, it needs a sacrifice of your time and effort to truly pull it off!
Start out by setting up a series of cliffs with some grand stone staircases leading to the peak.
Then craft a couple of kettles bathtubs and set them up at the entrance to your staircases, along with a spooky arch.
Be sure to purchase some throwback skull radios and crank up some K.K. Dirge for an even spookier vibe.
At the top of the staircase, that's where you'll want to place your rock head statue. As for what you'll be sacrificing to the statue, well, that's its own horror…
10.

The House on the Hill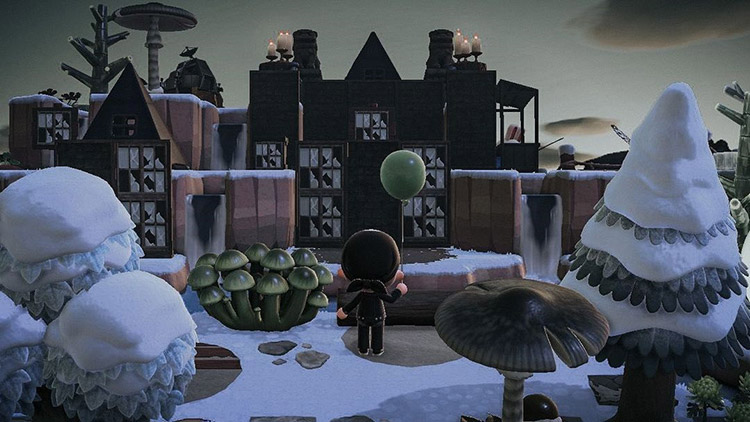 I have not seen The Haunting of Hill House on Netflix. But there's something about a abandoned house on a hill that really fits the horror aesthetic.
Start this idea by doing some landscaping to create the cliffs where your house will reside.
The actual house itself is comprised of child tents and simple panels that have been customized to look like broken windows, walls, and doors.
Add some decorations like candle sets and stone lion dogs to bring the scene further to life… or, not life…
9.

Gothic Island Cemetery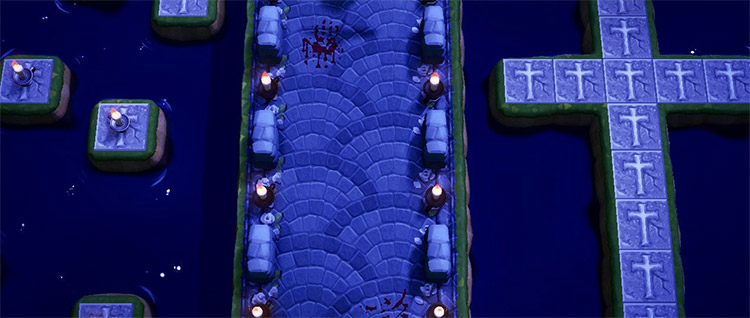 Nothing says horror movies quite like an abandoned haunted cemetery.
Because everything is already dead!
This idea will require a lot of waterscaping to create the small islands on the left, as well as carefully creating the cross gravesite on the right.
Down the center bridge, lay down some stone pathway, and add a couple of bloody custom designs for some added horror.
I do like the cross custom designs here. It looks like each individual tile is its own grave ready to come back to life.
Once you're almost done with this area then you can decorate the scene with candles as you pay your respects to the dead before they turn.
8.

Ghostly Halloween Party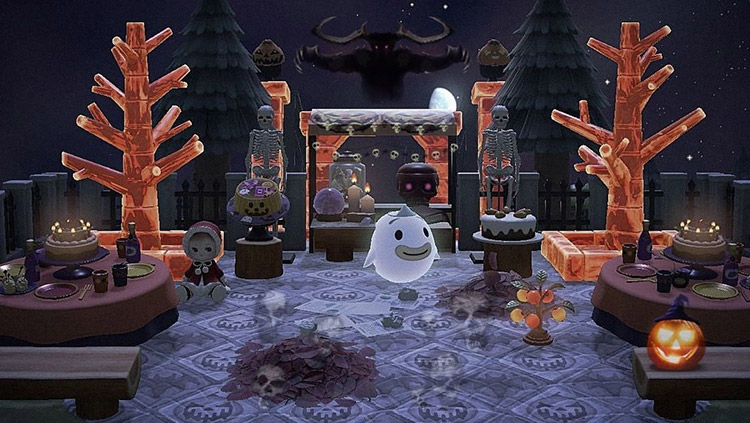 I love dressing up for Halloween.
It's always cool seeing the costumes everyone puts on, and enjoying some spooky treats while you hang out.
To create your own spooky Halloween party, add couple of birthday tables with log benches to sit at.
Then craft a stall and place a throwback skull radio and infused water dispenser on its counter.
You'll definitely want to display some skeletons, as well as all your Halloween party treats like customized hats designs and homemade cakes.
While not mandatory for the party, the fact that this person had Wisp the ghost present is a nice added touch for some Halloween fun.
7.

Deadly Fun Fair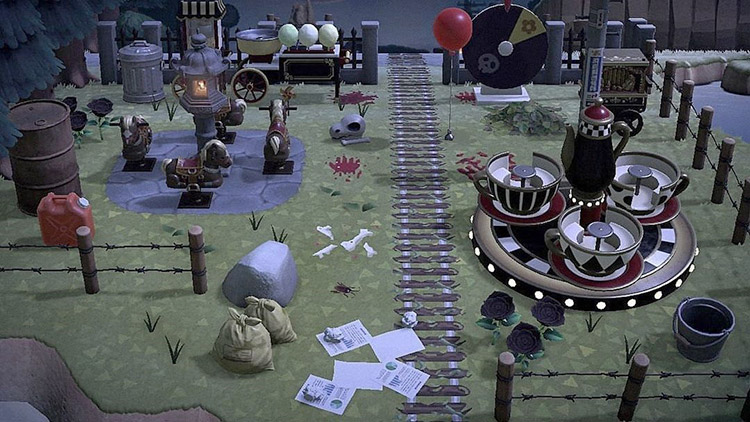 My favorite season of American Horror Story had to be Freak Show, because I honestly love creepy clowns, circuses, and other novelties of the like.
To set up this abandoned carnival scene, I would start by fencing off a specific area with barbed wire fencing.
Maybe even add some custom signs to inform your villagers that it's closed.
As for the rides, you'll want to purchase some springy ride-ons, a street organ, teacup ride, cotton candy machine, popcorn machine, and colorful wheel.
My favorite part has to be the custom designs like the blood spots, bones, and even the wheel customized to the "win or lose" option.
I guess the odds of survival here are minimal if that's the case.
6.

Horrifying Nightmare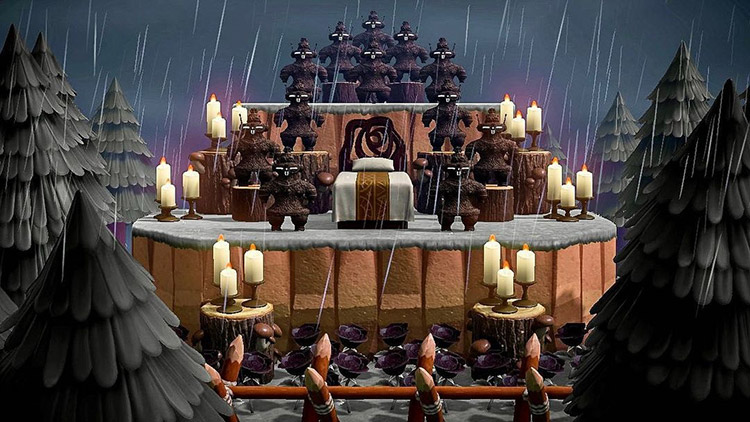 I'm not going to lie: I took one look at this picture and already got creeped out.
If you're brave enough to create this, start by setting up some cliffs with your bed in the middle.
Luna's bed is a good option, as it has a more ancient look to it.
Then you'll need to obtain a ton of ancient statues and just surround your bed with them.
They're probably the creepiest statue available, so they're perfect.
Decorate the area with some candle sets so that there's at least some light in the darkness of this nightmare!
5.

Hereditary House
Again, I have never seen Hereditary, but I can still tell you that this room is not one to mess with.
To make it yourself, setup some straw wallpaper and climbing walls facing backwards to create this small room.
You'll also want to lay down a straw mat with plenty of candle sets for the ritual area.
Some items you'll need to craft include birdcages, scarecrows, and festive candles.
And be sure to make some custom designed dresses with blood on them – because it wouldn't be horror without unnecessary blood.
Then just turn on your starry garland and turn down the lights for some horror movie magic.
4.

Resurrect the Dead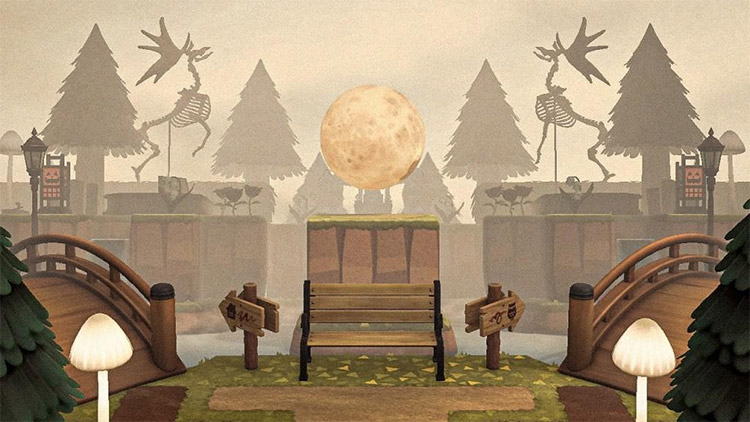 Once the moon is full and the ritual begins, the dead shall rise and take over the land of the living!
Start out with this idea by doing some landscaping to make some cliffs and rivers.
On top of the cliffs you'll want to place a moon and a few completed fossil skeletons.
This player went with the Megaloceros fossils, which I love because they remind me of the skeleton reindeer from the Nightmare Before Christmas.
Once you set up some bridges, then you're ready to resurrect the dead and run for your life.
3.

Abandoned Prison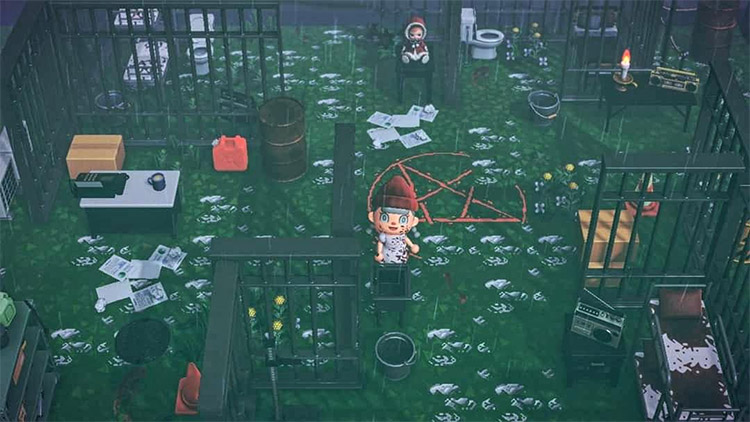 I'm going to ignore the satanic pentagram on the ground and just cut to the chase here: prisons also make for great horror movie scenes.
You probably already guessed this, but you'll need to craft plenty of prison bars to setup any prison cell walls.
I do like that this player set up a bunch of different rooms in the prison too. Stuff like an office, sleeping area, and bathroom.
To create these sections, purchase items like toilets, camping cots, tape decks, office desks, fax machines, and even oil barrels.
Don't forget some custom blood designs too. Because apparently Animal Crossing has lost its innocence with these crazy ideas.
2.

Haunted Castle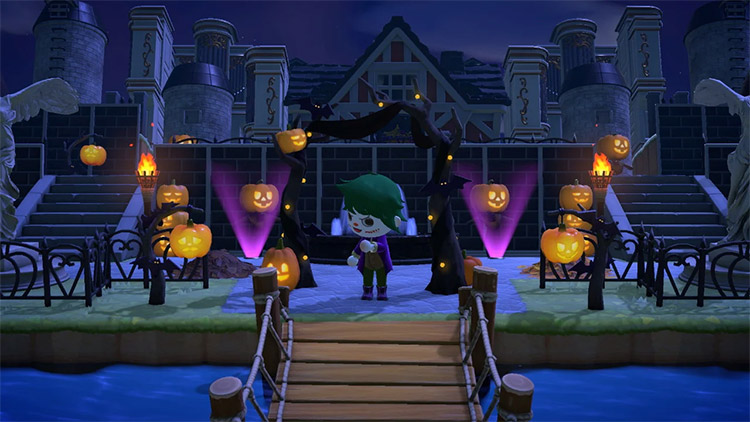 I love some of the grand castle designs that players make for their islands.
And this haunted castle is no exception.
To re-create this yourself, start by moving your house to a cliff and surround it by wedding pipe organs to act as castle walls and pillars.
The silo is one of my favorite DIY items, so I love when people use them as castle buildings.
Then customize plenty of simple panels to make some dark castle walls.
Lastly you'd just craft plenty of spooky lanterns, scarecrows, and towers for a spooky castle visit!
1.

Overlook Garden Maze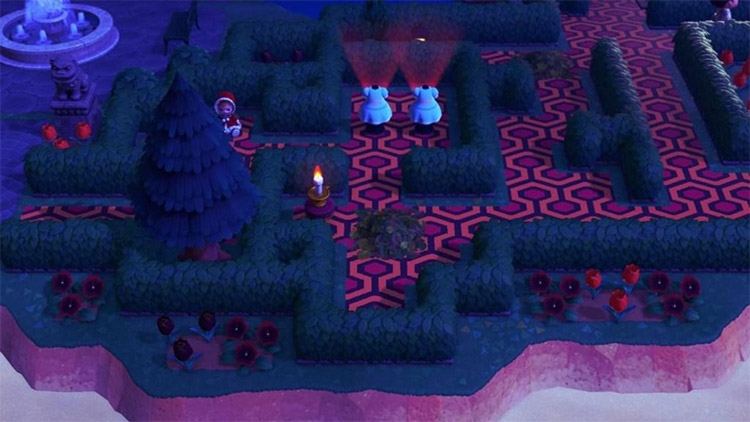 I'm a massive Stephen King fan.
And The Shining is easily one of his most iconic works.
Not only does this design recreate the garden maze from the movie, but it also incorporates other terrifying moments from the movie. It's brilliant!
To make this yourself, you'll need to craft tons of hedge fencing from weeds, sticks, and stone. Then set them up in a maze pattern.
Be sure to leave a small central area to proudly display two dresses, like the twins Danny sees throughout the halls of the Overlook.
And the part I love the most about this design is that this player recreated the carpet from the movie and put it down on the ground for a horrifying maze experience.
Browse:
Animal Crossing
Lists
Video Games