Cities in Motion 2: Best Free Maps & Mods To Download
This post may contain affiliate links. If you buy something we may get a small commission at no extra cost to you. (Learn more).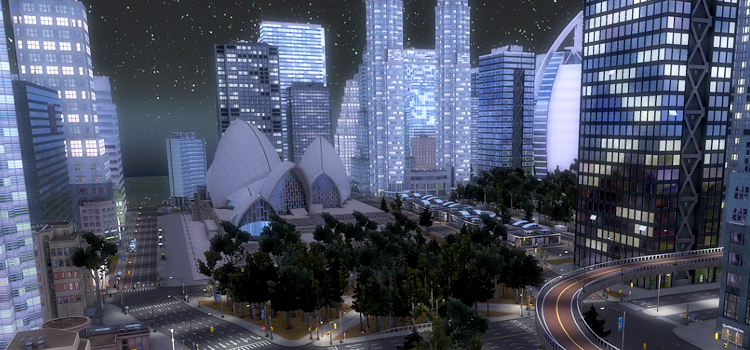 Cities in Motion is known to have quite a steep learning curve – but if you're up for the challenge, you'll soon find how rewarding creating successful mass transit systems can be.
There isn't much when it comes to mods that specifically keep the game "fresh".
But the Steam Workshop is filled with user-created maps which allow you to play through and simulate your own transportation systems, all about different places and scenarios. And totally customized, of course.
Take a peek below and see what catches your interest.
15.

RuhrgebietV3.2
As you'll notice in the first few entries on this list, Cities in Motion seems to be especially popular in European countries.
Many users have recreated popular European destinations within the game.
RuhrgebietV3.2 is one of the biggest European maps around, faithfully recreating many of Germany's well-known locations in one map.
The Ruhr is actually is Germany's most densely populated urban area, housing over 5 million citizens.
The map contains over 10 cities, so you're going to have a lot of work to do here.
14.

Budapest, HU
Up next we have another densely populated European country.
Budapest is both the capital and most populated city in Hungary, and while the mod map only contains a population of 80,000 people, the actual city houses over 3 million – which is a third of Hungary's entire population.
The city is known for its tram and subway systems which are recreated in the map as well, but you'll have the freedom to change whatever you'd like of course.
Budapest is a great-looking map as well, so you'll probably find yourself taking in the sights in between thinking up ways to improve the transportation systems.
13.

Szczecin
If in case you'd prefer to start off with something a bit smaller in scale, you might want to give Szczecin a try.
The map is actually an accurate recreation of the Polish city of the same name.
Szczecin is a neighboring city to Germany and what makes it even more interesting is its being located near the Baltic Sea.
This makes it one of Poland's major seaport and makes for some interesting transportation challenges as well.
12.

Ljubljana
Moving closer inland towards Central Europe, we have another accurate recreation of a major European city – this time in the form of Ljubljana.
Ljubljana is the capital and largest city of Slovenia, housing almost 300,000 residents.
The map is another of the more interesting one as Ljubljana is known for some of the older architecture that is still maintained to this day.
It's another of the more better-looking maps as well, providing a good mix of urban areas and large green spaces.
11.

Zaragoza
For the last of the EU maps we travel to the Southwestern corner of the continent to visit one of Spain's major provinces.
Zaragoza is the capital of Zaragoza province and is home to a population of nearly 800,000 people.
Architecture and landmarks are also popular tourist destinations within the city including medieval castles and gigantic Roman cathedrals.
The Ebro river that sprawls across the landscape is another interesting feature which is sure to make for a unique Cities in Motion 2 experience.
10.

Oakland, California
After playing through some of the major European cities, you're probably looking for a change of scenery.
There isn't much in the Workshop in terms of American maps, but this next one should keep you busy for a while.
User rawocd puts his recreated Oakland, California map at 95% accurate.
So if you're familiar with the area, you're definitely in for a treat with this one.
The map covers the Downtown Berkeley to Broadway areas with every little detail being hand-placed including buildings, streets, and landmarks.
9.

Alphaville
While there aren't a lot of options for US maps based on real locations, there are a number of fictional maps that resemble US cities that you can play around with.
Kerb78's Alphaville is a great option – offering a large urban area with almost 80,000 citizens to develop your transportation systems for.
The map contains 1 main city, 3 suburban areas, and 4 villages for some variety with some green spaces mixed into the landscape as well.
8.

York Haven City
If you're looking for a dense American city to play, you might want to try I Alam's York Haven City.
While he doesn't explicitly state it in the description, the map has a strong resemblance to the look and feel of NYC, with its towering skyscrapers and long bridges.
Just looking at the pictures it's easy to tell that transportation is a bit of a challenge here – so be ready to get to work.
7.

Hong Kong
Asian cities haven't been given much love in the Workshop either, but I did find this one Asian map by modder hellcatv.
The recreation of Hong Kong covers Hong Kong itself, Tsing Yi Island, and Kowloon – giving you a lot to explore and play around with.
For those who aren't familiar, Hong Kong is another densely populated urban area with over 7.5 million residents, so again, developing transportation networks is going to be quite tricky.
6.

San Piero
If you're looking for more creative options, other modders prefer to build completely unique maps from scratch.
There's a large number of fictional maps in the Workshop and even if you're just out to enjoy the views, it can get quite interesting to see how people build completely custom levels.
San Piero is the first of the original concept maps, offering an exciting layout that should make your Cities in Motion playthrough much more challenging.
The county is surrounded by the ocean, with two major cities separated by water and mountains.
5.

Volcano Island
If that wasn't extreme enough for you, Volcano Island might be the map you're looking for.
The map is basically an island with a gigantic volcano right in the center.
The surrounding areas have been developed and now contains 3 major cities and a few smaller villages.
Lucky for the residents, the volcano is no longer active so that shouldn't be a problem.
Getting around isn't quite as easy, however – and you're in charge of figuring out how to make it work.
4.

Dragon Lake
Dragon Lake is another great option if you particularly enjoy the maps that feature unusual terrain.
The map is again surrounded by water with most of its occupied urban areas focused around the center of the map.
The center is highly developed. But it gets more and more rural as you travel outwards, making it more likely that citizens will need efficient ways to get to and from work.
What makes this map stand out from the rest is the amount of detail, as it's obvious that the modder poured hours into making this city feel alive.
3.

Gadana Archipelago
Dense urban landscapes can get tiring pretty quickly, especially when all you can do really is to strategically place bus stops and subway stations in whatever vacant spaces you can find.
Gadana Archipelago offers a different kind of Cities in Motion experience – and if the previous island maps weren't enough, Gadana Archipelago is actually gives you a network of islands to work with.
Since many of the spaces are separated by water, you're going to have to focus more on ferries and boats rather than busses and trams to get your people where they need to be.
While there isn't much detail here compared to some of the other maps, the wide green spaces make for some scenic locations – still giving the map a pleasant vibe overall.
2.

Liberty City vs. Vice City
These top two maps on the list were no-brainers for me.
They feature designs that are just incredible. Arguably some of the best fictional maps in recent video game history.
GTA games have become known for having some of the most memorable maps with realistic worlds that fans have grown to love.
We won't get into which GTA game is the best, as there's an option for pretty much every city you'd like to play in.
This map specifically combines two of the smaller GTA maps – Liberty City and Vice City – saving you the stress of having to choose between the two.
Fans of GTA3 and VC will definitely want to check this one out.
1.

San Andreas
Having covered Liberty and Vice City, there's no way we're skipping GTA5's San Andreas.
There's so much to explore in San Andreas. From the busy urban streets to the rural and industrial outskirts – and I'm sure developing a unified transportation network that covers all of it will be an interesting challenge.
The map covers all major San Andreas areas including Red County, Whetstone, Las Venturas, and of course Los Santos.
Browse:
Lists
Simulation Games
Video Games