How To Get The Twintania Mount in FFXIV
This post may contain affiliate links. If you buy something we may get a small commission at no extra cost to you. (Learn more).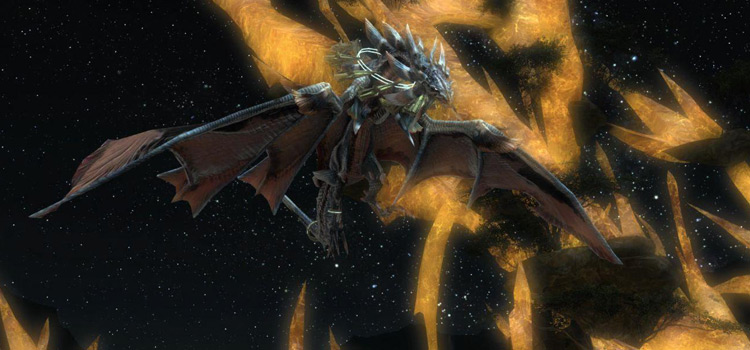 The Twintania Mount is obtained by exchanging 15 Gold Chocobo Feathers with the Calamity Salvager, located in in one of these places:
– Ul'dah – Steps of Thal, X:12 Y:13
– Limsa Lominsa Upper Decks, X:11 Y:14
– Old Gridania, X:10 Y:8
Golden Chocobo Feathers are acquired by using Square Enix's Recruit a Friend Campaign. You earn 5 Feathers per friend you sign up via your personal recruitment code. And you earn additional Feathers the longer they subscribe (150, 210, and 270 days.)
Unfortunately, this is the only method of obtaining the Feathers (and the Mount) as of this writing.
The good news is that it's always a great time to invite your friends to play FFXIV.
But Wait, There's More!
If Twintania herself wasn't enough motivation to pursue those elusive Golden Chocobo Feathers, other prizes await.
Separate from your dragon, other mounts are also available, as well as special dyes from the Salvager (Deal in Spoils > Gold Chocobo Feather Exchange).
Here's a list of what you can get:
| Reward | Cost |
| --- | --- |
| Pure White Dye (5) | 1 Feather |
| Jet Black Dye (5) | 1 Feather |
| Pastel Pink Dye (5) | 1 Feather |
| Pastel Green Dye (5) | 1 Feather |
| Pastel Blue Dye (5) | 1 Feather |
| Pastel Purple Dye (5) | 1 Feather |
| Metallic Silver Dye (5) | 1 Feather |
| Metallic Gold Dye (5) | 1 Feather |
| Aetheryte Ticket (10) | 1 Feather |
| Twintania Neurolink Key (Mt) | 15 Feathers |
| Amber Draught Chocobo (Mt) | 8 Feathers |
| Managarm (Mt) | 8 Feathers |
It should be noted that the Dyes obtained here can also be brought back by your Retainers via Quick Ventures.
Ideally that means you'll be saving up your Feathers for those exclusive Mounts.
Friends With Benefits
You might be wondering what your friends get out of this while you flutter about on your new dragon.
They'll receive the following benefits:
– Friendship Circlet, a helm that increases Experience gained by 20% when level 25 and below (including synced).
– Aetheryte Ticket (x99). When teleporting you will not incur a Gil fee, great for early game travel when you're poor.
– Ballroom Etiquette – Improper Greetings (/fistbump, /brofist). A unique emote to signify your newfound Eorzean bond.
– 10 Silver Chocobo Feathers. Also traded at the Calamity Salvager, these are exchanged for high-end gear. 5 will net you a corresponding coffer for level 20, 50, 60, or 70.
You additionally receive the following when they subscribe a certain amount of days:
– The Friendship Circlet (30 Days)
– Aetheryte Pendulum (30 Days) – This allows you to Teleport to the Aetheryte closest to anyone with the "New Adventurer" status on your friend's list free of charge. Great for those spot field resurrections when they die to angry Hunt Marks.
– Draught Chocobo (90 Days) – Not to be confused with the Amber Draught Chocobo you exchange for Golden Feathers, this two-seater is also extremely useful.
Not to mention you'll have a great group of friends to save Hydaelyn with!
Browse:
FFXIV
Final Fantasy
Video Games