Top 15 Best Cars in GTA 5 For Speed & Mayhem
This post may contain affiliate links. If you buy something we may get a small commission at no extra cost to you. (Learn more).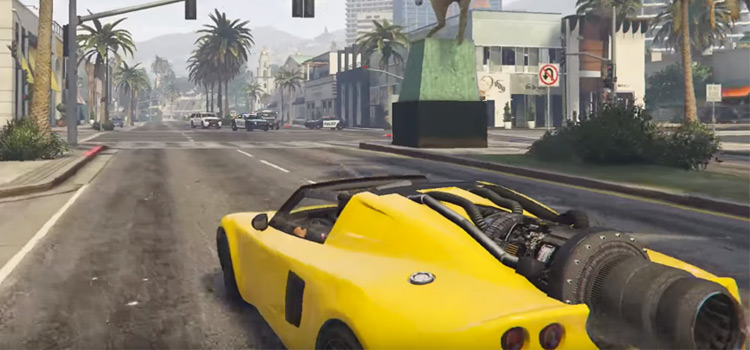 Most of the time you'll spend in any GTA game will be behind a steering wheel.
Whether it's speeding towards your next mission or doing donuts in the parking lot while throwing grenades like they're going out of fashion, you'll want to make sure you've got the perfect ride.
From the ridiculously fun to the insanely fast, this list will help you figure out what wheels to get ahold of for your next unruly GTA 5 session.
15.

BF Ramp Buggy
Starting off this list we're going to take a look at one of the more wacky rides offered in GTA 5.
The BF ramp buggy is essentially a customized dune buggy with a built-in ramp meant for flipping cars out of the way for when the inevitable road rage kicks in.
Sometimes it's fun just to go into the game for a lighthearted session of driving around seeing what you can get away with that you can't in the real world. At least until the fuzz catches onto you.
This fun ramp buggy provides a big dose of entertainment and will have you maniacally laughing to yourself as you plough through traffic, flipping over one car at a time.
14.

Duke O'Death
An armored muscle car that is capable of putting Mad Max and his rides to shame, the aptly named Duke O'Death is here to ensure nobody tries to drive you off the road.
A seriously fun car, this ride is the one you want to be when your friends are intent on chasing you down and trying to destroy your vehicle.
Based on the Dodge Charger in real life, the Duke O'Death looks badass and is bulky enough to take some serious hits and come out the other side looking as good as new.
13.

Pisswaser Dominator
A racing car with a unique aesthetic, the Pisswaser Dominator is a solid option for those rally and drifting races that are difficult to get the hang of.
Just gotta look over its slightly awkward name, but I'm sure you don't care much given this wild whip.
Relatively lightweight, the modified Dominator is a reliable car that'll get you to point B as quick as you like and be a pleasant drive too.
12.

Brioso RA
A seeming oddball contender for one of the best cars in GTA 5, the Brioso RA — based on a Fiat 500 model — has the potential to surprise you and your friends if you play online.
While you might not feel like you're driving a supercar, with the Brioso RA you will be able to skillfully glide around corners with deft handling, leaving your muscle car-driving friends in the dust as they skid off the tracks.
Insanely fun to race around in, this one will have you wanting to drive to the other side of the city just to enjoy the ride. Maybe you can throw out a few drive-bys on the way. You know, just because.
11.

Stirling GT
A classic car based off of the Mercedes Benz 300 SL, vintage is king with this one.
Apart from standing out on the start line and on a typical street, in the Stirling GT you will be enjoying the seriously satisfying engine sounds and supreme handling for tackling those challenging corners.
Also a great option for drifting, this one will surprise you and prove that you can have a car that looks, sounds, and handles great.
10.

Imponte Phoenix
Our second muscle car to break into the top 15 list, the Imponte Phoenix is the petrolhead's car of choice.
Perhaps best described as a beautiful beast, this one will make you want to enter every street race you pass just to get as much time with this ride as possible.
As a rare car to find in the game, once you get your hands on this one you're not going to want to let it go.
9.

Scramjet
Moving into the business end of the list we have the Scramjet. It's a car you'd expect to see in Wacky Racers given it's aesthetic, yet don't let the appearance fool you.
This one is a certified race car fit for action.
Combine the realism of the GTA setting with the surrealist look of the Scramjet and you've got a recipe for pure unadulterated pleasure as you cruise around the streets effortlessly.
As if the speed and chassis of the car weren't enough to get you interested, this one comes equipped with machine guns and rocket launchers for those moments when you're tired of bad drivers and fancy injecting some Mario Kart-esque weaponized racing into the city.
8.

Vapid Imperator
Onto the third muscle car entry in this list, the Vapid Imperator is arguably the best of the bunch when it comes to cars of its kind.
The Imperator is almost like royalty and is suitably named since Imperator means Emperor. You won't be able to help but feel like a ruler as you roam around the streets commanding respect in this specimen.
Watch as others bow down to you and hail to your driving superiority in this awesome ride. Or if they don't, well just run 'em over.
7.

Dewbauchee Vagner
A supercar that is guaranteed to get you where you want to go in record time, the Dewbauchee Vagner is one of the fastest in the game.
Make sure your friends and race competitors eat your dust with this excellent vehicle that'll have you taking on corners with ease and bombing towards any neighborhood like a rocket.
Like most super cars, the Vagner is a highly attractive looking car and will wipe the floor with most of the alternatives.
6.

Ocelot Pariah
Bearing a resemblance to an Aston Martin, the Ocelot Pariah is a stellar choice for smoking your competition in style.
One thing is for sure with this car: if you want to chase down your friend or a random civilian for whatever reason, then this'll make you feel like James Bond while you do it.
Looking like a car the man himself would opt for, the Pariah is definitely a great shout out for those Hollywood style chases you do over the city. And it also happens to be one of the fastest sports cars in the game so that's a nice plus.
5.

Entity XXR
Easily one of the best looking cars I've seen up until now, the Entity XXR takes some getting used to when it comes to handling.
But once you master the driving side you'll be acing all the races you enter.
A low to the ground supercar, the Entity is not for the faint of heart and is sure to provide you with hours of entertainment on the open road.
You're going to want to level up your style for this one so grab your nicest suit and step into this magnificent vehicle for the ultimate experience.
4.

Pegassi Tezeract
Sounding more like something out of Transformers than a supercar, the Tezeract is based on the Lamborghini Terzo Milenio and the striking aesthetic is visually appealing to say the least.
Just like its real-life counterpart, the Tezeract is most notable for its stunning chassis and eye-catching exterior.
It doesn't stop there though, as the Tezeract is also an electric car meaning the quiet engine will hum softly and purr as you race past anyone on the street without them ever hearing you sneak up.
3.

Banshee 900R
Another attractive sports car, the Banshee 900R is based on the Hennessey Viper Venom and will woo you with its smooth lines and neat aesthetic.
This is the car to drive for those sunny afternoon days cruising along the coast. You can't go too wrong with this fun, reliable ride. Not to mention the name "Banshee" is a staple in the GTA series for most of the recent games.
Capable of reaching impressive top speeds, the Banshee is no slouch(as the name suggests) and is definitely worth considering if you want a great alternative to the sleek super cars.
2.

Pfister 811
Based off the iconic Porsche 911, the Pfister 811(like the Ocelot Pariah) comes with serious James Bond style and impressive performance to boot.
Arguably the most gorgeous super car of the lot, the 811's unquestionable resemblance to the 911 makes it an enticing prospect if you like those sexy sports cars.
If you want to race in the best-looking car and have the power to win the race convincingly then look no further than this complete gem of a car.
1.

Vigilante
Without question, the car that has to take the top spot on the list of best cars in GTA 5 is the undeniably epic Vigilante.
The Vigilante is quite obviously inspired by the iconic Batmobile, perhaps the coolest fictional vehicle ever conceived.
If driving around the city pretending you're the Dark Knight and justifying your needless crimes with superhero status isn't enough for you(which it should be), well then the Vigilante is also an incredible car with mind blowing performance. So I guess you could just drive it as a regular old car. But where's the fun in that?
Other than looking completely out of this world, the Vigilante also features rocket propulsion and comes highly weaponized to take on the bad guys and villains of the city. Or even to take on the good guys if you consider yourself the bad guy.
I mean who cares, you're in a Vigilante after all.
Browse:
Grand Theft Auto
Grand Theft Auto 5
Lists
Video Games