The Best Minecraft Adventure Time Skins (All Free)
This post may contain affiliate links. If you buy something we may get a small commission at no extra cost to you. (Learn more).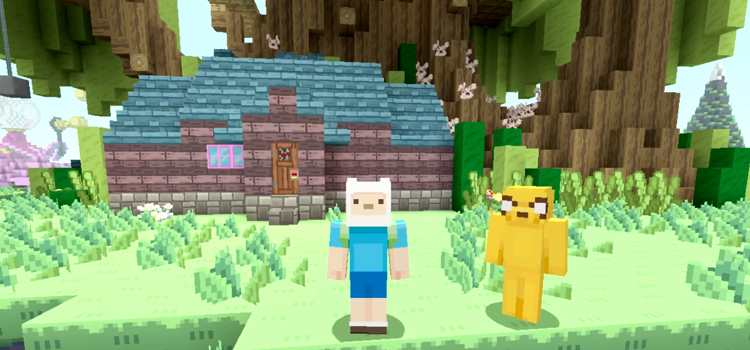 Whether you're a 90s Nickelodeon purist or a new age We Bare Bears stan, everyone can agree:
Adventure Time is an institution in itself.
This DnD-inspired cartoon essentially dominated the scene for the entirety of the 2010s, as we watched Jeremy Shada actually grow up as Finn the Human.
Adventure Time has everything you could want in a show: from epic high-stakes plotlines to loveable characters, fun sidequests, and lots of memes.
So, why don't you come along with me and explore some of the best Minecraft Adventure Time skins out there?
1.

Finn the Human
No Adventure Time skin list could start with anything but Finn the Human.
He's the most loveable long-haired protagonist that the Land of Ooo has ever seen.
And this skin by creator cheyko captures all of that youthful optimism flawlessly.
I seriously adore the way this skin gives Finn this glossy sheen. It makes it look like he's straight out of a cartoon, and I can't wait to see what this looks like in game.
2.

Jake the Dog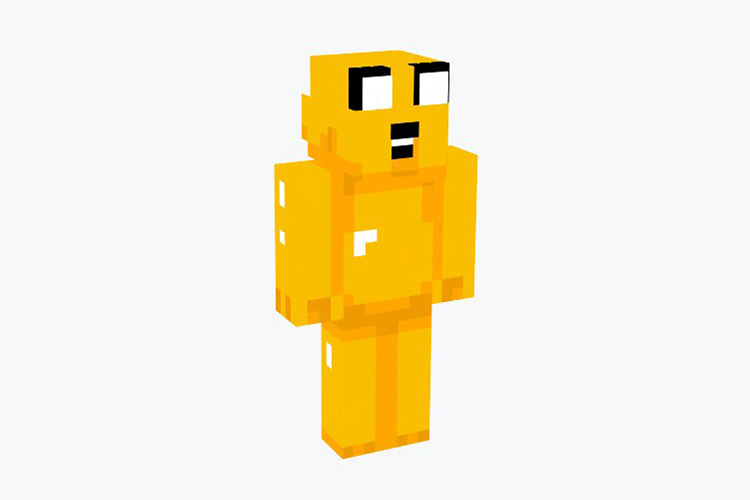 Where would Finn be without his best friend Jake the Dog? He would probably be sad. That's the honest answer.
And I feel similarly.
Any world without Jake the Dog is no world for me.
Jake's loveable stretchability has always been a favorite of mine, and creator MagmaBlock thankfully shares my love.
This Jake skin is shiny and adorable. And if I'm being honest, just these two skins have me really itching for another rewatch of the entire show.
3.

Princess Bubblegum
I've always loved Princess Bubblegum's design more than most other characters for some reason.
I think it might be because her calm and collected attitude was so great to watch, but I think it might just be that the basic model with long hair looks so good.
I would love to give this skin a download and make my own Candy Kingdom in Minecraft.
But if you do the same thing and beat me to it, I wouldn't blame you.
4.

BMO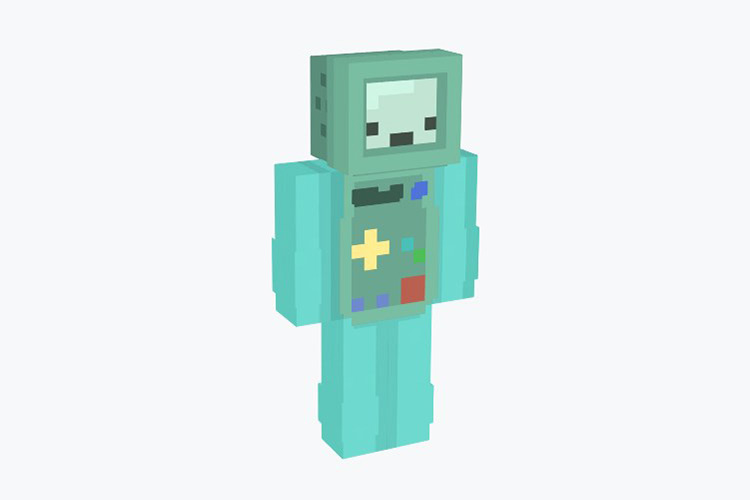 BMO might just be the most addictingly cute character in television history.
Every time BMO is on screen, regardless of what the cute gaming console is doing, it shines so brightly that it elevates my day, guaranteed.
What a treat it is to live in a day and age where I can bring that glorious & positive energy into Minecraft with me at any time.
5.

Gunter
Gosh, every character on this show is an absolute treasure.
Gunter might be the treasure of treasures in my heart though.
The Ice King's faithful sidekick steals the show much like BMO in his scenes, even if he only makes one sound the whole time.
Truth be told, it's not hard to see why Gunter is such a fan favorite. I mean, look at this skin.
I didn't even know it was possible for a penguin to be this cute.
6.

Marceline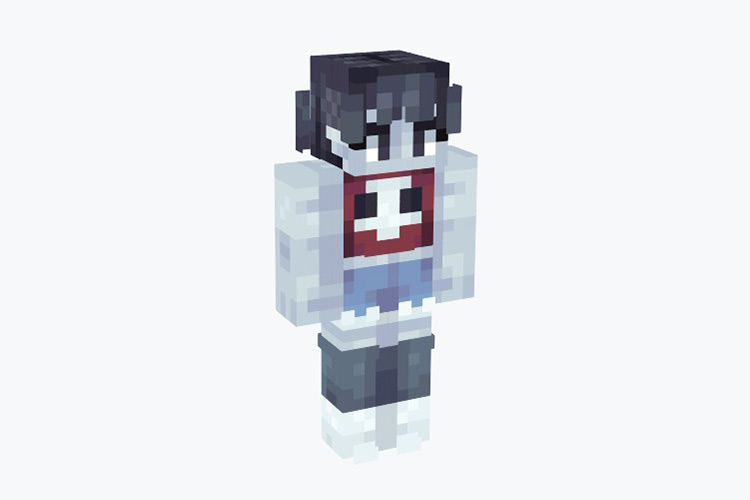 Marceline the Vampire Queen has been an icon from the moment she first appeared on screen.
It doesn't matter whether you love an isolationist vampire icon, or just appreciate the grunge vibes. Marceline kills it in all categories of existence.
I love this Marceline skin over some of the others that I've seen because it's one of the few that nails the uber-long flowing hair.
All this skin needs is a guitar and some fangs, and I'm chilling for days.
7.

Fionna
Fionna the Human is a mainstay fan favorite character from the gender-swap episodes of Adventure Time.
Finn's female counterpart has all the style and grace of the Human – and this skin has all the shine and wonder of the male skin too.
I don't know why these Adventure Time skins tend to use these shiny aesthetics, but it gives them a dreamy and sleek vibe that I totally adore.
I mean, really, everything in this design looks incredible – from the white hat to the skirt.
I'd even recommend this to someone who's never even seen Adventure Time.
8.

LSP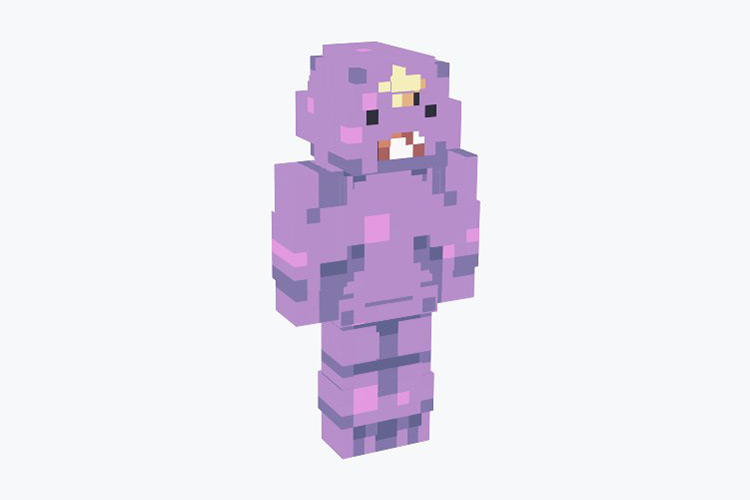 Correctly named "oh my glob," this Lumpy Space Princess skin is a victory in and of itself.
I didn't think it would be possible to even make Lumpy Space Princess into a Minecraft skin because of the, well, lumpy nature of LSP.
But skin creator MuggleWorthy made it work.
Not only did they make LSP into a skin, but she's totally recognizable and hilarious too.
Lumpy Space Princess isn't the star for everybody – only for those who are cool and in the know.
9.

Fern the Human
I need to start out giving the creator d1v props because this skin might be the closest of any of these to the real version from the show.
Grass Finn aka Fern the Human is a fan favorite in the same vein of Doodlebob, a sort of enemy doppelganger of the main character.
I think Fern is a hilarious idea in general. But I'd kinda forgotten about him until I saw this skin.
And this design really is so good though, that it's lit a fire in me to strap on a sword and go adventuring as the ultimate version of that Finn the Human guy.
10.

LemonGrab
LemonGrab has to be the most memed character on Adventure Time by far.
Every single time LemonGrab is around in any of the many LemonGrab forms, it's a new and hilarious twist.
Doing anything other than downloading this skin right now and bringing it into your next Minecraft server is absolutely UNACCEPTABLE.
11.

Ice King
Ice King's simple icy blue design has always stood out to me, even before I'd seen a single episode of the show.
I love the way the big beard, crown, and crooked nose give him an evil wizard vibe – but he's so bumbling and oafish that he never feels like a truly bad guy.
This skin by creator caseofthematts gets all of that energy just right, blending the fun and cartoony with the arcane and evil.
This Ice King deserves a wizarding tower all his own.
Time to get building.
12.

Simon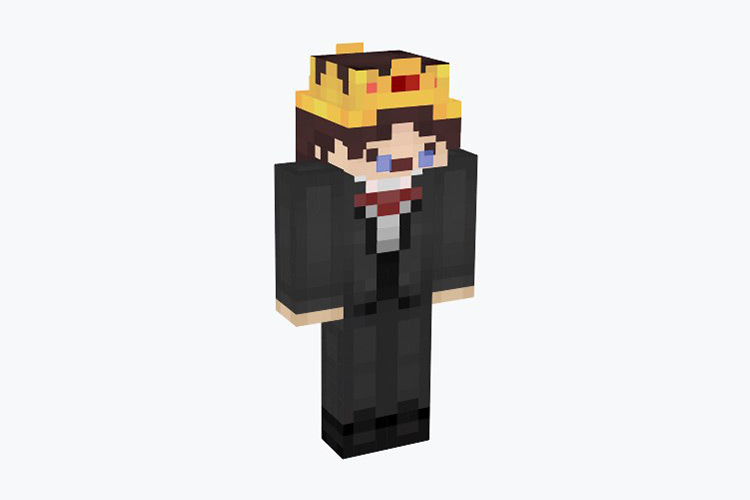 Soft spoiler warning here for Adventure Time:
The reason why Ice King never truly seemed like a bad guy is because at one time, he wasn't.
The Ice King was once Simon Petrikov, a kind human who did his best to save the world.
And this skin is like a little easter egg, because while it looks non-descript enough to be any kind of scientist man, it is clearly identifiable as the Ice King.
I hope you can try to stump your other friends in Minecraft as to who your skin is.
Let's see who the real Adventure Time stans are.
13.

Flame Princess
Wow, this Flame Princess skin by creator AliceB really rules.
I never expected for the floating and airy flames on Flame Princess to translate into Minecraft, but I really didn't expect Flame Princess' casual look to look so darn good.
This skin truly nails the beauty and grace of Flame Princess in a way that you can recognize instantly, but it also feels separate from the show if you'd want to play a more "generic" princess.
By that I mean you can choose to wear this as Flame Princess, or just as a fire-themed cute girl skin.
It's quite literally the best of both worlds.
14.

Marshall Lee
Like I mentioned above, the gender bending episodes of Adventure Time have been long time fan favorites – and for good reason.
They're all absolutely great.
However, I don't know if any of the genderbent characters have received quite the reception of Marshall Lee.
Marceline's male equivalent was an overnight star and continues to be an Internet hit, and I get it.
If Marceline's vampiric grunge wasn't enough for you, Marshall Lee's soft emo vibes were a precursor to the e-boy revolution.
But if the look of this character and skin aren't enough for you, Marshall was voiced by the one and only Childish Gambino, Donald Glover.
I mean, what's there not to love?
15.

The Lich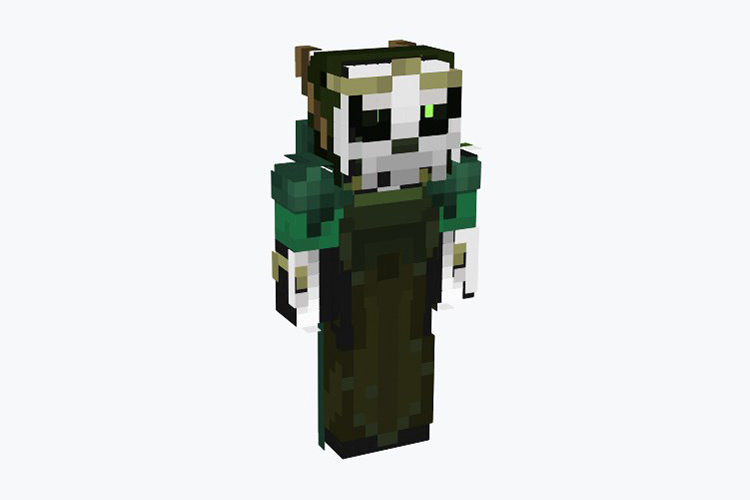 When I set out to make this list, it never occurred to me that this might be an entry – but I sure am glad it is.
Creator Skillin's Lich skin is flawless.
They somehow managed to exaggerate the head on this skin to make it oversized and large, and it creates a look that's menacing to the extreme.
Adventure Time has so many moments of warm and fuzzy friendship that it makes the chilling and scary ones all the more impactful.
If you're feeling coldly inclined, why don't you give the Lich a try?
Browse:
Adventure Time
Cartoon Network
Lists
Minecraft
Minecraft Skins
Video Games