10 Best Custom Map & World Mods For Minecraft (All Free)
This post may contain affiliate links. If you buy something we may get a small commission at no extra cost to you. (Learn more).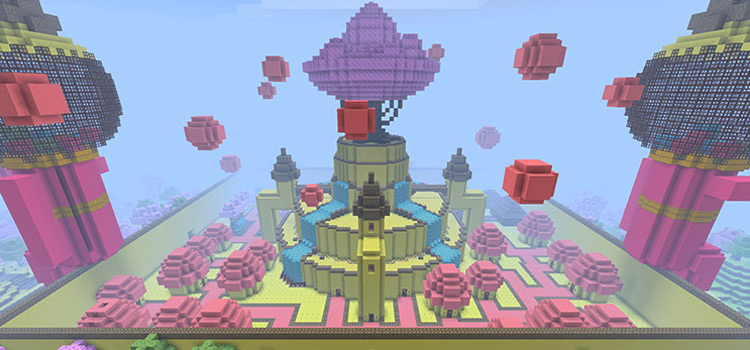 Minecraft is easily one of the biggest games of our generation.
With over 100 million active players by the end of 2019, it doesn't appear to be slowing down any time soon.
Given that players can do virtually anything in the world of Minecraft, the sheer amount of user content available can be quite overwhelming.
Luckily I'm here to help you get your bearings and find stuff you really want. In this case, awesome maps!
So here's my picks of the best map addons & mods that I've had the most fun with. Let's get blocky!
10.

Slender-Creeper
Based on the popular Slenderman game, you're left alone in the dark forest with nothing but a flashlight.
As in the original, your goal is to find the 8 notes scattered across the map while being chased by the mysterious tall creature only known as Slenderman.
If you thought this would be any less scary in blocks, you're in for a surprise.
If you're up for a good scare check this one out. If you're not, maybe just keep reading.
9.

Assassin's Creep
When Assassin's Creed came out in 2007 it was praised for its focus on parkour elements and verticality.
As an almost ninja-like cloaked assassin, you would find yourself climbing buildings and towers to gain vantage points and complete objectives. And this turned into a massive gaming franchise with a dedicated fanbase.
Modders Selib and DrChriz take the same elements to Minecraft with their custom map Assassin's Creep.
Focusing mostly on the parkour and climbing aspects, you're tasked with collecting diamonds from different points on the map.
If you're up for the challenge, put your climbing and jumping skills to the test towards one leap of faith after another.
8.

Toy Story 2 Adventure Map
Who doesn't love Toy Story?
Well this is based on the second installment of the widely known animated series, and you get to play solo or take a friend and explore the world of toys as Woody and Buzz.
Starting off in a drawer in Andy's house, you'll soon find that as toys, it's already a challenge just to get out and about.
You'll notice from the giant furniture and decorations that everything is made to scale.
Explore Andy's house and find Rex the Dinosaur waiting to give you the details for your next quest.
Earn coins and Pizza Planet tokens as you go along while enjoying the amount of detail put into this tiny adventure of epic proportions.
7.

World in a Jar
The world has been separated into jars in the sky, each with different essentials that you'll need to survive.
Unlike most of the mods on this list, World in a Jar focuses on crafting and survival.
You spawn in your own little jar, and it immediately becomes apparent that your goal is simple.
What you need are in the other jars: animals, water, snow, lava, and much more.
How you're going to get there, well that's what this is all about.
With over 50 challenges to complete on the map, it's best to start digging and see what you find. Make your way across to the different jars and see how far you get!
6.

Asleep
Once you go to sleep, the adventure begins.
Enter the strange world of your own dreams and nightmares.
With not much to go by, the mystery aims to add to the experience as you never know what will happen next. So don't let me spoil too much here!
But this one is definitely worth checking out if you're looking for a new crazy Minecraft adventure.
5.

Teramia
With the ongoing open world trend in recent years, Minecraft modder Dave Daniel's map Teramia still holds up today.
An astronaut ends up stranded on an unidentified planet.
With only enough resources to survive for the next couple of days, you must explore the world and find ways to survive.
An open world RPG where you're given the freedom to explore four different regions, scattered with NPC shops, dungeons, quests and more. Quite fun!
4.

The Escapists 2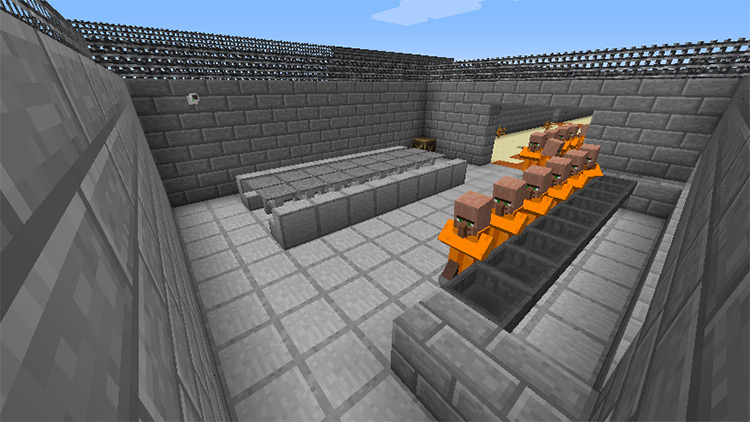 From the creator of the original Escapists map comes a new and improved version based on the original.
As the title suggests, you play as a convict in a heavily guarded prison built in the middle of the desert.
Work prison jobs to earn money, trade with other prisoners for valuable resources, and carefully plan your escape in this exciting adventure mod.
3.

Planet Impossible
Following a crash landing on an unfamiliar planet, you're left to fend for yourself to survive.
Similar to Teramia but focusing more on survival and crafting elements, Planet Impossible takes you on a journey through beautiful desert terrains.
Build yourself a shelter to survive and begin your search for other lifeforms. There may be other survivors, but you never know what you'll find around each corner.
2.

Adventure Time Adventure Map!
Right off the bat you're teleported to the treehouse where Jake the Dog is already waiting for you.
Of course you've figured out what time it is – Adventure Time!
So put on Finn's clothes and make your way down. You'll be greeted with an amazing view of the Land of Ooo, overlooking Candy Kingdom.
It's here you'll start to fully appreciate just how good this map looks.
Playing through familiar challenges in Lumpy Space, Nightosphere, and Beautopia, all alongside your favorite Adventure Time characters. This feels just as fun as it is nostalgic.
With references to the series strewn across the map, fans of the cartoon are sure to love this one.
Is it the most ambitious Minecraft crossover ever? Hard to say, but it's gotta be up there.
1.

Herobrine's Mansion
Hypixel is one of the more recognized modders in the Minecraft community. Still creating Minecraft content to this day, players seem to agree the Herobrine's Mansion is arguably his best work.
YouTube Let's Play videos aren't hard to find as every popular content creator of the time seems to have a playthrough online.
If you're still not convinced, well this map is one of the first to incorporate RPG elements.
With customized monsters, unique items, and multiple boss fights, this is an adventure you're not going to want to miss.
Just note you may need an older version of Minecraft to get this running, but I'm sure you're not going to regret it.
Browse:
Lists
Minecraft
Video Games