The Best WWE Skins For Minecraft (All Free)
This post may contain affiliate links. If you buy something we may get a small commission at no extra cost to you. (Learn more).
I don't know if there are any experiences quite as pure as getting caught up in the whirlwind of the WWE.
Plenty of people will say "it's fake, that's not how wrestling works, blah blah blah".
I know that's not how real wrestling works.
Real wrestling isn't anywhere near as cool though. Real wrestlers don't jump off of top ropes and body slam their opponents on the floor.
Real wrestlers don't get cool theme songs when they walk out to fight. Real wrestlers don't get to hit each other with ladders and chairs and tables.
But the WWE, in all its infinite showboating wisdom, has made an amazing spectacle out of fake wrestling – and I cannot get enough of it.
Whether you share my love for the WWE, or just think it would be fun to have a wrastlin' skin, here's our picks for some of the best WWE skins that the Minecraft community has to offer.
1.

Stone Cold Steve Austin
Because all the wrestlers in the WWE are people, usually in very little clothing, they're bound to translate hilariously to Minecraft skins.
Case in point, this Stone Cold Steve Austin by creator JoFF93 amazingly captures the iconic superstar clad in his black trunks and skull-pattern vest.
Do I hear Stone Cold's glass-breaking theme when I see this skin? Yes.
Do I chuckle when I see how funny the legendary tough guy in this flesh-toned pixelated skin? Absolutely.
As far as I'm concerned, this is the best of both worlds.
2.

Bret "Hitman" Hart
Plenty of WWE superstars (or in this case, WWF) have had over-the-top looks.
Very few with outfits this bold reached the level of fame that Bret "the Hitman" Hart did.
And this Hall of Famer's epic outfit in pinks and blacks appears in full display here, along with absolutely rocking 80's reflective visors.
Regardless of whether you're a fan of the WWE, anyone can appreciate classic 80's bombastic aesthetics. No one does it better than the Hitman.
3.

Dwayne "The Rock" Johnson
While he's a movie star churning out action and Disney movies in equal parts these days, Dwayne "The Rock" Johnson got his start as a WWE Superstar in the late 90's.
In the 2010's, the Rock made a comeback during which he rocked this iconic look with one shoulder covered and the other tatted with a bull's skull.
I know The Rock is one of the world's most famous actors and celebrities. But I still have to commend skin creator Auri on how good this one looks.
The detailing on the skin, literally like the Rock's bare skin, is enough for me give this a download – like the second I laid eyes on it.
4.

Asuka
The last 20 to 30 years has seen a boom of women wrestlers in the WWE, to great success.
One of the hallmarks of this style of wrestling is the 2000s wrestler, Asuka.
It's not hard to see why she's so captivating, given this skin's erratic and colorful look.
I would argue that Asuka was not only a trailblazer for women in the WWE, but for modern looks in general.
She was rocking the split-dye way before it became popular.
5.

John Cena
Is there any name more synonymous with the WWE than John Cena?
Just saying his name has flashes of camo, hand shaking, and cargo shorts washing over me.
Fortunately, we can see this skin (another hit by Auri) with the classic green arm bands and crew cut.
There really is something about Auri's style for design. The way they round out these skins to make them softer and somehow less pixelated than Minecraft's usual skins… it's impressive stuff.
6.

Nikki Bella
Here's another one of the most iconic women in the WWE.
Nikki Bella rocked the wrestling world throughout the 2010s, and she's still well-known by fans to this day.
This skin by creator dangerpath depicts Nikki Bella in a tomboy-ish look that has one of my favorite skin effects on it.
I love when skin creators add filters that wash the textures in specific hues, and this dark-tinted Nikki Bella skin adds a great twist to a classic MC skin.
7.

Seth Rollins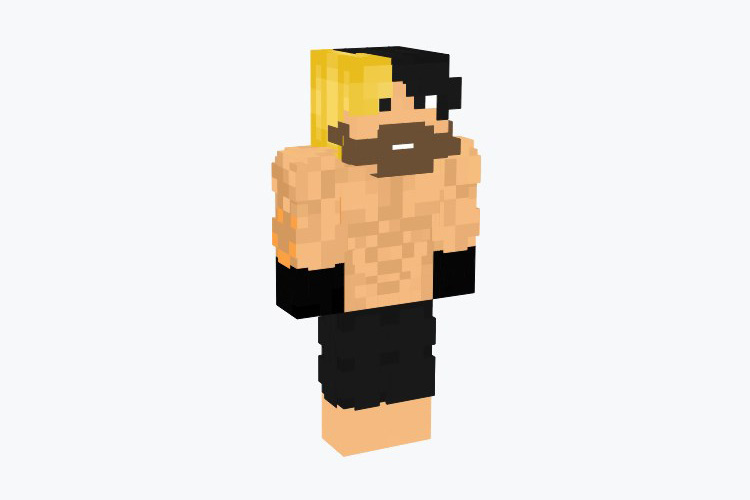 As one of the most popular wrestlers of the most recent era of the WWE, Seth Rollins has had a couple of looks during his tenure.
The man of many nicknames is wearing his half-dyed classic from the mid-2010s.
And skin creator GeorgyPol made sure to include not only the hair, but also an excellent pixelated set of muscles.
There's nothing like a Minecraftian 6-pack to get me fiending for some high-flying action.
8.

Bray Wyatt "The Fiend"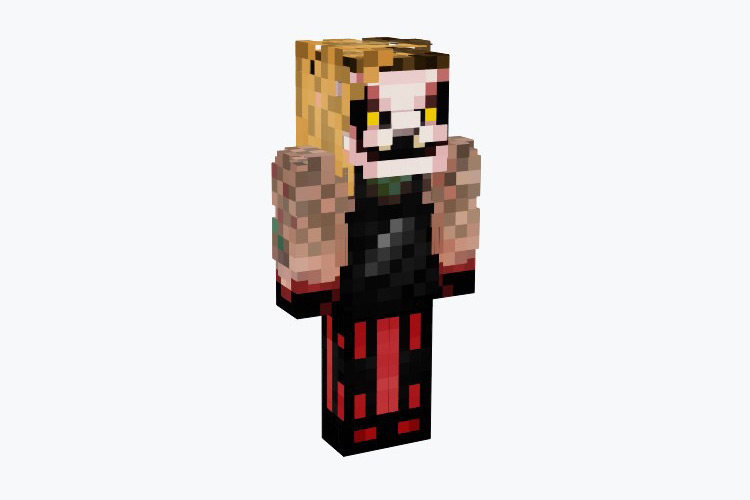 Being one of the more recognizable figures of the newer age of the WWE, Bray Wyatt plays one of the best WWE villains.
He's huge, intimidating, and wore this creepy "Fiend" mask for a gimmick.
It's everything that makes the WWE great – and everything that makes Minecraft skins great.
I mean seriously, where else can you find a Bray Wyatt fiend skin?
9.

The Undertaker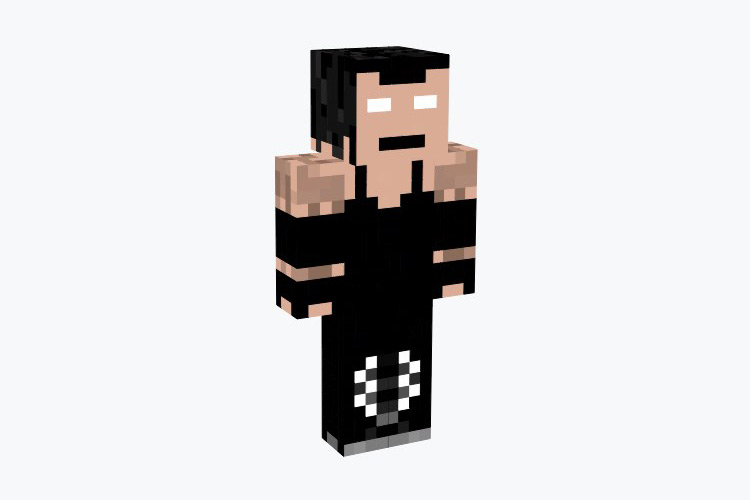 The lights go out.
The crowd is confused, cheering, gasping.
The church bells ring.
The Undertaker probably has the best ring entrance of any superstar the WWE has seen. And I couldn't for the life of me skip over an Undertaker skin for this list.
Creator wildim absolutely nailed the Undertaker's look with the long black hair, the pitch black wrestling outfit, and the whited-out eyes.
10.

Hulk Hogan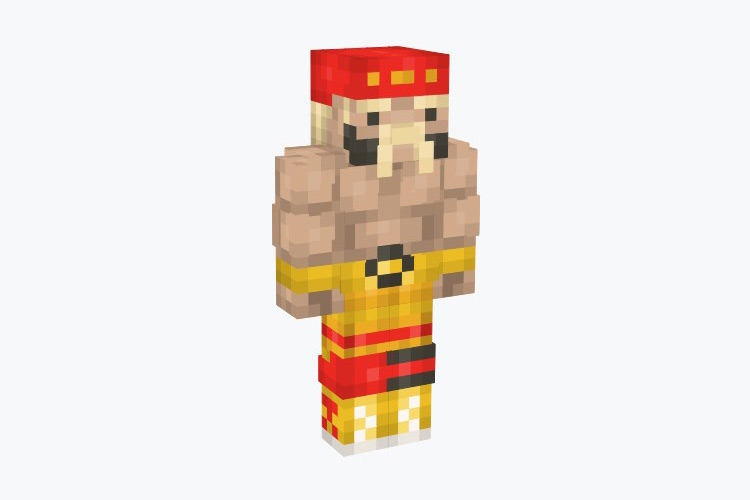 It's been a long while since Hulk Hogan has seen the inside of a wrestling ring.
But ask anyone and they'll know Hulk Hogan. He's the man.
His bombasticism, his colorful outfits, and his mustache solidified Hulk as one of the greatest wrestlers of all time – and honestly, you can tell just by looking at the skin.
How could you look at the muscular figure, the red bandana, or the over-the-top facial hair on Chum_Is_Fun's skin and think this guy is anything but incredible? You can't.
11.

Shawn Michaels
A long-time favorite of mine, Shawn Michaels rode through multiple eras in the WWE, playing out multiple parts with multiple looks.
However, he always had one connecting thru-line: sweet chin music.
While it's not possible for you to kick anyone in the face in Minecraft (yet!), I think it's safe to say that slapping on this skin and using a sword instead of a boot will work just as well.
12.

The Big Show
No Minecraft skin could capture the Big Show's massive 7 foot tall frame.
But creator ProGamingCrew gave it a pretty good shot.
The Big Show's size can't be rendered down, but somehow this skin captures his largeness and presence.
It's mostly done by a 3-D moving eye effect on the skin – which I didn't even know was possible.
Frankly, it looks amazing. And pretty intimidating from the right angle.
13.

Kane
Brother of the Undertaker and prototype villain, Kane rocked in his era as one of the most recognizable looks in the WWE.
When you can't wear 80's visor shades or have the Hulk Hogan mustache, sometimes you've got to wear a fiery demon mask.
That's just how it is.
Fortunately, you and I have the option to wear any of those. But I can't pass up a shot at playing this chokeslamming monster.
14.

Jeff Hardy
Jeff Hardy's high-flying moves and daring persona were the most 2000's thing to come out of the 2000's.
And I can't love it enough.
Take this excellent skin by NaufalAhmed756, for example.
The criss-crossing neon threads on the arms and matching neon face paint was literally what Jeff Hardy would wear.
I only wish I could rock it as good as him. But in lieu of that, I can always turn heads and take names on a Minecraft server.
15.

Daniel Bryan
Daniel Bryan's look here has always been hilarious to me.
The rugged demeanor is endearing of an everyman. And I think that he won some championships while he looked like this.
But everytime I see this skin, I think of the scene where Forrest Gump runs across the United States and grows a remarkable beard.
I love it. I can't get enough.
Browse:
Lists
Minecraft
Minecraft Skins
WWE
Video Games